Can I Use My Apple ID On 2 Phones?
An Apple ID is an important feature to have for every iPhone user, especially to access certain services and I know you have a lot of questions on the use.
One very outstanding query is how to use your Apple ID on two iPhones.
I did my research and found out the following.
Can I Use My Apple ID On 2 Phones?
You can use the same Apple ID on two phones, but you should probably do so without mirroring. Mirroring will share all the information between the two phones, even the messages, photos, and call logs. Unless this is your intention, using your Apple ID on a second phone will share your private data.
This means that you will need to separate the two phones to use the two phones.
Separation is quite an easy procedure and goes as follows.
First, you need to back up all your info to either your computer or iCloud account.
This includes information on both phones.
This is to ensure no data is lost during the process.
After backing up all your data, Log in to your Apple ID on both phones.
Here's how to log in to your Apple ID:
Go to your settings on your iPhone
Select the sign into your iPhone tab at the top
Enter your ID and your password and you are done
After signing in, you will need to change the settings on both phones to avoid automatically syncing them.
You turn off syncing through this option:
Go to your settings
Click on your Apple ID
Go to your iTunes and Apple store tab and turn off automatic download for your apps
This procedure will allow you to use the same Apple ID on two phones.
However, it is advisable to have a separate Apple ID for each phone.
This is to ensure there is no conflict of data.
This also applies to your child's phone as you can monitor them.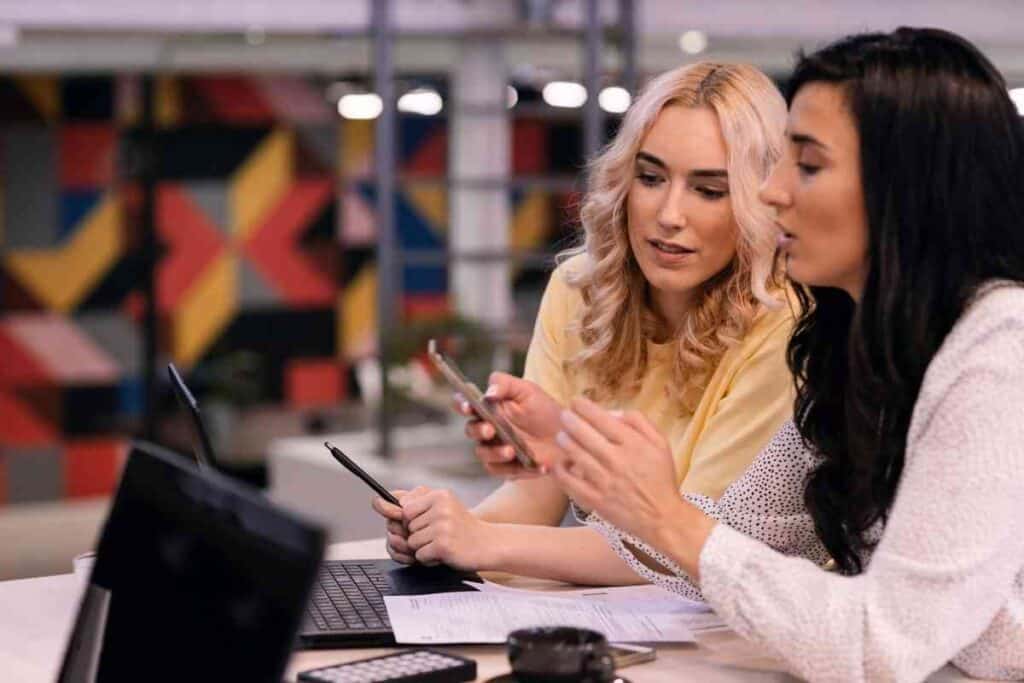 How Do I Backup Data on My iPhone?
Backing up your data is essential to ensure you can always access it, even on other devices.
Backing up is also necessary to make sure you do not lose your data. It also protects your data from malice and hackers.
Backing up data has never been easier.
It is mainly through the process below:
Open your iTunes app
Click on the phone icon on the top right corner
A backup section will appear.
Select this computer and click on backup now
This is the process for backing up on iTunes.
To back up via iCloud, you need to:
Go to your settings
Click on your ID or the sign-in option
Select iCloud
Scroll to the bottom, where you will see the iCloud Backup option
Ensure it is on and choose backup now
Easy as that and you are set to go.
This process may take a few minutes, so be patient with it.
What Is the Importance of an Apple ID?
An Apple ID allows you to access a myriad of apple services on your phone, which are very important in the running and functioning of your iPhone.
Some of the benefits include the Appstore, Apple Music, iCloud, iMessage, Facetime, Apple Books and more.
Your Apple ID also allows you to pay for purchases on the Apple services since it has your contacts, payment information and security details.
Why Is It Not Advisable To Share Your Apple ID?
An Apple ID is personal and contains all your sensitive information, such as your password and payment information.
So here are some reasons why sharing your Apple ID is not a good idea:
Another person can access and configure your music playlist.
Another person can access your text messages.
Since your contacts are not the same as the person you share your Apple ID with, you can receive Facetimes from people you know.
Other people may view your call logs since they are shared.
Your photos will appear on both devices, hence no privacy.
The other person may reset your password and lock you out of your account.
So, as we have seen, having your Apple ID is the way to go to protect your privacy and avoid inconveniences.
How Do I Separate iPhones From the Same iCloud Account?
Separating iPhones from the same iCloud account is a fast and straightforward process.
First, you should create a new account and sign into it on one of the phones.
You can also sign out of the account on the phone.
Then go to your iCloud account options and remove the account you want to separate from the list of connected accounts.
Is There a Difference Between Family Sharing and Sharing an Apple ID?
Yes, there is a difference between family sharing and sharing an Apple ID.
Family sharing was set to share information relevant to the whole group.
You can set up to five family members to this feature to access services such as Apple Books, Apple Music family plan, App Store purchases and even an iCloud storage plan.
In the iCloud storage plan, each member is given their own cloud storage space.
It allows the family members to share purchases, a shared photo album, a family calendar and so much more to keep them all in the loop.
The parent can also limit the children's screen time with family sharing and bar the kids from accessing certain websites and applications.
Family sharing also helps to locate another family member's phone or device through the settings. You cannot do most of these with a shared Apple ID.
How Do I Set Up Family Sharing on My Phone
Family sharing can be set up through these simple steps:
Go to the settings app on the original phones.
Select your account, which is on top of the settings
Select "set up family sharing" and go through all the steps to ensure you have set it up correctly and you are good to go.
Finding a family member's phone is easy and can be done by simply opening the devices tab on your phone and you will see their account details below yours.
Can I Manually Update My Music on My iCloud Music Library?
SO, can I manually update my music on my iCloud Music library? Yes, you can and in an easy way.
Sometimes, your phone may not automatically update your music, and manually updating it is an option you should consider avoiding losing your music in case of anything.
To do this, you should open the iTunes app and click on "file" Select Update iCloud Music Library and wait for the action to be completed.
Once done, all your music will be added to your Library.
This process takes a few minutes.
However, if the tracks do not reflect on your computer within an hour, you may need to reset and reboot your iCloud Music Library.
You may also be required to update your iTunes Music Library.
How Do I Update My iTunes Music Library?
iTunes is installed chiefly from the store or the download website, which may require you to update it manually for it to function well.
Here is a simple guide on how to update your iTunes Library:
Select help on the app and tap on check for updates to manually check for the updates
Select edit, select preferences then advanced and set iTunes to Check for new updates automatically
This will make sure iTunes checks for updates automatically weekly whenever you restart iTunes once every week.
iTunes automatically downloads its updates on the Microsoft Store, but that does not hinder you from checking for updates manually in the Microsoft store by opening the Microsoft Store app, opening the downloads and updates section
Closing Thoughts
Apple IDs are essential in the daily uses of the iPhone, and as we have seen, it is indeed possible to use Apple IDs on two different phones.
However, it is advisable to create your Apple ID and use it on your phone to ensure your data is safe.
It is also important to note that sharing Apple IDs could lead to another person altering your information.
I have also touched on other functions of the Apple ID, such as its uses, updating your music libraries, how family sharing works, and backing up your data on your iCloud.