Here's What Happens If AirPods Get Wet!
This post may contain affiliate links. As an Amazon affiliate, I earn from qualifying purchases.
If you're an avid AirPods user, you've probably wondered what would happen if they accidentally got wet. Whether you're caught in a rainstorm, sweating during a workout, or simply drop them in a puddle, it's natural to worry about the consequences. In this article, we'll explore the potential effects of water on your AirPods and offer some tips on how to keep them in top condition.
What If AirPods Get Wet?
When your AirPods get wet, wipe off any excess water using a dry cloth or a cotton swab. Afterward, leave your AirPods to dry out for at least two hours. Remember, there are no waterproof AirPods. Only the Pro-version is water-resistant, but they become less resistant with time.
You can still use your AirPods when they get wet if you follow the right procedures. Also, you can connect different AirPods to your iPhone, which is a straightforward process that you can do on your own.
So, next time you lose a single AirPod, don't worry about having to buy a complete pair. Just order one from your certified Apple products dealer and follow the process. 
I have also covered some of the operations or functions you may need to use your AirPods more successfully and efficiently.
How Do I Connect Two Different AirPods to My Phone?
AirPods must be of the same generation to try this.
You cannot pair an AirPod to an AirPod Pro or an AirPod max. This is mainly due to differences in firmware and features present in the AirPods. AirPods from different generations use different chips; therefore, pairing them will be very difficult.
To explain this, you must know that AirPods are powered differently according to their chips, such as W1 powered AirPods and H1 powered AirPods. A W1 powered AirPods will only work with another W1 powered AirPod and the same is true for H1 powered AirPods. You must also ensure the AirPods are updated but do not worry. You can also do this to both.
You might be wondering how you would share music with your friends and family without necessarily removing your AirPods. Well, Apple got you covered through their feature. 
If the devices are compatible, connecting two AirPods is simple through the following steps:
Make sure your original pair of AirPods are connected through the normal process.
Then select your Airplay icon from either your music player or in the phone's control center.
Then tap "Share Audio" underneath the connected AirPods.
Place the AirPods you want to connect inside the charging case with the case open, then hold it close to the iPhone.
The new AirPods will appear on the screen, and you will be prompted to select them and then like "Share Audio"
You have already completed the process and now you can listen to the audio freely with separate volume control options available for each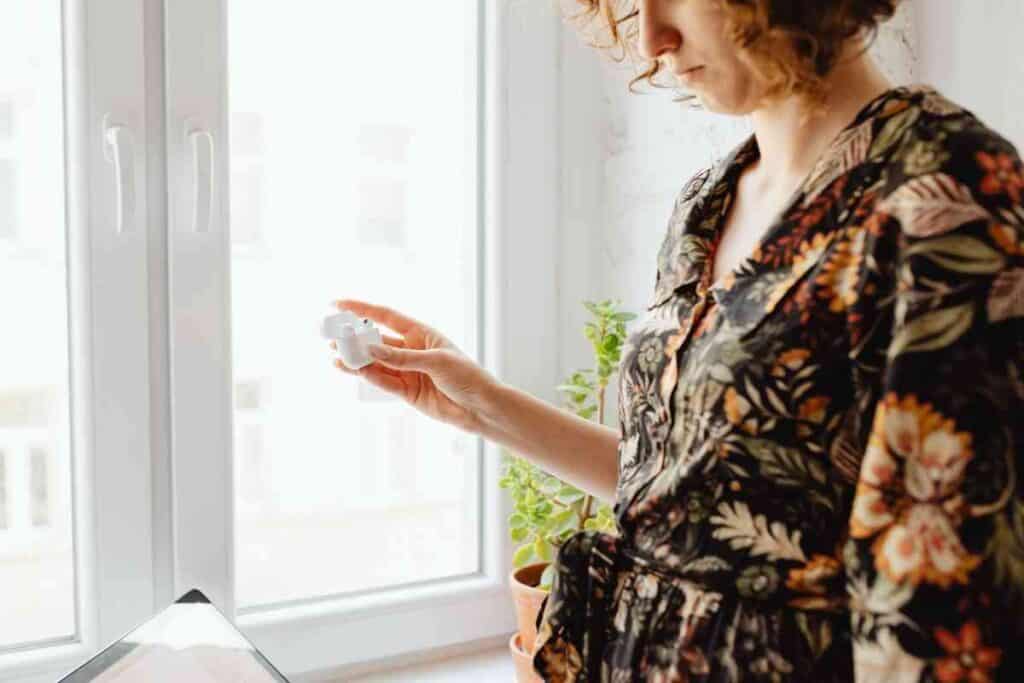 How Do I Check If My AirPods Are Updated?
The firmware in your AirPods is crucial in their functionality. AirPods are usually updated automatically unless, of course, a malfunction happens, and you will need to update them yourself, which is a simple process. 
So, here's how to check if your AirPods are up to date:
First, you must make sure you know the latest firmware version. You can do this by checking the Apple website
Then go to your phone's settings
Select Bluetooth and go to the devices present
Tap "I" next to your AirPods' name to check its details
Compare the firmware version number with the one provided on the website.
If the number is different, your firmware might be outdated, and it would be advisable to update it.
How Do I Rename My AirPods?
Renaming your AirPods is a simple process, especially if you are unsatisfied with the current name. The AirPods usually automatically take the name of the owner of the iPhone as registered. 
To change the name of your AirPods, you should:
Place the AirPods in your ears, just not in their case
Go to your settings tab and select Bluetooth
Select your AirPods from the list of Bluetooth devices and tap the "i" next to the name
Tap on the name and type in a new one, then done to confirm the process
During this process, you can find out a lot of settings available such as choosing what happens when you long-press either the left or right Force Sensors, whether to allow automatic ear detection, set whether to use the left or right microphone, or unpairing your AirPods pro from your iPhone.
How Can I Reset My AirPods?
Resetting AirPods has never been simpler. People reset their AirPods for different reasons, maybe to fix a bug, sell, or give to someone else. 
The process is simple and goes as follows:
Place the AirPods in their case and close the lid.
After one minute, open the lid of the charging case.
Take your phone and go to your Bluetooth settings.
Check the paired devices and locate your AirPods
Tap on the "I" next to them
Select "Forget This Device" for the unpairing process to begin
After this, long-press the button at the back of the charging case for 15 seconds and release it only when the status light is amber in color.
If you would like to re-pair your AirPods, bring your device next to the AirPods while they are in the case with the lid still open.
The AirPods will then be removed from your Apple account.
How Do I Unforget a Bluetooth Device?
Bluetooth is a convenient way of enjoying wireless functions with other devices such as AirPods.
However, sometimes you may need to get rid of a connected device or completely forget them, or you may want to fix a difficulty in the connection.
In case you may wish to Unforget a Bluetooth device, you need to reconnect with it.
Here's a way to Unforget a Bluetooth device:
In an iPhone, you can open settings then head to the general settings tab. Select reset, then select reset network settings and confirm your choice. The process takes a short time, mostly a few seconds, and your Bluetooth and Wi-Fi settings will be back to the original. After the procedure is done, your phone will restart, and the restart process will be complete once you see your home menu. The system would have loaded up all forgotten information. You can check by going to your settings, then Bluetooth, where you will see a list of the previously connected devices.
On an Android, you do not get to have this whole process; instead, you need to go to your Bluetooth tab and check the list of devices. If your device is there, all you need to do is reconnect.
Can I Purchase a Single AirPod?
Yes, you can purchase a single AirPod from Apple, so you do not have to worry about buying a whole new set.
However, you will be required to give the serial number of your current AirPod, which is located on the charging case.
This serial number determines the generation of AirPods you have, and Apple will use it to make sure they send one that is compatible with the one you have. This is cheaper and less wasteful than repurchasing the complete pair.
Can I Find a Lost AirPod?
So, can you find a lost AirPod? The answer is yes; you can find a lost AirPod.
With wireless technology comes a risk of losing your AirPods occasionally and that is quite as common as many would think.
However, this does not mean you give up due to Apple's latest technology that will help you locate your AirPods in a second.
First, you will need to use the 'Find My iPhone' App for this. Just make sure you are within Bluetooth range for this to work correctly. 
After opening the App, go to the Devices tab and select your AirPods. Under it, you will either see the location of your AirPods or 'No Location Found.' The No location found option usually comes up when it's not in range with the Bluetooth. 
Easy as that, and you will be able to use your AirPods again.
You can also find your lost AirPod through your computer by signing into your iCloud account using your Apple ID and selecting All Devices, then clicking on your AirPods name, and there you will see its last location.
Another way of locating your AirPods is by playing a sound on your AirPods. You can do this by going to the Find My Phone App, clicking on the Devices, selecting AirPods and tapping to play any sound.Just make sure you do not have one of the AirPods in your ears. This may, however, require you to be very quiet to hear it.