About Kern Campbell, MBA (a.k.a. "The Gadget Buyer" or "Go-Go Gadgets")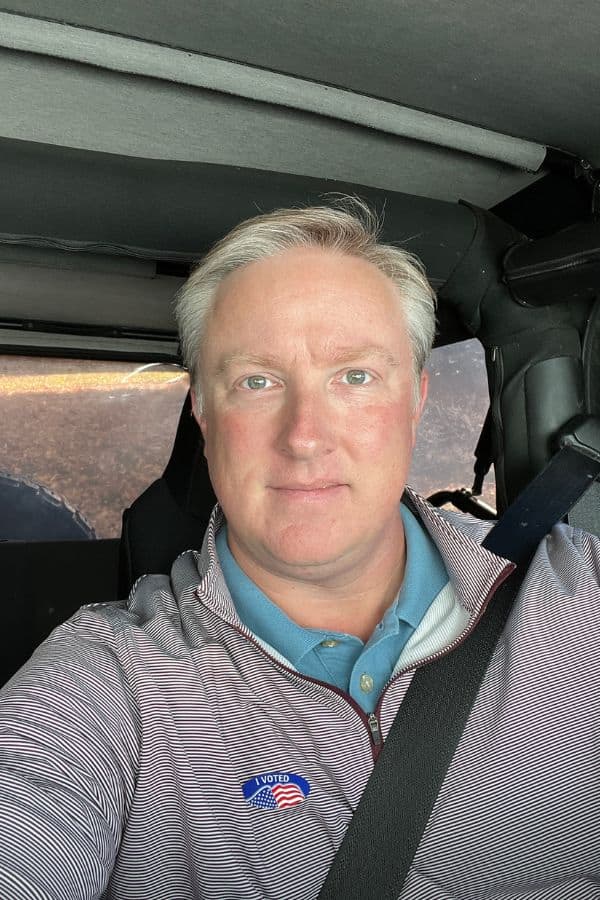 I'm Kern Campbell, the founder, and tech nerd behind The Gadget Buyer. If you are looking to contact me, please use my contact page!
I'm glad you found me! I live in North Carolina with my wife and two teenage kids.
Beyond where I'm from, what I am most known for is my passion for technology and especially consumer electronics (aka Gadgets). I have always been the guy everyone goes to for help figuring out how to work their technology gear.
This passion for tech led me to get a Batchelor's degree in Computer Information Systems and Marketing from Appalachian State University. I later went on to graduate school and earned my Master of Business Administration (MBA) from Pfieffer University.
After school, I gained a lot of hands-on experience working for the world's largest privately owned software company which focused on business intelligence software.
During my time in the corporate world, I had the urge to start a website as a way to help people and help fuel my passion for tech. As a result, I went out and bought over $3,000 worth of Bluetooth portable speakers to figure out what the very best speaker was for my needs.
Expert Tip:
My favorite is the JBL Boombox 2, but my wife isn't sold on it. You can read a full write-up on what I liked and what she didn't like here –> Real world JBL Boombox 2 Review
As a result, I launched TheGadgetBuyer.com as a means to share what I have learned and to help others. I never imagined it would turn into the size business it has, but thanks to people like you who come and read my content, it has become my family's primary source of income. For readers like you, I am truly grateful!
What You Will Find On The Gadget Buyer:
Top Technology Brands and Products for Troubleshooting and Recommendations
As technology continues to advance, it can be difficult to keep up with the latest trends and troubleshoot issues that may arise with your devices. Fortunately, TheGadgetBuyer.com provides consumers with helpful content on how to fix and troubleshoot their technology, as well as recommendations for new technology products.
When it comes to Bluetooth speakers, JBL, Sonos, and Bose are some of the top brands on the market. These brands offer a range of high-quality wireless speakers that can be connected to your devices for a superior audio experience.
Smartwatches have become increasingly popular in recent years, and the Apple Watch, Garmin, and Fitbit are some of the most sought-after brands. These watches can track your fitness goals, monitor your heart rate, and provide you with notifications and alerts.
Computers are essential for both work and leisure, and there are a variety of brands to choose from, including MacBook Pro, MacBook Air, Lenovo, HP, Chromebook, and Microsoft Surface. Each brand has its own unique features and benefits, and BornTechie.com can help you choose the best one for your needs.
When it comes to phones, Apple iPhone, Samsung Phones, and Android Phones are among the most popular brands. These phones offer a range of features and functions, such as high-quality cameras, large screens, and fast processors.
Fitness trackers are a great way to monitor your health and fitness goals, and Fitbit, Garmin, and Apple Watch are some of the top brands on the market. These trackers can monitor your steps, heart rate, and calories burned and provide you with valuable insights into your overall health and well-being.
Headphones are an essential accessory for music lovers, and Apple AirPods, AirPods Pro, and Beats by Dre are some of the most popular brands on the market. These headphones offer superior sound quality and comfort, making them a great choice for music enthusiasts.
For gaming enthusiasts, PlayStation, Xbox, and Nintendo are some of the top game consoles available. These consoles offer a range of games and features that can provide hours of entertainment for gamers of all ages.
When it comes to TV, there are a variety of options available, including YouTube TV, Apple TV, Firestick, and Roku. These devices offer a range of streaming services and channels, allowing you to access your favorite shows and movies from the comfort of your own home.
Internet connectivity is essential for staying connected in today's world, and Spectrum Internet, Xfinity, wifi, routers, and modems are all important components of a reliable internet connection. BornTechie.com can help you troubleshoot issues with your internet connectivity and recommend the best products for your needs.
Finally, when it comes to wireless carriers, there are a variety of options available, including AT&T, Verizon, T-Mobile, Straight Talk, Sprint, Simple Mobile, and Metro PCS. These carriers offer a range of plans and services to meet your specific needs, and BornTechie.com can help you choose the best one for you.
TheGadgetBuyer.com provides valuable content and recommendations for a variety of technology products and brands. Whether you need help troubleshooting an issue with your device or are looking for the latest and greatest technology products, BornTechie.com can provide you with the information you need to make informed decisions.
As Seen In:

Getting Around The Site:
With thousands of articles, it can become overwhelming trying to find everything available on The Gadget Buyer. As a result, content is broken down by subject into individual categories. Another useful feature is to use of the search function at the top right of every page. Simply click on the magnifying glass and type in what you are looking to learn. If it's on the site, it will pop up on the search page.
Here are some of the categories and other popular articles within each category.
Alexa, Apple iPads, Macbooks, Apple Music, Apple Watch, Apple TV, AirPods, Apple ID, Apple Pencil, AppleCare, Beat Flex, Computers, Fitbit, Macs, Google Home, Headphones, Bose, Sony, iPhones, Androids, Powerbeats Pro, iCloud, iTunes, and more.
OontZ Angle 3 (3rd Gen), Braven BRV-Mini, JBL GO2, Anker Soundcore 2, COMISO Bluetooth Speaker, Bose SounLink Color II, JBL Flip 5, JBL Charge 4, Ultimate Ears Boom 3, Sony SRS-XB43, Bose SoundLink Revolve, FUGOO Tough XL, Bose SoundLink Revolve+, Sonos Move, JBL Boombox 2 and more.