JBL Boombox 2 Review (I love It, Wife Doesn't – Here's Why!)
This post may contain affiliate links. As an Amazon affiliate, I earn from qualifying purchases.
If you are in the market for a new boombox, the chances are you have likely heard of the JBL Boombox 2. However, you may not have a clear idea of what it is like to own and use this boombox. Fortunately for you, I do have experience using the JBL Boombox 2, and I want to use this article to share my thoughts. While I personally love this product in more ways than one, my wife does not share my opinion. So in this review, I'll be sure to touch on both sides of the JBL Boombox 2 argument. Read on to learn if this boombox is the right choice for you.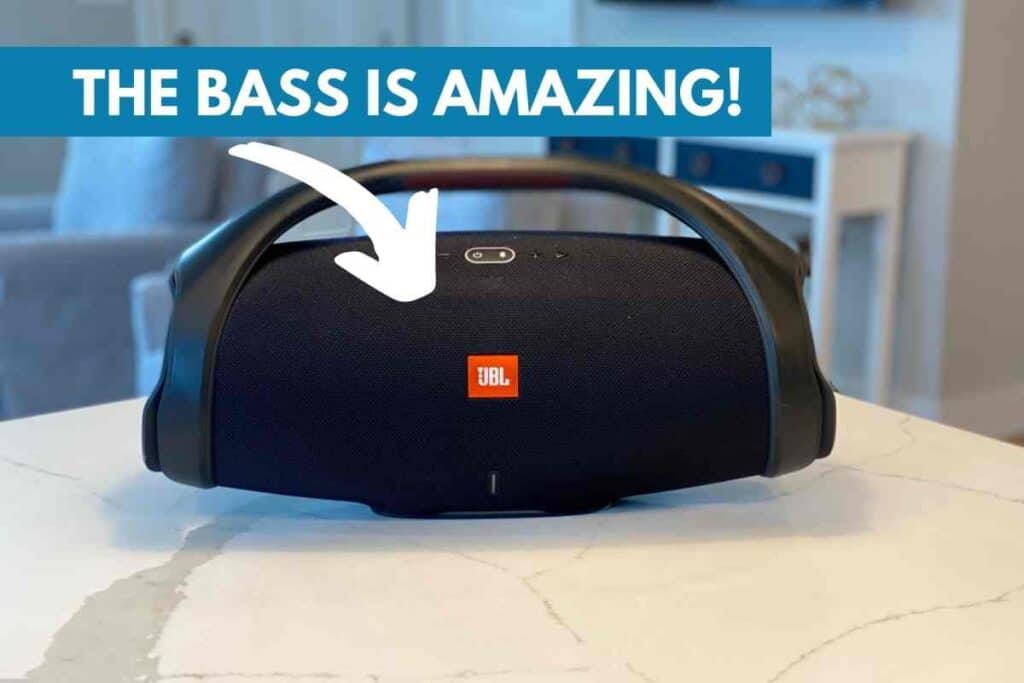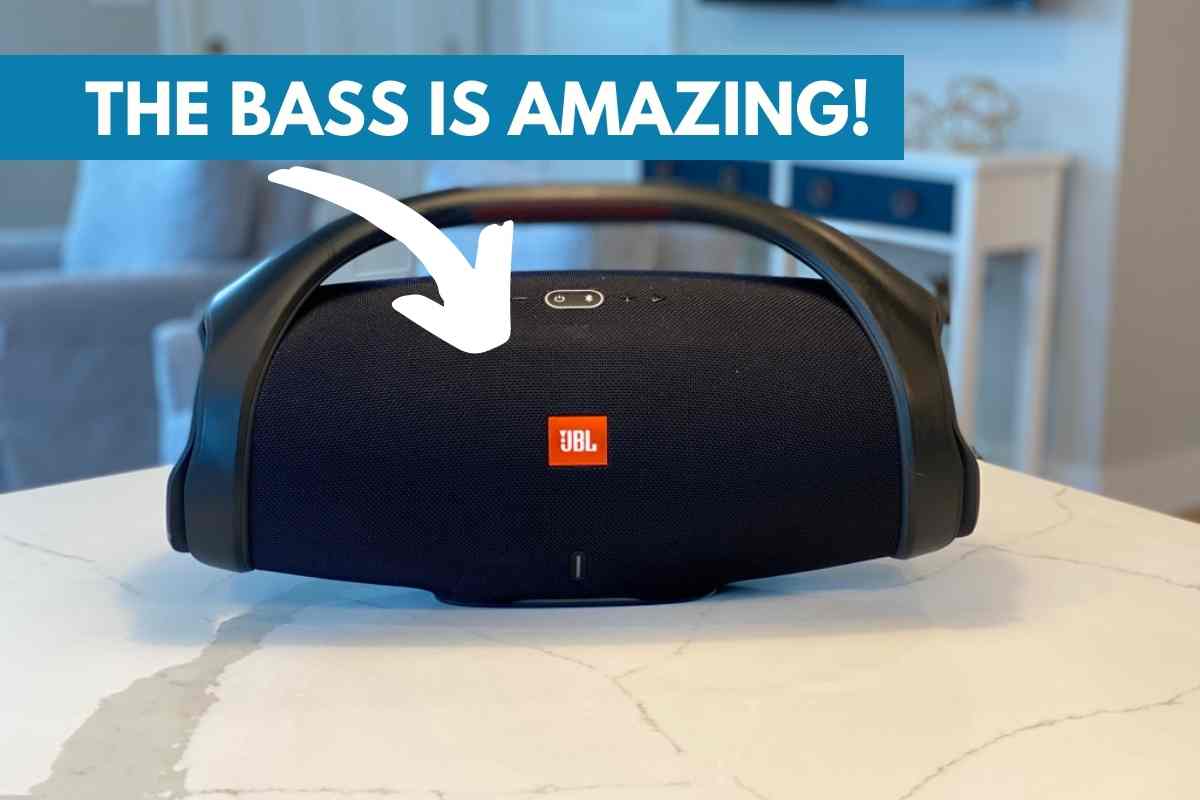 While you are reading about the JBL Boombox, bookmark the JBL page and save these other great articles for future research: What JBL Speakers Can Connect? [JBL Connect+ Function], Here's What To Look For In A Bluetooth Speaker, and Can You Take A JBL Speaker In The Shower?
Why I Love the JBL Boombox2
Let's begin by discussing some of the top reasons that the JBL Boombox 2 is my speaker of choice.
In the section below, I'll detail a few of the features and capabilities that make this product well worth your consideration next time you want to buy a new boombox.
Overall Sound Quality
The most obvious selling point of the JBL Boombox 2 is sound quality.
While you would expect any of the top speakers on the market to perform well in this category, this product goes well above and beyond expectations. At times, it is hard for me to understate how much I have enjoyed the output of this speaker.
What this product does best is generate a deep and powerful bass that you can feel regardless of where you use it. Along with that quality, this speaker can be incredibly loud as well. So any time you need to contend with the noise of a rowdy party, the JBL Boombox 2 will get the job done better than most.
For anyone who wants to crank their music all the way up at their next outing, I highly recommend that this speaker be your first choice. As the manufacturer boasts, the JBL Boombox 2 will make you feel like you're on the dance floor of your favorite nightclub.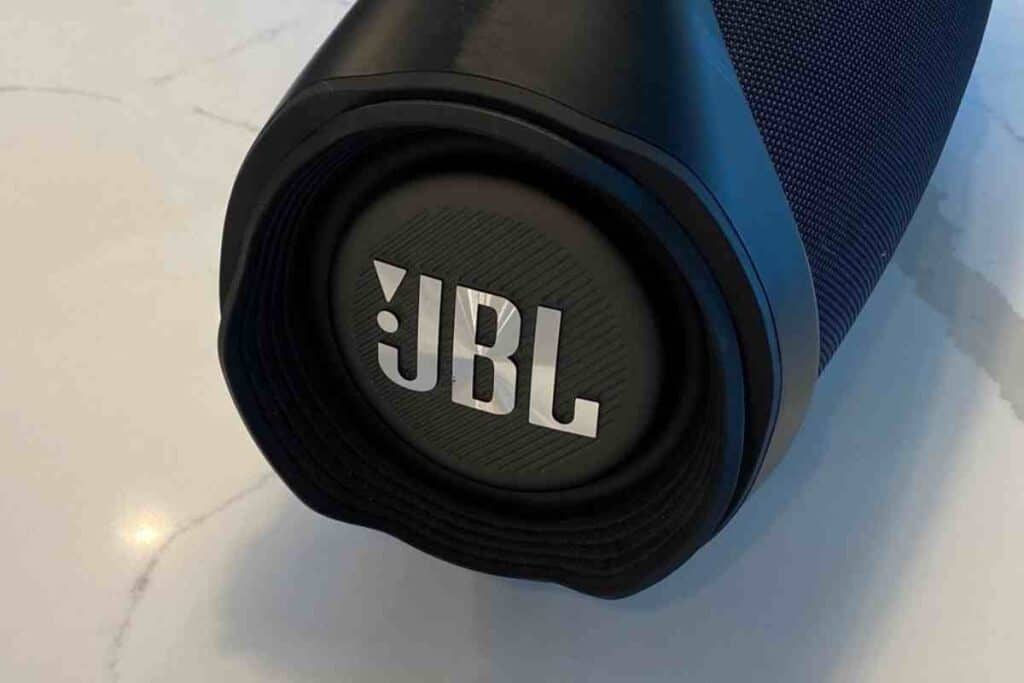 Outdoor Use
What I use my JBL Boombox 2 for most are outdoor gatherings. Anyone who has tried knows that playing music in an outside setting can be frustrating. When people are around, their voices will contend with the music you're trying to play. Not to mention wind and car sound often interfere as well.
In those scenarios, you need to rely on a speaker that can produce impressive volume and maintain the quality of its output. As mentioned in the section above, the JBL Boombox 2 delivers on both those fronts. I can tell you from experience that I've used this speaker everywhere, from beaches to tailgates, without any issues.
However, volume is not the only feature of this speaker that makes it suitable for outdoor use. It is also waterproof, meaning that you won't need to worry about it malfunctioning when it rains.
This model also comes with a convenient handle that makes it easy to take from place to place while you're out and about.
Convenient Connectivity
One of the lesser-known benefits of the JBL Boombox 2 is its impressive connectivity capabilities. That connectivity comes in several forms, each of which makes your listening experience more convenient and enjoyable.
First, the JBL Boombox 2 uses Bluetooth to connect wirelessly to your mobile devices. It also has a feature that allows you to link multiple JBL speakers at once. Doing so gives you the chance to make the soundtrack of your party louder and more immersive than ever before.
What's also convenient about this speaker is that it allows you to charge your devices via a USB port. The best part is, you don't need to stop your music even when you are charging another device.
Long-Lasting Battery
If you choose to buy the JBL Boombox 2, you'll quickly come to love its battery life. While other speakers are good for just a few hours, this one exceeds those lengths by a lot. On a single charge, this speaker can last for 24 straight hours of use.
What makes that battery life possible is the rechargeable lithium battery that this speaker comes with. The power of that battery makes it easy to continue to stream music for the entire day and night.
If you enjoy a rowdy party, then you know how much of a buzz kill it can be when your speaker runs out of juice. So do yourself and your party-goers a favor by choosing the JBL Boombox 2.
Why My Wife Hates the JBL Boombox 2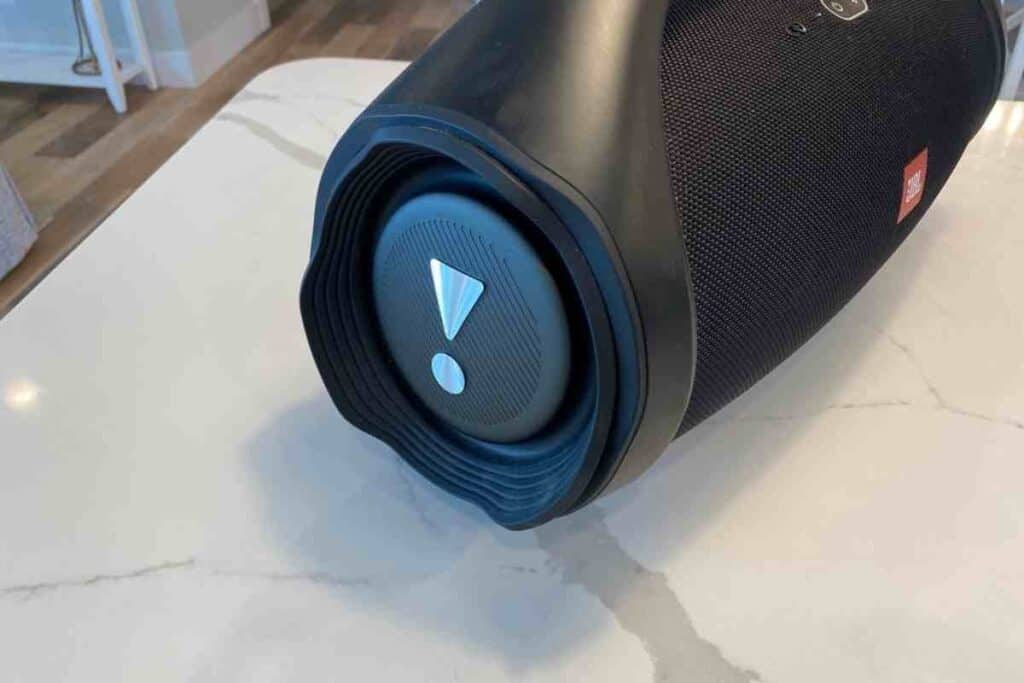 While I am partial to this speaker, there are plenty of reasons not to get it, as my wife is quick to point out.
Here are a few of the reasons why the JBL Boombox may not be the speaker for you.
Bulky Design
One of the top complaints my wife has about this product is that it is simply too large. And many other people share the same opinion. After all, no one wants to settle on a product they intend to use often only to find that it is inconvenient to carry around.
The size and shape of the JBL Boombox 2 make it well-suited to producing a lot of volume and sound quality. But those same traits make this speaker quite heavy. In fact, the total weight of this speaker is more than 13 pounds.
For many, that weight is enough to eliminate this product from the list of speakers they are considering. So, if you value a speaker that is portable, compact, and lightweight, know this is not the one for you.
High Cost
Along with being on the bulky side, the JBL Boombox 2 comes with a somewhat hefty price tag. The fact that one of these speakers will run you several hundred dollars is a perfectly good reason to look elsewhere.
Fortunately, there are plenty of other speakers on the market that are far more affordable. Those options are often a better choice for those buying a speaker for the first time. Rather than spending a lot on a speaker that may give you more size and volume than you want, try a lower-cost model first.
However, if you know that you want the kind of output and sound quality that only a JBL Boombox 2 can provide, it may be well worth spending a bit more upfront. While my wife doesn't share this belief, I feel that this speaker has been worth the price for me.
What She Prefers Instead
Now that it is clear that there are some valid points to be made against the JBL Boombox 2, it is only fair that we suggest an alternative. My wife suggests using the Bose Revolve instead. That preference comes from the fact that the Bose Revolve contrasts the JBL Boombox 2 in several crucial ways.
Most notably, the Bose Revolve is both smaller and less expensive than the JBL Boombox 2. This speaker weighs less than one and a half pounds and is at a price point that is a few hundred dollars lower. Along with that, it includes some impressive voice-command features that let you control music and take calls with ease.
The Bose Revolve also has a 360-degree sound output that contributes to its overall power. The small handle that attaches to the top makes it extremely easy to carry around. However, it cannot compete with the JBL Boombox 2 on battery life, as one charge equals only 13 hours of use.
Despite those major differences, there remain a few similarities that these speakers share. Both are waterproof and connect to your devices via Bluetooth. And while it is much smaller, the Bose Revolve is shockingly loud. For those reasons and more, both of these products are fantastic options for those looking for a top-of-the-line portable speaker.
Overall Pros and Cons for the JBL Boombox2
After hearing both my wife's opinion and mine on the JBL Boombox, you should have a strong understanding of what it is like to use this boombox. To summarize those ideas, I've listed the primary pros and cons of using this model below.
JBL Boombox 2 Pros:
Based on using this boombox myself, here are the top pros of the JBL Boombox 2:
Excellent bass: If you value a booming bass sound, this is the right speaker for you. The JBL Boombox 2 has an amazing sound quality for both low and high notes.
Charging ports: This speaker includes a USB charging port. That way, it is convenient to recharge your mobile devices while listening to your favorite music.
Waterproof: Feel free to bring your JBL Boombox 2 to parties without worrying about it getting wet. This speaker is waterproof, so you won't need to worry about any spills causing damage.
Impressive volume: Since the JBL Boombox 2 has impressive volume output, it is the perfect speaker to bring for an outdoor party or any other loud gathering.
Wireless streaming: The JBL Boombox 2 comes with Bluetooth connectivity so that you can stream your songs and playlists from your phone or tablet.
Battery life: Included with your purchase of the JBL Boombox 2, you'll get a long-lasting lithium battery. That battery allows you to play music continuously for 24 hours.
Now that we have summed up the main selling points of the JBL Boombox 2, it is time that we review the top cons as well.
JBL Boombox 2 Cons
Not everyone is as much of a fan of the JBL Boombox 2 as me, and even I can point out some of its flaws. Here are the top cons of choosing this product:
Price: There is no getting around the fact that the JBL Boombox 2 is on the pricier side. Compared to competing models, this one often comes at a higher cost.
Weight: The admirable sound output of this speaker comes at a cost. This product is quite heavy, which can make transport difficult.
Noise: For those who don't want an extreme amount of bass and volume, the JBL Boombox 2 is no longer a viable speaker option.
The cons above are worth considering before you commit to a purchase. As is the case with any product, the JBL Boombox2 is not perfect. However, despite those drawbacks, remember that there are plenty of reasons that this speaker is a great choice.
Conclusion
You've now got an inside glimpse of what it is like to own the JBL Boombox 2. I hope that hearing what my wife and I have to say about this product will help you in your boombox shopping ventures. And anytime you need an honest review of the JBL Boombox 2, refer to this article to recall all you need to know.
My Favorite
Her Favorite