Can You Take a JBL Speaker In The Shower?
This post may contain affiliate links. As an Amazon affiliate, I earn from qualifying purchases.
JBL has a decent lineup of Bluetooth speakers that fit into every price range. Even better, most of their Bluetooth speaker offers are waterproof.
Most JBL speakers are designed to withstand a little rain or the occasional accidental spill. They can even be submerged in water and still operate. That means you may be able to use it in the shower if you buy a waterproof model. It should be noted that not every single speaker offered by JBL is waterproof. Keep reading, and I'll share which ones to buy if you want to use your speaker in a wet environment.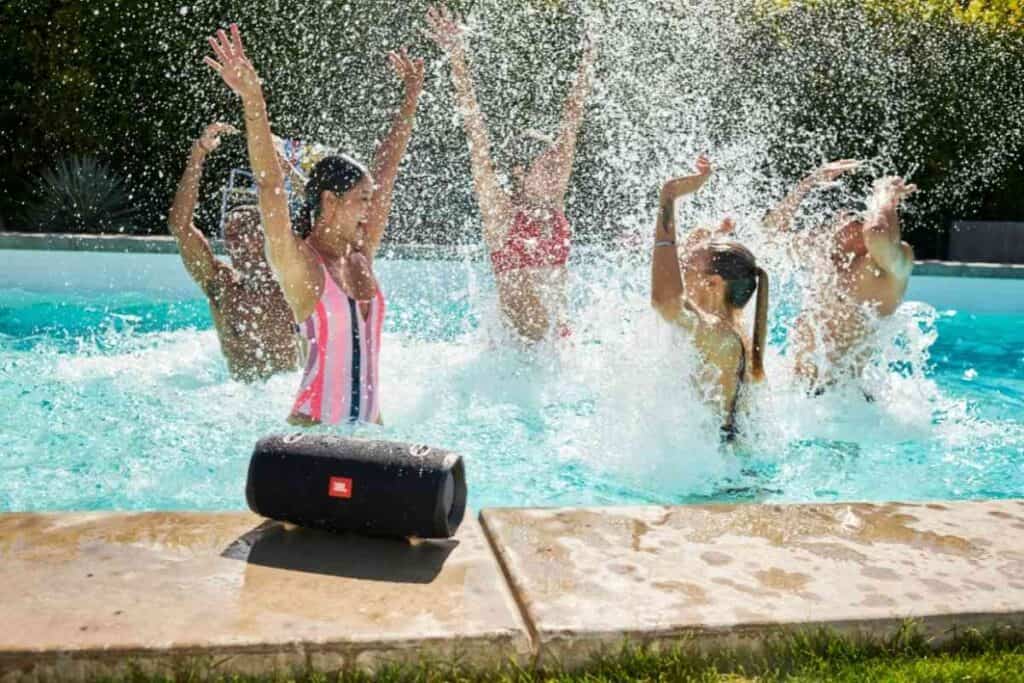 Can You Take a JBL Speaker In The Shower?
The JBL speaker models that you can take in the shower with you are the:
JBL Clip 3
JBL Charge 4
JBL JR POP
JBL Pulse 4
JBL Xtreme
That only leaves out the Partybox series when it comes to JBL's Bluetooth speakers. If you happen to own any one of these JBL speakers, then it's a green light for setting it up for shower karaoke. 
Other speakers offerings from JBL like their home audio bars and subwoofers or smart speakers like the JBL Link Portable, JBL Horizon 2, or the JBL Control X are not waterproof or resistant. 
They are meant to be used attached to home entertainment systems and focus on audio quality over physical durability.
While the Control X pair of speakers is signaled to be an indoor/outdoor system, they are not meant to be submerged in water. It is best to keep these speakers in stable, dry climates. 
As for the waterproof models, there's no need to worry about possible water damage. These speakers are not just using a wonderful idea to sell a speaker. They really are waterproof.
JBL has no problem proving this either. During the demos performed at retail locations bn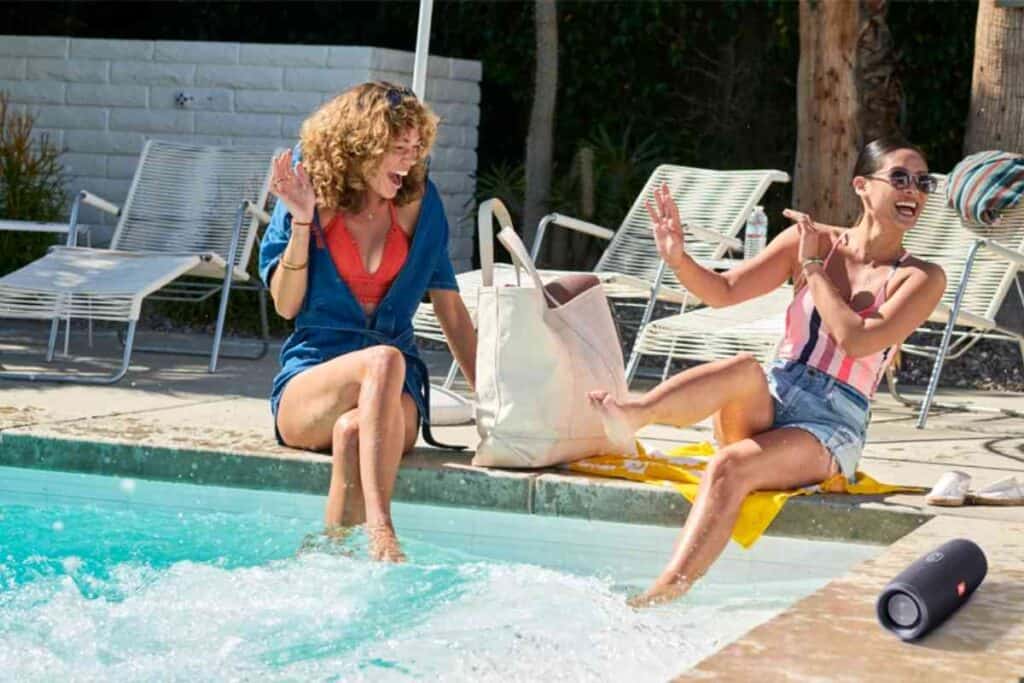 Are JBL Speakers Actually Waterproof?
Any JBL speaker in the list of JBL's waterproof portable speakers above is resistant enough to be used in the shower and completely submerged in water.
These speakers were designed to be used for adventurous and fun days even on the water.
This meant designing a speaker that could withstand the most common ways for speakers to be damaged. For most on-the-go types, this meant waterproofing the case. 
Liquid spills, rain, or accidentally dropping a speaker into a large enough body of water are far more common situations than most realize.
With devices like the JBL Clip 3 or JBL GO 2, these accidents aren't costly or a mood killer.
If they take a dive into the water, all you have to do is fish it out. It won't need to dry off and the music just keeps ongoing.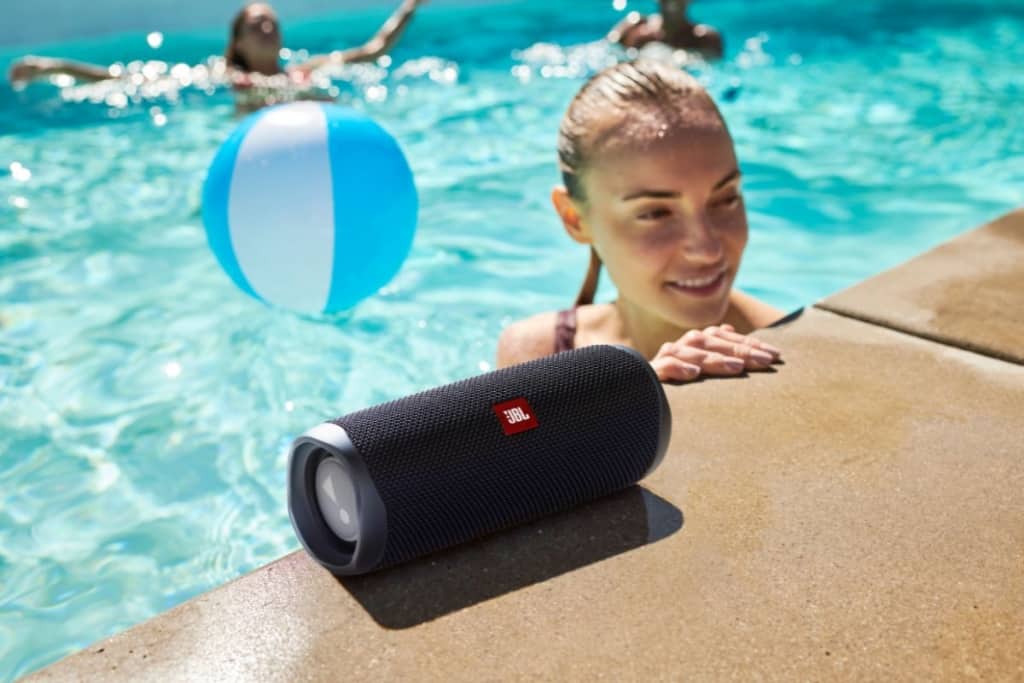 Can I use a waterproof speaker in the shower?
As you have likely guessed, the ability to withstand complete water submersion means you can use a waterproof speaker in the shower.
However, waterproofing doesn't always mean the same thing.
The waterproof rating is usually signaled by the IPX number.
You may have noticed the IPX7 rating on your JBL speaker's packaging or advertisements. IP stands for "Ingress Protection". The "X" is representative of the solid object protection rating. 
X means the device was tested against solid objects.
The last part of the rating signals liquid protection.
This can range from 0, meaning the device is unprotected from liquids to 8, the device is completely waterproof.
Here's a quick breakdown of the different waterproof ratings:
IPX0 — No water protection at all.
IPX1 — Protection against vertically falling water.
IPX2 — Protection from water falling vertically at a fifteen degree angle.
IPX3 — Protection against water falling vertically at a sixty degree angle.
IPX4 — Protection against water splashes from any angle.
IPX5 — Protection against low-pressure stream of water.
IPX6 — Protection against high-pressure stream of water.
IPX7 — Can be submerged three feet in water for thirty minutes.
IPX8 — Can survive continuous immersion in water.
Are JBL speakers actually waterproof?
JBL portable Bluetooth speakers from the list in the first section of this article are rated IPX7.
This means they can be completely submerged in water as deep as one meter for a half-hour without taking damage.
This may not be the highest water resistance available, but it is more than water-resistant enough for a device to make it through some more rigorous outdoor adventures.
Recommended Reading: Here's What To Look For In A Bluetooth Speaker [2023]
Which JBL Speaker Is the Best for Showers?
Bluetooth speakers are often chosen based on a few simple qualities; sound quality, durability, and price.
JBL has set out to conquer the speaker world by combining the best of all three into their Bluetooth speakers focused on portability.
While most of their offerings are only stereo sound, they can be paired together for a greater audio experience. This makes choosing the right JBL speaker for your shower a lot easier.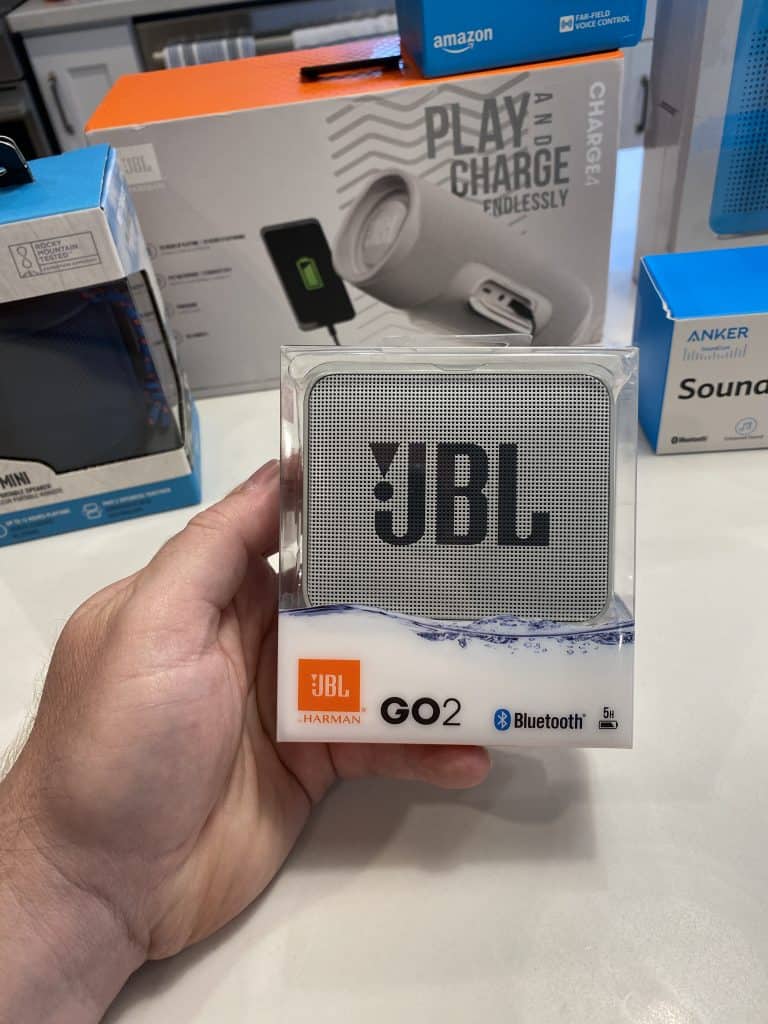 Out of the ten models of Bluetooth speakers JBL offers, eight of them are IPX7. 
This means that you can buy any one of their speakers to use in the shower. They all have the rugged durability you'll want in a speaker that is consistently exposed to water. However, they aren't all in the same price range. 
To pick the right JBL speaker for your shower needs, you'll need to break down what you want from the speaker and how much you are willing to spend to get it.
For most shower singers, nearly any speaker will do as long as the running water doesn't drown the audio out.
There's also the amount of space available to consider. A small device like the JBL GO 2 can fit nearly anywhere, but the JBL CLIP can be attached to the showerhead. 
There's even the option of buying both and positioning them to get a better sound like a "shower sound system".These speakers won't break the budget and do the job amazingly.
The only downside to the GO 2 and CLIP 3 is that they aren't in the same audio quality arena as the Charge 4 or Flip 4 which both enjoy richer audio with deeper bass.
I would recommend CLIP 3.
It may not be the best in audio quality among JBL's products, but the portability of the speaker mixed with the ability to clip it onto just about anything makes it incredibly convenient for on-the-go situations.
More importantly, it's easier to position in a shower by clipping it to the shower basket or the showerhead itself.
JBL's other speakers will need to be placed on a flat surface.
The GO 2 is small enough that it can easily find a home on a tiny shower ledge, but the FLIP, CHARGE, PULSE, and Boombox are all rather large.
They can easily rest outside of the shower and play loud enough to be heard over the running water, but the space inside the shower is likely to be too small.
Conclusion
JBL has designed a fantastic line-up for people who are adventurous and on the go.
With an IPX7 waterproof rating, all-day battery life, and varied product sizes and prices, they have become a go-to brand name for durable and quality devices.
These speakers can be used on the river, in the lake, or the shower. There's no need to be extra careful with them either which is great for outdoor gatherings.
Who wants to babysit a fragile speaker instead of having fun?