How Do I Know If My JBL Go 2 Speaker Is Fully Charged? (Answered!)
This post may contain affiliate links. As an Amazon affiliate, I earn from qualifying purchases.
JBL Go 2 is an affordable and portable Bluetooth speaker. JBL is a popular and reputable company known for making robust, high-quality, and durable Bluetooth speakers. Despite the small size of the JBL GO2, it can deliver a high-quality sound when playing music at maximum volume. If you are someone who loves listening to music anywhere you go, then the JBL Go 2 is the best choice since it is IPX7 waterproof.
The JBL Go 2 is among the cheapest ultra-compact speakers that is easy to grip with a wide range of color options. On the right side of the speaker is the micro-USB port and a 35MM AUX jack. With up to five hours of playback time, the JBL Go 2 is value for money for its size. It takes two hours to charge a JBL Go 2 fully. But have you ever wondered how do you know if your JBL Go 2 Speaker is fully charged? Read on to learn more about this.
How do I Know if my JBL Go 2 Speaker Is Fully Charged?
You will know this when the red LED indicator turns off after around two hours of charging. Once its off, you can carefully pull the USB cable straight out. Make sure you don't twist or bend it. Ensure you close the USB port cover to ensure that the speaker is waterproof.
How To Charge The JBL GO 2 Battery
1. First, you need the USB charging cable that came with the speaker. It should be JBL branded.
2. Open the waterproof cover on the right side of the speaker.
3. There are two ports: the Micro-USB charging port and the Aux port.
4. Carefully plug in the one end of our charging cable.
5. Insert to your computer or a charging cube.
6. Plug it into your power sources.
7. When the JBL Go 2 is charging, you will see a little red LED indicator on the top front of your Speaker. That confirms that the battery is charging.
The charging process of the JBL Go 2 can take up to two to two and a half hours when your battery is empty. Once it is fully charged, you will see the red LED indicator will turn off. Then you can now take the speaker again and carefully remove the USB charging cable.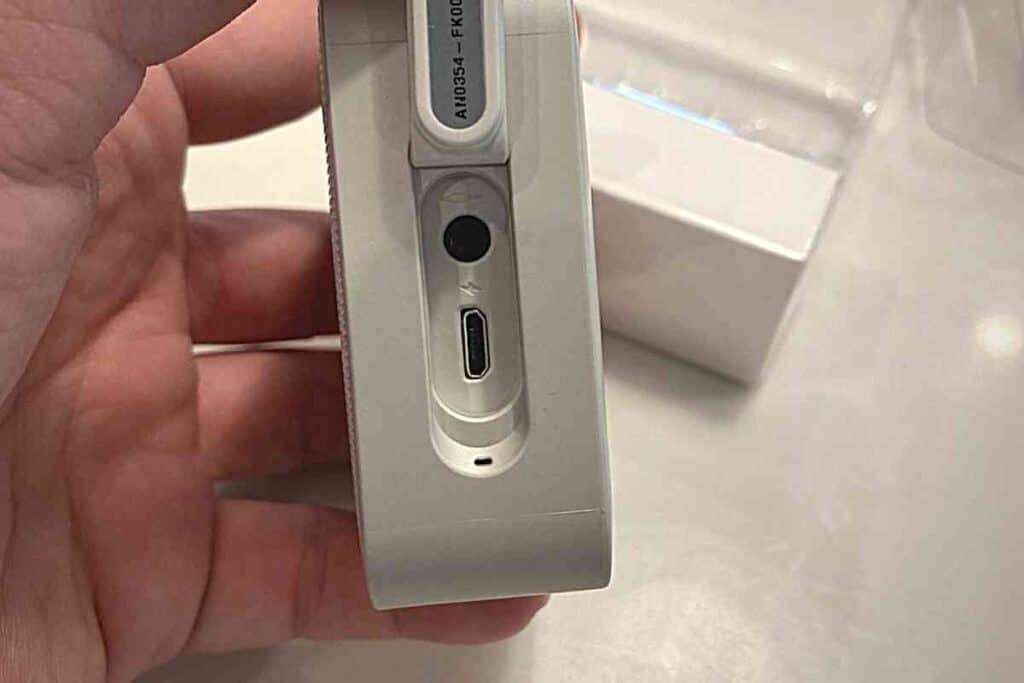 Understanding The JBL Go 2 Indicators
The JBL Go 2 Bluetooth speaker is a small, simple, robust, and compact Bluetooth speaker. It doesn't have a display panel. All it has is one LED indicator at the top front of the speaker. This indicator will show all the necessary status of the JBL Go 2 Speaker.
The JBL Go 1 and the Go 2 both have the same LED indicator that is partially covered by the top grill of the speaker.
LED blinking Slowly – The first thing you will notice is that the LED will blink slowly when it is not connected, but the speaker is on.
LED off – When you push and hold the off button, you will hear the speaker turning off. The LED will also turn off. Once it is off, you can now charge it by plugging in your micro-USB charge cable on the USB port.
Red LED indicator – When you insert the micro-USB charging cable, you will see the LED indicator turning Solid Red. When it is done charging, this Red LED indicator will turn off.
Red LED Blinking – When the Red LED is blinking slowly, it means the battery is empty, and you need to recharge.
Blue LED Blinking slowly – When the LED is blinking slowly, it means it is not connected. To connect, you should push the Bluetooth button on top of the speaker once. You will hear the Bluetooth sound showing that the speaker is in Bluetooth pairing mode.
Blue LED Blinking fast – When the speaker is in Bluetooth pairing mode, the LED will start blinking faster. That means it is ready to be paired. In your Bluetooth device, you will be able to see the name of your JBL Go 2 on the list of discovered or visible Bluetooth devices. Click on it, and then it connects to your speaker.
Blue LED solid ON – When a device is connected to your JBL Go 2 Bluetooth speaker, the blue LED light will be solid. This means that it is connected and ready to play music from your device. You can play your playlist, and you will hear the song from your speaker.
Frequently Asked Questions
1. Can I Charge my JBL Go 2 Bluetooth Speaker While It Is Playing?
Yes, if the speaker is not full, you can connect the charger to it while playing. The LED indicator will turn red. This indicates that it is charging while it is playing.
2. How Can I Know That My JBL Go 2 Battery Is Low?
When the battery is low, the LED indicator will start blinking. If this happens, quickly connect your speaker to a power source.
3. How do I reset my JBL Go 2 Bluetooth speaker?
To reset, you should push the Bluetooth button on the top of the speaker and the Volume Up (+) button at the same time. You will hear a turning off sound and the LED will go off. That will mean it has fully reset. You can now turn it on. The blue LED indicator will start blinking faster, showing that it was successfully reset.
4. Is JBL Go 2 Speaker good for making phone calls?
Yes! The JBL Go 2 speaker comes equipped with a noise-cancelling speakerphone, which offers a crystal clear phone call experience.
5. Is JBL Go 2 Speaker Worth Buying?
Yes, if you're looking for a compact Bluetooth speaker that you can take anywhere, the JBL Go 2 is a good option. It has a surprisingly high sound and a crystal-clear speakerphone.
However, if you wish to go for premium quality sound, and you don't worry so much about portability and costs, then the JBL Flip 5 and JBL Charge 4 are what you should be shopping for.
Additionally, if you don't have any budgetary strains whatsoever, then the JBL Boombox 2 is the ultimate speaker you should buy. It is relatively costly to the rest, but it offers premium quality sound that you will enjoy listening to your music. But all this comes at the expense of portability.
5. I Lost My Original Charger for My JBL Go 2. Can I Use Another Charger?
Yes. Micro-USB charging cables are interchangeable. But you need to know the power rating and specifications of your speaker before you plug in a different charger. However, I recommend you replace it with a JBL branded charger. You can get a JBL branded charger from JBL authorized dealers.
A lower current charger will work, but it will charge your speaker slowly. Check the user manual that came with your speaker for device specification before buying a replacement power cable.
Yes, of course. You can use your speaker whether it is plugged into an AC adapter or a power bank. However, it will take longer to charge to full capacity. Even though this is possible, it is advisable to switch off your speaker while charging. The battery life of your JBL Go 2 speaker will be compromised if you continue using it while charging.
7. What should I do when my JBL Go-2 LED indicator remains red even after charging?
When the LED indicator remains solid red even after your Bluetooth device is fully charged, you have to reset your device. To solve this, press the Bluetooth and volume up button to reset. Once it is reset, turn your speaker on. The LED will blink white, indicating it is ready for paring.
Connect your device. The LED indicator will no longer be red; instead, it will blink white slowly. Once paired, the LED will be solid white, indicating that it is successfully paired and playing music.
Final Thoughts
The JBL Go 2 is one of the best speakers you can buy in the low-price range. It has quality sound, well-balanced music, and is suitable for listening to podcasts and radio programs. It has a unique and robust design that can fit in your bag or pocket while on the go.
It comes equipped with an LED indicator and power sounds that let you know the status of the device. The single LED indicator will let you know when the battery is low or when it is fully charged. When you plug in your JBL Go 2 to your power source, the LED indicator will blink red.
It will only turn off when your speaker is fully charged and ready to go. The well distinct sounds accompanied by an LED indicator lets you know when your device is connected, fully charged, paired, or powered on.