Is JBL Go worth It? (Maybe, here's why…)
This post may contain affiliate links. As an Amazon affiliate, I earn from qualifying purchases.
For many decades now, JBL has remained a leader in the manufacture of audio equipment. JBL has been known to produce some of the top headphones and Bluetooth speakers in the market today.
Besides providing quality sound, robust, and rugged design, JBL has managed to keep their prices affordable for all budget ranges. Top on the list of cheapest portable speakers is the JBL Go Bluetooth speaker. In this article, we will go over the key features of the JBL Go and whether it is worth your hard-earned money.
When it comes to speakers, generally, the bigger it is, the better it sounds. But when JBL puts out an ultra-compact Bluetooth speaker that is not only durable but also small enough to fit in a less than one and a half inches thick casing, you have to take a closer look. Read on to learn more about the JBL Go.
Is JBL Go worth it?
So, is JBL Go Worth it? If you are looking for a high-quality Bluetooth speaker that you can take with you everywhere you go, the JBL Go is worth your hard-earned money. JBL go packs a punch besides its ultra-compact design.
Nowadays, Bluetooth speakers fall into two categories – those designed to be used indoors and those that can be taken with you. While the former provides powerful audio output, the latter compromises on that front, but compensates with portability.
The JBL Go is among the lightest and ultra-compact Bluetooth speakers I have owned so far. But since music lovers don't shop for portability alone, there must be a mixture of features to woe music lovers to buy a speaker. Does JBL Go have it all figured out? Read on to find out.
Here is a summary of the JBL Go technical specifications:
The version of Bluetooth: 4.1
Can Support: HSP V1.2, HFP V1.6, AVRCP, A2DP V1.2
The Diver: 1x40mm
Output Power: 3.0!
Frequency response: 180Hz – 20kHz
Signal to noise: greater than 80dB
Battery info: Li-ion polymer – 3.7V, 600mAh
Size: 68.3 x 82.7 x 30.8 mm
Weighs 130 grams
JBL is known for coming up with uniquely designed Bluetooth speakers without compromising on performance. And JBL Go is one of the early releases of JBL that stayed true to that word. Moreover, they managed to offer it at an affordable price of around $40 only. Let us look deeply into the design and performance of the JBL Go.
JBL Go Design
The JBL Go is a Bluetooth speaker in the shape of a block that looks like an oversized matchbox. It weighs just 130 grams and is ultra-compact to fit into the majority of handbags and backpacks. The JBL Go comes in a wide range of colours, i.e. orange, blue, black, pink, red, light blue, yellow, and grey.
My JBL Go is blue, and I just love the way it blends with my backpack and my working area. Its look and feel is stylish and catches the eye while offering quality sound even at high volume. The speaker's front is covered with a plastic grill bearing the conspicuous JBL logo neatly embedded in the grill.
At the same time, the body is made of plastic with a smooth rubberized coating. This enhances the grip and feels good on your hand.
The volume, call receive, Bluetooth, and power button are located on the top, while the USB and 3.5 mm ports, and the microphone pinhole, are located on the right side of the JBL Go speaker. The JBL logo is also etched on the back of the Go. There is a lanyard loop on the left side to hold the JBL Go in place.
Ultimately, the JBL Go's architecture is a strong combination of functional and aesthetic elements that come together in a unique mixture to produce a speaker that can stand the taste of time. At its base price range, it is truly worth it buying.
JBL Go Performance
When you are shopping for your Bluetooth speaker, performance is a very important factor to consider. JBL has never compromised on this for any of its speaker, including the cheap ones like the JBL Go. I was impressed by the audio output of the JBL Go, given its small size.
Of course, it doesn't compete with its bigger and more expensive brothers like the Flip and Charge. But at its price range, it packs a punch.
But is JBL Go Loud enough?
For music enthusiasts, you may be wondering; is JBL Go Loud enough? Yes, JBL Go is relatively loud, with no distortion of around 60 – 70 percent of the full volume limit. Beyond that volume, there is a noticeable crackling sound. The JBL Go has a decent bass level, but it is primarily suitable for music with more treble and highs.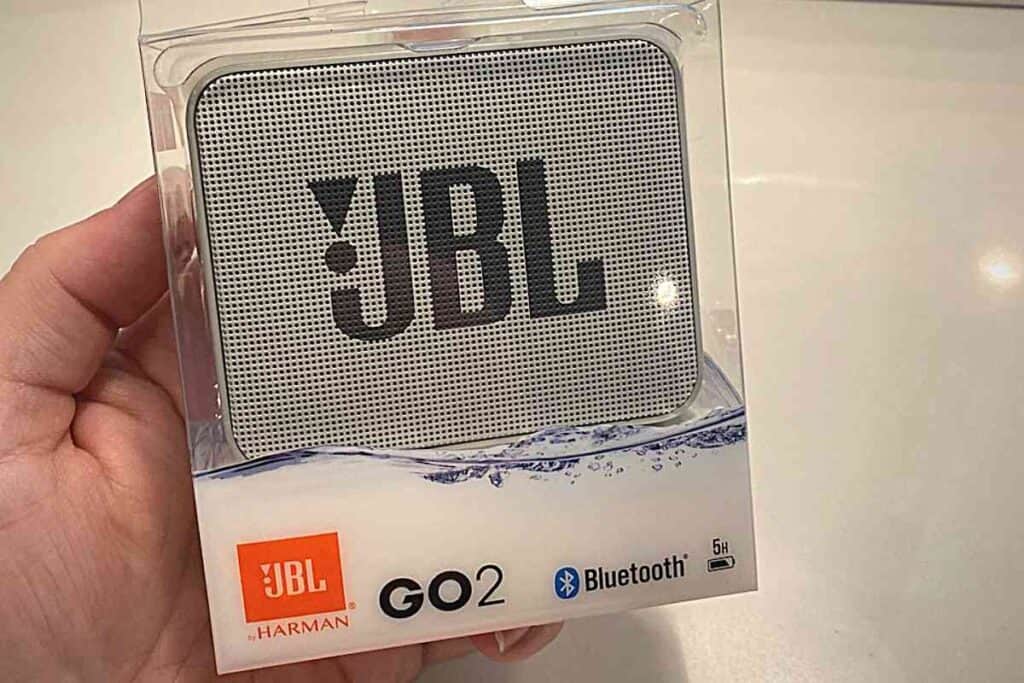 If you listen to music or podcasts that have more acoustic tracks or rock songs with minimal instrumental, then JBL Go is worth a shot. But for EDM and club songs that require a high bass level, they will work with the other line of JBL products like the Flip and Charge.
JBL Go Battery life
The JBL Go Bluetooth speaker has a perfect battery life for its size. You can get over five hours of continuous playback at a relatively normal volume level. When you increase the volume levels, it will definitely reduce the battery life.
The range on the other hand is limited. But this is typical of Bluetooth networks. To get a good sound quality, you should make sure there is minimum obstructions or interference between your source device and your speaker. Sometimes you will need a clear line of sight to have a clear and stable sound quality.
Therefore, you can rely on the JBL Go to play music without issues if your smartphone, tablet, or computer is in the same room or just a few rooms from the speaker. It is not good over long distances.
JBL Go vs JBL Go 2
JBL Go was succeeded by JBL Go 2, which maintained the size, look, and feel, but came with some enhancements. From a distance, the two look alike. But on closer look and feel, they are different.
JBL Go 2 comes with improved features like a passive radiator and waterproof casing that puts it ahead of its predecessor JBL Go. Additionally, JBL Go 2 comes with a 730mAh battery compared to the 600mAh in Go. This is 21.6 percent more juice for you to listen to your favourite music for longer.
The exterior design remains the same, although JBL Go 2 has smoother edges. It also features a dustproof and sturdy water-resistant structure. It can easily resist splashing water, but not necessarily being submerged into water for long.
Despite the difference, the JBL Go is still an excellent basic Bluetooth speaker with decent sound and is worth buying at its price. It is ideal if you don't plan to use your speaker in the swimming pool or outside on a rainy day!
JBL Go vs JBL Go 2 is a pretty straightforward comparison, if you can raise the differences in price between the two, I would recommend you go for JBL Go 2.
Frequently Asked Questions
1. Are JBL Go2 Speakers good?
The short answer is yes. The JBL Go 2 is a great improvement to the predecessor JBL Go. One of the major improvements is that it is ipx7 waterproof, which means you can take it out on a rainy day, and if some water splashes on it, or it falls in the water, it will not be damaged. So if you are looking for a compact speaker with excellent sound quality, but still rugged enough, the JBL Go 2 is the one to go for.
Additionally, it comes with five hours of playback time. For its size and price range, JBL Go 2 speakers is a good deal. Also, JBL Go 2 comes with a rubberized casing that makes it easy to grab in your hand.
2. How long do JBL speakers last?
JBL is renowned for the design and manufacture of durable speakers. But just like any other asset or electronic device, how long it lasts will entirely depend on the care accorded to it. A well-cared for JBL speaker might last for over 30 years.
But on the other hand, the battery life will deteriorate with time. Therefore, in the speaker's entire life, you will be required to replace the battery and accessories regularly.
3. Does JBL Go have a mic?
Yes, the JBL Go has a mic pinhole located on the right side of the JBL Go speaker. The microphone is ideal for making conference calls over your speaker.
Conclusion
The JBL Go still ranks among the most affordable Bluetooth speakers with a relatively quality sound and portable ultra-compact size.
It is worth it if you're looking for a decent Bluetooth speaker that you can comfortably carry everywhere you go. However, if you desire to have better audio quality and high bass level, and you are ready to trade that for portability, and spending more money, then you should consider the JBL Charge or the JBL Flip 5.