Bose SounLink Color II – Would I Buy It Again? Is It Worth It?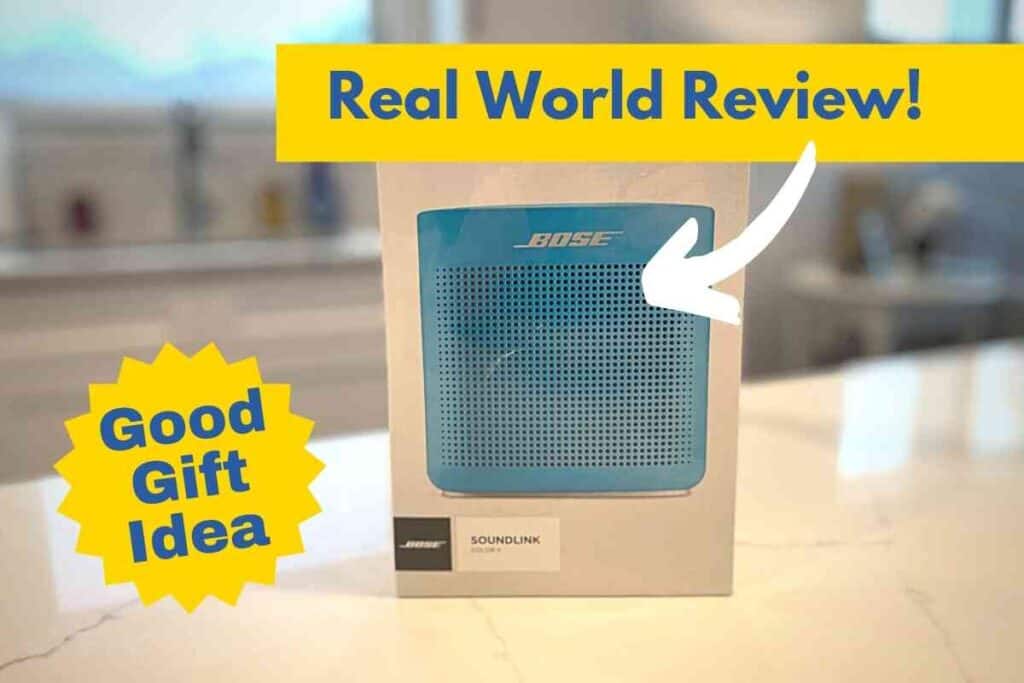 I listen to music all day while at work and at home. Whether it's relaxing background music while I read a book or party music for an outdoor barbecue, I love sharing music with my friends and family. Over the years, I've spent over $3,000 buying as many Bluetooth speakers as I could to find the very best speaker available.
I purchased the Bose SounLink Color II about six months ago and have put it through some rigorous testing. Since then, I've tested it indoors, outdoors, and with a variety of sound sources. It is quite the step up from the original Soundlink Color. 
How does the Bose Soundlink rate? Below, you'll find my opinion about this portable Bluetooth speaker and its features. Do I think the SoundLink Color 2 is a good buy, and would I buy it again? Keep reading to find out.
About the Bose SounLink Color II
The Bose SoundLink Color II is an entry-level, Bluetooth portable speaker. It has an attractive design, wireless operation, and innovative Bose sound technology that packs a punch. 
One of the best features of this speaker is its ease of setup. Many Bluetooth speakers I've tested have been difficult to pair to devices. Bose provides the Connect app that makes it incredibly simple to connect speakers to your device or to switch between several devices. This makes it easy to let anyone in our home use the speaker without a hassle.  
The built-in mic allows voice control of the speaker and lets you connect to your favorite smartphone assistants, including Siri and Google. Some of the other key features of this speaker include:
The microphone can also be used as a speakerphone for your cell phone. 
The rugged yet soft silicone exterior is incredibly durable.
Bluetooth connectivity allows you to pair this speaker to any smartphone or Bluetooth devices.
You can enjoy up to 8 hours of music on the rechargeable lithium-ion battery.
USB cable is included to recharge your battery.
Pair 2 SoundLink speakers to enjoy stereo sound.
Wireless range of 30 feet.
IPX4 water resistance protects the speaker from splashing water.
Available in 4 stylish colors, including black, white, midnight blue, and yellow citron.
Great looks and packaging make SoundLink a great gift.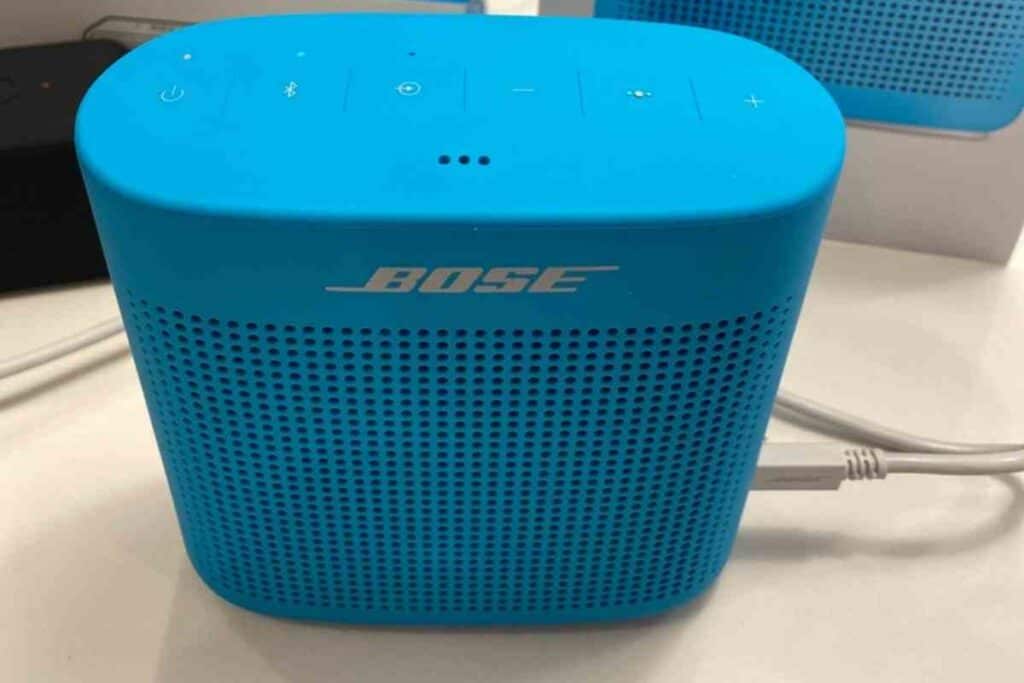 How Does the Bose SoundLink Color II Sound?
All the features in the world should take a backseat to how a speaker sounds. After several hours of use, I've been pleasantly surprised at the sound quality of this speaker.
This tiny 1.2-pound speaker houses dual 40mm drivers. While small, these drivers produce above-average sound quality and volume levels. You do lose some bass response with such small drivers but, if you are casually listening to music in your home, this speaker should be more than enough for daily use.
Unfortunately, the sound from the speaker is one-directional. This means you need to be in front of the speaker to enjoy its full sound. Other options like the Bose Revolve offer 360 degrees of sound that can be enjoyed no matter where you are about the speaker.
Best Places to Use the Bose SoundLink Color II?
Bose advertises the SoundLink Color II with the tagline "Bold sound for wherever life takes you." After 6 months of use, I feel that this speaker is a pretty good portable speaker option in the sub $200 range and has a variety of uses.
Due to its single-direction sound output, this speaker works best indoors and has been a great source of music while I'm cooking dinner for my wife and kids. The ideal placement for this speaker is on a countertop and facing away from a wall. This allows the sound to reflect off the walls and can improve sound quality and volume.  
This speaker is small and light. This makes it an ideal option for hikers and campers who want to reduce their weight as much as possible. The rechargeable battery gives you about 8 hours of music which is perfect for a day trip.
The water-resistant casing means you can safely use this speaker outdoors as well. Sitting at the pool or around a campfire, the SoundLink Color II will provide ample personal music. While water-resistant, this speaker is not waterproof, and if you drop it in the lake or pool, it may malfunction.
If you need a portable speaker for larger gatherings or spaces, you may want to consider other speakers that can provide 360 degrees sound or have larger drivers.
What's Great About the SoundLink Color II?
There's plenty to like about the SoundLink Color II. 
First, my wife and I love its look and design. I opted for the midnight blue speaker and am impressed at how colorful it is. It's found a permanent home in our kitchen and matches the visual aesthetic of the room perfectly.
Bose products are also known for building quality and amazing speakers. The silicone exterior is soft yet rugged. Even after a few accidental drops, the speaker still sounds and looks great. I've never had to worry about damaging this speaker. Everything from the feel of the exterior to the smoothness of the buttons has been carefully designed by Bose.
Connectivity is also a huge plus for Soundlink. Once you download Bose's Connect app, you'll enjoy a quick pairing of your smartphone, tablet, or other devices. It also lets you switch seamlessly between devices with a single swipe. This lets everyone at your party take turns playing music and being the DJ for the night.
If you have several Bose Speakers around your home like me, you can use Bose SimpleSync to seamlessly play music in any room, all from one device.
Common Complaints About the Soundlink Color II?
Unfortunately, I do have some complaints about the SoundLink Color II.
While the single-direction sound is adequate, you lose sound quality, bass, and richness if you are not in front of the speaker. Placing the speaker close to a wall helps with the issue by allowing the sound to reflect around the room, but it's still not as impressive as some speakers in the same price range.
Of course, you can always pair two SoundLinks together to compensate for this issue if you need more volume. But, this would double the cost of the speaker. 
The speaker is rated IPX4 for water resistance. This gives you protection from light splashes, but anything more than that could damage the speaker. Don't expect this speaker to function if it falls off your boat or into the pool. 
Other than these issues, this is a great portable speaker for home use.
Are there any Other Alternatives to the Bose SoundLink Color II?
For music fans like me that appreciate more bass and richer sound, I found both the Bose SoundLink Revolve and Revolve+ II to be huge upgrades to the Soundlink Color II. These speakers offer all the benefits of SoundLink but boost the sound output and quality. 
These speakers both offer full 360 degrees of Omni-directional sound. This means that no matter where you place the speaker, it will provide the same sound quality in every direction. 
Instead of a rectangular body, the Revolve series speakers feature a cylindrical body giving them a smaller footprint than the SoundLink.
You'll also find the Revolve series speakers to have longer battery life that lasts up to 13-17 hours, depending on which model you choose.
If you are looking for a speaker that can pump out jaw-dropping sound, the Revolve+ II is Bose's best-performing portable speaker. I love the sound quality of this speaker, and it's been my go-to speaker for any large outdoor gathering we host at our home.
While both these speakers are slightly bigger and more expensive than the SoundLink, I think you would be happy with an upgrade to either the Revolve or Revolve+.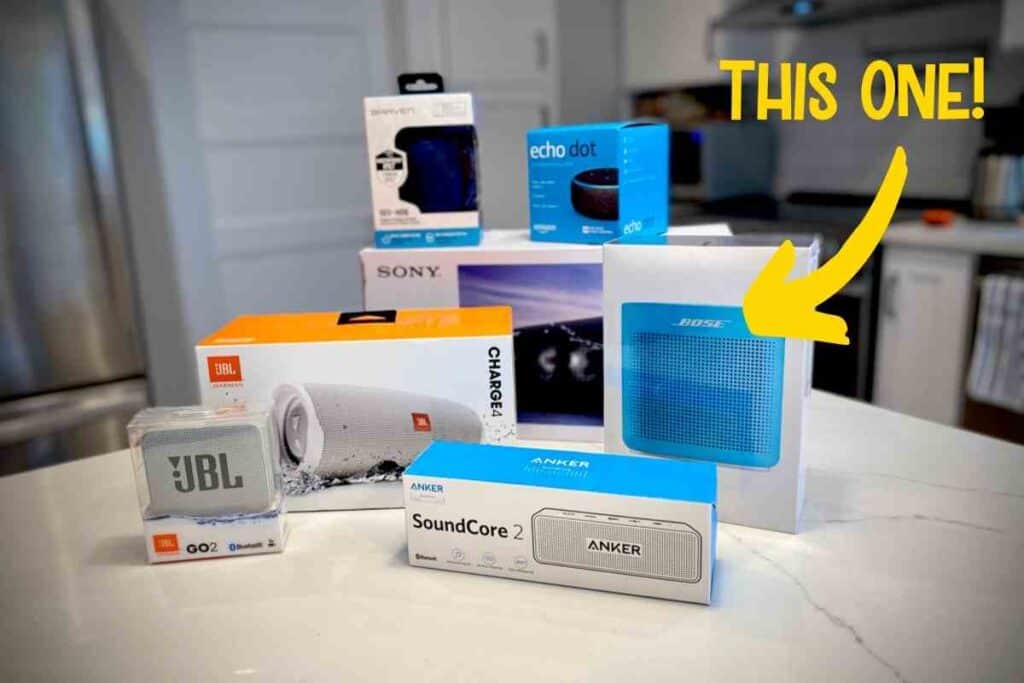 Is the Bose SoundLink Color II Worth It?
With its entry-level price tag, The SoundLink Color II is an affordable portable speaker. It boasts some of the best connectivity options I've tested and is exceptionally well designed.
The sound quality is above average, and it can produce adequate sound levels for indoor use, poolside, or small outdoor gatherings.
The SoundLink is one of the better-looking speakers I own as well. It also is well packaged and would make an amazing gift for someone's birthday.
On a scale of 1 (bad) to 10 (great), I would rate this speaker around a 6.5 for its design, build quality, connectivity, long battery life, and clean sound. Of course, your rating may differ based on your preferences or needs.
Would I Buy it Again?
Bose has built a reputation based on its build quality, design, and high-end products. Unfortunately, Bose speakers are costly and are not for everyone.
The speaker is well designed and built. It looks amazing and provides excellent connectivity options. It works great sitting in my kitchen and gives me instant voice access to Siri while my hands are filled.
The major drawback of this speaker is it only fires sound in one direction. This means it works best indoors where the user is facing the speaker. You will lose some bass response and sound quality when used outdoors or in larger indoor locations.
Would I buy the Bose SoundLink Color II again? Yes, this is a great-sounding speaker "BUT"…
I also own both the Bose Revolve and Revolve + speakers that provide 360-degree coverage and a huge improvement in sound quality compared to the SoundLink II. While more expensive, I get more use out of the Revolve portable speakers, and for that reason, if you have the money (or find it on sale), I would say to get the Revolve speaker, with all things being equal.
This said, I would not hesitate to buy the SoundLink Color II. It sounds great, just the Revolve is better in my side-by-side comparison.