JBL vs Bose: Is JBL Better Than Bose? (Shocking Answer!)
Bose and JBL are two of the major audio system manufacturers. If you are unsure of the speaker to pick between these two brands, you will not go wrong with any of the brands. Although you will miss out on some features when you pick one over the other, both brands offer high quality features, high quality audio, and they are durable.
By far these are my two favorite portable speaker brands. I use both Bose and JBL speakers on a daily basis throughout the day. I have tested them, abused them, and I know exactly how each performs. Below is a complete comparison between the two speakers.
Is JBL Better Than Bose?
JBL is better than Bose in battery life, available of an AUX Input and an extra USB port, presence of a subwoofer, and the fact that it is dustproof and water-resistant. JBL also offers a detachable cable and socket for a 3.5 mm audio jack.
On the other hand, Bose offers better portability as its speakers are 1kg or less in mass compared to JBL, which offers speakers that are up to 5.25 kg heavy. Bose speakers are also more advanced and most of them support Wi-Fi, they have a mute function and offer voice commands.
For the purpose of this article, I will compare JBL Boombox 2 and the Bose Soundlink Revolve as they are among the top products from the manufacturers. But first, here is what you need to know about these two brands.
About Bose and JBL
JBL
JBL was the brainchild of James Bullough Lansing, and his initials form the brand name. The company started more than 70 years with the founder producing drivers for radios. Later, the company grew to offer audio systems for several applications. JBL is a business under Harman International Industries, which is a branch of Samsung Electronics.
The headphones and the speakers are produced by the JBL Consumer division. They have another division, the Professional division that creates equipment for studios and DJs. These two departments make it challenging to compare the Bose and JBL brands.
One thing that makes JBL popular is the fact that they work with so many professionals. In 2012, the engineers from JHBL received several awards for their audio systems that Motion Picture Academy uses. For this article, I will compare the Bluetooth speakers from the two companies.
Bose
Bose was started by Amar Bose in 1964. The idea behind the inception of Bose was to create systems that would connect to many speakers. They wanted to create the effect of a hall in a small house.
When you have multiple speakers in the walls that surround you, it is easy to create the effect of a concert hall. Today, Bose is owned by Massachusetts Institute of Technology, MIT, and most of the proceeds from the company goes towards research. Amar Bose donated the company to MIT.
Today, Bose creates audio systems based on "listeners' perception." You will never know the wattage of Bose speakers because the company does not indicate most of the features on the package. Instead of focusing on wattage and voltage and so many other technical features, Bose focuses on producing speakers that impress the ears of the listeners.
The company employs what they call psychoacoustic principles where they study what listeners want to hear from an audio device. They then incorporate that in their speakers and the audio that comes from the speakers is impressive.
Below is a head-to-head comparison between speakers from the two brands.
The Design
Bose speakers are more compact and occupy less space in your house. The Soundlink Revolve is up to five times smaller than the Boombax. If you need portability, Bose would be a good choice.
Each of the speakers comes with a control panel for ease of use, and they are both weather-sealed so that you can take them on your next adventure. However, JBL is dustproof and water-resistant, making it even more rugged for an adventure. JBL comes with a detachable cable, allowing you to use an alternative cable if need be unlike the Bose which may have a fixed cable.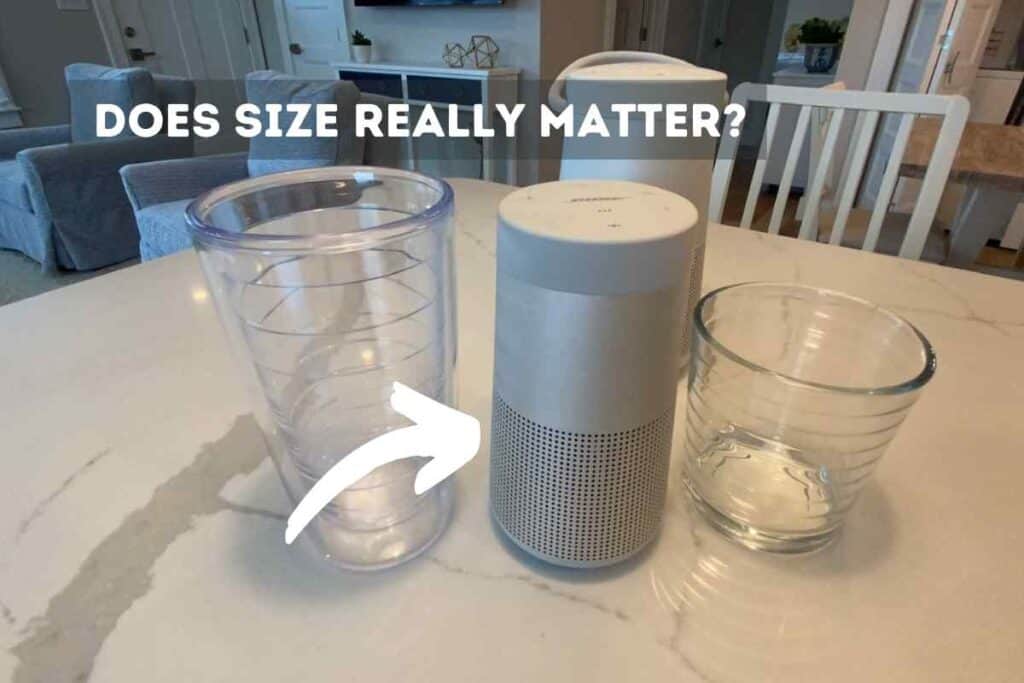 Sound Quality
Both Bose and JBL are known to offer high audio quality. If you are an audiophile, you will love what each of the speakers has to offer, but they offer different audio quality for different genres. Both of them have stereo speakers.
If you need bass, JBL has a subwoofer that gives it that deep bass that you may need to listen to hip hop and pop. On the other hand, Bose uses transducers and considers the listener's perception to create the best quality audio. Bose offers clear and crisp audio for when you need to enjoy the instrumentals and the voice in music.
At low and high volumes, both speakers offer impeccable audio quality. You can pick one based on your listening needs. Both brands do not offer a magnet and a voice coil – instead they have a passive radiator. Because JBL speakers are huge, the passive radiator produces better vibrations to create deep bass tones.
Battery
If you use your speaker indoors, you may not worry much about its battery. Anyone who takes their speaker on an adventure understands how important it is to have a battery that runs for many hours and charges fast.
The JBL speakers can run for up to 24 hours in comparison to Bose speakers, which only run for about 12 hours. Both speakers have a battery level indicator so that the battery doesn't run out on you unawares. It takes about four hours to charge a Bose speaker to full capacity and about 6.5 hours to charge a JBL speaker.
Both speakers have not advanced enough to offer wireless charging. Again, their batteries are not removable, but they last long enough that you may never need a battery replacement.
Connectivity
Both JBL and Bose speakers run on Bluetooth 4.2 and this guarantees fast connections. With this connection, the compressed files do not lose their quality, you enjoy a longer connection range, and the connection is faster.
JBL adds an auxiliary input option for when your device doesn't support Bluetooth. Further, JBL has two USB ports in comparison to the one port that Bose offers. However, Bose tops as it supports Wi-Fi.
There are some JBL speakers that support Wi-Fi, but Bose has the highest number of portable speakers that offer Wi-Fi connectivity. Another advantage of Bose speaker is that they have Airplay. Airplay is a wireless connection through which you can use to stream music from Apple devices with an external speaker or screen.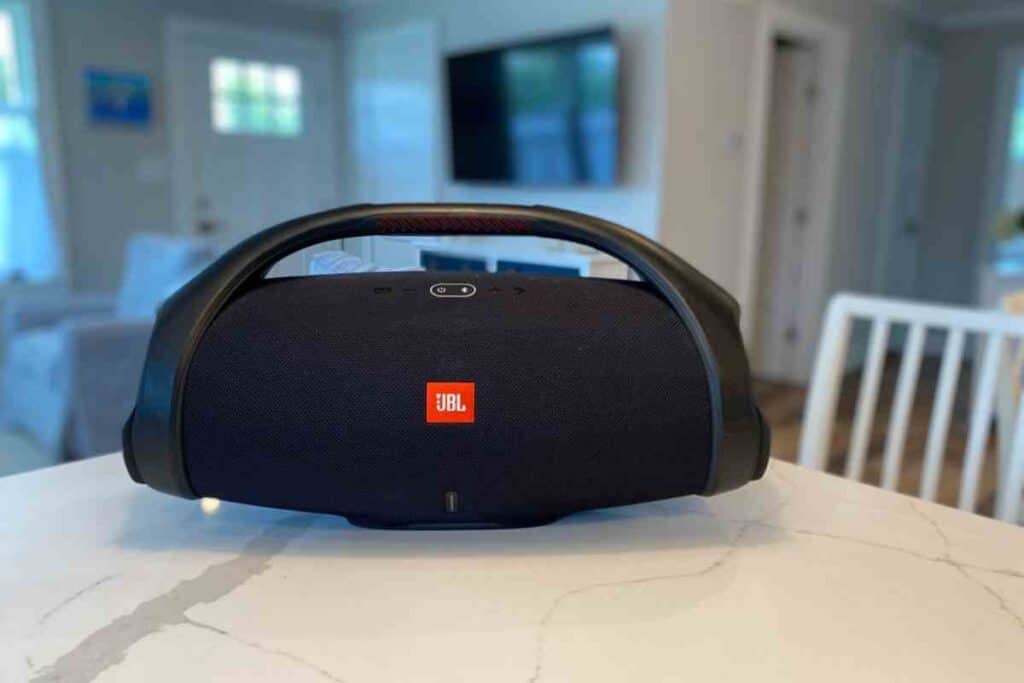 Features
Bose speakers are sophisticated. The speakers not only produce an impressive audio quality, but they also have so many convenience systems. Because the speakers connect to Wi-Fi, they allow voice commands.
The controls of the top of each speaker allow you to control the audio and make the connection with the audio device. Bose speakers, the ones with Wi-Fi connectivity have a multifunction button that you can use to access Siri or Google Assistant. Through this, you are able to give voice commands to the speaker so that you do not have to necessarily be close to it to press the buttons.
Further, Bose offers an app that you can use to control your speaker. The Bose Music App is a great addition to the speaker as you can use to equalize the sound and to access more music. You can stream music from services such as Spotify and Pandora and even access online radio.
The app can also help you make faster Bluetooth connections and to troubleshoot any problems the speakers may have. If you need an advanced sound system, Bose speakers will give you that.
Both brands offer voice prompts. The voice prompts send you voice messages warning you when the device is running low and notifying you of open Bluetooth connections.
Cost
You will pay for JBL Boombox that you will for the Bose SoundLink Revolve and Revolve+. The JBL speakers are bigger and louder, and they will serve you better if you are in a big room or you are using it for a small crowd. Bose speakers are smaller, but they offer great sound quality – they may not have a deep bass, but the audio quality is impeccable.
If you cannot afford a Boombox, there are other more affordable JBL speakers for you. You only have to do comparisons and pick the speaker that meets your needs.
Closing Thoughts
Should you go for Bose or JBL? The choice is yours, and it should be dependent on your budget and your audio needs. If you need something that is loud and has a deep bass, go for JBL.
If you need audiophile-quality audio without a deep bass, you can go for a Bose. If you need technologically advanced speakers, then Bose is also a good choice. Both speakers are portable – Bose speakers are compact and lightweight while the JBL speaker has a long battery life lasting for up to 24 hours.
I have tested speakers from both brands and unless you know what you need, I can guarantee you they are all good. So, what are your audio needs?
***PS – No need to buy the extra charging cradle for the Bose. It comes with a perfectly good USB charging cable! (save your money)