Does JBL Make Good Speakers? (Explained!)
This post may contain affiliate links. As an Amazon affiliate, I earn from qualifying purchases.
JBL has produced audio systems for more than 70 years now and the company continues to improve their speakers. The company faces competition from Bose, which produces speakers with top notch quality. It also competes with Harman Kardon, an audio system geared for vehicles.
Besides producing speakers for consumers, the company produces speakers for professionals such as DJs. But how good are their speakers?
Does JBL Make Good Speakers?
Yes. JBL speakers are a great choice for users who need a deep bass to listen to modern pop and hip hop music. The audio quality is impressive at low and high volumes.
Audio professionals rely on JBL speakers, and the company produces more than speakers for DJs and other professionals. You will find the speakers in several clubs all around the world, but the company is also producing portable Bluetooth speakers for professionals and other consumers. They are tough and reliable.
One of the things that stand out in their Bluetooth speakers is their battery life. Some of speakers have a battery life of 24 hours, some even longer.
To show you how good JBL speakers are, I have reviewed a few of the speakers that appeal to me.
How Good is JBL Boombox 2?
JBL Boombox 2 is one of the loudest portable speakers on the market today. You can have the speaker for your backyard barbecue, neighborhood gathering, or a family reunion. It is loud enough to be used outdoors for small gatherings.
The speaker offers 24-hour battery life, so you can enjoy music all day and all night. This makes it ideal for long weekend drives and when you need to visit a cabin with no power connection.
It offers a massive pro sound that is synonymous with JBL speakers. The Boombox 2 is the loudest Boombox, thanks to the advanced subwoofer inside it. For its size, the speaker is quite appealing for outdoor enthusiast.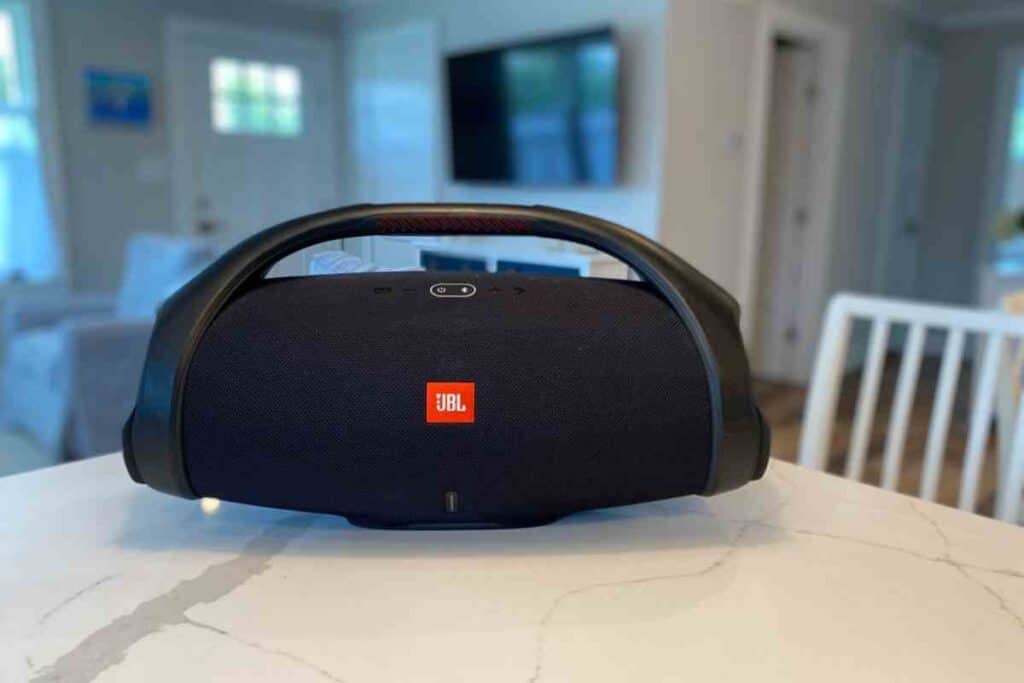 IPX7 Waterproof Rating
All Boobox speakers have an IPX7 waterproof rating. The company uses liquid resistance protection to ensure that your speaker is safe if you submerge it in up to one meter of water for not more than 30 minutes.
You can link up the speaker with other PartyBoost-compatible speakers for when you need to turn up the music. As a bonus feature, the speaker comes with a built-in power bank, so you can keep the party going even when you are not near a source of power.
Connectivity and Other Features
The Connect+ button from the original Boombox was not carried over to Boombox 2. The button allowed you to connect multiple JBL speakers together and play music at the same time. With Boombox 2, you can only connect two or more speakers that are PartryBoost compatible.
Further, JBL dropped the outdoor and indoor modes from the original Boombox speaker. With the Boombox 2, the speaker sounds remarkable indoors and outdoors.
How Good is JBL Flip 5?
JBL Flip 5 is the most minimalist speaker on the market right now. The speaker only has the basic features that give it that deep bass that a party-goer will love. If you have used the Flip 4, you will miss most of the functionalities that the predecessor had.
The speaker only weighs a kilo and has a compact build, but it produces a rich and loud sound. There is a shoelace strap on the speaker that enhances its portability.
The speaker has an IPX7 waterproof rating, so it can survive being in water up to a meter deep for 30 minutes. Inside the speaker are passive bass radiators to give you the deep bass you need in a party-oriented speaker.
Features of a JBL Flip 5
You cannot use the JBL Connect app to link multiple Pulse 4 or Flip 5 speakers. There is a USB slot that you can use to charge your devices. The speaker doesn't have an AUX socket. The company ditched the microphone, so you cannot make or receive hands-free calls.
Although these two omissions may surprise those who have used the Flip 4, anyone who wants better and louder audio will love the Flip 5.
The speaker charges faster than the predecessor. For the speaker to last about 12 hours, you need to charge it for about 2.5 hours. The greater 20-watt power output makes the speaker louder. JBL also re-engineered the speaker so that it produces better sound quality.
Its 44-mm driver increased the speaker's cone area, allowing for greater sonic amplification. JBL delivers sonic excellence in all their speakers and the Flip 5 is one of the speakers with the best audio qualities without the features that make it expensive.
Whether you play the speaker on low or high volume, the audio quality is almost impeccable. It is a speaker for anyone who wants a speaker for outdoor use as well as indoor use.
How Good is a JBL Go 2 Speaker?
The Go 2 is a small speaker with the performance of a large speaker. This speaker is only 71.2 by 86 by 31.6 mm, yet it delivers surprisingly loud sound. The bass response may not be as good as that of a bigger speaker, but it offers some clean mids and highs.
Even with its small size, the speaker's battery still lasts as much as five hours – which is lower than what most JBL speakers offer.
Instead of the cloth exterior in most JBL speakers, the GO 2 has a rubber housing that makes it durable by protecting it from impact if it falls. Further, you can buy this speaker in one of the 12 colors it is offered in. The JBL logo and the grille on the front part of the speaker make its sound project forward. It doesn't have a grille at the back for the passive bass radiators because its size doesn't allow.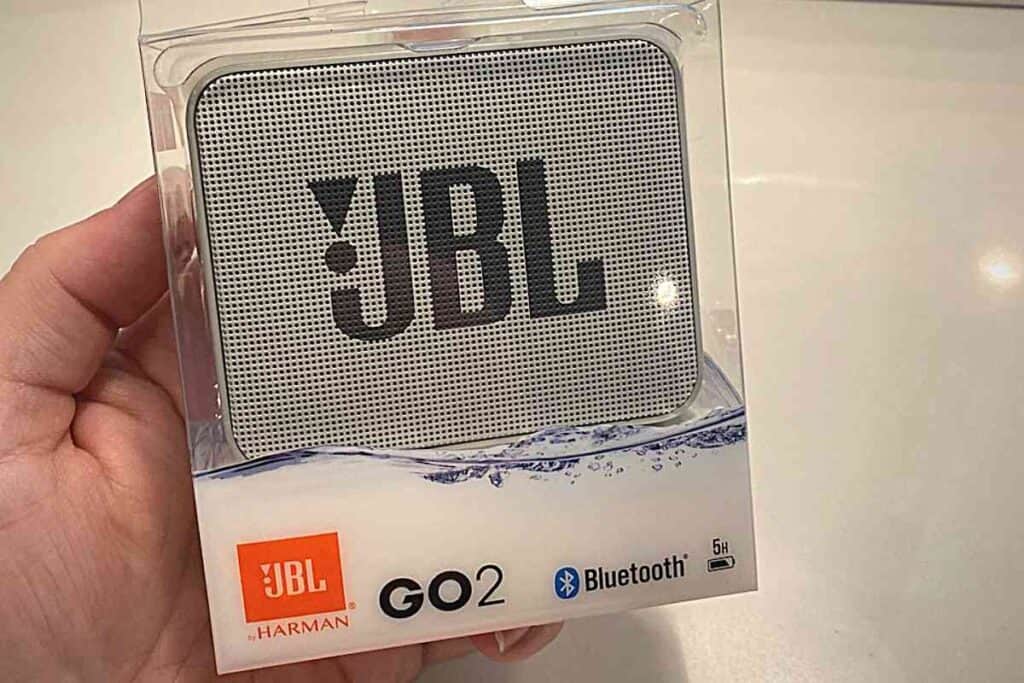 All speaker controls are at the top for ease of access. There are buttons for power, volume, pairing, and a multifunction button that can activate the phone's voice assistant. There is also a speakerphone, so you can make and receive voice calls from your device.
The speaker has a micro-USB charging port and a 3.5mm jack for when you need to connect other devices.
It is easy to belittle this speaker based on its size, but that would be a mistake. You can use the speaker comfortably on 50 percent volume as the speaker is loud enough. The speaker will not offer the bass you may need for hip hop, but its mids and highs are smooth.
If you want a small and durable speaker to take on your next adventure, the GO 2 is a good choice. It may only last for five hours on battery, but that is still impressive for such a small speaker.
How Good is a JBL Charge 4 Speaker?
JBL Charge 4 is an improvement of the successful JBL Charge 3 speaker. If you have used the Charge 3, you will appreciate that the design of the two speakers are almost the same. However, the subtle improvements in the Charge 4 make all the difference in sound quality – the audio sounds refined in the Charge 4.
The Charge 3 will impress you if you need bass, but its highs may disappoint a little. You do not have to worry about that with the Charge 4 as it allows better tonal balance while still allowing you to enjoy that deep bass.
The cylindrical shape of the Charge 3 is carried on to the Charge 4 without any changes. This speaker can survive being submerged in one meter of water for up to 30 minutes. At the top, the speaker has easy controls for power, volume, media control, Connect+, and Bluetooth pairing.
There is a silicone door at the back of the speaker, protecting USB charging ports and a 3.5mm aux. You can use the ports to charge your phone as you continue enjoying your music. The speaker is directional and so the sound comes from the sides, but it is loud enough even for those looking for a 360-degree sound.
The directional nature of the speaker makes placement important. If you place it right, the sonic performance of the speaker is excellent. It is more balanced than the Charge 3 where the highs are no longer a weakness.
The Charge 4 will last for about 20 hours on battery. This makes it a good choice for when you need a traveling speaker.
Closing Thoughts
JBL is a brand that keeps bettering their speakers. If there is a feature on a speaker that they feel needs improvement, the company gets to it. They have a wide range of speakers from small speakers with a huge bass to large speakers for small gatherings.
If you need bass or a more balanced sound, there is a speaker to meet your needs from JBL. Anyone who needs top notch clarity of voice may find Bose better than JBL, but lovers of bass will always go for a JBL. In terms of sonic performance, JBL speakers will not disappoint you.