Sony SRS-XB43: This Speaker Is Good, But You Can Do Better!
Boasting a bigger price tag than most of other Sony's waterproof Bluetooth speakers, there's a lot of hype surrounding the Sony SRS-XB43 model – but does it have that same high-quality sound that Sony's known for, and is it worth the cash you'd have to dish out for it?
From basic features to in-depth pros and cons, here's a complete review of how the Sony SRS-XB43 works and whether it lives up to the competition of other Bluetooth speakers.
Sony SRS-XB43
The XB43 falls under the category of a wireless waterproof Bluetooth speaker, and some of its most prominent features include LED lights, Party Connect, and speakerphone functionality. Here's a closer look at the specifications of the speaker, its design, and how beneficial those extra features are when you're searching for a Bluetooth speaker.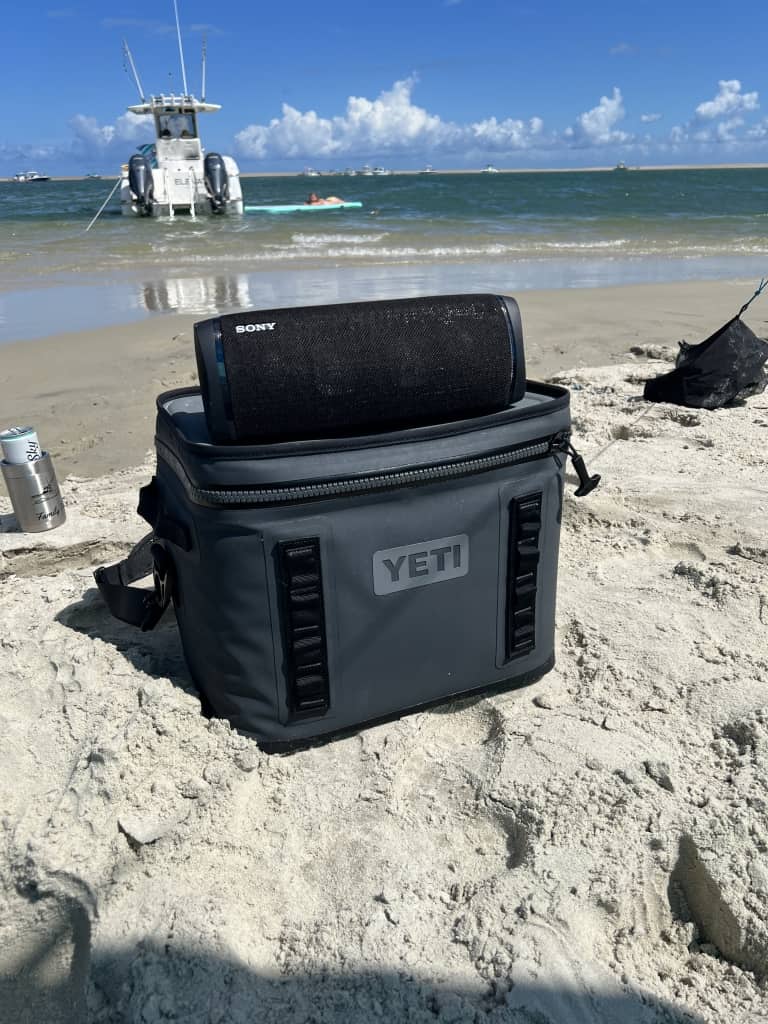 Specifications
Wireless Playback: Bluetooth with NFC
Price: $249.99
ASIN: B086CYQ22F
Weight: 6.5 pounds
Waterproof: Yes, IP67-proof
Design
Comes in black, blue, and taupe colors
Includes buttons for power, Bluetooth pairing, volume control, and call management
Rugged, bulkier design
Weighing a little over six pounds, the Sony SRS-XB43 isn't the most lightweight Bluetooth speaker on the market, but it does have a functional design. On the right and left ends of the speaker, you'll find LED bands that light up as well as more pale LED lights that sit behind the grille.
The most important part of this speaker's design is probably the control strip, which sits on the top panel of the model. Here, you're going to find every button you need to control the speaker's performance – including a power button to turn the speaker on and off, Bluetooth pairing for smartphones and other devices, volume control, play and pause buttons, and call management.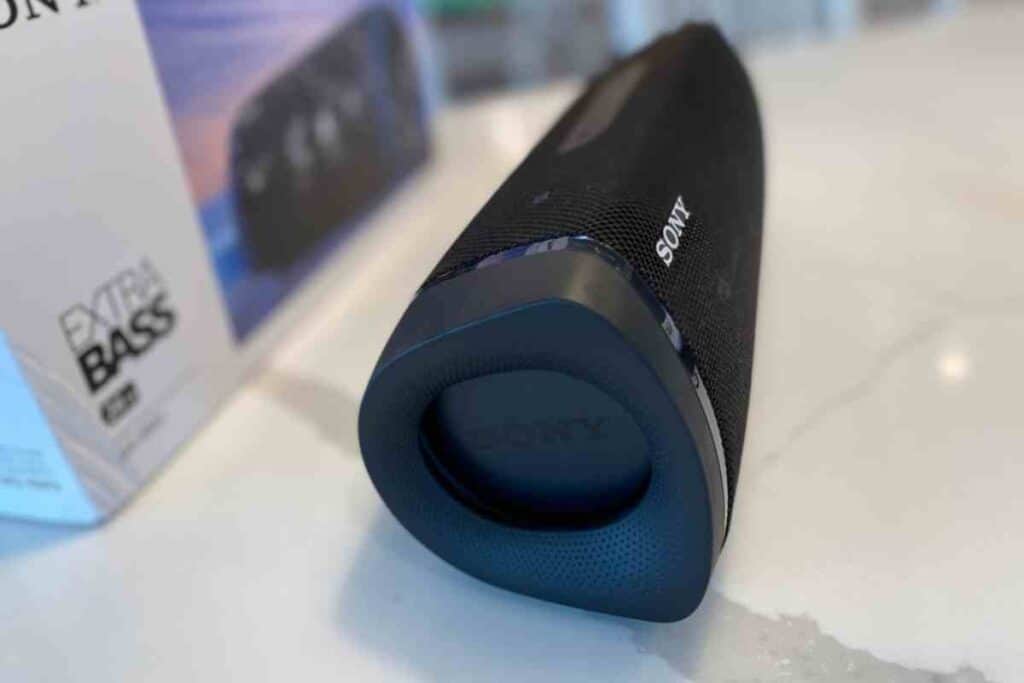 There's also a Live button that adds a three-dimensional sound to your audio, but I'll talk more about what I think of that below.
With a frequency range of 20Hz to 20kHz, there are dual woofers (2.5-by-2.8-inch) and 0.8 tweeters behind the grille to boost that frequency range.
And, as one of the most prominent design features of the XB43, this speaker has an IP67 waterproof rating, and as long as you keep the panel closed, you shouldn't have to worry about accidental water damage. Its waterproof design is durable enough to withstand most accidental water damage – like if the speaker gets dropped in a puddle or ends up by the pool, but dropping it several feet into the water could still cause damage.
This includes salt water, so the XB43 is resistant enough to withstand a day at the beach if need be. And, if you're worried about regular dirt or dust affecting your sound quality, the speaker is just as dirt-resistant as it is water-resistant.
Features
Now that I've covered how the design works, it's time to go over the best features of the XB43.
LED Light Modes
With those two LED lights on the edges of the speaker, you have the option to change colors or even let the lights change with the beats. While it's not a make-or-break feature for the XB43, it can be useful at parties or events – especially in low lighting where those flashing and changing colors really pop. To change the colors or the light mode, you'll need to play around with the controls on the speaker.
Hands-Free Calling
Since it's a Bluetooth speaker that connects to your phone, you can enjoy hands-free calling and take your phone calls with the XB43. While this may not be much of a party feature, hands-free calling is still useful when you're using the speaker on your own or in a space where that extra volume really counts.
Live Sound
The XB43 boasts "Live Sound," which adds a three-dimensional quality to the audio and is meant to be a party feature. At festivals or events, live sound can have its benefits – but it's not one of my favorite features in the XB43, and you'll probably find that you can go without it.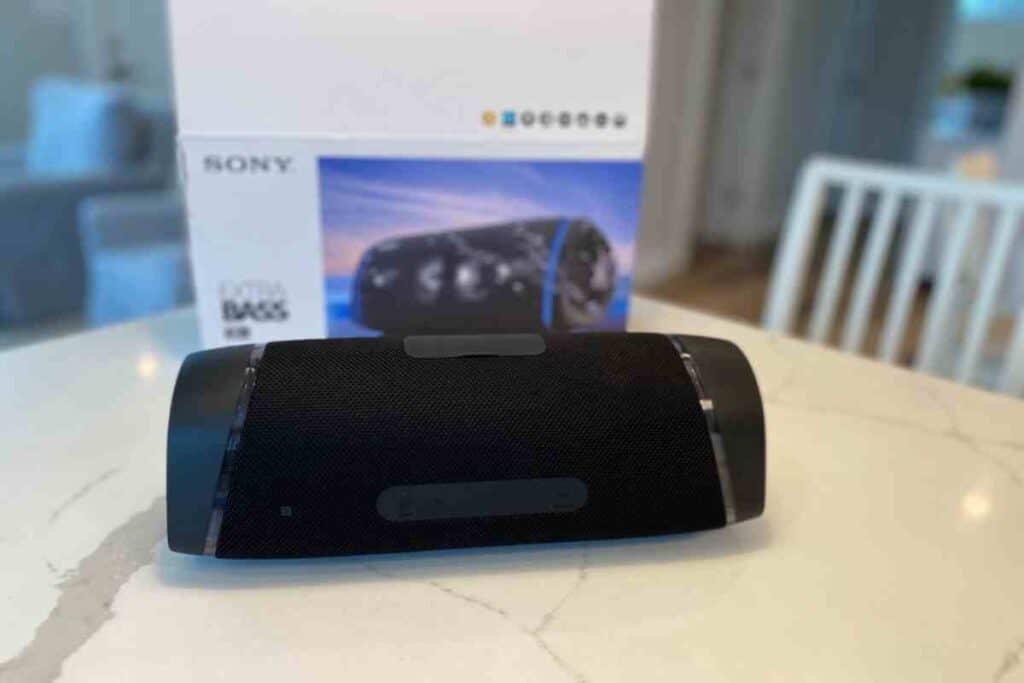 Party Connect
If you've got multiple speakers, you can use the Party Connect feature – which lets you connect up to a hundred different wireless speakers through Bluetooth. The sound (and the lights) sync up perfectly, which makes this feature incredibly useful for those bigger events and parties.
Portability
You'll often hear the XB43 called a portable speaker, and it is. Since it's wireless, there's no need to worry about tugging wires or cables with you (unless you plan to charge it), and the rectangular shape of the speaker is easy enough to carry in one hand.
Keep in mind that it is a little heavier than some wireless speakers at over six pounds, but the extra weight isn't so detrimental that it becomes a chore to carry around.
Battery Life
Battery life is a crucial part of any wireless speaker, especially if you're bringing it with you on the go or to an event. While Sony boasts that the XB43 can last a full 24-hours off a single charge, it's a little more realistic for the XB43 to last around 15 hours (with the lights on) before it needs to be charged up again. Things like STAMINA mode or EXTRA BASS can affect how long the battery actually lasts as well as your entire listening experience.
If you do want it to reach that full battery life, you'll need to keep the lights off and turn on STAMINA mode.
There's also a handy little feature to preserve power when the speaker isn't in use. After fifteen minutes of inactivity, the speaker automatically turns itself off. However, if you'd rather do without this feature, you can always turn this setting off too.
Sound Quality
While the XB43 definitely has good sound quality for a wireless speaker, it can fall short in some areas – especially with high-frequency sounds. Most mid-range and balanced audio has crisp, clear sound, but if you've got a sound with a higher frequency, it can come out sounding a bit duller than it should.
While the EXTRA BASS feature is one of the cornerstones of this product, it doesn't always reproduce low-bass as sharply as you'd expect from a top-of-the-line model. Of course, if you use the Sony app to control the settings and sound dynamics, you may be able to get clearer bass – but it can take a little tinkering.
The XB43 is at its best when you're using it at mid to low volume. If you're trying to use it at max volume, you may notice a little compression with the audio – so the speaker tends to be more suitable for personal use than big parties or festivities.
Ultimately, I've found that XB43 does have good sound quality for a speaker in its class, but I was still a little surprised at just how average this speaker's performance was – especially as a new Sony model.
The XB43 is still a great choice to set up near the pool or take on a camping trip, but its sound quality falls a little flat as a party speaker for bigger events.
Pros and Cons SRS-XB43
While I've gone over the features and design of the XB43, let's take a look at the general pros and cons that come with considering this model.
Pros
Long battery life
Waterproof, dust and dirt-resistant
Good performance and sound quality at soft and mid-volumes
Plenty of LED lights and modes to play around with
More portable
Includes a hands-free calling feature
There's Party Connect, so you can sync up to a hundred different speakers to the same sound
Cons
The Live Sound feature falls flat
There may be sound compression at higher volumes
Doesn't reproduce low-bass sounds as well as you'd expect
Conclusion
While there's plenty to love about the Sony SRS-XB43 as a wireless, portable, and waterproof speaker, I was surprised just how average this model ended up being during testing. Even though it contains the EXTRA BASS feature, those super low-bass sounds, and high frequencies weren't as crystal clear as you'd expect from a Sony product or a high-quality speaker.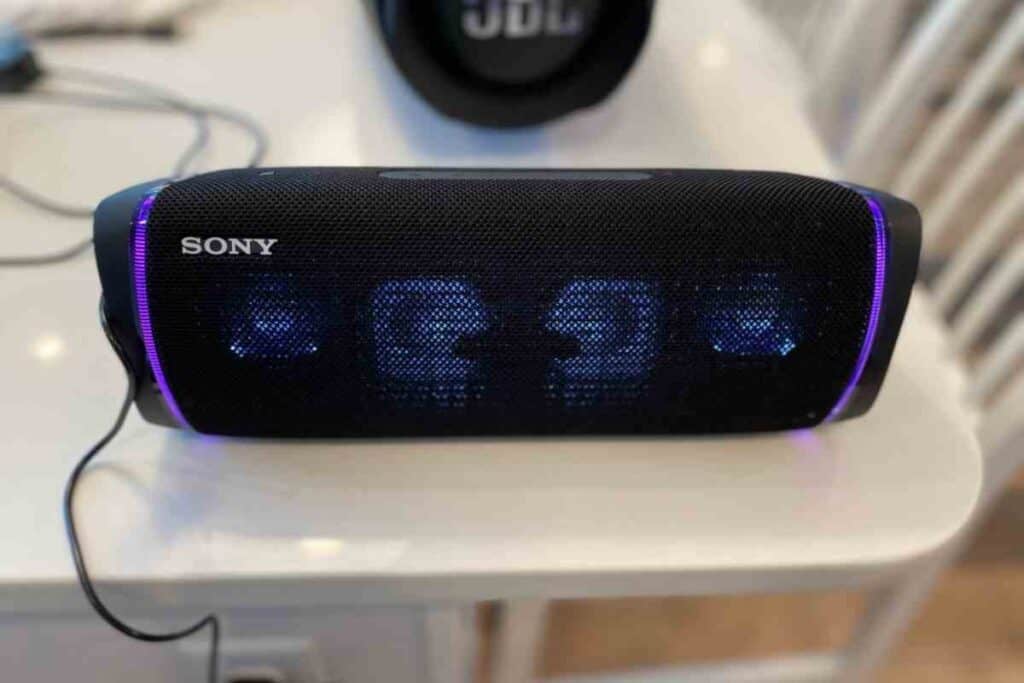 Even if it falls flat in some areas, the XB43 still works well for personal use, especially if you're constantly on the go. It's light enough to store in a bag, and if you get it a little wet, you don't have to worry about water damage. For personal use and better durability, the XB43 is a steal, but if you're looking for top-notch performance, you may want to consider another Bluetooth speaker.