JBL Charge 5: A Portable Waterproof Bluetooth Speaker Worth Buying!
This post may contain affiliate links. As an Amazon affiliate, I earn from qualifying purchases.
Music has been a vital part of our lives for as long as mankind has existed. So it comes as no surprise that the way we listen to music has evolved over the years. Bluetooth speakers have been a large part of this evolution.
While much debate exists over which speakers are the best, we can all agree that JBL offers a great product line for a diverse audience. Today, we'll be focusing on the JBL Charge 5, the latest in JBL's Charge speakers, and who this speaker is a great fit for.
Let's first take a look at what the JBL Charge 5 has to offer.
The JBL Charge 5
The JBL Charge 5 is the latest iteration of JBL's Charge speaker. The Charge has always been known for great sound, durability, and excellent battery life. As an outdoors lover myself who spends a lot of time on the water, the Charge 5 has been an excellent Bluetooth speaker addition.
The Charge 5 offers the same great package but is an enhancement of its predecessor, the JBL Charge 4, in many aspects. The sound is even richer, the body is even more durable, and the Charge 5 comes packed with even more features.
As is the case with many of JBL's products, this speaker is available at a reasonable price, as well. A look at some real numbers and figures will give us an idea of what we can expect from the latest Charge.
JBL Charge 5 Specifications
To start, the JBL Charge 5 comes equipped with Bluetooth version 5.1. This updated version allows for greater distance between connected devices, which is ideal for a portable Bluetooth speaker.
The JBL Charge 5 boasts a wide frequency range of 65 Hz to 20k Hz. The woofer can accommodate 30w of power, while the tweeter can handle up to 10w. The rechargeable li-ion battery is rated at 7500 mAh. This speaker is waterproof, rated at IP67, meaning it can be submerged in 1 m of water for a half-hour. The Charge 5 is also dustproof and available in 7 colors.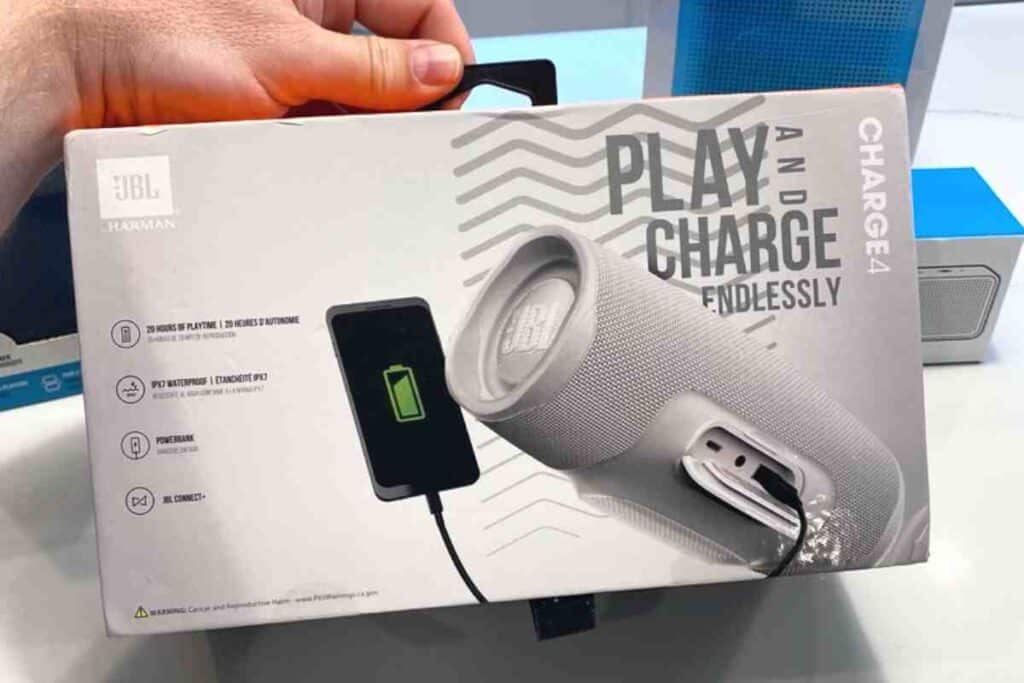 Sound Quality
One of the most important characteristics of a speaker is sound quality. So how does the JBL Charge 5 stack up? While the listening experience is not as pleasant as, say, that of the Bose SoundLink or Sonos Move portable speakers, for the price and level of durability, the Charge 5's audio is more than adequate.
Larger dual JBL bass radiators, along with a new separate tweeter, emit incredibly powerful sounds for a speaker this size. This new setup brings clarity through clear, concise bass tones and energetic vocal performances throughout a dynamic range. Even on a windy beach, I'm able to comfortably listen to my music without distortion.
Battery Life
Another important factor to consider when considering a wireless speaker purchase is battery life. After all, what good is a portable speaker if it can't last longer than a few hours? Well, this is definitely one aspect in which JBL's products do not fall short.
The Charge 5 contains a 7500 mAh li-ion battery that will power through 20 hours of playtime. This battery also accommodates a power bank that will charge other devices while on the go. You can charge this battery fully in 4 hours. As the name suggests, the Charge 5 is truly in its element when unplugged and on the move.
Durability
Something that may be overlooked when it comes to Bluetooth speakers is durability. This is a major identifying characteristic of JBL speakers, and the Charge 5 does not disappoint.
It features rugged rubber housing, is rated IP67, and is also dustproof, meaning you don't have to worry about rain, water from the beach or pool, sand, or dirt. You can take this speaker anywhere and not suffer anxiety about whether or not the elements will harm it.
Design
In terms of design, the Charge 5 largely resembles its predecessors. However, it takes queues from every generation and implements the best of each.
The barrel-like body that has been a staple of the Charge series is a bit larger, featuring a more refined JBL logo. The 3.5 mm aux port is gone, meaning a wired connection for audio is no longer possible. The Charge 5 is equipped with an uncovered USB-c port for charging the speaker, as well as a covered USB-a port for charging other devices.
Overall, not much has changed, but the Charge 5 is a definite improvement design-wise, both in terms of function and appearance. It's large enough to be suitably loud but small enough to tote around. For those of us who are particular about color, the Charge 5 is available in a suite of cool colors (7, to be exact).
Features
The Charge 5 has a few features that help it to stand out from the competition, some making a return from previous Charge renditions and some features unique to the 5th generation Charge.
Among the returning features are the powerbank that allows you to charge other devices and the IP67 rating that allows total underwater submersion of the speaker. The Charge 5 is dustproof in addition to being waterproof. JBL also replaced JBL Connect with PartyBoost, which allows listeners to connect up to 100 compatible speakers together, which is complemented nicely by the Charge 5's utilization of Bluetooth version 5.1.
In all, the JBL Charge 5 is a versatile speaker that can go wherever you go.
FAQ
Is the JBL Charge 5 worth buying over the Charge 4?
On the surface, the JBL Charge 5 doesn't seem to have much to set it apart from the Charge 4. Upon closer inspection, however, the subtle differences make for an overall superior package.
The Charge 5, being dustproof and equipped with a separate tweeter, Bluetooth version 5.1, and PartyBoost, along with an overall more durable and aesthetic body, presents a compelling case for those considering purchasing the Charge 5 over the Charge 4.
It is worth noting that with a bit of shopping around, you can buy the Charge 4 for significantly less than the Charge 5, however. If cost is not a factor, the Charge 5 is the better buy, without a doubt.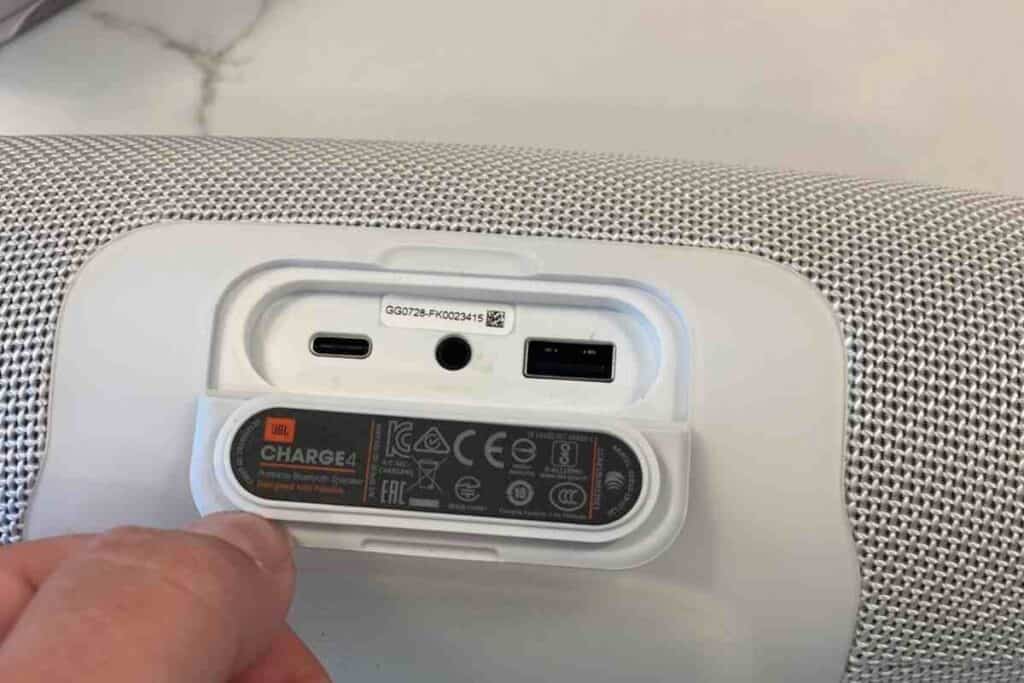 Can the JBL Charge 5 withstand salt or chlorinated water?
The JBL Charge 5's IP67 rating allows submersion under 1.5m of water for 30 minutes. This rating is based on tap water, however. So while the Charge 5 can be exposed to a variety of elements, liquid or otherwise, it is important to rinse it with clean water after such exposure and ensure that it is properly dried.
Does the Charge 5 have a microphone?
The JBL Charge 5 does not have a microphone. As such, speakerphone, voice assistant, and phone call functions will not work with this speaker.
Can you use an aux cable with the JBL Charge 5?
JBL removed the 3.5 mm auxiliary port from the Charge 5. However, the Charge 5 utilizes Bluetooth version 5.1, which is further incentive to go fully wireless with your smartphone.
Who Should Buy the JBL Charge 5?
JBL's latest in their Charge line of speakers is, with no doubt, a great value product. However, should you buy it?
With Bluetooth version 5.1 and PartyBoost, the Charge 5 has wireless capabilities that competitors may not have. JBL speakers possess a durability that few products can match, and the Charge 5 carries on this legacy with an IP67 waterproof rating and a dustproof form. The battery life is, of course, phenomenal, with 20 hours of playtime.
Really, the sound quality is the single and potentially fatal aspect for some in which the Charge 5 falls relatively short compared to competitors. However, this is not to say that the Charge 5 is a slouch when it comes to audio.
Overall, the Charge 5's price range and versatility make it accessible to a wide audience. Specifically, though, if you are a lover of the outdoors and constantly exposed to the elements, as I am, you'll find few Bluetooth speakers better equipped for your needs.
Final Thoughts
JBL brought some significant improvements to the Charge 5. Improved durability, greater wireless capabilities, and higher sound quality over the already solid Charge 4 make the Charge 5 a winner for casual music listeners and audiophiles alike.
While there are competitors that offer better sound, few products out there offer the versatility and durability the Charge 5 possesses at the same price range.
Options To Buy