What JBL speakers can connect? [JBL Connect+ function]
For decades now, JBL is known for producing speakers with powerful bass and superior sound. If you are looking for a speaker that will give you that super bass, then JBL is an excellent option. But JBL's innovativeness doesn't stop at offering superior quality sound.
They have also developed a companion app for its speakers called Connect+ that allows you to connect multiple JBL speakers to amplify your listening experience. If you are wondering which JBL speakers have this feature, then read on. In this article, we will list all the JBL speakers that come equipped with the Connect+ function.
What JBL speakers can connect? [JBL Connect + function]
So, what JBL speakers can connect? [JBL Connect + function] The following speakers have the JBL Connect + function that allows you to connect multiple JBL speakers simultaneously.
Other speakers with regular JBL Connect pairing protocol are JBL Flip 3, JBL Charge 3, JBL Pulse 2, and JBL Clip 2 and can be connected. While JBL Flip 5 and JBL Pulse 4 have the PartyBoost function that allows them to be connected to each other.
What is JBL Connect+ Function? And how does it work?
It is an innovative protocol for pairing JBL portable speakers. This feature will enhance your listening experience by enabling you to wirelessly connect more than 100 JBL Connect+ enabled speakers. By connecting several JBL speakers, you can double the volume while listening to the high-quality stereo sound that JBL is famous for.
JBL has other different technologies for connecting speakers like JBL connect function and PartyBoost Connect. However, you cannot connect all speakers. Only those JBL speakers compatible with the specific connection function will connect to each other.
For example, you can connect a JBL Flip 4 to a JBL Boombox because they both have JBL Connect+ function. But it is impossible to connect JBL Charge 4 to JBL Pulse 4 because the latter uses PartyBoost instead. This feature is important when you are at an event, and your friends have compatible JBL speakers. You can easily connect the speakers to produce combined louder music.
Besides connecting the JBL speakers and listening to music from connected devices like your Mac, iPhone, or other Android device, you can also update your software through the JBL connect app.
How to Connect Multiple JBL speakers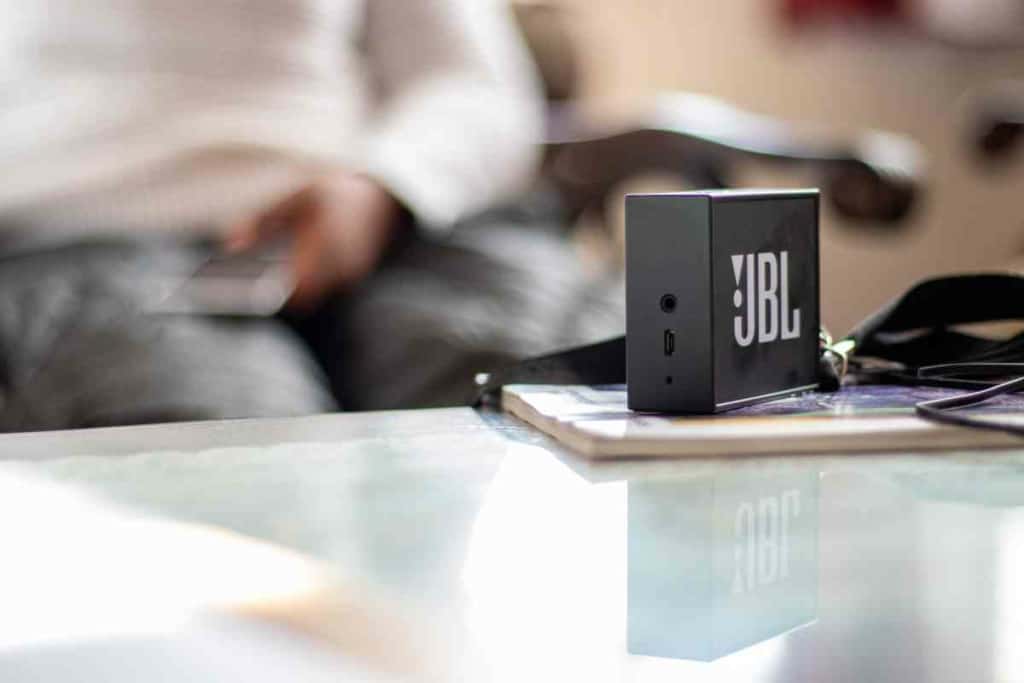 Bluetooth allows you to connect up to 100 JBL speakers wirelessly. This gives you an option to double the volume or to listen to stereo sound. JBL offers a variety of technologies for connecting multiple JBL speakers. But how do you connect JBL speakers?
It is important to note that you cannot connect all speakers. Here is a summary of how to go about it:
1. First, connect your first JBL speaker
Connect your Bluetooth device to your first JBL speaker. Ensure your speaker is in pairing mode. Ensure that the Bluetooth on other devices is off for the JBL Connect + function to work.
2. Open your music app and play music on your first JBL speaker
Play music on your Bluetooth speaker. To do this, use your favorite music app that you usually use to play music. Confirm that you can hear sound coming from your first speaker.
3. Now press the Connect button on all speakers
Press the connect button on the rest of the speakers and wait for the LED indicator to show that a connection has been established.
4. Wait for the connection
Within 30 seconds, the speakers will be paired. The music will now start playing through all the connected speakers.
To disconnect any of the speakers, press and hold the connect button on the individual speaker.
Frequently Asked Questions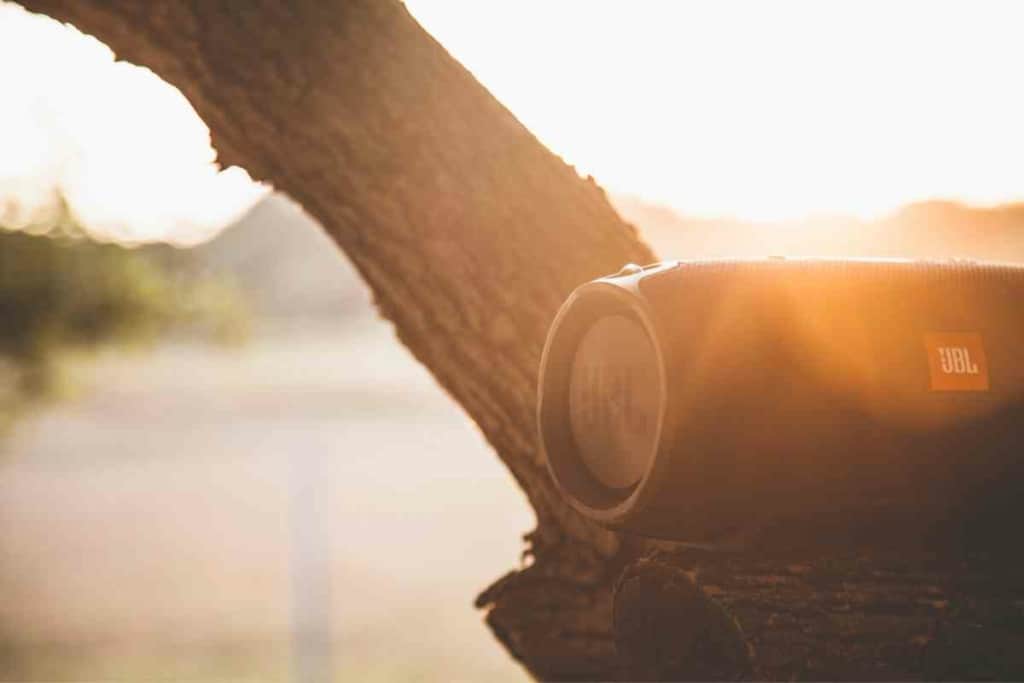 Can you connect two JBL Flip 4 speakers?
Yes, of course. You can play two JBL Flip 4 speakers in stereo mode when connected through the Connect + function. All you have to do is to connect two identical model speakers using the Connect + feature, and you are good to go.
Can I connect My JBL Flip 3 to my JBL Flip 5 Bluetooth speaker?
No. Because they use different JBL Connect technology. Your JBL Flip 3 has JBL Connect function, while your JBL Flip 5 uses PartyBoost connection. You can only link devices that use the same JBL Connect technology.
How many Speakers can I connect using my JBL Connect+ function?
You can connect up to 100 JBL speakers to your devices. Provided the JBL speaker uses the same JBL Connect+ technology, you can easily connect them and listen to music from all the speakers simultaneously.
All you have to do is pair the first device and press the JBL connect button to link up the other compatible speakers.
Can you connect JBL Xtreme 2 and JBL Xtreme 1?
Unfortunately, you cannot. This is because JBL Xtreme 1 uses standard JBL connect technology while JBL Xtreme 2 Bluetooth speaker uses JBL Connect+ pairing protocol.
This means they cannot be paired with each other and listen to the same music from both speakers simultaneously.
Can I connect my JBL Extreme Bluetooth speaker to my TV?
Yes. But only if your TV has Bluetooth connectivity. If your TV lacks Bluetooth, but you still want to link your JBL extreme speaker wirelessly, you will need a Bluetooth adapter.
This will connect to your TV's USB port or any input option available then your JBL Extreme speaker connects to the adapter.
What is the range of the JBL Connect+ Function?
Its range is 30 feet since the JBL Connect+ technology uses the regular Bluetooth® connection, which has a link range of around 30 feet (10 meters).
Although, depending on the obstacles or electromagnetic interference, the maximum range can vary.
How will I know if my speaker has the JBL Connect+ feature?
An easy way to identify is to check on top of your speaker for a "Connect" symbol. For regular JBL connect, you will see a character that looks like the infinity symbol.
The one with a JBL Connect + will have a small "+" sign a the top of the infinity symbol.
Is there any quality loss when connecting JBL speakers using the JBL Connect +?
No. There is no quality loss noticed. You can even play your music using stereo mode. The JBL Bluetooth speakers will produce a louder and high-quality sound that is a combination of all the speakers connected.
If you are experiencing sound drops or quality drops, it can be due to interference. Ensure you do not have obstacles between your speakers and your device.
Can I use the JBL Connect+ function to connect multiple JBL speakers to make a 5.1 or 7.1 surround system?
Yes, the feature allows you to connect over 100 JBL Connect + compatible speakers. Therefore, you can arrange five to seven speakers around your house. But this will be only through one channel; you may not get the same experience you get from standalone surround speakers.
Why am I experiencing sound drops when I use JBL Connect + function to connect my JBL Xtreme 2 to my JBL Boombox speaker?
Sound drops mean that there is a problem with your Bluetooth devices that you have connected. Try connecting a different device to confirm. If you still experience the same problem with a different smartphone or tablet connected, there must be signal interference.
A software problem can also cause this. Ensure your software is updated—both on your device and your speakers. Also, ensure there is no obstacle between the individual speakers and your Bluetooth device.
Can I upgrade from JBL Connect + to JBL PartyBoost using a firmware update?
Unfortunately, you can't. Updating your speaker's firmware will not update its Connect+ function.
Neither can you update regular JBL Connect to JBL Connect +. JBL claims that their new PartyBoost speaker pairing protocol is better than JBL connect and JBL connect + and has a wider range.
To get this, you will have to buy a new speaker with the pairing protocol you wish to have.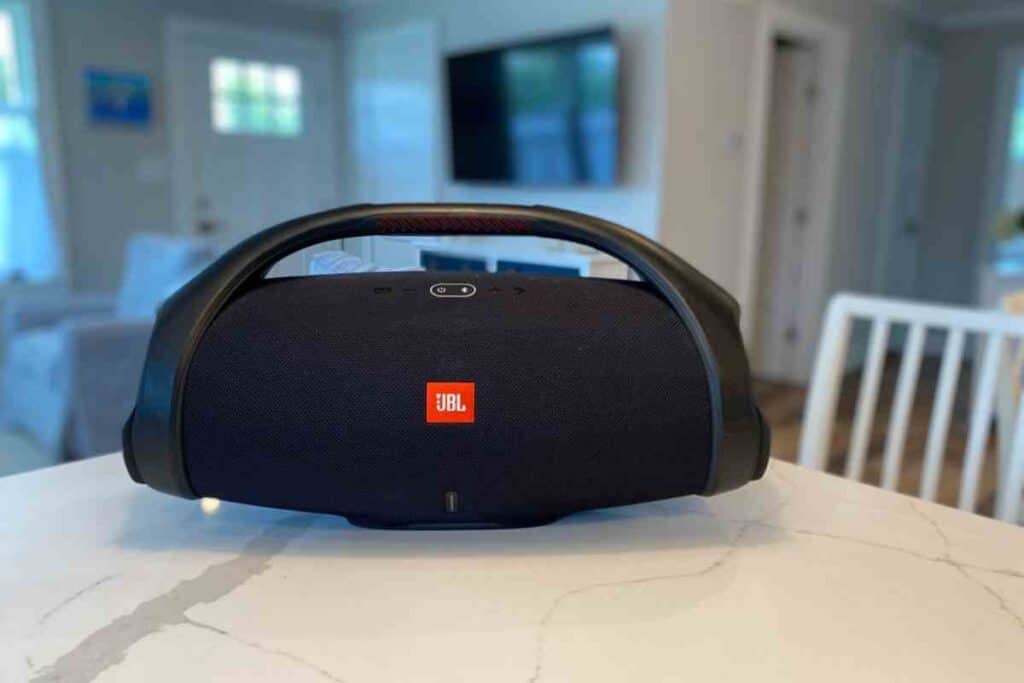 Final Thoughts
JBL is an excellent speaker brand that offers an all-round amazing high-quality speaker and audio experience. JBL speakers are designed to be comfortable, durable, and robust while still affordable with a price range that can fit your budget.
The JBL Connect+ function adds to the design and functionality of the speaker. With this connectivity technology, you will use all your old compatible speakers simultaneously with the new ones.
With this technology, you don't have to throw away or give out your old speaker. It can be used to boost the volume of your current speaker.
When you connect your compatible speakers via JBL Connect+, you get sound that is a multiple of the total number of speakers that you have. This is an awesome addition by JBL that ensures you always get value for your money.
Therefore, if you are looking to sync your speakers, ensure you identify the synching feature that your current JBL speaker uses before buying a new speaker.