Does the Sony WH 1000XM3 Support Multiple Devices?
This post may contain affiliate links. As an Amazon affiliate, I earn from qualifying purchases.
There are tons of features packed into the Sony WH 1000XM3 noise cancelling headphones, so many that you may find it difficult to figure out how to do them all.
Connecting to multiple devices would be great! But…can the WH 1000XM3s do that?
Does the Sony WH 1000XM3 Support Multiple Devices?
The Sony WH-1000XM3 has support for multiple Bluetooth connections and a feature called multipoint connection. This means that not only can you pair your WH-1000XM3 with multiple Bluetooth-enabled devices, but you can also use your headphones actively with two devices at once.
The multipoint feature allows the headphones to stay connected to two devices at once.
Only one device can be the source of audio at a time.
Instead of messing with Bluetooth settings every time you want to switch devices, you simply stop the audio from one device and start the audio on the other.
Phone calls will always be prioritized.
This means if you are listening to music or playing a game on your laptop that any calls you receive on your smartphone will silence your current audio source and take over.
This is perfect for those who switch between a tablet/computer and their smartphones frequently.
Aside from the multipoint feature, the Sony WH-1000XM3 can keep multiple devices in its recent memory for easy reconnection.
All you will need to do after initially Pairing the headphones to your multiple devices is open the Bluetooth devices list on the device you want to pair with.
Then tap or click on the name of your Sony WH-1000XM3 Bluetooth signal.
This will cause the headphones to switch connections to the new device and disconnect from the least recent device connected.
If you pair a new device and want to utilize a multipoint connection, you will need to go to your second device and reconnect after Pairing the new one.
How Many Devices Can the Sony WH 1000XM3 Connect to?
The Sony WH-1000XM3 supports Bluetooth connections with up to eight devices at one time.
Only two connections can be considered active with the multipoint connection feature.
Only one source of audio can be played at a time.
The reason for the headphones to have the ability to connect to so many different Bluetooth devices is that it allows the headphones to quickly switch between a somewhat hefty number of Bluetooth connections without removing Bluetooth Settings profiles or resetting the headphones.
Compared to other products with Bluetooth connections, Sony has placed its products ahead of the game.
To pair your Sony WH-1000XM3 with multiple devices, you simply need to follow the initial Pairing process until all devices are paired.
Pairing Bluetooth Devices with the Sony WH-1000XM3
First, you want to make sure the headphones are powered on and in pairing mode. To do this hold the Power button for more than seven seconds.
Then on the device, you want to pair with your Sony WH-1000XM3, open the Bluetooth settings menu and search for either WH-1000XM3 or LE_WH-1000XM3. If both options appear, choose the LE_WH-1000XM3.
If your device has the NFC feature, you can also place the back of your phone to the left earbud on the WH-1000XM3s.
The NFC connection feature will automatically connect the two devices.
You may need to confirm the connection on your smart device.
If the device asks for a security code after Pairing, the default Pairing code for the headphones is 0000.
This is usually not needed, but in some cases, your phone may require it.
You can use either the manual selection method through the Bluetooth settings menu on your device or the NFC one-tap connection feature to connect as many devices as you want.
Remember, the Sony WH-1000XM3 will only store eight devices in its memory.
I doubt many need to be able to connect to so many devices.
How Do I Switch Between Devices Connected to the Sony WH 1000XM3?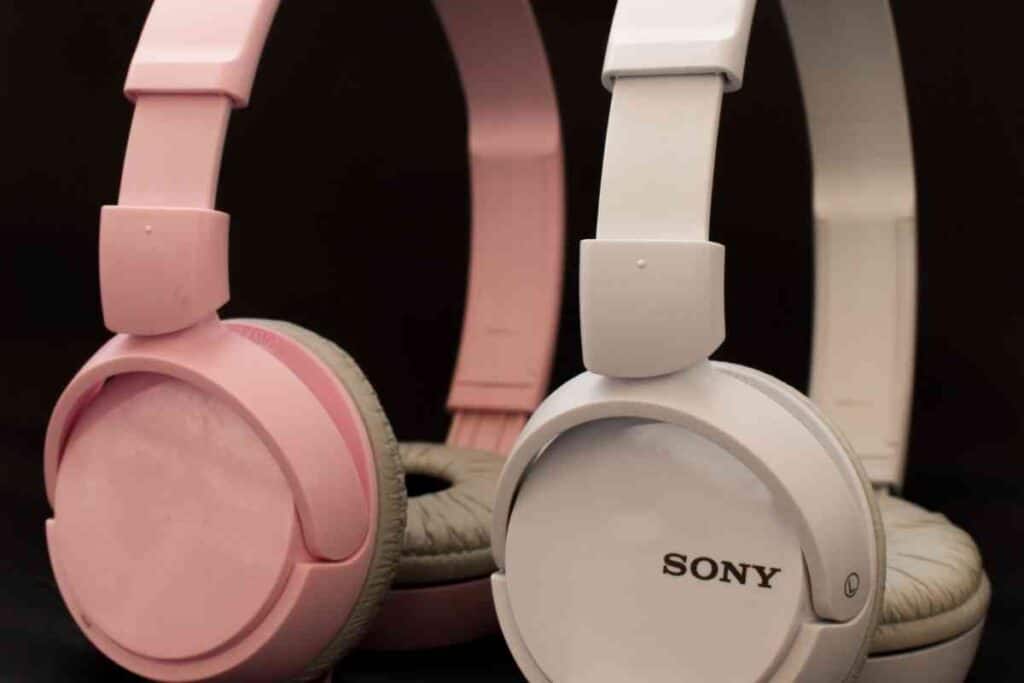 Changing which device is connected to the Sony WH-1000XM3 is relatively simple.
The internal memory of the headphones allows it to retain the settings for eight devices.
This means that you can just tap on the name of the headphones in the Bluetooth settings of whichever device you want to take control of the headphones and you're done.
If you find yourself frequently switching between two devices with Bluetooth capability such as a phone and tablet/laptop, the multipoint connection feature is made especially for you.
All you have to do is connect two devices.
The last two devices will remain connected as long as the headphones aren't paired to a new device, powered down, reset, or disconnected manually by the user.
This means you can keep your smartphone connected to your headphones and connect to your laptop, desktop, tablet, or even another phone.
Only one source of audio will be able to pass through the headphones at a time.
This means that you can't play music videos on both and hear everything.
You'll need to stop the audio on one device and start the audio on the other to switch over.
Don't worry about missing phone calls either.
Multipoint makes sure that any incoming call will play over everything else.
This means your videos/music will pause and any other audio will cease.
If you begin to have trouble switching connections between devices, you may need to reset your WH-1000XM3 to factory settings.
The internal memory may need to be reset from time to time if it is frequently managing multiple connections.
This is common in heavy-use Bluetooth devices that are used with multiple computers.
Once the internal memory is reset, the headphones should function like new.
Why Would I Use Multipoint Connection
There isn't any reason to want to be connected to two devices with the same pair of Bluetooth headphones.
Here are a few reasons why you might consider it:
You own a personal device and a company-issued device
Most companies don't allow leisurely activities to take place on company-issued devices.
In some cases, they even go through great lengths to software lock many of the device's features.
So even though someone may be issued a company device, they may still choose to purchase a personal device to enjoy the many other applications a smartphone can fill.
Having a Bluetooth headset that can remain connected to both devices is a huge boon for dual phone wielders.
They can listen to music, videos, and games on their devices without missing an important call on their work phone.
You frequently switch between a tablet and a smartphone
There are just some tasks that a smaller screen can't handle properly.
Sometimes you might just want to see a movie on a decent-sized screen.
Whatever the reason for you to switch between using your smartphone and your other devices, you don't need to constantly disconnect and reconnect your headphones to either.
This means you just need to stop the audio playing from your smartphone and start the audio on your tablet or laptop to let it take over.
You manage multiple cell phone numbers
This is the same as dual-wielding phones. Managing multiple SIM cards and contacts can be a hassle.
Lighten the load by making it easier to switch between devices by not switching at all.
The ability to stay connected means you can take a call from up to four different SIM cards depending on the devices you own.
Conclusion
The flexibility of the Bluetooth connections the Sony WH-1000XM3 can handle make it a powerful consumer product.
Connecting wireless devices to smartphones, computers, and tablets should be a flawless experience and Sony pulled this off the reliable and stable connection these headphones provide.
With the built-in NFC for one-tap connections, it couldn't get any easier.
Simply tap your smartphone or tablet next to the NFC ear cup pairs the two devices together instantly.
The only problem with its over-consumer-friendly design is that users with a vast array of Bluetooth devices may end up connecting to too many.
With so few Bluetooth connection issues, the only real solution you might need to keep in the back of your mind is the option to reset the headphones to factory settings.
You likely won't find a need to troubleshoot your headphones for quite a while.
If you don't use many smart devices, you may never need to fix anything besides the internal battery, but that's a separate conversation altogether.
Frequently Asked Questions
Can I share the audio playing in my Sony WH-1000XM3 headphones with someone else?
These headphones don't support audio sharing to other devices by default. The multiple connections are meant for audio to be sent to the headphones, not the other way around.
Can I take two calls at once from two different phones?
Unfortunately, you can only manage one phone call at a time. The WH-1000XM3 was designed for entertainment purposes and not productivity. Not to say that you can't use them productively.
The audio sounds weird when I'm using my Sony WH-1000XM3 on my Windows PC. What gives?
When pairing the Sony WH-1000XM3 headphones to a Windows device, they will show up as two or three different Bluetooth profiles.
This is due to different protocols used to transfer audio data recording the difference between using the headphones as audio devices or as a microphone headset.
If you want to use your headphones for high-quality audio, you'll need to set your Windows audio output to WH-1000XM3 Stereo.
This will tell the PC to use the higher quality A2DP profile.
If you need to use your microphone or make calls switch to the WH-1000XM3 Hands-free AG Audio as the Windows audio output.