Which Headphones Can Connect to 2 Devices
This post may contain affiliate links. As an Amazon affiliate, I earn from qualifying purchases.
Like every other market, the lack of entry barriers to the headphone manufacturing industry is a blessing to everyday headphone users. With the bar on the sound quality of headphones being set so high over the years, one of the critical things left to consider when sifting through the sea of high-quality headphones is the functionality, they can afford you.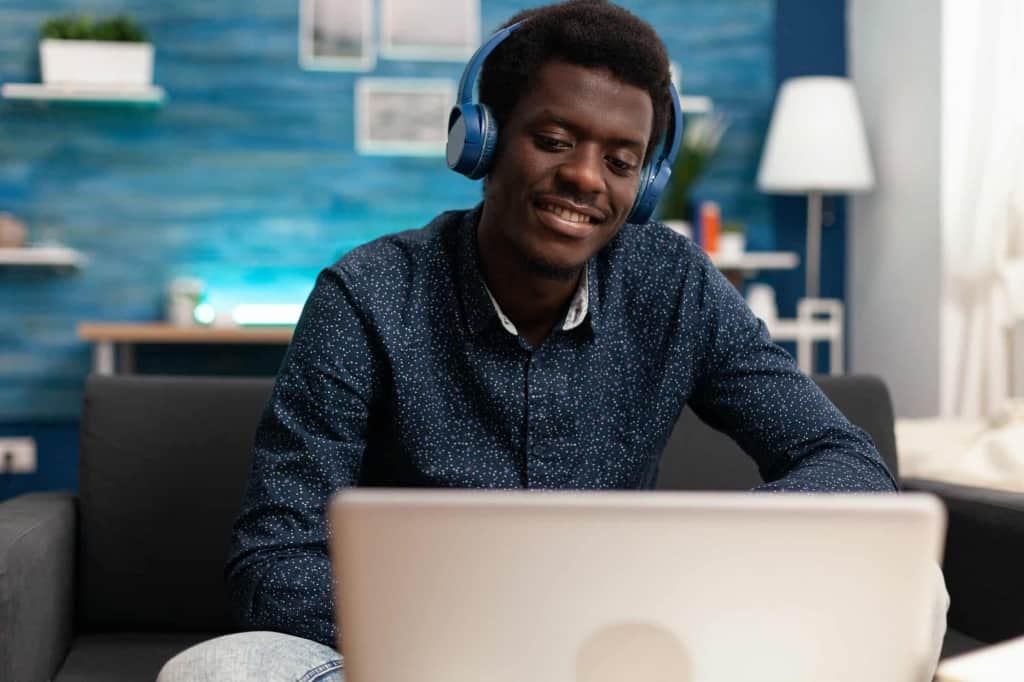 Table of Contents
Are there earbuds that can connect to two devices at the same time?
So which headphones can connect to 2 devices? Not many headphones can connect to 2 devices. However, Bluetooth Multipoint allows you to pair two different Bluetooth sources (smartphones and laptops) with compatible headsets simultaneously.
Functionality metrics like how well headphones pair with different devices and the number of devices that can work with the headphones are some of the most sought-after considerations when buying ear buds. While preferences vary from one user to another, resources like tech review blogs and videos have made it easier to voice their experiences.
Getting headphones that connect to two or more devices may seem like an unnecessary purchase until you need them.
What Is Bluetooth Multipoint, and how does it work?
Bluetooth multipoint pairing is what makes it possible for a single pair of headphones to be connected to two devices like mobile phones at the same time. Conventionally, Bluetooth headsets would only connect to a single device, but newer headphone releases come featured with Bluetooth multipoint technology.
Headphones can connect to two devices simultaneously, just like their predecessors, with the only difference is that the connection process is done twice. Depending on the manufacturer, Bluetooth headphones with multipoint capabilities can require manual setup or automatically carry out the process.
Contrary to popular belief, the network around a simple multipoint powered Bluetooth headset does not have a master-slave approach when setting up the different devices. Instead of a master-slave process, from the perspective of the headphones, both devices are equally powered.
When two devices are connected to headphones with Bluetooth multipoint, outputs from both devices can be heard on the headphones simultaneously, with the difference in volumes being set up at the individual device level.
What Problems Do Connect Headphones to Multiple Devices Solve?
Having mentioned how a single pair of headphones can share audio from two Bluetooth devices, you may be left to wonder why audio sharing features like this may be necessary. Based on your personal preferences, you may find this technology convenient to your everyday life in ways you hadn't even thought about.
Suppose you're streaming a movie on your computer, and then you must take an important call; conventionally, you'd have to pause your film playback on your first device and attend to the call on the second device.
You do not have to stop the movie and switch audio modes with a pair of headphones that can connect to two devices simultaneously. Depending on the headphone manufacturer, your headphones will automatically lower the volume of your movie output and give you the convenience of attending to phone calls as you watch your movie in the background.
Here's another scenario you may easily relate to, especially in this age of virtual meetings. Suppose you're taking part in an online exam, and one of the exam system's requirements is that you have no other non-essential process running on your computer. If you're the kind of person that enjoys some music for them to relax, then headphones with advanced multipoint Bluetooth are just the thing for you.
You can quickly and conveniently have the headphones connected to your phone alongside your laptop as you carry on with the exams. With your mixtape of choice playing in the background, you can write away your exams without the examiner being any wiser.
How Many Headphones Can Be Connected to a Single Device?
In as much as we're living in probably the best time to be alive as it relates to technology, sadly, the opposite of multipoint Bluetooth headphones connectivity is not yet a reality.
Currently, there aren't any devices that can connect to multiple foldable headphones or around-the-neck headphones and give the same output. While it's possible to pair various headphones to the same machine simultaneously, only one of the connected headphones can be used as a sound output at a time.
To show just how far we are from having devices that can output the same audio on multiple Bluetooth headsets, you should consider that not many devices can output from their internal speakers while using Bluetooth headsets.
However, this limitation of our current wireless devices does not rule out the possibility of the feature being present in wired setups. In non-commercial arrangements like music production and broadcast studios, it's a common occurrence to see several people sporting a pair of wired headphones each. At the same time, they listen to the same sound output.
Having multiple headphones give out the same output can be achieved in one of the following ways.
1. All the wired headphones can be connected to the same physical link, albeit with multiple distributed ports to accommodate each headphone unit. This setup is standard in settings such as motorsports, where a team of engineers and other personnel will all be connected to secure transmission of the driver's updates.
2. With each pair of headphones having a unique and preconfigured receiver, a uniform output experienced on all the headphones can result from a broadcast. While this approach can give the intended objective of having the same product on multiple headphones, it would be no different from a radio broadcast where the headphones will have no control over the transmitting device.
Which Headphones Are Best for Connecting to Multiple Devices?
When it comes to picking out headphones with multipoint Bluetooth capability, you may easily get confused in the sea of headphone manufacturers, all with loads of technical jargon.
Some headphones that can connect to multiple devices are:
WH-1000XM4 headphones
JBL Live 650BTNC
LG TONE Flex XL7
Can Multiple Headphones Be Synced to Produce the Same Output?
You can sync multiple headphones to produce the same output, but this is currently not possible with commercially available headphones and devices.
One way for the headphones to be synced is to produce the same output as if they are all configured to work what is received on a broadcast signal. This broadcasting approach is rather impractical in everyday consumer use due to the high-power requirements, and the headphones will have no input or control over the transmitting device.
Is It Safe to Connect Headphones to Multiple Devices?
Currently, you can only sync most headphones with multipoint Bluetooth capability to work on two devices simultaneously.
One key thing to note is that your headphones will be maintaining a connection and possibly playing sound outputs from two devices simultaneously. This dual connection of the headphones will bring about a need for more power requirements on the part of the headphones.
While most multipoint Bluetooth headphone manufacturers focus their development efforts on ensuring their headphones deliver optimum performance when called upon, frequent use of the multipoint technology will take a toll on the headphone batteries.
To ensure the longevity of your multipoint Bluetooth headphone batteries, we recommend that you connect to two devices simultaneously only when need be.
What are some Tips and Tricks to Make Your Headphones Last?
When it comes to extending headphones' lifespan, wireless headphones require just as much work as their wired counterparts. Here are some tips you can use to ensure your headphones are by your side longer, servicing you with excellent sound catered for your needs.
#1 Keep them clean: With most wireless headphones, the charging port on the headphones usually goes unnoticed for a while. Not paying attention to the charging dock when not in use can easily result in dirt buildups in the ports. Regularly clearing the ports with small objects such as pins ought to do the trick.
#2. Be cautious with charging: Like most other battery-powered devices, the batteries in your wireless headphones have only so many total charges in them before they start failing. It's considered a full charge when the battery is charged to its complete capacity after being run entirely flat out.
To help with the longevity of your headphone batteries, you should avoid using the headphones until they're completely flat. Instead, you should recharge just when the low-battery notification appears and unplug when it's almost complete.
#3. Go multipoint only when you must: Limiting the number of hours you will connect your headphones to multiple devices also goes a long way in ensuring the batteries stay healthy. This consideration is because the headphones will use twice as much power to maintain a connection with two devices as they would with just one device.
What Are Some of the Things You Should Consider Before Buying Headphones?
Aside from the multipoint Bluetooth capability spoken about in this article, here are some other pointers for you to consider when next you're out shopping for headphones.
Ease of access to spare parts like charging cables.
Size and the ability to adjust.
The retail price.
Online reviews and testimonials from other users.
Technical specifications on battery life and pairing requirements.
Closing Thoughts
Bluetooth multipoint does not necessarily mean that you can stream media content from two devices simultaneously. Few headsets can adequately support this. Most headsets designate one device as a media player, and the other device is only used for push notifications.
Related Content You May Find Interesting
Here are some more articles that may be of interest to you if you're shopping for Bluetooth headphones.