How Long Does It Take For Bluetooth Headphones To Charge?
This post may contain affiliate links. As an Amazon affiliate, I earn from qualifying purchases.
It's 2022, and we have to charge so many of our devices—our phones, our watches, our tablets, our laptops, and our headphones.
If you're like the vast majority of earbud or headphone users, you're probably rocking something that hooks up with a Bluetooth connection instead of a dedicated wired pair.
We'll look at the average time that you'll need to spend charging these devices and how you can make choices so that you spend as little time plugged in as possible.
How Long Does It Take For Bluetooth Headphones To Charge?
For over-ear Bluetooth headphones, expect between two and three hours to get from zero to fully charged. For Bluetooth earbuds, expect one to one and a half hours to fully charge the earbuds and the case. Many Bluetooth devices also have alternate charging capabilities like fast charge.
As with any type of product, there's going to be some variability in the amount of time it takes headphones to charge.
We'll look at some choices that you can make with your earbuds or over-ear headphones to minimize the amount of time that it takes to charge your headphones.
We'll also look at some features that allow people to continue listening even when the battery dips down.
USB-C vs. Micro-USB
If you're looking for a pair of headphones that charges quickly, pay attention to the type of cable that is used to charge them.
Many products are making the shift to using USB-C, but don't assume that the headphones you choose will have their charging port upgraded.
For example, the $199.99 Beats Studio3 are still charged with a micro-USB cable, but the $69.99 Anker Life Q20 ANC headphones charge via USB-C.
When shopping for any tech gadgets, keep an eye out for those that use the USB-C, since they'll charge any device, not just headphones, at a faster rate than a micro-USB.
This has to do with the amount of power that a USB-C can transfer.
Their maximum output of 100 watts of power allows them to charge small devices more quickly and to power larger devices, like laptops and printers.
Micro-USB cables simply are not cable of transferring that much power.
And for Apple lovers, the Lightning cable is inferior to the USB-C cable.
It can't deliver power or complete file transfers as quickly as the USB-C cable, and USB-C cables are much better for fast charging because they don't need a 20W or higher power adapter like the Lightning cable.
Charging Wirelessly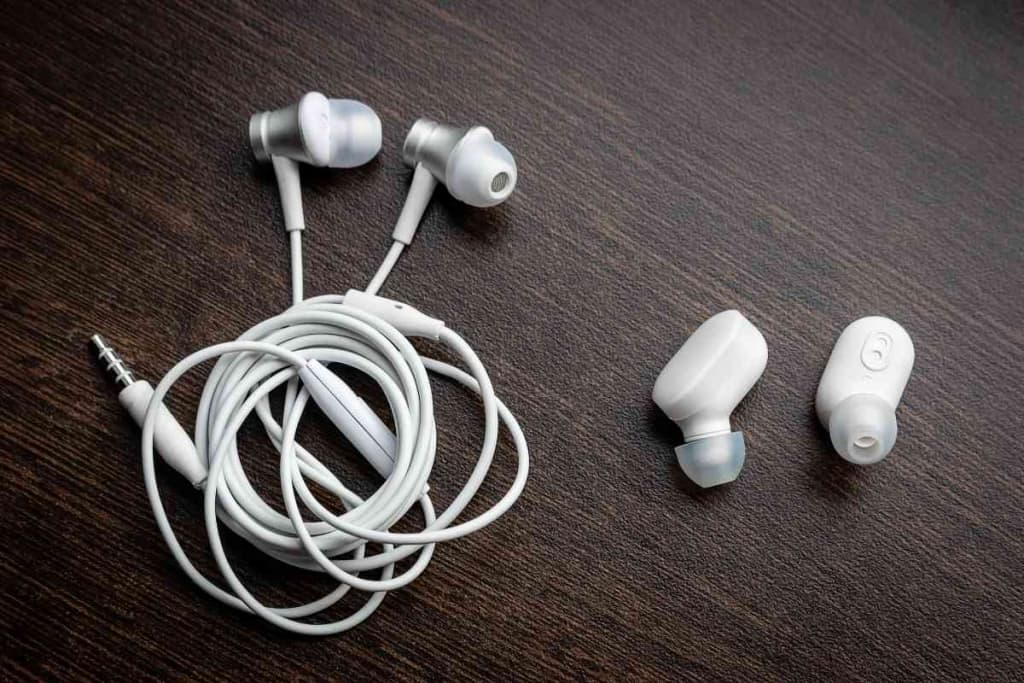 You're probably looking at Bluetooth headphones or earbuds because you want to ditch the wires, and that's totally understandable.
However, if you want to get the fastest charging speed possible, tossing your earbud case on a wireless dock isn't going to get you the speeds you want.
Wireless charging is only about 70-80% as efficient as charging with a cable.
So allot at least two hours to wirelessly charge your earbuds from zero to fully juiced.
This is really only a concern with earbuds that come with a case, since most on-ear headphones don't even offer the capability to wirelessly charge.
Even the AirPods Max don't have that feature, and a company made a "wireless" charging option that's really just a display stand.
They ship you the metal part of the Lightning cable attached to a magnetic connector that you click into the charging base they designed.
It looks cool, but it's not actually wireless charging technology.
Any AirPods that come in a case, however, will charge wirelessly.
Additionally, many of the third-party manufactured covers for the AirPods case are designed in a way so that wireless charging still works.
This is also true for Android earbuds that have a wireless charging case, like the Samsung Galaxy Buds or the Sony WF-1000xm4**s.**
About Those Earbud Cases
Earbud cases are great, and one of their key features is that they have a battery inside them.
So when you pop your earbuds in the case and then plug that case into a wall outlet (or charge them off your laptop or an external battery), you're charging two for the price of one.
Whenever you're buying earbuds, it might be a bit confusing when you're looking at battery life times.
For instance, this is from the Skullcandy website about their super affordable
So since the Dimes are only about $20, they charge by micro-USB, which we discussed above was the slowest charging option. After five hours, you'll have fully juiced ear buds and a fully juiced case.
This is a pretty standard feature on wireless earbuds and their cases now.
After you've rocked out for three hours or so, you'll get a notification that your battery is low.
Pop them into the case for an hour, and you'll get the ear buds back up to 100% charge without having to actually plug them into anything. Pretty cool.
So your earbuds and your case will have different charging times, which is great for people who just want to listen to their earbuds as quickly as possible.
Charge the case overnight once or twice a week and enjoy your on-the-go ear buds charge
Of course, different brands will have different mileage on their earbud and case battery life, as well as the case charging time.
However, if you're really looking for the best-in-class earbuds case, check out the Duet 50 Pro by Back Bay Audio.
They're only $59.99, and they can store 130 hours (almost five and a half days) of battery life in them.
That massive battery does mean it takes longer than average to charge.
The company claims it will charge completely in 2.5 hours, which is longer than average by almost double.
This case backs so much punch it can also be used to charge your phone in a pinch! Two and a half hours isn't a long time to have more than five days of listening time and a back-up phone charger that fits in the palm of your hand.
Fast Charging
Headphone manufacturers seemed to realize that people wouldn't need 100% charge 100% of the time, and a lot of them advertise some sort of fast charging option.
Say you forgot to plug in your headphones overnight and need them for a 45-minute commute.
Well, the companies have started telling you that if spend (an an example) 15 minutes charging your ear buds in their case or your headphones with a cable, you'll get two hours of play time.
Charge them as you get ready and have enough juice to last for your commute.
The mileage on this will vary, from the time you have to charge them to the amount of listening time you'll get out of them.
Let's compare the stated times on some of the models we've already discussed:
Beats Studio3: 10 minute charge = 3 hours of playback
AirPods Max: 5 minute charge = 1.5 hours of playback
AirPods Pro: 5 minute charge = 1 hour of playback
Sony WF-1000xm4: 5 minute charge = 1 hour of playback
SkullCandy Dime: N/A
Duet 50 Pro: Not listed
The Humble Aux Cable
Now, you may notice that some over-ear headphones come with an aux cable.
This is useful if you're on an airplane and want to watch in-flight entertainment.
Just plug the detachable aux cord into the port and don't worry about having to buy a separate dongle.
However, a lot of headphones that come with an aux cable will still work with the aux cable even if the battery is dead.
The sound may not be as top quality as you're used to, but it's better than not having any way to listen to music when your headphones die in a spot where you can't charge them right away.