How Do I Change Ownership of My Airpods?
AirPods are one of the most revolutionizing technologies by Apple.
They let you sync with any of your devices to listen or talk. It might be your iPhone, Apple Watch, iPad, Mac, or even your android device.
This is without dealing with cords. At times you might want to upgrade to a better version of the AirPods. You might keep the old AirPods and let them act as spares or decide to give them to someone.
But how do you change the ownership of your AirPods? This is a good question since they are remotely connected to your phone.
I did some digging and this is what I found.
How Do I Change Ownership of My Airpods?
Changing the ownership of your Airpods involves resetting your AirPods and removing them from your Apple ID. This process allows someone else to use them and have complete control and is pretty straightforward, but they cannot be paired to both of you at the same time.
You should probably clean the Airpods before giving them to someone else, too.
The problem would initially be pairing. Both of you would be paired and unpaired at the same time.
When person A uses the AirPods, they appear on the list as "A person's AirPods." This would only appear on their device list.
If person B takes A's AirPods and uses them on their device, they would be renamed "B person's AirPods." The AirPods would still work fine for person B.
The problem that arises is at the same time, and the AirPods would not appear on person A's device list.
Person A would need to pair their device again to use them.
This back-and-forth pairing becomes a hassle and is tiring.
It necessitates unpairing your AirPods completely before lending them to someone or gifting them.
When you first introduce your AirPods to your iPhone, they become connected directly to your Apple ID.
Therefore, you don't need to pair your AirPods with any of your Apple devices. It automatically pairs with your Mac, iPad, or Apple Watch.
This is accomplished by cloud syncing.
It makes your AirPods appear in the AirPlay menu of your devices.
You need to select them for any of the devices you are using.
Since the AirPods are closely associated with your Apple ID, it means you can remove them from your account.
It's as simple a procedure as pairing them in the first place.
Unpairing your AirPods removes them from all your devices.
They are as good as new at this point. The steps are the same for all Apple devices.
The following are steps you should follow when resetting:
1. Make sure that the AirPods are in the case when resetting.
The lid of the case should be closed during the procedure. The AirPods should remain in the case for about a minute. You can then open the lid of the case.
2. Go to the settings and select Bluetooth.
From there, go to the list of the paired devices. Your AirPods should be among the list of devices.
3. Select the "i" next to your devices.
From here, you will see a few options, including "Forget this device." Select the option to unpair the AirPods from your devices.
4. With the lid still open, locate a small button at the back of the case.
You should press the button and hold it down for about 12 seconds. There will be a blinking amber color that indicates the status of the case. You can then release the button since the unpairing is successful.
Your AirPods can be unpaired from your device whether they are currently connected or not.
The earbuds will be removed from your Apple account.
You can also check if the unpairing was successful.
This is by opening the Find my app application.
From there, you can see the list of all your devices. Your AirPods should not be on that list.
There's one odd problem when dealing with AirPods.
When you first pair them to your device, they automatically name themselves.
For example, they might be "John's AirPods." Even after unpairing the AirPods, they keep the name.
It would be best if you renamed the AirPods before gifting someone.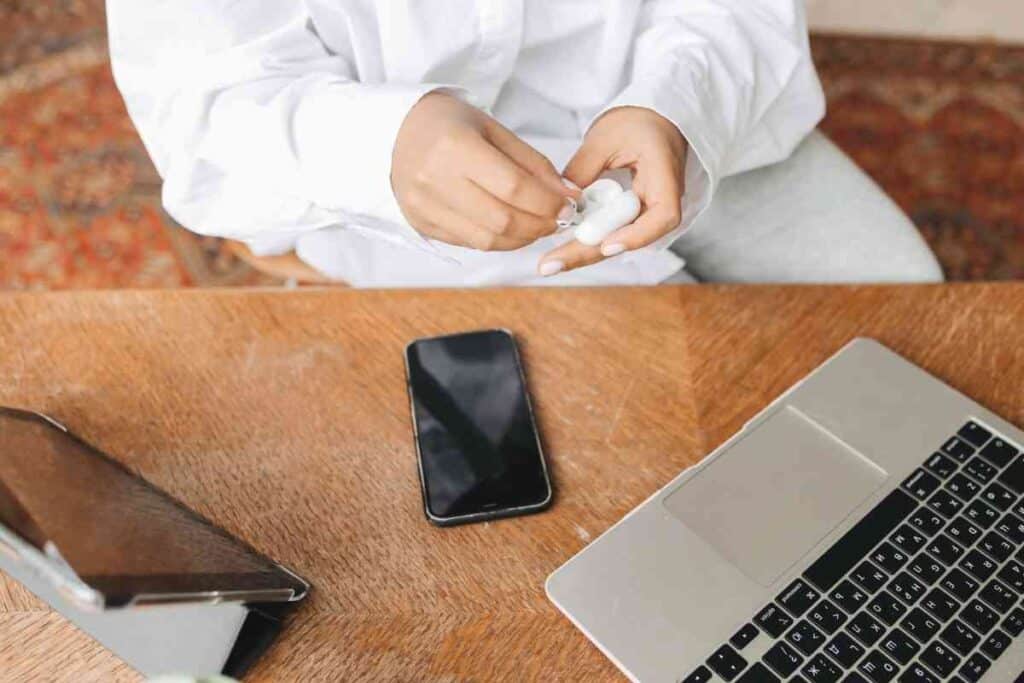 How To Rename Your Airpods Pro and Change Other Settings?
For your AirPods Pro, the settings are sort of like your AirPods Max.
You should open the case.
On your iPhone, go to the settings application and select Bluetooth
You should see your AirPods Pro in the list of devices and click the "i" next to them.
From that option, you can be able to do any of the following:
Change the current name of your device – By clicking the current name, entering a new name, and tapping done
Change the modes that you can choose with the noise control button on your AirPods Pro. This feature is only exclusive for iOS 14.3 or later. You should select a certain mode and a checkbox pops up that indicates the selected mode.
You can also turn the automatic head detection on or off. This feature is also only exclusive for iOS 14.3 or later. This feature means that if the Automatic Head detection is on, Your AirPods Max might sense when they are on your head. They automatically play audio from your phone and turn it off when they detect that they are removed.
You can set the position of your microphone. It can always be left, always right, or automatic. You should tap the microphone and choose your desired option. When set to automatics, either of your AirPods can act as a microphone. It would be one of them at a time.
You can also unpair from your AirPods from this setting. You tap the forget this device option.
How To Rename Your Airpods (1st and 2nd Generation) And Change Other Settings?
For these AirPods, the case should remain open with both AirPods in your ears. On the "i" next to your AirPods in the list of devices, you can be able to:
Change the name of your device
Change what double-tap does. It can be to select left or right.
Set the microphone to always left, right or automatic
Unpair the AirPods from the device.
How To Clean Your Airpods Before Giving Them Away?
Cleaning your AirPods is a kind gesture. It shows that you care about the person you are gifting. This is because of the build-up of wax. Over time, the AirPods become grimy because of continuous use. You might want to clean them first.
The surfaces should be cleaned with pure alcohol. The grilles of the AirPods should also be taken care of. You should use Blu-Tack to get rid of the sticky wax on the surface. It is the same procedure in use by Apple for the AirPods that have been traded in.
Closing Thoughts
Upgrading your AirPods is inevitable and can happen at any time. This leaves with your older AirPods which you're not sure what to do with them. You can opt to keep them as spares, just in case you misplace your new set.
However, you might decide to gift them to a friend or a family member. You must unpair your AirPods from your iCloud account so that the other party can use them with ease. Cleaning them is also important. With the holidays around the corner, it might be the perfect time to make someone happy.