The Best Jobsite Bluetooth Speaker For 2021 (Revealed!)
This post may contain affiliate links. As an Amazon affiliate, I earn from qualifying purchases.
We all need a decent playlist to brighten up the workday. Whether you are working in an office, a construction site, or working from home, music can help you get through the day.
A recent study from Harvard has found that music can help calm anxiety, boost productivity, help you focus, and keep you in a good mood. I know that a little AC/DC can keep me energized during a workout, while classical jazz helps me focus during the workday. Pick what works for you!
However, a good speaker can make all the difference. In this article, we provide a list of the ten best jobsite Bluetooth speakers; because who wants to be worrying about connectivity while on the job?
What To Look For In A Bluetooth Speaker- 100
Before purchasing a Bluetooth speaker, there are some things you need to watch out for. There is nothing worse than making a purchase and not having it what you want it to be.
So here's what you want to pay attention to before purchasing a Bluetooth speaker.
Size
The whole point of buying a Bluetooth speaker for work is actually to bring it to work. Therefore, it seems pretty crucial that you should be able to carry around your Bluetooth speaker easily.
Carrying around a giant box of a speaker is probably going to be something you want to avoid.
Is It Waterproof?
Let's face it, accidents happen. Especially at a jobsite, or maybe you decide to take your speaker to the lake for the weekend.
Either way, making sure your speaker is waterproof will save you money and a headache in the future, should any foreseeable accidents happen.
Is It "Smart" Equipped?
If being connected to Google Home, Alexa, or Siri is a big part of your life, it might be worth considering purchasing a speaker with these features being built in.
There's nothing better than kicking back with a cold drink and saying, "Google, play my weekend playlist".
Does It Have An Aux Input?
I know the purpose of this article is to list the best Bluetooth speakers, but a lot can go wrong with technology. It's best to always have a backup plan, such as an Aux cable.
On the other hand, some devices and outputs don't have Bluetooth functions and can only connect via Aux cable. Why limit yourself to just your phone?
Sound Quality
If you are looking to buy the best Bluetooth speaker, sound quality is, of course, a given. While it is not a must, buying a speaker that supports aptX HD could be of value to you.
Charging Type
What charging style is essential to you? Is it able to charge wirelessly? Your average USB charging outlet? An electrical socket?
Keep this in mind when buying a Bluetooth speaker. If you are bringing your speaker to a jobsite that only has electrical outlets, then you should look for a speaker that supports that.
In addition, there are a variety of speakers that come with a built-in power bank, providing you the option to charge your devices while at work.
Price
Sticking to your budget will prevent buyer's remorse for the long wrong. There are many speakers available in all different price ranges that are sure to suit your budget and your needs.
What Is The Best JobSite Bluetooth Speaker?
Outlined below are ten of the best Bluetooth speakers to fit different needs and budgets for your jobsite. Each has its unique features and selling points to give you a diverse list to choose from.
Unsurprisingly, the Fugoo Tough XL had to be included in this list of the best jobsite Bluetooth speakers. Known for its durability and battery life, this speaker is a popular choice among many.
Durability
This Bluetooth speaker is built to last. Designed to accompany you anywhere, including jobsites, the beach, or your ATV, this speaker is perfect for all of your adventures.
This speaker is made out of aluminum plating, stainless steel and protected in a polymer jacket strong enough to protect it from whatever life throws at it.
Battery Life
The battery life for the Fugoo Tough XL is one the longest lasting. With 35-hour battery life, you won't need to charge it for almost a week and won't have to worry about your battery dying during the workday.
Is your phone dying? Not to worry! This speaker comes with a USB port power bank to charge your phone.
Sound
The Fugoo Tough XL is equipped with 360° sound to deliver the best possible sound quality, no matter the conditions.
This powerhouse of a speaker comes equipped with eight speakers and other important sound quality features such as bass drivers and woofers.
Waterproof & Shockproof
Both of these features are pretty important as this speaker is built for adventures.
Naturally, working on a jobsite means that accidents happen. Luckily, you won't have to worry about that with the Fugoo Tough XL. Not only is it waterproof and shockproof, but it also floats!
Smart Speaker
This speaker comes with both Siri and Google Now voice control. No need to stop what you are doing to change the song or give a command.
The JBL Boombox 2 is another excellent option for bringing to a jobsite. Strong and powerful, this speaker is sure to meet your daily needs. 
Sound
The highlight feature of this speaker is by far the bass. Described as "monstrous" by some, you will definitely "feel" your music as you work.
Battery Life
Although not quite as long as the Fugoo Tough XL, the JBL Boombox 2 still boasts an impressive 24-hour battery life, definitely long enough to get you through the workday.
When the battery is done, simply charge it overnight; this speaker only needs 6.5 hours of charging time, which is quite impressive for its size.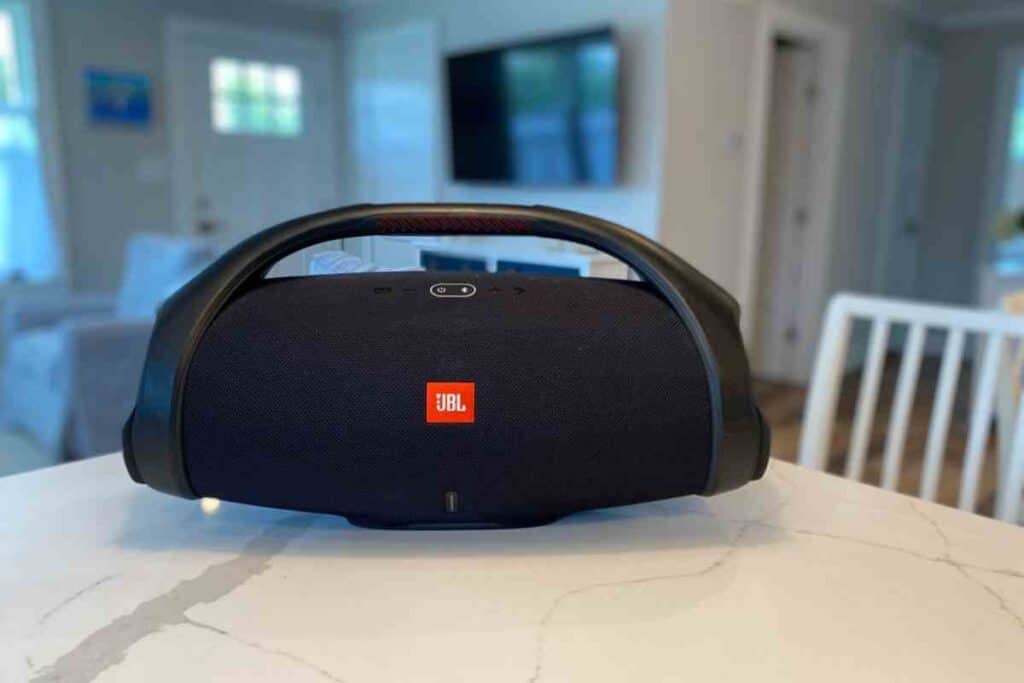 Waterproof
Always an excellent feature to have as jobsites can get messy and accidents can happen. Not to mention this speaker is perfect for bringing poolside or on a boat.
Party Boost
Now, this is quite a unique feature, available with the JBL Boombox 2. The "Party Boost" feature means that you can connect two or more compatible speakers to turn the volume way, way, up.
Powerbank
This speaker also comes equipped with a built-in power bank to charge any USB-compatible device, so you don't have to worry about your phone dying.
This is an excellent option if space is limited or simply looking for a smaller option. While the tube may be tiny, it has some great features that pack a punch.
Size
This speaker is definitely on the smaller size, which is a "huge" plus. Weighing only 2.46 lbs and 28.45×12.95 cm, it's so light a child could carry it.
You don't have to worry about lugging around a giant speaker with this little guy. Designed to fit just about anywhere, it's perfect for any setting.
Weatherproof
The tube is not just waterproof; it's weatherproof. Built to withstand any weather, rain, snow, or hurricanes, this speaker will be right there with you.
Battery
While this itty bitty speaker only has an 8-hour battery life, it comes with a handy power-saving feature.
The tube automatically shuts off after 15 minutes with no activity unless already plugged in. So, no need to worry about wasting battery life.
The Light Feature
If you work late into the night or work the night shift, you don't need to worry about losing or misplacing this speaker.
Perfect for camping, the tube has a blue illumination feature that lights up in the dark, making it easily findable.
Sound
The tube has an SD card slot to store and play your favorite music, so you don't always have to rely on Bluetooth, just in case.
In addition, this speaker can connect to FM radio if you are in the mood for something other than your regular playlist.
This speaker is another great option if you are looking for something smaller but still powerful. With some of the great features of the Fugoo Tough XL, you can't go wrong with this speaker.
Sound
Just like the Fugoo Tough XL, the Go Portable has 360° mode available, ensuring everyone can hear properly.
Plus, it has two sound placement options. Stand the Go Portable on its side for direct sound, or place it on its back for 360° mode.
This powerhouse has two full-range drivers and two bass radiators, giving you top-notch sound quality.
A feature unique to this speaker is the stereo mode. Two Go Portables can be connected to the same source to amp up the volume.
Waterproof
It's not only waterproof, but also dust-proof, and shock-proof. Just like the Tough XL, this smaller version is built to be durable and be taken everywhere, including the jobsite.
Size
The Go Portable is even smaller than the tube. Weighing only one pound, it's light enough to clip onto your jeans or belt.
Battery
The battery life for this speaker is 10 hours, with a 5.5 hour time period to fully charge. However, the volume drops down to 50% after a while to preserve battery power.
This portable speaker is designed for durability and easy carrying. With a 12 month warranty, you will have peace of mind bringing this speaker with you to every jobsite.
Sound
The W-KING boasts high definition sound with 2.2 acoustic drivers design, two full-range speaker drivers, two passive subwoofers and two tweeters with anti-distortion circuitry.
Not to mention, you have a variety of ways to connect your device. You have three options; Bluetooth, aux cord, or USB.
Like a few other speakers, this one also comes with the ability to pair two speakers to one device for added volume.
The Bluetooth range is quite impressive; you can be up to 100 feet away from the speaker and your device will still be connected.
Battery
This speaker will last for 24 hours of playtime and comes with a built in power bank to charge your devices.
While it won't last as long as some of the other speakers on this list, it will get you through the work day no problem.
Durability
This speaker is built to take a few hits. Completely waterproof, dustproof and shockproof, you won't have to worry about it getting damaged at the jobsite.
While more sleek looking, don't the design fool you. This outdoor speaker was built with durability in mind.
Sound
Similar to the Fugoo Tough XL, the Soundbox comes with 360° sound for superior quality. It also has the ability to connect to devices via Bluetooth, Aux, or micro SD card.
Battery
While on the smaller side, this speaker has a battery life of up to 20 hours. The Soundbox is easily chargeable via USB, but does not have a power bank.
Display
This speaker features a unique touch display instead of the typical button controls. If having a touch screen display is an important feature to you, this may be a good choice.
Final Verdict
So what's the best jobsite Bluetooth speaker?
Well, it all depends on your preferences of course, but we like the Fugoo Tough XL.
The Fugoo Tough XL is hands down the best speaker for a job site. Not only is it built to be tough, but it has the longest battery life out of all the other speakers on the list.
**The Fugoo Tough XL – has just been replaced by the Fugoo Tough 2.0
The sound quality is tough to beat as the Fugoo Tough XL has 360° sound to provide excellent acoustic quality. It also lets you be utterly hands-free while working with the built-in Siri and Google Now.
If you are looking to invest in a decent jobsite Bluetooth speaker, the Fugoo Tough XL is the way to go.