Does Nest Thermostat Have A Camera?
This post may contain affiliate links. As an Amazon affiliate, I earn from qualifying purchases.
Smart devices are making it easier and easier for people to outfit their homes with a modern security system.
Several smart devices can work in tandem with security cameras and alarms to help customers secure their homes and maintain peace of mind.
Google and Amazon both have an excellent list of smart home security devices.
Does Nest Thermostat Have a Camera?
The Google Nest Thermostat doesn't come with its own camera installed. Instead, it relies on sensors to learn who is home, to detect humidity, and a long list of other possibilities.
It's possible to install a hidden camera into a thermostat, and some smart thermostats even come with a camera installed, providing a hidden layer of security in the home.
Continue reading to learn about the entire lineup of Nest products, which one is right for you, and whether or not a smart home setup from Google is right for you.
All About Nest Thermostat
Some people may be concerned about their own privacy when installing smart products in their homes.
This is why Google has been hesitant to install a camera in their thermostats.
They want consumers to be able to take advantage of some of their products without having to worry about every smart device having a microphone and camera.
The Nest thermostat only has functionality where it's absolutely needed.
.It can detect the light, humidity, and current temperature of a room.
This helps it decide what temperature to rise or drop to.
It also has a motion sensor to detect when someone is in the room.
In addition, it monitors and tracks your heating and cooling habits.
It doesn't detect any other information and does not record video or audio.
It's a great addition to any lineup of smart devices, and it's great for people who are worried about their own privacy too.
Nest Cameras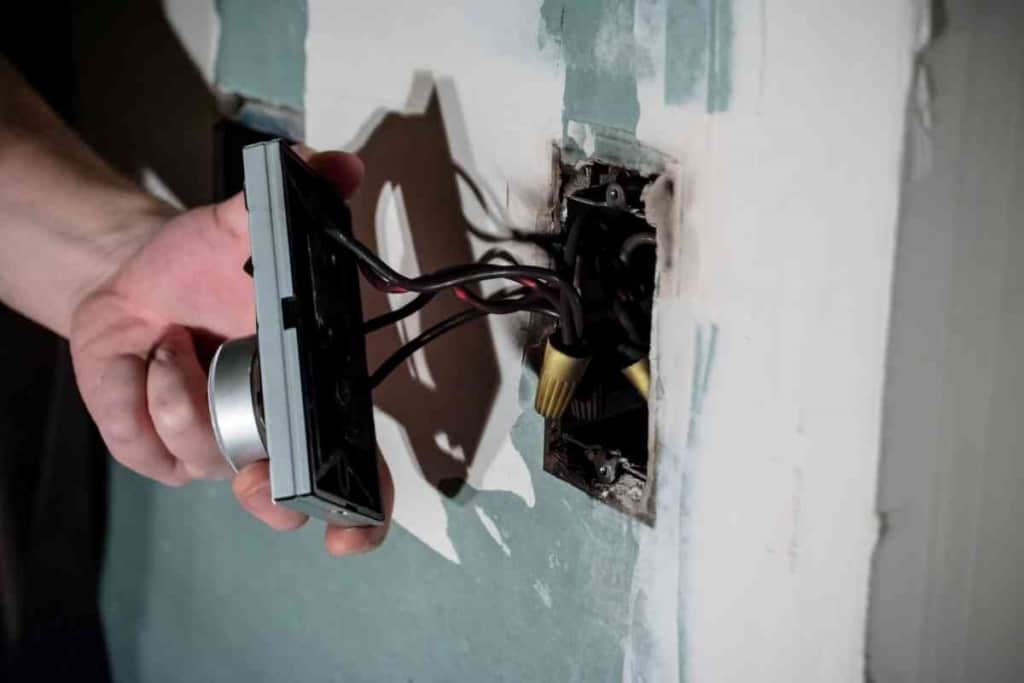 Nest is Google's flagship brand of camera, so it can be confusing to learn that the Nest Thermostat doesn't have a camera.
However, plenty of Nest options are available if you are looking for a good home security camera.
There are battery-powered cameras, and there are wired versions.
The battery-powered Nest camera is appropriate for both indoor and outdoor use.
It features high-dynamic resolution and night vision, ensuring that you have a constant feed no matter the time of night or brightness level.
It's designed to still function in high contrasting sunlight, so homeowners always have a clear picture.
A cheaper wired model of the basic Nest Camera is also available.
It's designed for indoor use only, but it offers the same features that the more expensive wireless version has.
Nest has a very high-quality camera with floodlights too.
The unit is a bit more expensive than the battery-powered camera, but it's well worth the money.
It has all the great features that the normal camera has, but it also has two giant floodlights on either side of the camera.
You can even toggle the lights with voice commands.
All of the Nest cameras allow users to receive notifications from their other Google Home devices and on their phones. They also come with intelligent alerts.
The camera itself will learn the faces of family and friends and mark them as safe.
Nest allows users to talk and listen through the cameras too.
The Pros and Cons of the Nest Thermostat
The Nest Thermostat will learn your usage, make better cooling and heating decisions, and help you save money on your power bill.
Heating and cooling make up a large proportion of monthly bills, so the Nest will pay for itself in just a few months.
This is the best reason to invest in a Nest Thermostat.
In fact, the Nest Thermostat has many different pros. It is designed elegantly, it monitors for issues, works well with other Alexa devices, and it's able to adjust its settings based on who is home and home many people are home.
On the other hand, there are a few cons to contend with.
The Nest may be too expensive for someone to see as a wise investment, it takes a long time for the Nest to learn your habits, and external sensors don't come included.
Due to the Nest's long learning time, you may not see the cost savings benefits until a few months in.
Another negative aspect is the fact that it might require a C-wire or common wire.
This is the wire that gives normal thermostats their power. The Nest runs off a rechargeable battery, but the device won't be functional while the battery recharges.
This means you may as well connect it to an exterior power source and use it that way.
This can be a headache if your home was never wired with a C-wire. Some modern thermostats don't require them, so many newer homes don't have the proper wiring in place.
The Nest packs a lot of technology into a small package.
It's only 3.3 inches by 1.2 inches, and the Nest is able to sense temperature, humidity, weather, motion, and who's home.
Its small size and great design make it one of the best-looking devices available.
It's not an eye-sore like other thermostats.
Comparing these, it's easy to see that a Nest Thermostat is worth the investment.
Smart thermostats in general are one of the most useful smart devices you can buy.
In addition, the Nest is one of the most intuitive and easy to control smart devices on the market.
There are no buttons on the Nest.
Everything is controlled directly from an exterior ring around the device.
All other settings are controlled by the convenient Alexa app.
Alternatives and Other Products
Camscura offers a DIY thermostat camera kit.
It's not designed for smart devices though, as there wouldn't be enough room to install it anyway.
It's designed for the standard-size thermostat that's found in most homes.
The secret camera goes inside the thermostat and gets its video feed via a small hole in the cover.
This is probably your best option if you are looking for a hidden camera in your thermostat and don't actually care about the smart capabilities that Nest and other smart devices offer.
The Camscura camera can record up to 36 hours on a single charge, so this means it should only be used when you're away.
It's not practical to recharge the device every 36 hours.
Despite this, the Camscura DIY camera kit can be outfitted to add an extra layer of security to the home when you're away on vacation or just out of town.
Nest also makes a mini camera.
This round device sits only a few inches tall, and it's completely controllable from your mobile phone.
It even provides mobile alerts like its other cameras.
Blink from Amazon offers a mini model that is only about an inch tall, and it captures five-second video via a motor sensor prompt.
Wyze has many options available if you're looking for discretion.
They have models that resemble an old iPod, and they are reasonably priced.