Newegg vs Best Buy: Which Is Better?
Buying a new electronic device is filled with many choices, not the least of which is deciding where to buy the device.
With the increase in popularity of online shopping, there are more stores than ever to choose from.
Two respected options in the current marketplace are Best Buy and Newegg.
Should I buy from Newegg or Bestbuy?
Best Buy and Newegg are both great options for shoppers looking to buy new or used electronics. Each one services a different area of the market, and each excels in their own way. Newegg is better for online shoppers who are looking for a good deal, while Best Buy is better for shoppers who want an in-person shopping experience.
There are many aspects that differentiate Best Buy and Newegg.
One isn't necessarily better than the other, but one will likely be better for you and your personal needs.
Keep reading to learn more about which store will work best in your situation.
Best Buy Pros
Founded in 1966, Best Buy has grown and changed alongside technology.
They are a global brand that can be trusted to follow through on warranties, take returns, and provide a high-quality service.
They have many locations, and a large, dedicated customer service team.
Being a physical store, Best Buy offers the opportunity for customers to hold and test the device they are interested in buying.
A knowledgeable sales team is there to assist customers, answer questions, and recommend products.
For many customers, this human contact is a key part of why they like Best Buy so much.
Being able to ask questions and play around with devices is great for someone who is figuring out what they want.
Rather than guessing which size phone they like, they can hold all of them and feel for themselves which works best.
Best Buy also offers services like Geek Squad, which provide support through the entire life of their products, not just the initial purchase.
Installation, repair, and replacement are all services Best Buys offers, and can even be signed up for while purchasing the product.
Best Buy Cons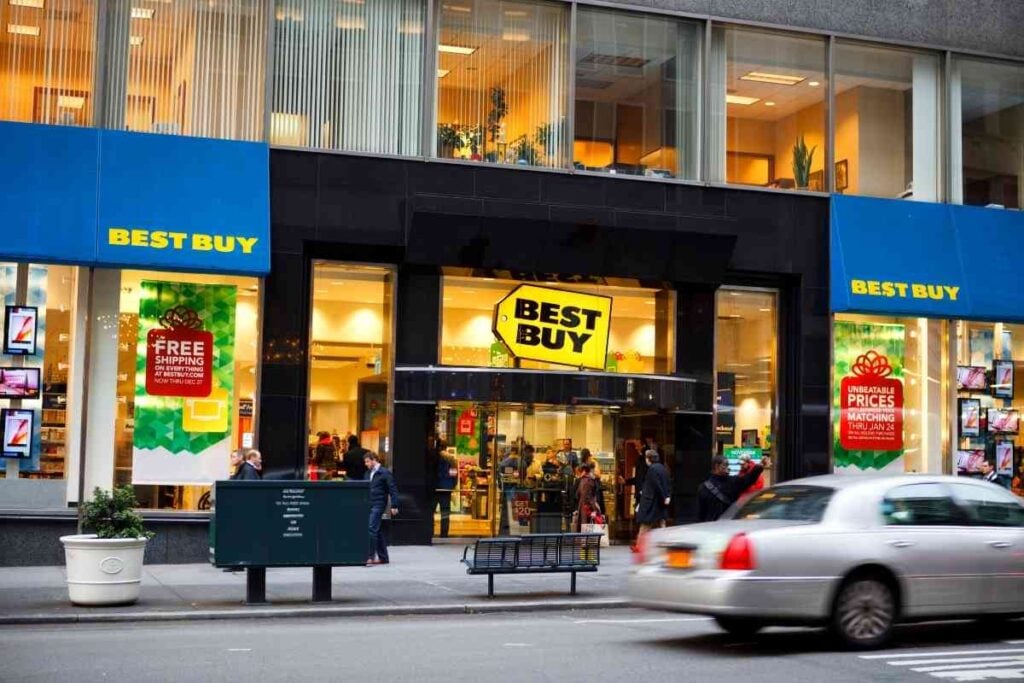 Best Buy tends to be more expensive than other stores.
The same things that make Best Buy great also increase the overall operation cost of the company.
Staffing stores, paying rent, and dealing with theft all cost money and end up driving up the cost of their products.
Similarly, while many customers love having a sales representative to talk to, some do not need or want this interaction.
For a knowledgeable customer who knows exactly what they want, this kind of interaction is not only unnecessary but potentially annoying.
Best Buy is also limited in the products they offer.
Best Buy tends to carry complete devices, so finding a replacement part or upgrade component might be challenging.
For example, when I was shopping for hard drive cases, Best Buy had only complete hard drives.
To buy just the case I had to shop online, from a different retailer.
Newegg Pros
Newegg is a newer company, founded in 2001.
It originally got popularized by DIY enthusiasts who liked the cheap and reliable components sold by Newegg.
The website has grown, and now sells a wide range of products, including new and used electronic devices as well as specific components.
The Newegg website is easy to browse, contains many reviews, and has a massive collection of products.
This makes finding exactly what you want extremely convenient.
Add in that it is all online and can be browsed from anywhere, makes Newegg's shopping experience incredibly easy.
Since Newegg is an online retailer, they can offer more options than a brick-and-mortar store.
They can house everything in their warehouse and don't need to worry about the display limitations of a traditional store.
As a customer, you also know that what you're seeing is accurate and available.
No more driving to multiple stores to see if one of them has the rare item you're looking for.
Instead, the entire inventory is searchable from one convenient location.
Newegg Cons
Like the Best Buy cons, many of the things that make Newegg a great store also create its limitations.
Newegg can be cheaper and offer a wider selection because you can't inspect the products, or physically browse the store.
Since Newegg only displays its products online, you cannot look at the product before buying.
Sizing or other things might not be as evident when looking at a picture as they are when the device is in your hands.
Something that looks great in a picture might just not be what you're looking for in real life.
Since you are buying from a large stock, the device pictured might not be the exact one you get either.
When in a physical store, you can avoid selecting the damaged or tampered with box.
This kind of selection is not possible online.
Instead, you rely on the packaging person or machine to ensure quality control.
Shopping online allows you to pick the type and model, but not which one you get out of the stack.
You might get a used laptop that's really dinged up even though the ones in the reviews all look nice.
You might order two of something and one is perfect, while the other has more than a few flaws.
The challenge is that you can't tell what exactly you will get until it arrives in the mail.
Finally, returns can be more complicated when shopping online.
Newegg has a great return policy, but the 3rd party sellers on their site might not.
Certain products, such as printer ink, cannot be returned regardless of the seller.
In addition, returning shipped items involves putting them back in the box, going to a postal service, and potentially paying for return shipping.
This is substantially more complicated than traditional returns, where you just need to go back to the store.
Newegg vs. Best Buy
Best Buy is a well-known, established brand.
Best Buy is a physical store with an online presence and a popular place to go in and get a physical feel for products.
Newegg, on the other hand, has a much larger inventory and can be browsed without leaving home.
Best Buy is a trustworthy place to buy from.
Knowledgeable staff can help inexperienced buyers find exactly what they need, and any problems are easily handled by going back to the store.
Newegg is a place for more savvy buyers to find great deals, or the exact component they need for a project.
Their online marketplace is massive and will likely have exactly what you need.
There is more trust and personal responsibility involved when buying online.
You, as a customer, need to know what you want.
You have to read reviews and make decisions independently.
There is no smiling man in a blue polo ready to answer all your questions.
In essence, Best Buy offers the security and price of a large, established company.
They might not be cutting edge or crazy cheap, but they are dependable and consistent.
Newegg offers wider selection, but a bit less certainty.
Each one is fantastic in their own right, which is better depends on you.