3 Ways To Control Lamps With Your iPhone 
Smart lighting is usually one of the first steps homeowners take when they start automating their homes. Thanks to recent advancements in technology, you no longer have to get up to switch the lights off or on. In fact, you don't even have to be in the same room to do it! With your iPhone, you can easily control your home's lamps, even if you're in a different city.
You can remotely control lamps by using Siri's voice functionality or by downloading the Philips Hue or Yonomi app on your iPhone. Along with installing smart light bulbs, you can also turn your regular lights into smart lights by simply installing smart switches or smart plugs.
Most smart bulb brands are compatible with Apple's HomeKit, including LIFX, Philips Hue, and more. Let's look at how you can control a lamp with an iPhone and how you can turn regular lights into smart lights, so that you can easily make lighting adjustments according to the time of day, room occupancy, or any other specific conditions that come to mind.
Can You Control a Lamp With Your iPhone?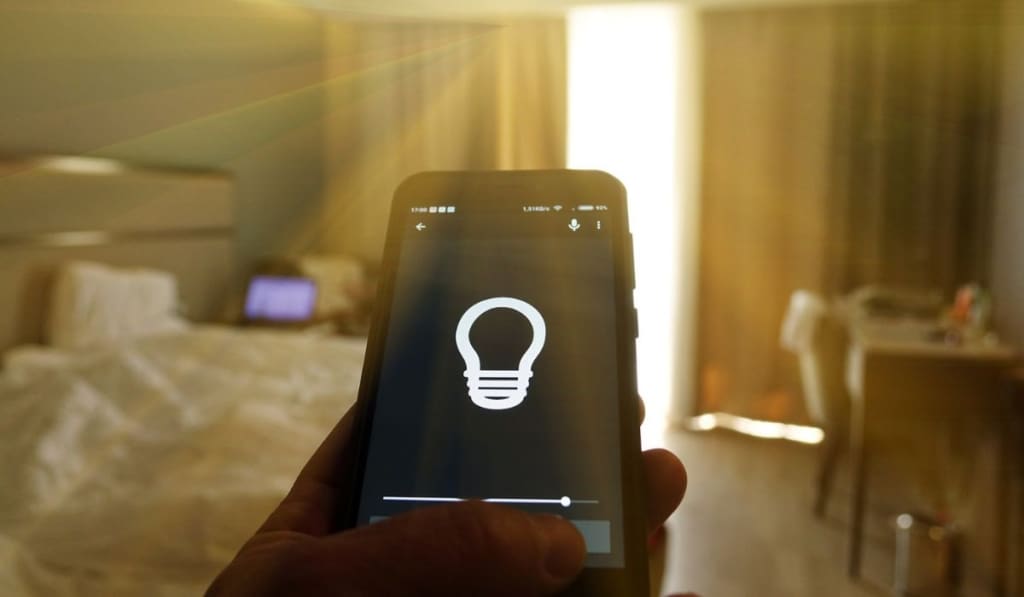 While most smart light brands offer their own iOS apps, you can also control a lamp with Siri's voice control functionality. However, before you start telling Siri to turn the lights on and off, there's one important thing you should know, and that's that you might need a hub.
Smart lamps use wireless transmissions to receive and send their signals. However, each type of smart lamp operates in a different way:
Smart Lamps With WiFi Connectivity
Some smart lamps are designed with built-in WiFi, allowing them to establish a direct connection with your router. This means that you'll be able to control the lamps with your iPhone as long as you have a secure internet connection.
Smart Lamps With Bluetooth Connectivity
Other smart lamps connect to your device via Bluetooth, allowing you to control them from a distance of 50 feet or more. However, they need a hub to send and receive signals or you won't be able to control them remotely. 
Smart Lamps With Z-Wave or ZigBee Connectivity
ZigBee is a local wireless network that allows smart devices to transmit their signals. If you have ZigBee smart lamps, then you'll need to plug a ZigBee hub into your router, so that it can translate all those signals for your local or home network. Most ZigBee lamps come with their own hub that you can easily set up yourself.
How to Control Lights With Your iPhone
While you can use Siri to control smart lights, you also have the option to download a multitasking or single-tasking app to control the smart lights in your home:
Control Lights With Siri
First, you'll need to make sure that all your smart lights (on Amazon) and lamps are connected to your iPhone's Home app. Here's what you need to do:
Launch the Home app on your iPhone.

Access the Home tab, if the app didn't open there.

Tap the plus (+) sign in your screen's upper right corner.

Tap 'Add Accessory.'

Use your phone's camera to scan the QR code or the eight-digit HomeKit code that came with the smart lights. Then, follow the given instructions to add the lights to your network.

If you own an iPhone 7 or later and notice a wireless icon on the lights, you can simply hold your phone near the light to add it to your network.
Next, make sure that Siri is activated on your iPhone:
Launch your iPhone's Settings app.

Scroll down and select 'Siri & Search.'

Toggle on Listen for "Hey Siri." This will allow you to control your home's lights with your voice. You might also need to completely set up Hey Siri functionality (just follow the on-screen instructions) if you haven't done so before.
Once you've connected Siri and added the lights to your Home app, you can control the lights with voice commands. For instance, you can say, "Hey Siri, switch on the lights."
If you have several different smart lights set up in different parts of the house, you can opt for a more specific request. For instance, you can say, "Turn off the bedroom lights," or "Turn on the bathroom light."
If you've installed color smart lights (on Amazon) , you can even ask Siri to change their color. For instance, you can say, "Turn the living room lights to green." Turning off the lights is extremely easy as well, and you just need to activate Siri and say, "Switch off the lights."
Control Lamps With the Philips Hue App
The Philips Hue application is available for both iOS and iPadOS. You can easily use the app to organize all your individual smart lights into rooms. The app also allows you to switch rooms off/on, change the brightness and color of the lights, and create a personalized lighting atmosphere.
Control Lamps With Yonomi
You can use the Yonomi app to control a wide range of smart home gadgets. The app allows you to change the hue and brightness of the connected lights, whether they're the LIFX A19 (on Amazon), Philips Hue (on Amazon), or GE Link connected bulbs (on Amazon).
Yonomi also works with third-party assistants, like Amazon Alexa and Google Assistant for custom voice commands.
Can You Turn Regular Lights Into Smart Lights?
In order to turn your regular lights into smart lights, you need to invest in a couple of things. Here are three accessories that can help make your home lighting 'smart':
Smart Switches
Instead of replacing all the existing bulbs in your house, you can just install smart switches, like the Switchmate (on Amazon) to turn them into smart lights. Smart switches are extremely easy to use; you just need to attach them to your existing in-wall switches to smarten your home lighting system.
Most switches are also magnetic, so you won't have to worry about using any tools or wires. But the best part is that they connect to your phone through Bluetooth, allowing you to turn off the lights without getting up from the bed.
Smart Light Bulbs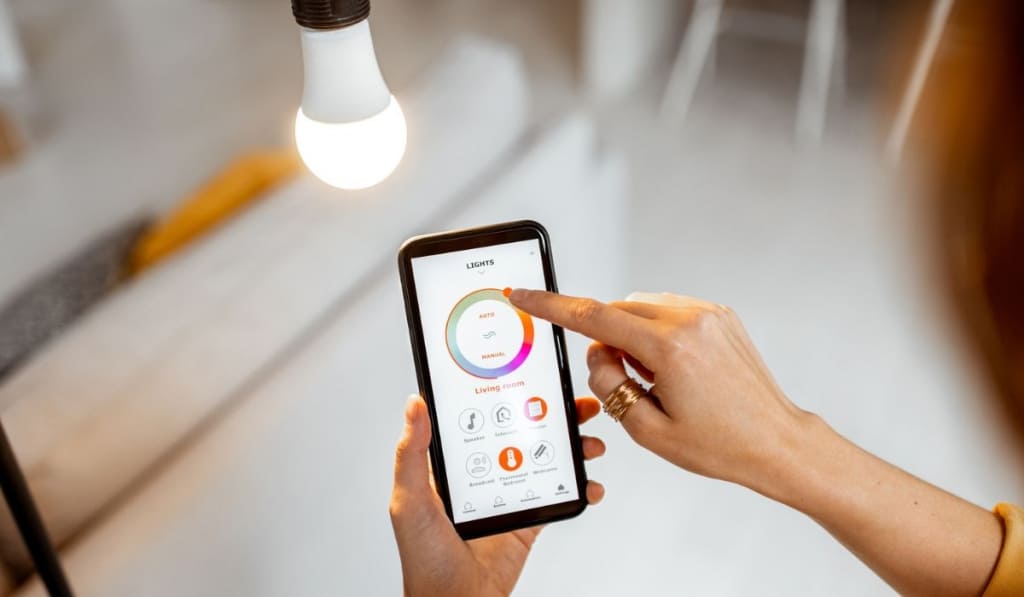 Smart light bulbs are available in several different shapes, colors, sizes, and configurations. You can use smart bulbs to convert any regular light fixture into a smart one, whether it's a large dining room pendant light or a small bedside lamp.
You can install smart light bulbs in your home's existing sockets. And since most bulbs connect to your phone via a WiFi network, you can remotely control your lights without purchasing a hub.
However, if you don't want to replace any of your regular light bulbs, you can simply use a smart socket, like the AICase Smart Bulb Adapter Socket (on Amazon) to smarten your home's lighting system.
These sockets use your home's existing bulbs and allow you to control dimmable and incandescent LED or CFL bulbs without using any wires or hubs.
Smart Plugs
Smart plugs, like the Amazon smart plug (on Amazon), pair with your phone and allow you to control standalone light fixtures, like lamps and other devices that can be plugged into an outlet.
Smart plugs also work with smart home hubs and voice assistants, allowing you to smarten your home's lighting system without replacing the bulb. Along with remotely powering the lights off and on, some smart plugs also monitor energy use, giving you a real-time report of the bulb's total energy consumption.