Are AirPods Cases Waterproof? (And What To Do If They Get Wet)
This post may contain affiliate links. As an Amazon affiliate, I earn from qualifying purchases.
Have you ever dropped a phone or another electronic device in water? There's nothing worse than having to replace an expensive device due to water damage. Fortunately, many of the latest phones and devices are waterproof or water resistant. But what about your AirPods case?
Neither the AirPods nor their charging case are waterproof. Both can get damaged if they get wet, though some earbuds and the 3rd-generation case are water and sweat resistant. If your AirPods case gets wet, dry it with a cloth and leave it to dry for at least 24 hours before using it again.
Let's take a closer look at whether AirPods cases can handle exposure to water and what to do if yours gets wet.
Are AirPods Cases Waterproof?
Apple's beloved AirPods aren't waterproof. They will certainly get damaged if they fall into the toilet (it happens) or pool, or if they get drenched in the rain.
Unlike some iPhones, you can't take your AirPods underwater — even if you place them in the charging case, since the case isn't waterproof.
Waterproof devices are able to function underwater and won't get damaged even if they're submerged for some time. While many devices have some level of water resistance, most electronic items aren't waterproof.
So next time you're at the pool, keep your AirPods and their case at a safe distance.
Are AirPods Cases Water Resistant?
While AirPods aren't waterproof, some models are water resistant. The AirPods 1 and 2 aren't water resistant, and neither are the cases. The same applies to the AirPods Max. However, the AirPods Pro (on Amazon) and AirPods 3 (also on Amazon) are sweat and water resistant and shouldn't get damaged if they get just a bit wet.
The AirPods MagSafe Case for AirPods 3 is also water resistant, but the case for the AirPods Pro is not.
However, it's important to keep in mind that water resistance doesn't mean the AirPods or the charging case are waterproof. If the AirPods case falls deep into water or is left submerged for more than a brief moment, it will get damaged.
That said, if you spill some water over it and dry it quickly, the water resistance will prevent the internal components from getting damaged.
Also, while the AirPods Pro are water resistant, the water resistance is quite low, and you'll have to dry the earbuds immediately if they get wet. The longer AirPods or their case stay wet, the higher the chances of the water reaching the internal components.
What Should You Do If Your AirPods Case Gets Wet?
There's no need to panic if your AirPods or the charging case gets wet. If you dry it quickly enough, you'll probably be able to prevent permanent damage.
Follow these steps to protect your AirPods case when it gets wet:
Use a microfiber cloth (on Amazon) to dry the case completely. Avoid using a regular cloth as it won't absorb the water and may cause the water to spread into the case.

If the case fell into water, open the case's lid and place the case upside down until the water drips out of the case completely. Follow this by drying the case with a microfiber cloth.

Leave the case somewhere to dry for at least 24 hours. Avoid placing the AirPods inside the case or switching on the case until it's completely dry. For safe measure, disconnect the AirPods from your devices.

Once the AirPods case is completely dry, switch it on and try pairing it with the AirPods.
If your case only gets wet briefly and you dry it quickly, it shouldn't get damaged. However, if it's still not working after drying, have it checked by a professional.
Best Accessories to Protect Your AirPods Case From Water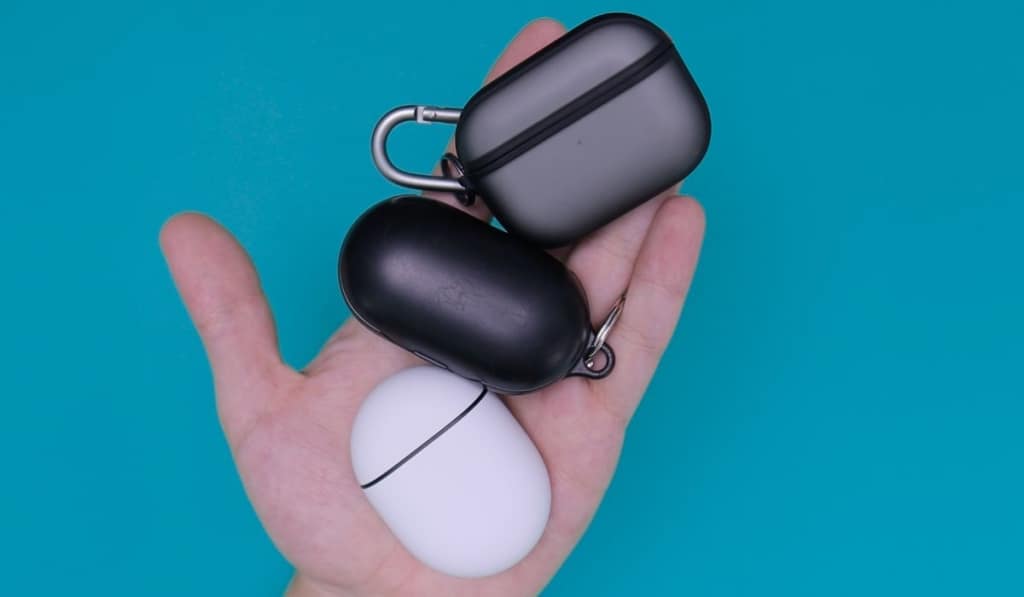 If your AirPods are always falling, it's best to get a protective case for the AirPods (and their charging case). There are many waterproof cases that will protect your AirPods from getting damaged by water. Here are some of the best waterproof cases for AirPods:
AddAcc AirPods Case
If you're looking for a waterproof case that will allow you to go swimming with your AirPods, this is it. The AddAcc AirPods case (on Amazon) is designed to protect your AirPods case from water in depths of up to 6 meters for at least an hour.
The Rokindeer AirPods case (on Amazon) is designed with high-quality, FDA-approved silicone. It also has air bubbles that will help the AirPods case float in case you drop it in water by mistake. This is one of the most durable AirPods cases and doesn't get dirty or scratched easily.
Catalyst AirPods Case
When it comes to protective waterproof cases for AirPods, the Catalyst case (on Amazon) is ideal. It's wireless charging compatible, waterproof, and will protect your AirPods case from scratches. It also comes in a range of colors, so you can get one that suits your style.