Are Apple AirPods Compatible with Samsung?
Apple products seem to often be made exclusively for use with other Apple products. But the Apple AirPods are different. Released in December of 2016, the AirPods have become some of the most popular earbuds around. They've cycled through two generations and have even introduced the Pro series.
But what if you switched your phone from an iPhone to an Android-powered device?
Are you going to have to chuck those AirPods? What if you just want to use them with your tablet? Can something made by Apple actually work with a Samsung product?
Are Apple AirPods compatible with Samsung?
All generations and models of Apple AirPods are compatible with Samsung products. AirPods use Bluetooth, so connecting them to Samsung devices powered by Android is the same as connecting them to any other device. However, AirPods have a stronger connection with other Apple devices than with Samsung devices.
As shocking as it might sound, you can absolutely pair your Apple AirPods with your Samsung phone or tablet.
On an iOS-powered device, the connectivity will be strong, but on an Android, you'll likely get a weaker connection.
How can you pair up your Apple AirPods with your Samsung – or any other Android – device?
And why does the connectivity suffer? What other downsides are there to using the AirPods with a Samsung device? Read on to get those crucial questions answered.
Can I connect my Apple AirPods to my Samsung phone or other Android product?
First things first – yes, you can connect your Apple AirPods with your Samsung phone or other Android devices, but you have some caveats.
They are Bluetooth devices that can sync up with other Bluetooth-enabled devices.
If your Samsung supports Bluetooth (which it probably does), then the two devices should be able to connect.
Apple's AirPods Pro can also be paired with Android devices since they are Bluetooth enabled.
How to Connect AirPods With an Android Phone
Okay, so here's the kicker: Syncing up your Apple AirPods with any other Bluetooth enabled product is super easy.
You just need to follow these few simple steps to get it right on your first try:
Open your Samsung (or other Android product), then go to Settings > Connected devices > Pair new device. This sends your phone or tablet into pairing mode.
Put your AirPods gently into their charging case, taking care to leave the case open.
Press down on the little button on the back of the AirPods case for a few seconds and hold. A light will begin flashing either on the front or inside of the case, all depending on which model you own.
An entry for the AirPods should show up in your Bluetooth pairing menu on your cell phone. All you have left to do is tap it to connect your Samsung and your AirPods. All done!
Setting them up with your computer is a little bit more complicated and involves different steps, but pairing your AirPods to your smartphone takes almost no time at all.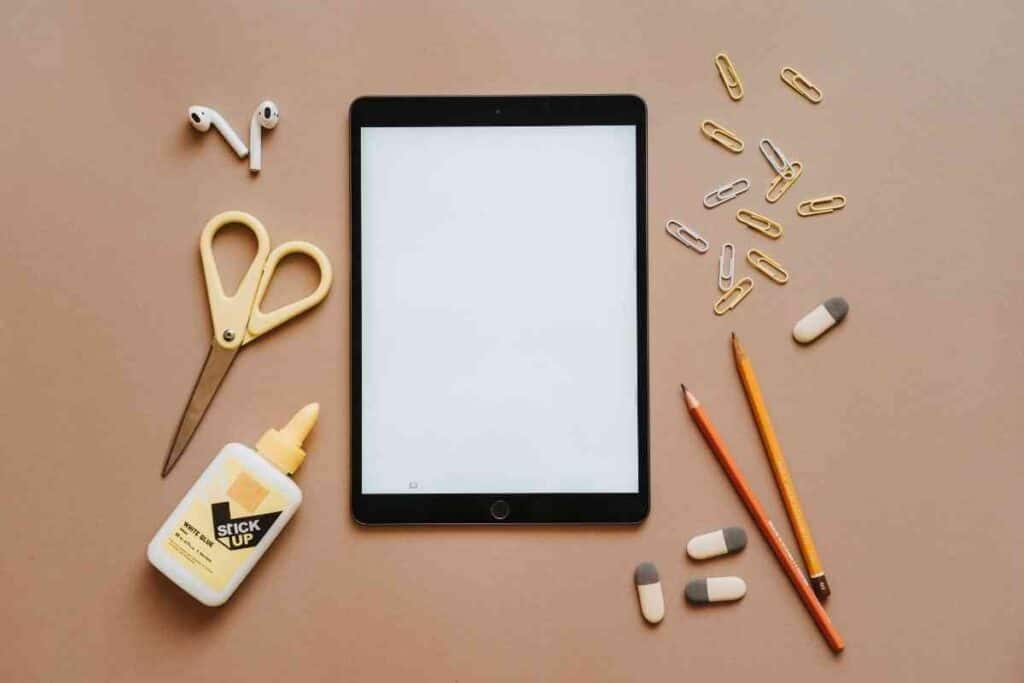 Are there any downsides to using AirPods with an Android phone?
Okay, there are some drawbacks to using your AirPods on an Android device since, technically speaking, they were not optimized for use outside of Apple products.
The real downside is that you lost some feature functionality, which I'll get to in a minute.
If you already have AirPods that you've been using with an iPhone or iPad, then you know how insanely easy it is to pair them (due to the chips built into them) All you have to do is open the case, set them down next to each other, and hit "connect".
While pairing to a Samsung isn't rocket science, it takes a few more steps.
You have to set about doing them manually too since there is no automatic pairing.
Which AirPod features will not work on an Android?
Here is the main gripe I have with pairing my AirPods to Android devices: Some AirPod features absolutely will not work.
And, really, they're some of the cooler and handier features.
This is what you will have to miss out on:
Quick and easy battery life checking: You can simply connect your devices and ask Siri about your phone's battery life. Or you can just check it manually – your choice. Granted, there are some Android devices that will show you the battery life of a connected Bluetooth product, but this does not show the charging case's battery life or if your AirPod buds are sitting at different levels.
Access to Siri: Since you're using a Samsung, you do not have Siri at your beck and call.
Ear detection: When you use your AirPods with an Apple product, the paired device will detect when you have removed your earbuds. This allows it to pause your music. You lose this functionality on non-Apple devices; the music plays on.
Double-tap customization functions: When using an iPhone, you can quickly switch what tapping an AirPod twice will do. This lets you customize shortcuts like summoning Siri, song-skipping, and play/pause. On a Samsung or any Android phone, you will have to just stick with double-tapping only for pausing and playing. Note: With an iPad, iPhone, or Mac, you are able to customize this functionality right there. After that, you can use it on your Samsung. If you don't have an Apple product to do this on, this is pretty problematic.
Apps That Improve AirPod Compatibility On Androids
Leave it to a few clever developers to put apps out there that can improve AirPods compatibility on Samsung phones and other Android devices.
AirBattery is one of the most popular apps since: a.) it is free and b.) it checks the individual battery levels of each AirPod bud and the charging case.
Check it any time by opening the app, otherwise, it will pop up and display once you connect the AirPods.
AirBattery also gives you in-ear detection when you are using Spotify (but not on any other listening app).
Spending an extra $1 for the Pro version gets you a self-updating notification that shows your AirPods' current battery life.
Assistant Trigger is another app you can use.
It has double-tapping for Google Assistant and in-ear detection.
The Best AirPod Alternatives For Android Phones
Of course, you have the option of finding earbud alternatives to the AirPods.
The Jabra Elite Active 75t are IP57-rated for water resistance and have active noise cancellation.
They're also compatible with Siri, Amazon Alexa, and Google Assistant.
The Bose QuietComfort Noise Cancelling Earbuds are another good alternative since they have a case that (albeit a bit bulky) supports Qi Wireless charging.
There are also 11 various levels of active noise cancellation.
Transparency Mode is handy since it can rapidly interrupt the active noise cancellation as needed.
Closing Thoughts
Apple AirPods can be paired with a Samsung device.
The steps to pairing them aren't that hard, but they also aren't as fluid as just opening a case and hitting "connect".
AirPods were built to maintain strong connectivity with Apple devices, so pairing them with a Samsung might not give you that level of strength.
Still, if you find yourself in a jam, you can pair your mismatched devices.
There are apps to enhance the pairing experience, but you might also want to consider snagging a pair of Bluetooth earbuds that pair a bit more strongly with a Samsung.
End Of Article