How Accurate Is the GPS on AirPods?
Plenty of AirPod owners wonder how accurate the GPS is on their earbuds but are surprised to learn that their AirPods don't actually have GPS.
The AirPods are too small to hold a GPS chip, and they don't have the battery power to support one. Thanks to the Apple Find My AirPod feature, GPS isn't needed.
How Can You Find Your AirPods?
It happens to the most careful of us. Eventually, your AirPods will get misplaced or fall out of a pocket or bag. AirPods are so small and lightweight that losing them could be a legitimate worry. To calm AirPod owners, Apple added a Find My AirPods feature to its Find My iPhone app.
How Does Find My AirPods Work?
Since AirPods don't have GPS, AirPod owners can find lost AirPods through the Bluetooth function of their smartphones.
Using the Find My AirPods function on your phone, you'll most likely see a map with the location of those missing AirPods. This location will be the last place they were connected to your iPhone via Bluetooth. That might find your AirPods, in a best-case scenario, or at least narrow down where they could be.
Unlike the Find My iPhone app, Find My AirPods won't pin down the whereabouts of your AirPods exactly unless you put them down in the last place where they were connected to your iPhone.
If your AirPods are connected to your iPhone, but you can't find them, you can ping them via your iPhone. They'll make a sound, helping you locate them. Of course, if they're in their case, charging or not, that won't work.
Since your AirPods can't be connected to two devices at the same time, tracking through the last device they were connected to through Bluetooth should lead you to where they are.
AppleCare will cover the replacement of lost AirPods, but there's a replacement fee as well as the cost of AppleCare itself. Even if you have AppleCare, you still don't want the cost of getting new AirPods after losing a pair.
How to Track Down Your AirPods
You pat your pocket or look into your bag and realize that your AirPods are missing. Don't panic – tracking your AirPods down is simple and relatively accurate. Follow these steps.
Check Your Ears
All snarkiness aside, some AirPod users get so used to wearing them that they forget that they're wearing them.
Use the Find My App 
The Find My app can help you see where your AirPods, AirPod Pros or AirPods Max are and will play a sound to help you find them.
The only way you can use Find My to find your AirPods is if you already set up Find My with an iPhone, iPad, or Mac you've been using with your AirPods. Turning on Find My after your AirPods went missing won't work. For that reason, stop what you're doing and set up the Find My app, or you might wish you had later on.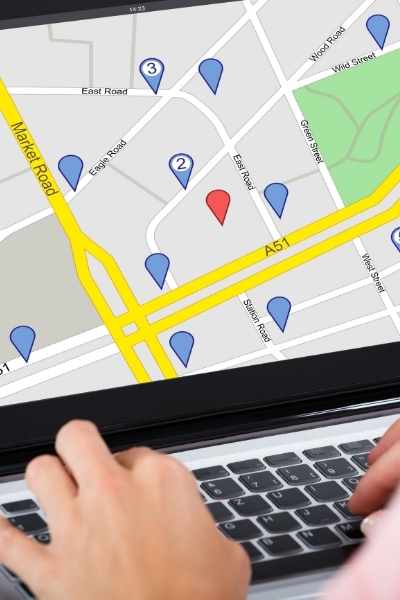 Spot Your AirPods on a Map
If you have the Find My app set up, you should be able to see where you left them on a map. Using the latest version of iOS, iPadOS, or macOS, open the Find My app, select the Devices tab, and then choose AirPods.
Even if your AirPods are offline or in need of a charge, you should be able to spot the last place they were connected on the map through Find My.
If you want to use your computer to find your AirPods, select Find My on iCloud.com.
What if My AirPods Aren't on the Map?
If your AirPods still aren't showing up, open the Settings app on your iPhone, iPad, or computer. Select your name and then Find My. Choose your device, and then turn on "Find My network."
What If Only One AirPod Is Missing?
Anyone with gloves or socks can tell you how easy it is to have a missing part of a pair. AirPod owners who are missing just one of their AirPods can find them via Find My, too. To reunite your pair of AirPods, first locate the AirPod you have on the Find My app, then put it in its case. Refresh the Find My map, and then you can locate the missing AirPod.
Ping Away
If you're missing your AirPods and have them connected to Bluetooth, you can also ping your AirPods through the Find My app, making them easier to find.
To do this, open the Find My app, select Devices, and choose AirPods. Tap Play Sound, and you will get them to play a sound that gradually gets louder. This may sound silly, but make sure your AirPods are not in your ears before you ping them. 
A Helpful Reminder
Find My will even help you remember your AirPods before you lose them. You can set up a separation alert through the Find My app if you have a second-generation or later AirPods, AirPod Pros, or AirPods Max.
To set this up, open the Find My app, select Devices, and then choose AirPods. Under notifications, choose Notify When Left Behind.
How Accurate Is That 'GPS' in Your AirPods?
Though your AirPods really don't have a GPS chip, it may seem like they do. If you've already set up the Find My app, then Apple can help you locate where your AirPods, AirPod Pros, or AirPods Max are through the device you use them with. Just like Find My iPhone, Find My works on AirPods, too, even pointing out where they are on a map.
Finding your AirPods on a map is helpful if you're out on the town or running errands, but what if you can't find them in your home or office? Not everyone's a minimalist, you know.
If you need help closer at hand, you can have your AirPods pinged through the Find My app, giving you a tone that gets louder to help you find those AirPods.