Can I Use Any External Hard Drive With A PS4?
This post may contain affiliate links. As an Amazon affiliate, I earn from qualifying purchases.
Video game consoles have come a long way in the last few generations.
Gone are the days of proprietary systems and accessories.
Gaming consoles are closer to a standard home PC than ever before, and this means a lot of the same devices that work with PCs will work for the PlayStation 4.
Can I Use Any External Hard Drive With A PS4?
It's easy to use an external hard drive disk with the PlayStation 4. There are a few requirements though. You'll need a hard drive that supports USB 3.0, and you'll have to make sure it supports 5GBps or better. The hard drive also has to be between 250 GB and 8 TB in space.
Continue reading to learn how to use an external hard drive with your PS4 and find out exactly what kind of content you can save on the device.
Hard Drive Specification Requirements 
You won't be able to use an ancient hard drive with your PlayStation 4.
The PS4 has strict device requirements for external hard drives.
The hard drive you're using will have to support SuperSpeed USB 5 Gbps or later.
Older, slow-rotating hard drives simply won't work.
They don't transmit data fast enough for the PlayStation 4 hardware to use.
It's also impossible to use a partitioned drive on a PS4.
You'll have to format the drive and set it up as a standard FAT32 or exFAT file system.
Assuming the device is compatible with the PS4, the console itself will format the drive once it detects that it's been plugged in.
Wireless hard drives don't work either.
You'll require an external hard drive that can connect to the game console via USB 3.0.
Formatting the Hard Drive 
You can plug the hard drive up to a PC to remove any previously stored content.
Alternatively, you can simply plug it up to the PlayStation 4.
If the PS4 doesn't automatically prompt you to format the hard drive, you can just navigate to the PS4's settings.
Goto Devices then USB Storage Devices.
Select the hard drive and click Format as Extended Storage.
If your hard drive doesn't appear here when plugged in, then it is likely not compatible with the PlayStation 4 console.
How Do I Transfer Games From PS4 to External Storage?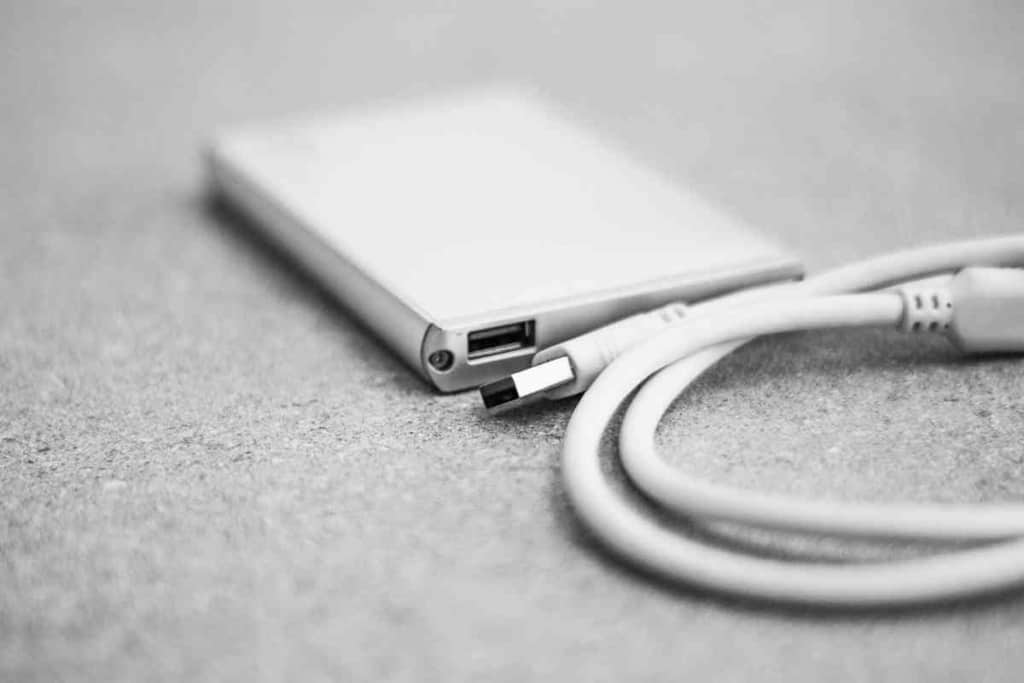 Once the formatting process is complete, select System from the PS4's home screen.
Find your way to the Storage option, then you should select System Storage.
Finally, select Applications.
You'll see a list of all of your locally stored PS4 games.
Find a game you want to move and click the options button on the controller.
Here you'll find the option to move the game to external storage.
Simply select the option and wait for the move to be completed.
You can even select more than one game at a time by highlighting several games before hitting the options button.
What Are The Advantage Of Using External Storage?
Using external storage with your PlayStation 4 means the storage inside your PS4 will always be ready to download new content.
The internal storage of the PS4 is also rather slow by today's standards.
The PS4's hard drive only spins at about 5400 RPM.
High-performance 7200 RPM drives are cheap and easy to find.
This change won't be noticeable for every game; however, games with longer load times will load a little quicker with a faster running hard drive.
There are even faster storage options than hard drives called solid state drives, or SSDs.
These storage devices have no spinning components and load data much faster than standard hard drives.
SSDs are more expensive than hard drives, but you'll see better performance with an SSD over even the fastest of hard drives.
The most obvious advantage of using external storage is the ability to keep more games readily available.
Getting a bigger external hard drive means you'll no longer have to delete software in order to download new games.
External storage allows you to have a great game library.
What's The Best External Hard Drive For PS4?
Almost any new model of hard drive will work with the PS4; however, there are a few specific devices that stand above the competition.
WD, formally known as Western Digital, makes great affordable external hard drives.
Their WD My Passport 4 TB drive makes a perfect upgrade for the PS4.
It's stylish, compact, and has a great cost to storage ratio.
The WD Black P50 Game Drive has a higher price tag, but it's made with gamers in mind.
It comes in different storage amounts, ranging from 500 GB to 4 TB.
It has a rugged shell that protects the internal components, making it a great option for someone who frequently moves their PS4 from location to location.
Seagate released a stylish hard drive to go with your PS4 during the release of The Last of Us Part II.
It's still easy to find and widely available and it'll match your PlayStation 4 perfectly, especially if you're a fan of The Last of Us.
It has a poor price per GB ratio, but you're paying for style points with this hard drive.
Finally, there is the SeaGate Expansion 6 TB Hard Drive.
This thing is beefy. It's not designed to be moved around.
Instead, it's a great purchase for someone who is planning on leaving their PlayStation 4 in a single location.
It's a lot of storage for a reasonable price, making it a great purchase for anyone looking to extend their gaming library.
Solid State Drive or Hard Drive?
Hard drives are the most cost-effective options.
You get a lot more storage for your money by purchasing a hard drive instead of a solid state drive.
There's actually no right answer here.
It comes down to complete user preference.
If you want more storage for your money, you should go with a hard drive
If you value loading speed over storage capabilities, a solid state drive is definitely the way to go.
Load times won't be noticeably different with every game; however, more graphically demanding games will be able to load their assets more efficiently using a solid state drive.
On the other hand, the difference between a SSD and HDD is not as much on PS4 as it is on a PC.
You'll have quicker load times, but it may only save a few seconds.
It's still worth getting a solid state drive if you want to get maximum performance out of your PlayStation 4.
Simply put, if you can afford it, you might want to go with the faster solid state drive.
250 GB SSDs are pretty affordable, but the price goes up substantially as storage space goes higher.
What Are The Best SSDs For PS4?
Samsung has been the king of solid state drives since the technology became mainstream.
Their Samsung T5 Portable SSD is reliable and makes a great option for anyone wanting to decrease load times and add a little storage to their system.
WD also offers an SSD version of their My Passport storage device.
It's a great alternative to the more expensive Samsung SSD, and comes in a variety of different storage amounts.
Silicon's Power Rugged Portable External SSD is one of the best options for the gamer on the go.
It's tough, rigid, and its price won't break the bank.