Can You Wear an Apple Watch in the Shower? (Answered!)
Over the years, Apple watches have become increasingly popular, thanks to the many useful features they incorporate. They are a great choice for those looking for a wearable to complement their iPhone, however, they are not cheap. As such, understanding how durable they are and how to take good care of them goes a long way in ensuring that your smartwatch remains functional and durable.
All Apple watches are equipped with some degree of water resistance, and if you've ever wondered whether you can wear one while in the shower, you're in luck. Below is a quick answer.
Can You Wear an Apple Watch in the Shower?
The short answer is, it depends. Series 0 (first-generation Apple Watch) and Series 1 are splash and water-resistant, but submerging them is not recommended. Series 2, 3, 4, 5, and 6 models can be worn while showering, but shouldn't be exposed to soaps, shampoos, lotions, and perfumes as they can damage the device.
According to Apple, Apple Watches are water resistant, but not waterproof. The two terms are entirely different and on top of differentiating the two, this article will give you an overview of what you should know before stepping into the shower with your Apple smartwatch. It will also answer the following questions:
Can I wear my Apple Watch 6 in the shower?
Can I wear my Apple Watch 5 in the shower?
Can you wear Apple Watch 3 in shower?
Do I need to do anything to my Apple watch before getting it wet?
Is it bad to wear an Apple watch all day?
Read on!
Understanding the Difference Between Waterproof and Water-Resistant Devices
If any device you own is labeled water-resistant, it means that if you submerge it underwater for a short period, it won't get damaged. A waterproof gadget, on the other hand, is impermeable to water, and even if it remained submerged underwater for hours, it won't get damaged.
Regarding an Apple smartwatch, various models have different water-resistance ratings. However, they can be worn and used during exercise with no effect from sweat, in the rain, while washing your hands, and for a quick shower.
This water resistance feature, however, is not perpetual. The condition diminishes over time, and that is the reason why Apple Watch can't be resealed or rechecked for water resistance. Some of the factors that affect this feature in an Apple Watch, all of which must be avoided, include:
• Dropping the smartwatch on hard surfaces or subjecting it to other impacts
• Exposing the watch to soap or soapy water – should be avoided while showering or bathing
• Exposing it to acids or acidic foods, sunscreen, perfume, detergent, insect repellent, lotions, oil, hair dye, and solvents
• Leaving it vulnerable to high-velocity water, for instance, while water skiing
• Wearing the smartwatch in the sauna or steam room.
NOTE: Not all smartwatch bands are ideal for water use. Stainless steel and leather bands, for instance, should not be exposed to liquids since they are not water-resistant.
Showering with Apple Watch
There is no immediate danger to showering while wearing your Apple smartwatch. However, if you have a first-generation Apple Watch, it is highly recommended that you remove it. For Series 2 and newer models, you can shower, swim in a pool or lake, and exercise with it.
Interestingly, Apple Watch doesn't only keep water out; it also expels any excess water that may potentially penetrate the works.
Newer versions of these smartwatches have a water resistance ISO rating of 22810:2010. At this capacity, their design enables them to remain underwater at up to 50 meters (164 feet) of depth.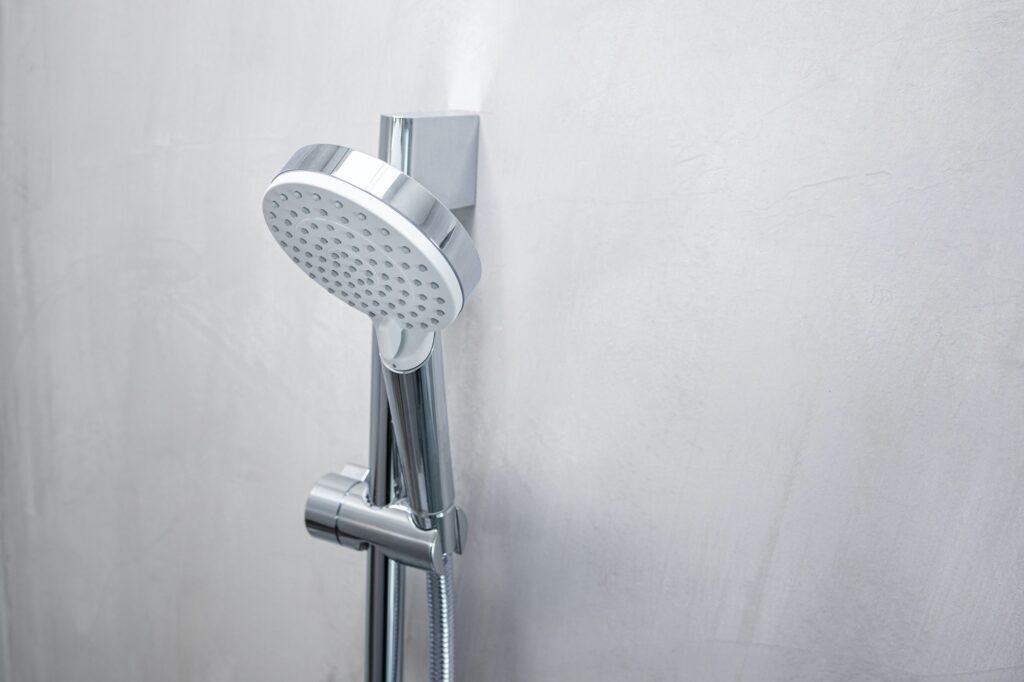 Keep in mind that even with that rating, Apple recommends leaving the watch behind while scuba diving or water skiing, as mentioned earlier. Such conditions may force the water deep into the ports of the watch due to high speeds or high depths ,leading to component damage.
But you can wear the smartwatch in fresh or ocean water, with the same caveats applying. Also, rinse off the watch with fresh water from a faucet – watch turned low – after swimming in ocean water to get rid of the salt.
Can I wear my Apple Watch 6 in the Shower?
Apple Watch 6 and Apple Watch SE are some of the newest smartwatches by Apple that were introduced in November 2020. Apple Watch 6 comes with several features, including some health features absent in the Apple Watch SE that frequent swimmers would prefer to have such as a heart sensor and an oximeter.
However, since the two are water-resistant up to 50 meters, the same water resistance rating as most other models from Series 2, you can wear them as you shower. Apple Watch 6, nonetheless, would make a better choice for anyone looking to do extensive swimming.
Can I wear my Apple Watch 5 in the Shower?
Owners of Series 4 or 5, which were introduced in 2018 and 2019, respectively, will be glad to know that they can also shower with their watches on. Better yet, one can continue wearing them for water sports such as swimming, snorkeling, or when venturing out to indulge in an all-day river float.
It is also worth mentioning that for the swimmers, several apps can be installed to complement your swimming routine and offer you insight regarding the measure of your rate of exertion as well as guess the strokes you're taking.
Can I wear my Apple Watch 3 in the Shower?
Apple Watch Series 2 and 3, launched in 2016 and 2017, respectively, and can also be worn as one bathes or showers. It has a water-resistance rating of up to 50 meters although it may not be as efficient as the newer models.
It can be used for light water activities such as cleaning or showering or tasks that leave your hands exposed to water for a short period. When it comes to swimming, however, you should perhaps reconsider. Unless you are planning on going for a quick run of a swim.
Do I Need to Do Anything to My Apple Watch Before Getting It Wet?
Yes. Before getting your Apple Watch wet, it is important to activate the Water Lock feature. Newer Apple Watch models, including Series 2, 3, 4, 5, and 6 come equipped with a Water Lock feature.
This trait automatically locks the smartwatch's screen when the monitor activity senses that you're in contact with water, or if you issue a command signaling the beginning of a swimming workout. This feature prevents accidental taps.
Before you engage in any water activity, including showering with your Apple Watch, ensure that the Water Lock engages.
The quickest way to protect the watch against water damage before jumping in the shower or the pool is by following these three simple steps:
From the bottom of any screen, swipe up to open the Command Center
Flick the screen with your finger or use the Digital Crown to scroll up and down until you see the water drop icon
Tap on it
Once done, you will notice that the screen stops responding to taps or swipes.
When you are done showering or swimming, rotate the watch's Digital Crown. The device will beep a few times to rid it of any water or dirt that may have seeped into the speakers and mics, and reactivate the screen.
Is It Bad to Wear an Apple Watch All Day?
Apple smartwatches are convenient and can be used for a ton of applications, including getting notifications on the wrist and reading messages, tracking your fitness such as calories burned, exercise minutes, and standing durations; workout-tracking, heart rate monitoring, warning about abnormal heart rates, and detecting falls among others.
As such, it is only fair for one to ask whether wearing it all day is a problem. Well, it is not unhealthy, and you can wear your Apple Watch for extended periods. Obviously, at some point, you will take it off to charge, and this counts as a wrist break. Your only and biggest concern should be its maintenance.
For example, you must ensure that your Apple Watch is properly adjusted during the various applications you are subjecting it to. If the watch is loose, the sensors won't project the correct results or read your heart rate properly. On the other hand, if it is too tight, it may cause circulation issues as well as bad readings. So, ensure that it fits just right.
Cleaning and Caring for Your Apple Watch After a Shower
Always keep your Apple Watch clean and dry after every water activity. After leaving the showers, clean and dry the watch, band, and your skin. The same goes for heavy workouts and exercises as well as swimming or snorkeling, or boating.
Also, clean it if it is exposed to anything that may cause damage such as dirt or sand, makeup, ink, soap, detergent, acids, or acidic foods, as well as sweat, ocean water, soapy water, insect repellent, lotions, sunscreen, oil, adhesive remover, hair dye, or solvents.
Final Thoughts
Apple Watch, like most water-resistance devices or wearables, can be used while showering. But while they are water-resistant, they are not waterproof.
So, there are precautions that should be exercised, regardless of the Series you own. Hopefully, this article addresses all your concerns, but remember, be safe than sorry.
These devices may be protected against the shower water itself, but they won't be safe from soaps, shampoos, or any other liquids that might be encountered when showering. Keep it away from such.