Do AirPods 1 and 2 Have The Same Case?
AirPods are some fantastic Bluetooth earbuds designed by Apple to be highly portable yet effective at producing a strong sound quality.
Despite only being a few generations into the basic edition (and one generation into the Pro version), AirPods are proving to be popular.
You can take them anywhere – to work, school, the beach, on a morning jog, in the grocery store, you-name-it.
But… Uh-oh! You've misplaced – or perhaps irreparably damaged – your AirPods 2 case. How are you supposed to safely store and recharge your device? You have an AirPods 1 case jammed in your desk drawer. Can you use it to charge your AirPods 2 earbuds?
Do AirPods 1 and 2 have the same case?
AirPods 1 and 2 do not have the same case but you can still use them interchangeably to charge either generation of AirPods. The one big difference between these generations' cases is that the AirPods 2 (and Pro) cases have Qi Wireless charging, scrapping the need for a cord to plug in and charge.
This means you never need to plug your case in to charge the earbuds.
While The 2 and Pro generations both have Qi Wireless charging built into them, these cases can be used interchangeably as needed.
What makes the AirPods 2 so different from the first generation? And how is it that Apple managed to make their cases interchangeable?
Is there a risk of damaging your AirPods if you charge them in the "wrong" case too many times? Read on to learn more.
How do the AirPods 1 and 2 generations differ from one another?
The AirPods 1 dropped onto the market in December of 2016 and has now gone through two generations of the standard and one generation of the Pro.
The first generation got a lot of things right, but the second-gen improved connection speeds by about 150%, incorporated the hands-free version of "Hey, Siri", enhanced the battery life by about 50%, and integrated Qi Wireless charging.
But it still conforms to the standard Qi.
The only other change is that the AirPods 2 case is 2 grams heavier since Qi Wireless charging is also built into it.
But, really, you cannot feel the difference when holding this case.
Does this mean I can use the cases interchangeably?
Yes, the AirPods 2 case is backward compatible. And, since the Qi standard for charging is built into both cases, either one can be used to charge the earbuds themselves.
So, if your AirPods 2 case gets lost or damaged, you can pop your AirPods 2 earbuds into your AirPods 1 case and be good to go.
You just have to use wired charging.
Now, if you have the Pro version, that is not compatible with either the AirPods 1 or 2.
Its case is uniquely wired to the device, and the battery life is shorter since these earbuds have active noise canceling built into them. 
You can actually squeeze about five hours more out of the AirPods 1 and 2 versus the Pro.
If you do need to replace your AirPods 1, 2, or Pro case, you can do so by visiting an Apple store near you or by ordering them through the Apple website.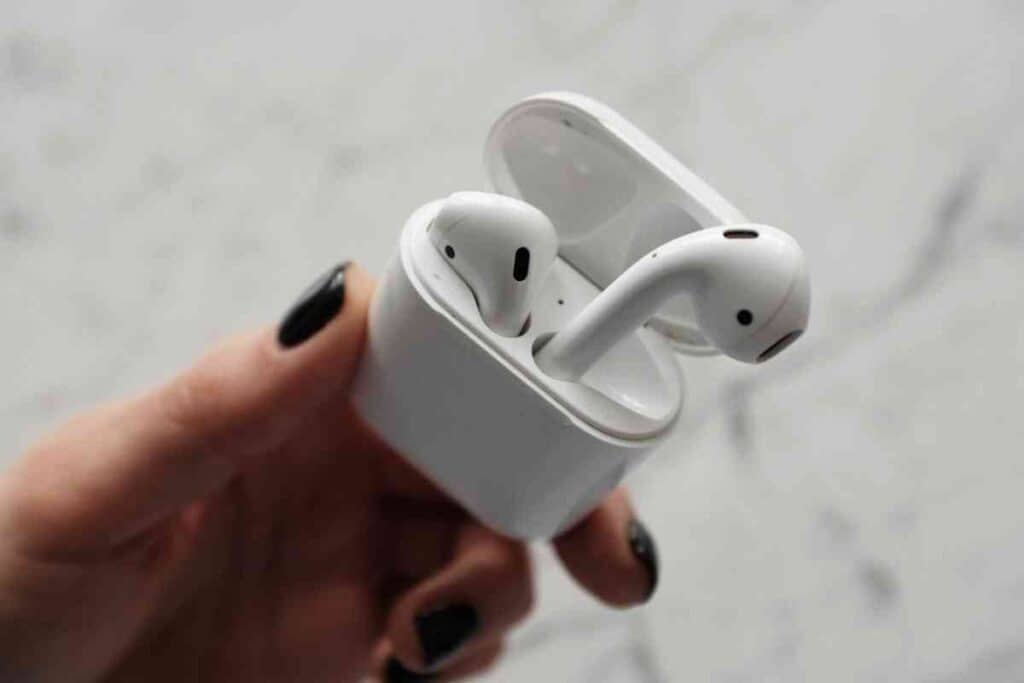 Will using a different charging case damage my AirPods?
Swapping the AirPods cases around will not cause any damage to the earbuds.
Apple verifies that any standard AirPods case will work with either generations' earbuds.
Obviously, you just cannot use the Pro with either standard AirPods generation since they are wired differently.
You could potentially damage some Pro earbuds if you try to cram them into the smaller standard AirPods case – they just do not fit into the smaller device.
Can I buy a new AirPods 1 or 2 case only if mine gets lost or broken?
Of course not. You can always add a second AirPods 1 or 2 case to your collection if you want.
Leave one at home, take one with you on the go. Having a backup case is honestly never a bad idea.
You never know what might happen on any given day.
Apple is always stocked with these cases, and you can find compatible ones sold for less of a price by third-party vendors online.
Am I able to buy the AirPods themselves without the case?
While buying the two together will save you a nice little chunk of change, Apple does sell AirPods from both generations as stand-alone items.
Should yours break or get lost, you can just buy another set and use them with your standard AirPods 1 or 2 case.
But buying both the AirPods and case together is definitely cheaper.
How do I connect my new charging case to my AirPods?
Before I close out this article, I want to make sure you know how to connect your AirPods with your new (or used, as the case may be) charging case.
Regardless of whether you bought a new charging case or are reverting back to your old one, you still have to pair the two devices together before they can be used.
In order to get them working correctly, follow these simple steps:
Place both the left and right AirPod earbuds into the selected charging case.
Check to see that the status light is lit up and flashing its amber tone by opening up the top lid.
Hold the setup button on the charging case down for a couple of seconds. This is located on the back of the case and should prompt the status light to start flashing white.
Check your iPhone or Android device to make sure that it is unlocked and on the Home screen.
With your AirPods still inside of the charging case, open up the lid and place it near your unlocked, Home-screened iPhone until you see a set-up screen pop up on your phone.
Follow each on-screen prompt as it comes up. You will want to hit "connect" when that prompt arises. Now, your charging case should be all set up to start charging your AirPods.
Just remember that you cannot mix and match with the Pro series since they aren't wired to work with the standard AirPods.
Your phone will not be able to detect and connect like it needs to for you to start charging your AirPods.
Closing Thoughts
Apple has truly done a marvelous job with creating their AirPods.
If you live an on-the-go lifestyle like I do, they can be a real life-saver.
And their long battery life is rather remarkable.
You get entertainment while you go.
Being able to use the standard charging cases interchangeably is handy since these tiny cases are prone to becoming lost or damaged.
You just have to accept that you'll need to use the standard Qi charging and not the wireless method.
That being said, AirPods earbuds and charging cases are easy to replace, if not a bit expensive.
Apple seems to always have them in stock, and there are third-party vendors online who offer compatible devices for a lower price.
Bear in mind that AirPods Pro does not have the same case and is wired in its own unique way.
Don't even think of trying to cram those earbuds into a smaller standard AirPods case.
They won't pair up, and you risk damaging your earbuds and/or charging case.