Do Monitors Have Cameras?
Videoconferencing has become essential for personal and professional communications.
Most fields rely on online video communications, especially for remote work and demonstrations.
Your computer needs to have a camera to make video calls.
So, do all monitors have cameras?
Do Monitors Have Cameras?
Most monitors in the market do not have cameras. However, some monitors come with built-in cameras. Monitors without built-in cameras can use external cameras mounted on the top to facilitate video calls.
Monitors with built-in cameras are usually used in work computers.
The built-in camera increases the overall price of the monitor.
It also does not add any extra performance features to the monitor.
High-performance monitors do not usually come with a built-in feature.
What are the Differences Between External and Built-in Webcams?
Monitors with built-in cameras offer more convenience, but external webcams also have advantages.
The monitor you choose will depend on your needs and preferences.
As mentioned earlier, monitors with built-in cameras are more expensive since the cameras are included in the cost.
They require no additional setup since they come ready to use and have all the necessary drivers and software already installed.
External webcams require additional setup and initial configuration.
However, the setup process is easy, and you do not need a professional.
External webcams are also easier to troubleshoot when things go wrong.
They offer better access to the internal wiring and components.
It is not easy to replace or upgrade built-in cameras.
When something is wrong with the built-in camera, you'll have to open the monitor to access the camera lens and components.
External webcams are very flexible as you can place them at different angles on your monitor.
You can twist the camera for better results and use them while on the move.
Monitors with built-in cameras can be fixed or rotatable, where you can change the camera's angle.
They also do not have wires as everything is integrated into the monitor.
External webcams offer better quality than built-in cameras in terms of resolutions and audio.
They have more space for components and lenses, which produces quality videos.
You can choose external webcams that offer high-end features such as stereo microphones, wide-angle lenses, and auto-focus capabilities.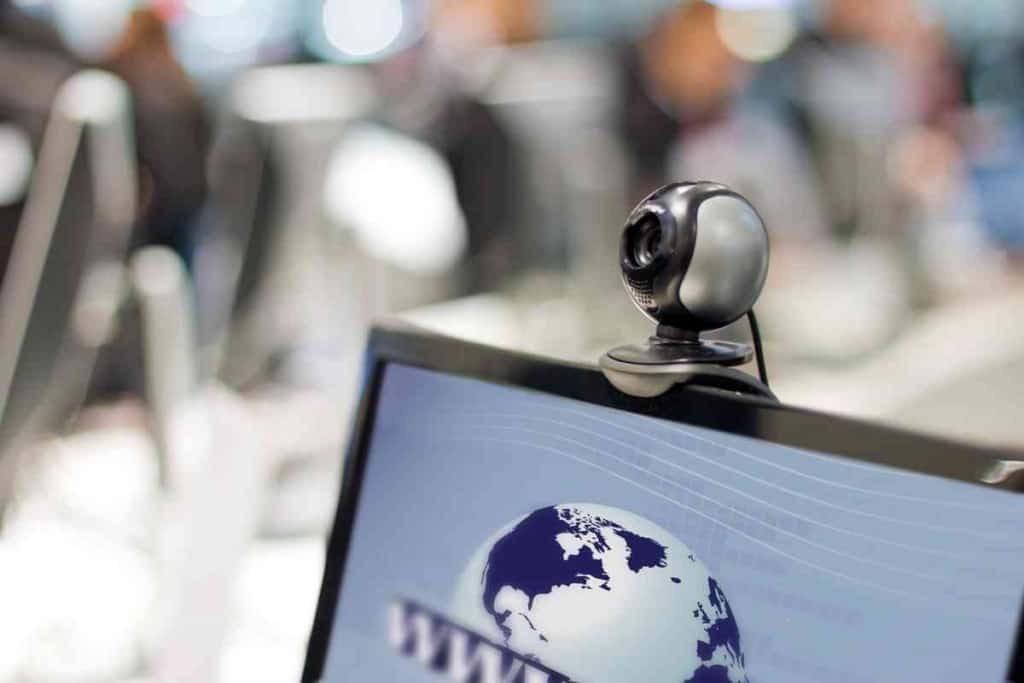 What are the Features to Look For in Monitor with a Webcam?
When buying a monitor with a built-in webcam, you need to consider three things, including frame rate, resolutions, and size.
Understanding the specifications and features of the built-in webcam will allow you to buy the best monitor webcam.
Resolution determines how sharp your video quality is, and it's measured in pixels.
High definition webcams have a resolution of 1920 x 1080, meaning its 1920 pixels wide and 1080 high, making a landscape mode.
Other resolutions include 4K, which offers sharp videos and high-quality pictures.
The frame rate is the rate at which the camera updates, and it determines how smooth your video is.
It is measured in rate per second, and standard rates include 30fps and 60fps.
Other items to consider include the lens and field of view.
What are the Best Monitors with Webcam?
When looking at the best monitors with a webcam, there are many options to choose from.
Here is a list that considers the overall value of the monitor and the specific features they have to offer.
Dell P2418HZ
This dell monitor is innovative and offers excellent value at a reasonable price.
It is 24-inches, 1920 x1080 Full HD, and has a response time of 6ms.
The webcam has a resolution of 2MP full HD and has a slide lock that obscures the camera for privacy and security.
The monitor has VGA, HDMI, and DisplayPort Support, making it possible to connect it to various sources.
The webcam is certified for Windows Hello and Skype for business.
The monitor also has two 5W integrated speakers and a noise-canceling microphone for clear audio.
ASUS VK278Q
The ASUS VK278Q monitor offers a unique blend of features and an innovative design that makes it a bestseller.
It comes with a built-in 2MP rotatable webcam that delivers real-time video communication.
This 27-inc LED monitor has various connectivity options, including VGA, HDMI, DisplayPort, and DVI.
You also get innovative video Intelligence Technology that automatically optimizes image quality via brightness, brilliant color, sharpness, and contrast.
It also has built-in speakers but lacks an integrated microphone.
The ASUS VK278Q has a 2ms response time and can display images simultaneously from two different signals.
APPLE Thunderbolt
The Apple Thunderbolt monitor comes with excellent features and uses revolutionary technology.
The monitor is 27 inches with an extremely high resolution of 2560 x1440.
It also has an in-plane switching technology that gives clear images and enables the monitor to be viewed from all angles.
The Apple Thunderbolt has an integrated microphone, speakers, three USB ports, and a LAN port.
It has a response time of 12ms and a built-in FaceTime HD camera for video calls and taking pictures.
This is one of the most expensive monitors with a camera, but it offers exceptional features, versatility, and an excellent working experience.
Philips Brilliance 499P9H
This massive curved monitor is 29-inches with a resolution of Dual QHD 5120 x 1440 and a response time of 5ms.
It comes with a webcam that pops up into the monitor and folds down when not in use.
The webcam has sensors for Windows Hello, and you can log into your Windows devices using facial recognition.
The Philips Brilliance 499P9H monitor has an immersive curved DisplayHDR, integrated speakers, and built-in USB-C docking.
It has a multi-view option that allows you to share the screen between two computers.
This monitor is very costly, but it delivers a spectacular visual experience and exceptional design.
Lenovo ThinkCentre Tiny-In-One 24 Gen3
This Lenovo monitor is 24-inches with a 1920 x1080 Full HD resolution and a response time of 14ms.
It comes with a 1080p Full HD webcam, DisplayPort, and a pair of microphones.
It also has an adjustable stand but lacks a VGA and HDMI port.
Do Monitors have Speakers?
Most monitors in the market do not have speakers, but some have built-in speakers.
Built-in speakers can add additional cost and weight to the monitor, and thus most manufacturers do not install them.
Speakers do not generally improve the monitor's overall quality, and most consumers are not willing to pay extra for them.
Do PC Monitors have Microphones?
Generally, monitors do not have microphones, although some feature built-in microphones.
Most manufacturers are not willing to use additional resources to add microphones to monitors since it will increase the overall price of the monitor.