How to Control An LG TV Without The Remote: 4 Best Methods
As we continue to see new technology emerge, old tools become less critical. The same is true for TV as we learn how to control an LG TV without a remote.
Many complaints indicate the LG TV remote is small and gets lost easily or is simply not a reliable piece of equipment. This leaves many users wondering how they can control their LG TVs without the remote.
Table of Contents
How do you control an LG TV without the remote?
Because of smartphones and the growth of streaming, it is possible. You can opt to install the LG remote apps on your smartphone, use third-party streaming devices like Roku as your new TV OS, or connect your computer mouse to the TV for control. All three options are quick and easy.
This guide will teach you every possible way to control your LG TV without a remote. This includes downloading and using the LG TV smartphone apps and installing third-party streaming applications like Roku, Amazon, or Apple TV. You can also hook up a computer accessory like your mouse for TV control or opt to control the TV with the buttons on the machine manually.
These methods were tested using the latest LG TV models to ensure they are still the most effective methods. If you have an older LG TV model, you may find trouble getting one or more of these solutions to work for you.
How to Control LG TV Without Remote
LG TVs are popular devices and designed to be easy to use. Unlike many competitor TVs, you don't need the remote to control the TV. If you don't have a remote, you can still use your LG TV, thanks to new technological advances or finding compatible devices.
There are several ways you can control your LG TV without using the remote. The exact number of options available to you will depend on your TV's year and model type.
Some examples of how to control your TV without the remote include phone apps manually, with new streaming devices, and more.
1. Use A Smartphone App
The most common method used by TV watchers worldwide is to install a smartphone app that controls your LG TV.
For your LG TV, you have two applications to choose between. These include LG TV Plus and LG ThinQ.
Both apps are available for Android and IOS users, so there are no limitations you need to worry about. They can be synced quickly, especially if your phone and TV are connected to the same WiFi.
2. Third-Party Streaming Devices
Another effective way to control your LG TV without the remote is using third-party streaming devices instead. Some examples include Fire TV, Roku TV, and Apple TV.
This would be the best alternative to access content, view TV settings, and much more if you decided against using the LG smartphone apps.
These will cost anywhere between $25 to $100 to get started depending on what type of hardware you decide to get. All of them work exceptionally well as a new OS for your smart TV.
3. Manual TV Control
The manual TV control method will severely limit your ability to get the most from your TV. Instead, it is best used as a short-term option to turn the TV on or off and adjust some simple settings.
For example, if your LG TV is a smart TV, you will not be able to access different apps and scroll through the Netflix library by using the manual buttons on your machine.
However, you can use it to turn the TV on and pair it with another device like an Amazon Fire TV stick or iPhone app.
4. Connect A Computer Mouse
This method is more unorthodox and could work with multiple computer accessories, but a mouse would provide the most TV control. You can connect your mouse directly to the TV.
You will either need a USB mouse or a TV with Bluetooth pairing ability to be successful.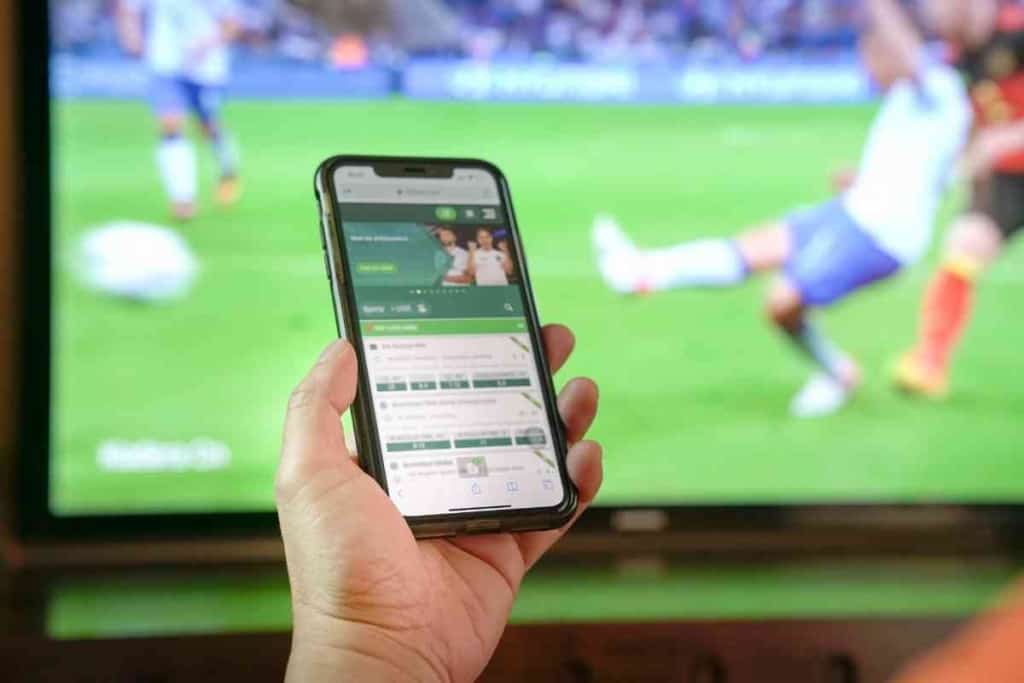 How To Control LG TV With Smartphone Apps
Your LG TV can be controlled with a smartphone app. It is possible to turn on and off the TV, adjust the volume, and change channels.
LG TV Plus
The LG TV Plus app enhances your LG smart TV experience. You gain full control over your TV and unlock some exciting features besides just a mobile phone remote.
Many customers also say that they prefer using this app to the traditional remote because the design is so easy to navigate for new users.
LG ThinQ
While this app is similar, it provides a much broader range of control over devices for LG customers. It can control your TV, but other devices include items like washers and dryers.
If you are only an LG TV owner, we recommend sticking to the LG TV Plus app first until you need more features.
How To Control LG TV With Third-Party Streaming Devices
Most LG TVs now are smart TVs compatible with streaming devices like Amazon Fire TV, Chromecast, Apple TV, and Roku. These devices allow you to stream content from your phone to the big screen.
Roku TV
Roku prides itself on being the most straightforward device to set up and one of the longest-lasting streaming devices. Once you have your hardware, plug it into a free HDMI port on your TV.
The TV will recognize it right away and enter into the setup mode, where it asks you to pair the remote. Once this happens, you can now use the Roku remote to control your LG TV instead.
Amazon Fire TV
When setting up your Amazon Fire TV, you must force the TV to recognize the remote after plugging the device into an HDMI port.
This can be done by holding down the home button for about 10 seconds. It should then connect your remote to the TV and Fire Stick to provide complete control over your LG TV now.
Apple TV
Only recently did Apple launch an app on LG devices, but you still could buy the hardware and set it up manually.
While Apple TV does have some top-notch content, it does not tend to be the best device for those looking to control an LG TV without the remote.
One reason is the common rapid blinking light on an Apple TV. If you opt for Apple TV, keep an eye out for this bug because it often requires a factory reset.
How To Control LG TV With A Computer Mouse
Computer mice are used for more than just controlling computers, they can also be used as a remote controller for LG TVs.
This allows you to control and navigate your TV without getting up to change channels or adjust the volume every time you want something different on the screen.
Getting it set up on your TV is also a quick and easy process, so you shouldn't have any problems connecting if you have lost your remote.
1. Determine whether you will use Bluetooth or USB To Connect
To get started pairing the mouse, take a look at your equipment and determine what steps need to be taken.
A person with a USB mouse will have a faster setup than someone with a Bluetooth device.
2. If using USB, plug the mouse into the TV To Pair
Once you plug the USB from your mouse into the TV, the setup should instantly occur. This allows for immediate control over your TV too.
If it does not begin working right away, you should confirm that your TV model number is compatible with a USB device like a mouse.
3. If using Bluetooth, go to LG TV settings
To get the Bluetooth setup, you will need to navigate to the settings. This can be found in the main menu area and is listed as general or primary settings on most devices.
4. Find LG Wireless Options in general settings
Next, you can click on the LG Wireless Options button. This will open up a section displaying all available Bluetooth devices that you can connect to your TV.
Depending on the mouse type, you may need to hold a button down on the side to initiate the pairing. Many Logitech mouses require this step.
5. Select The Mouse To Pair The Device
Once it appears, you can click on the mouse, and it will pair right away. This allows you to start using your mouse on the device at any time.
Best Way To Turn LG TV On Without Remote
The best and fastest way to turn on your LG TV without the remote is by pressing the button on the front of the TV. This will give you access to LG's Smart TV platform.
Once turned on, you have more access to connect smartphone apps, new remotes, or any Bluetooth devices like a computer mouse.
If your manual power button does not work, you are more difficult because you cannot add a new device without first powering the TV.
If this happens, you would need to order a replacement remote first to get power to the TV before pairing an app or new device.
What To Do If I Lost My LG TV Remote
If you lost your LG TV remote, the first thing to do is try to find it. If you can't find it, you should consider buying a new one or the alternative options mentioned in this guide.
When deciding to buy a new LG TV remote, always check the compatibility of the remote with the model number on your LG TV.
For this reason, we recommend buying directly from LG to avoid any issues that third-party retailers could present.