How To 'Navigate' The GPS Feature On Your iPhone
This post may contain affiliate links. As an Amazon affiliate, I earn from qualifying purchases.
Smartphone technology is highly versatile and only getting better. However, some functionalities that have a lot of controversies are GPS and Location Service settings. GPS features have become extremely precise, causing some users to want to adjust their settings and app permissions.
You can access the iPhone GPS features from the Settings > Privacy > Location Services tab. You can also enable GPS features entirely by turning the slider on or off. And you can customize certain app permissions by clicking specific apps from the Location Services tab.
Don't panic if you are unsure which apps require your location information or which apps track you. You can easily adjust these settings on the iPhone by following the article below. Read on for more information.
How Do You Enable GPS on an iPhone?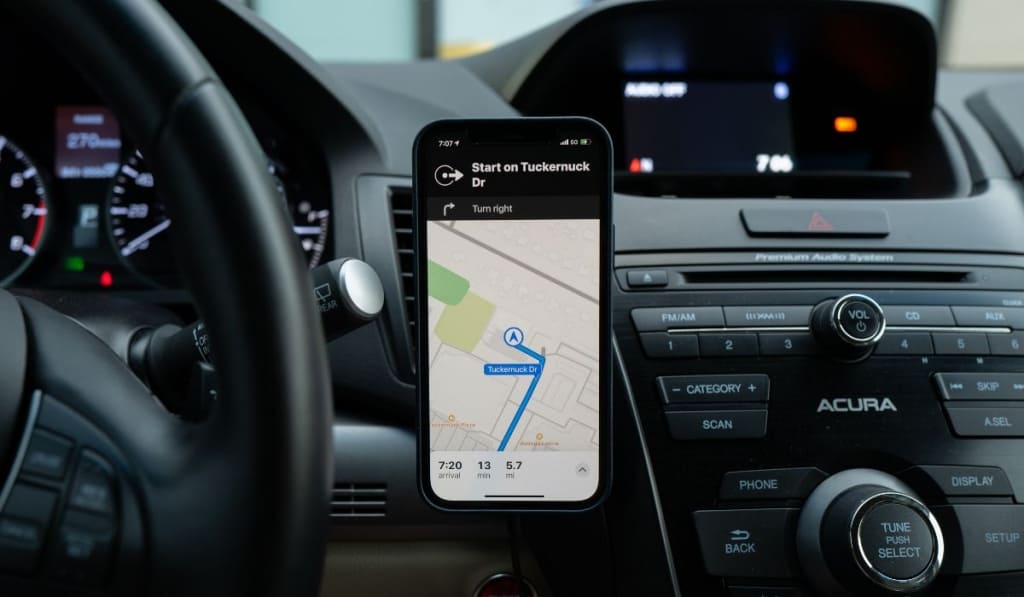 You can enable or disable GPS features on the iPhone completely or for individual apps. Disabling GPS entirely can be helpful if you don't want to skim through and adjust multiple apps. The process is straightforward, and we cover the steps below.
And before we get too far, take note that you'll probably want a nice car mount to use if you're going to use maps often on your phone. Check out this one from VANMASS (on Amazon) as just one great example.
How to Enable or Disable GPS on an iPhone
Launch Settings on your iPhone.
From the Settings menu, click Privacy.
Select Location Services located at the top of the Privacy tab.
Click the Location Services slider to adjust it on or off. GPS services will be enabled when the slider is green and disabled when the slider is white.
Finally, click Turn Off in the confirmation notification that appears.
How to Customize Your GPS Settings
You can customize your GPS settings on your iPhone further by adjusting specific application permissions. For example, you can prevent certain apps from gaining access to your location or provide access only when using it.
Adjust GPS Settings on Specific Apps
You can configure specific apps on the iPhone to have limited or full access to your GPS information. Here's how:
Launch Settings on your iPhone.
From the Settings menu, go to Privacy and tap Location Services.
You can configure Location Services by adjusting the slider on or off. It will be enabled when the slider is green and disabled when it is white.
Now, scroll down the list of available apps on your iPhone and select the app you want to adjust.
Choose Never, Ask Next Time, While Using the App, or Always to adjust GPS services for the specific app to your liking.
Use these steps for all the apps you want to adjust.
How to Activate Location Services
You can activate Location Services on the iPhone for select apps. Some mobile apps require Location Services to work. When you launch an app for the first time that requires Location Services, you'll be prompted with a message asking for access. You can select from the following options:
Click Allow to grant the app access to your Location Services data as necessary.
Click Do not Allow to block the app access to your Location Services.
Click Ask Next Time and select Always While Using the App, Allow One Time Only, or Do not Allow.
Note: iOS and iPad systems might utilize WiFi and Bluetooth features to establish your location. iPhone and iPad models with WiFi and Cellular capabilities can use GPS and cellular location functionality.
Which Apps Need to Use Your Location?
There are several built-in apps on the iPhone that require your location information. In addition, some third-party apps require access to your location information to work.
Other third-party apps might only need your information when using them and ask for permission beforehand. Regardless, knowing which apps you're providing information to is essential.
Apps That Probably Need Your Information
Apple Maps

Rideshare apps like Uber and Lyft

Delivery apps like DoorDash and UberEats

Weather apps

Dating apps
Note: You can adjust app permissions only to access your information while using them. So, for example, you might configure rideshare apps to have access only when you need them.
Apps That Probably Don't Need Your Information
Mobile games

Social media

Shopping apps

News apps
Most of these applications do not need access to your GPS or require it only when you're using them. You can adjust specific apps on your iPhone by following the steps mentioned in the article.
What is Precise Location?
Apple added the Precise Location feature to iOS 14 and iPadOS 14 in 2020. Precise location features allow apps to pinpoint your exact location using GPS technology. This technology can be helpful in certain situations but problematic in other scenarios.
Precise location features raise privacy and safety concerns with some users. If you aren't careful, a third-party app could continuously track your location while running in the background. These apps may use and sell your information to advertisers, marketers, and other nefarious companies.
Thankfully, Apple provided users with the option to adjust their location settings. iPhone and iPad users can decide if they want to share their precise or "fuzzed" locations with apps or third-party companies. Here's how you can adjust your Precise Location settings on the iPhone.
Adjust Precise Location Settings
Launch the Settings app on your iPhone.
From Settings, go to Privacy and then Location Services.
Locate the app you want to adjust and select it.
You can enable or disable Precise Location settings by adjusting the slider next to the tab, which will be enabled when the slider is green and disabled when the slider is white.
You can repeat these steps for any other apps you have in mind, including social media and third-party software. However, you might need to access certain applications' dedicated tabs from the main Settings menu on your iPhone.