The Best Bluetooth Earbuds for Small Ears
So many different types of earbuds are available today that it can be a challenge to sift through them all to find the best Bluetooth earbuds for small ears. Some brands don't seem to consider the wide variety of ear sizes and shapes when designing their products. So if you have small ears or are looking for earbuds for a small-eared friend or family member, keep reading!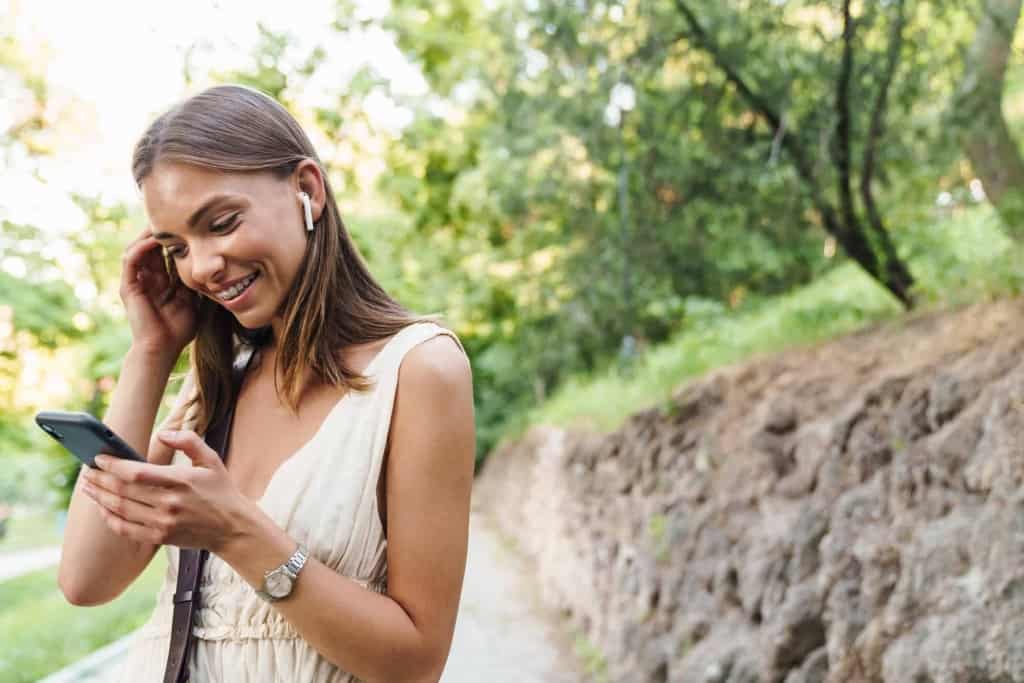 Table of Contents
What Are The Best Bluetooth Earbuds For Small Ears
Some of the best wireless earbuds for small ears are:
Bose Sport Earbuds
Samsung Galaxy Buds+ Plus
Skullcandy Sesh Evo
Anker Soundcore Life A1
The Everyday Raycon E25
It's easy to find earbuds with great audio and long battery life. But those are no good if you can barely stand to wear them because they make your ears sore. Sometimes the best earbuds fit so poorly they won't even stay put. You might be at constant risk of losing them when you're on the go.  
The opposite situation is a problem too. You're lucky enough to find a pair of earbuds that fit great and feel comfortable in your ears for extended periods. But they have terrible sound quality or are hard to keep paired with the device you're using. 
Fortunately, more companies are starting to understand the frustration of people who have smaller than average or uniquely shaped ears that make standard earbuds a pain.
I've looked at some of the most popular and lesser-known brands to come up with this list of the best Bluetooth earbuds for small ears. These brands are designed to fit a variety of ear shapes and sizes while delivering great performance and sound.
Raycon's "The Everyday" E25 earbuds are well-named. These earbuds don't have a lot of extra features, but they're reliable and work reasonably well in everyday situations. They offer six hours on a single charge with another 24 hours of playback available from their fully charged carrying case. They're available in four colors: black, blue, red, and white.
The E25 true wireless earbuds are water-resistant with an IPX6 rating, which puts them just below being truly waterproof. This durability makes them a great choice for everyday workouts or in surroundings where you might get wet.
They lack active noise canceling features, but the gel ear tips are referred to as noise-isolating. There are six sizes of ear tips so you can get the best fit and good sound quality. With so many earbuds including only three sizes, a broader range makes these some of the best Bluetooth earbuds for small ears you can find. 
Their ergonomic design makes them more comfortable for everyday wear, even for long periods. They have 2 microphones, touch controls, and deep bass sound that does seem to come at the expense of the mid-range and treble tones. Sometimes your voice can sound a little tinny on phone calls.
For a workmanlike pair that won't let you down when you need comfortable Bluetooth earbuds for small ears and a long playback time, these Raycon earbuds are a good option. They don't have too many features, but they get the job done. 
Raycon Earbuds Review
Raycon Everday Pros:
They come with six different gel ear tips for the best fit
They're seriously sweat-proof with an IPX6 rating
Raycon Everday Cons:
More lag than some other Bluetooth devices
No true noise-cancelation
Outgoing call quality varies
Bose has been producing quality speakers and in-ear headphones for years. They make some of the best noise-canceling headphones on the market. These earbuds live up to their reputation for great products. 
The Bose Sport brand are some of the best Bluetooth earbuds for small ears because they're designed for long-wearing comfort and are smaller than their other models. They're available in black, white, and blue, and they include three sizes of their specially designed StayHear Max earbud tips. StayHear Max tips are designed so they don't hurt your ears while giving you a good seal to make sure they stay in place even during strenuous workouts.
A dual-microphone array in each earbud helps separate your voice from external sounds. They're not waterproof, but they are water-resistant. Light rain and sweat while exercising shouldn't be a problem.
The Bose Bluetooth earbuds last up to five hours on a single full charge and up to 15 hours with the case included. A status light lets you know when they're charging and when they've reached a full charge.
If you often forget to charge your earbuds, you'll be glad to have these. In 15 minutes you'll get about two hours of playback time that can save your workout or commute.
The Bose Music App lets you configure and control your earbuds, but there are also tap controls on each one. You can easily swipe up and down to control the volume. Phone calls come through both earbuds for better sound, too. Even though they're not true noise-canceling earbuds, the technology in them does a good job of keeping external noises out during conversations. The tips create an airtight seal which will block out much of the noise around you. 
Bose Sport Earbud Review
Bose Sport Earbud Pros:
Smaller than Bose's other earbuds
The special design of the ear tip and wing keep them in place
Sit closer to the ear for better sound quality and bass
Bose Sport Earbud Cons:
No noise-canceling
Only connect to one device at a time
Older models don't have volume controls outside the app
These Samsung wireless Bluetooth earbuds offer the same level of sound quality whether you're streaming music or having a conversation. Three different ear tips let you experiment to find which one gives you the most secure and comfortable fit. They're also extremely lightweight, making these some of the best Bluetooth earbuds for small ears.
A full charge is supposed to give you an impressive 15 hours of talk time and 11 hours of streaming. A fully charged wireless case adds another 11 hours to the total. As often happens with these types of claims, you'll probably get within a couple of hours of the advertised time, at best.
Samsung's Ambient Aware feature is the type of feature I find handy when I need to hear some of the things going around me. I don't always want to block out every external sound. You can adjust it to give you an immersive experience, or you can let some ambient sounds in so you can hear conversations, announcements, or traffic.
Each earbud has dual speakers and three microphones that let the earbuds isolate your voice when you're having a conversation. The person you're speaking to will hear your voice much stronger than any ambient noise around you. A quick tap is all it takes to control them.
They're easy to use, and one of their best features is their ability to charge incredibly fast. I hate it when I've forgotten to charge my earbuds and don't realize it until I have to walk out the door. If you can spare only three minutes for a quick charge you'll get up to an hour of playback time!
Samsung's Galaxy Buds+ Plus earbuds come in black, red, cloud blue, and white, so they can be as fashion-forward or as invisible as you want. They're designed to be used with the Galaxy Buds+ app for iOS or the Galaxy Wearable app for Android. These apps let you find your earbuds if you lose them, which is always a great feature. The apps also monitor battery life and let you switch easily between devices through the Samsung Cloud. 
Samsung Galaxy Buds Plus Review
Samsung Galaxy Buds+ Pros:
You control how much ambient noise gets through
Three minutes of charging delivers an hour of playback time
If you own a Samsung Galaxy, you can charge the earbuds wirelessly on the back of your phone without a cable or a case
Samsung Galaxy Buds+ Cons:
The battery life isn't quite as good as they claim
If you don't share all your contact information with the app, you can't use the Finder or other helpful features
If your biggest concern with earbuds is getting the best, richest sound possible, you might appreciate the EQ modes on these Skullcandy Sesh Evo earbuds. You can choose the movie, music, or podcast mode to coax the best sound quality out of them. They're rated to resist dust, sweat, and water so they can stand up to your toughest workouts.
One of the features I like best is the automatic pairing as soon as they're turned on. These earbuds connect to the last Bluetooth connection you used and are ready to go immediately. One earbud doesn't control both of them, so you can even use them independently. 
Skullcandy's brand is one of the best Bluetooth earbuds for small ears because sometimes even the best-fitting pair can cause a little soreness. Using one earbud at a time lets you give each ear a rest. You can also hear external sounds you might not want to miss since there's no ambient hear-through feature.
Like all Skullcandy products, they're designed to be small and sleek. They come in five different colors: True Black, Chill Grey, Deep Red, Pure Mint, and Bleached Blue. The charging case charges via the USB port on the back and matches the color of the earbuds.
The earbuds alone offer five hours of playtime on a single charge but up to 24 hours with case-charging time added. They feature multipoint pairing and work with both Android and iOS platforms.
Skullcandy Sesh Evo Review
Skullcandy Sesh Evo Pros:
You can use each earbud independently
Automatic Bluetooth pairing when turned on
Built-in tile tracking technology so you can find lost earbuds
Lightweight and easy to fit in most ears
No required app for most controls like some other brands
Skullcandy Sesh Evo Cons:
No hear-through feature
Doesn't isolate voices as well as some other brands, so ambient noise often comes through in phone conversations
Charging is best done via USB to a computer since they recommend you don't use rapid chargers
It can take several steps (and attempts) to re-pair with a device after using one earbud solo
Anker's Life A1 earbuds are some of the best Bluetooth earbuds for small ears because they include five different ear tip sizes to choose from. Most brands only include small, medium, and large ear tips. Anker goes a little further by including an extra-small ear tip that's great for people with small ears. They also have three different wing tips to choose from and are ultra-lightweight so you barely feel them when you wear them. 
The charging case can be charged with a USB cord or wirelessly, and since it can be used three times to recharge the earbuds, you can get up to a whopping 35 hours of playback time on a single charge. The earbuds alone last for up to nine hours, which is longer than many other brands.
The different ear tips let you find one with a good seal to take advantage of the product's noise-reduction capabilities. And the triple-layer composite drivers deliver quality bass and treble boosts for a richer sound.
Unfortunately, there's no play-through feature. Once you find the right fit you probably won't hear external sounds. You might have to wear them loosely so you can hear around the ear tip, which could lead to the earbuds falling out. The best solution might be to wear only one at a time if you need to be able to hear sounds or voices while listening.
These Bluetooth earbuds offer three different modes for different types of listening: Bass Booster for those times when you want a driving beat for things like working out, Signature which gives you the best music playback quality, and Podcast which boosts the middle ranges for voice clarity. 
Anker Soundcore Life A1 Review
Anker Soundcore Life A1 Pros:
Waterproof with an IPX7 rating
They give an hour-and-a-half playback time from a 10-minute charge
They come with silicone ear wings in three sizes and ear tips in five different sizes for the best fit
Anker Soundcore Life A1 Cons:
No multipoint pairing
They don't automatically pause when you take them out of your ears
They can't be controlled through the Soundcore app
Frequently Asked Questions (FAQ)
No matter what kind of earbuds I try, my ears get sore. Is there anything I can do to fix this?
First, get earbuds with different tip sizes so you can try the smallest ones that will stay in your ear. If those still make your ears sore, you can try wearing just one at a time or taking long breaks from them during the day until your ears adjust. If pressing the tip into your ear canal is what causes the soreness, try a traditional earbud that simply sits flat against your ear canal opening but doesn't go inside it.
Experimenting with different styles of earbud tips can help, too. Most in-ear tips are a single flange, but you can get earbuds with two or three flanges, which give you more flexibility with how much you insert into the ear. You can purchase universal foam ear tips that may provide a better and more comfortable fit.
These foam earbuds are a lot like the memory foam many mattresses are made from. They mold to your ear for a comfy fit and typically work on any type of earbuds.
If none of these things keep your ears from getting sore, you can invest in custom-fitted ear tips that have been molded to your ear shape and canal opening. You might also give the smallest pair of over-the-ear wireless headphones a try to see if you're comfortable wearing those instead.
How can I keep my earbuds from falling out and getting lost?
The best Bluetooth earbuds for smaller ears will give you a good seal when you insert them. They shouldn't need a lot of adjusting as you wear them, and they certainly shouldn't fall out. If this is a problem, your earbuds simply don't fit well. Try an ear tip in a different size or style. 
Pull the lobe of your ear down gently when you insert the tip to get a good seal. Never force an ear tip into your ear. Gently insert it until it feels like it'll stay in place. Try turning it back and forth a little until you feel like no air is getting past it.
You might also want to try earbuds that come with hooks that wrap over the outside of the ear to keep them in place. The hooks make it less likely you'll lose one while you're on the go. They can also help make sure that the earbud itself is positioned properly. If you have very small outer ears, these might not fit as well as they should.
Some wireless Bluetooth earbuds have a connecting cord that wraps around the back of your neck to make losing them less likely even when you're jogging or doing strenuous exercise. You can also purchase neck cords and clips to attach to your earbuds if the brand you want doesn't come with one.
How do I know that earbuds are as water-resistant or waterproof as they claim?
The IP (Ingress Protection) ratings use numbers to represent how particle-resistant and water-resistant electronic devices are. Once you know the system, you'll never have to guess whether your Bluetooth earbuds are truly waterproof or not.
The International Electrotechnical Commission (IEC) has a handy chart to show how numbers represent certain levels of particle and moisture resistance. This chart makes it easy to see how well any electronic device is protected.
The "IP" in a rating like IP67 always comes first to let you know that it's an Ingress Protection rating. The next number represents how protected a device is from solid particles ranging from 0-6 that goes from no protection to dustproof, which means it's sealed well against tiny particles of dust.
Earbuds typically have at least a rating of five which means they're dust-resistant enough that even if some dust gets in, it's not likely to affect their operation. Many earbuds don't show a number here but an X instead. That simply means that they weren't tested for dust resistance.
The last number represents water resistance. A rating of zero means there's no water resistance, and each larger number represents protection from occasional drips to intense splashes and sprays until at seven and eight the device is truly waterproof.
Seven means you can submerge the earbuds to one meter for up to 30 minutes. Earbuds with an eight rating resist a deeper submersion than one meter indefinitely and are safe to use when swimming.
It's important to note that while you can swim with level eight waterproof earbuds, the Bluetooth signal doesn't penetrate water. You can wear them and use them with no problems as soon as you're out of the water, but you won't be able to hear anything through them when they're submerged.
Conclusion
I don't think there's one brand that's the overall best Bluetooth earbuds for small ears because they're all designed with different features and uses in mind. For overall quality, the Bose Sport is a great choice because of the sound features, clear calling, and ear tip choices. The tips have a slightly different shape than standard earbuds that might work well for people who don't like round flanges.
On the opposite end of the spectrum, the Raycon "The Everyday" brand is good if you're not that concerned about bells and whistles but want something comfortable and reliable for just about any situation. The Samsung Galaxy Buds+ Plus brand is perfect for Galaxy users who want many hours of battery life and the ability to quick-charge when you're in a hurry. 
Skullcandy's Sesh Evo might be the best bet for people who only want to use onboard tapping controls and who tend to lose their earbuds since Tile tracking is built-in. Anker's Soundcore Life A1 brand might be the best when you're going to do a serious workout or run the risk of being caught in wet weather because of their impressive waterproof IP rating.
All the earbuds reviewed here are some of the best Bluetooth earbuds for small ears. Now you can weigh all the other features and options and choose a brand based on the things that are most important to you without worrying about whether they'll give you a comfortable fit.