Why Won't My Bluetooth Headphones Connect to My Mac?
This post may contain affiliate links. As an Amazon affiliate, I earn from qualifying purchases.
Connecting Bluetooth headphones to your Mac should be pretty straightforward because in just a few steps, you will be connected. With Bluetooth headphones, you get to sit far from your screen without straining. They also give you the freedom to move about when you're on a conference call. Unfortunately, you may bump into problems when connecting your headphones to your Mac. Here, we discuss the reasons why this happens and how you can troubleshoot and fix them.
Why Won't My Bluetooth Headphones Connect to My Mac?
Your Bluetooth headphones fail to connect to your Mac because devices are not set to discoverable, devices are not in range, headphones are connected to other devices, different Bluetooth versions, and headphones are low on battery.
Devices Are Not Set to Discoverable
To pair your speaker to your Mac, you have to ensure both devices are discoverable. Set your Mac to discoverable by following these steps:
• Turn on your Mac
• Choose Apple menu
• Select "System Preference"
• Click "Bluetooth"
• Select the device and click "Connect"
• Click "Accept" when prompted
Once you connect your Mac to your headphones, it will remain connected until you remove it. Alternatively, you can connect your Mac to your Bluetooth headphones by clicking on the Bluetooth status icon located in the menu bar and selecting the device to be paired with. To set your Bluetooth speaker into pairing mode:
• Turn on your headphones
• Press and hold the power button, which doubles as the Pairing button
• Release the button when the light indicator blinks quickly
• This will allow your headphones pair up with your Mac
Devices Are Not in Range
While Bluetooth headphones allow you to be far away from your device, they have a standard operating range. Beyond this range, your headphones may be unable to connect with your Mac. As a rule of thumb, the devices you are trying to pair should be within a 20 feet range of each other.
However, the operating range of headphones varies from one device to the other. Some headphones offer short operation ranges while other offer longer operational ranges. Bluetooth headphones such as NuForce BE6i and BlueAnt offer over 98 feet of operational range.
Headphones Are Connected to Other Devices
If you had paired your headphones to your mobile phone previously, it may thwart your chances of connecting it to your Mac. In this case, you will have to unpair your headphones first before proceeding to connect it to your Mac.
To unpair your headphones, you can long press the power button, which will allow the unpairing process to continue. To unpair your headphones on your iPhone:
• Go to Settings and select "Bluetooth"
• Find your headphones name and tap the (i) icon
• Select "Forget This device"
• Confirm that you want to unpair your headphones from your iPhone
On Android, upair by:
• Turn on Bluetooth
• Tap the name of your headphones
• Once device name is selected, tap "Unpair" or "Forget"
Different Bluetooth Versions
Bluetooth technology has undergone multiple revisions and updates over the years. For that reason, if your headphones and Mac have different versions of Bluetooth, you may have a hard time connecting them.
Essentially, Bluetooth is backwards compatible. This is to say that newer versions can still pair with the ancient ones. Check your Mac's Bluetooth version and update to enhance its pairing capabilities. In addition, Bluetooth headphones with the latest Bluetooth version are better at pairing. Therefore, chose a headphone that features this aspect.
Headphones With Low Battery
Low battery not only affects your headphone's sound quality but is also its pairing ability. If you have trouble connecting your headphones to your Mac, chances are that the battery of your headphones is low. Before pairing your devices, ensure to plug them in and charging them fully. For headphones that still have charge in them, still make sure you charge them fully because the remaining charge will drain faster than you anticipate.
Audio Distortion or Stuttering
After troubleshooting all the aforementioned issues, your Bluetooth headphones may relent and allow pairing with the Mac. You may however, experience poor sound quality from your headphones. The reason for this distortion includes:
Poor Pairing
If your headphones and Mac have not paired well, a stuttering in the sound output may occur. Turning off and on is the way to go. Unpair the headphones and turn them off, reboot your Mac and pair then again. After this troubleshooting, the sound quality is expected to improve.
Distance Between Your Headphones and Mac
Headphones have an operation range within which the Bluetooth connection is at optimum. If the range is surpassed, the sound quality is compromised. For better sound, remove other obstructions between your Headphones and Mac. Disruption from other devices connected to Bluetooth or WiFi signals may also affect the sound quality.
Failing to Pair Individual Buds Correctly
For wirefree and true wireless earbuds, you have the option to listen to a single earbud at a time. However, there is a way to go about it. Pairing both ear buds and keeping only one in your pocket will cause stuttering in the sound output. To use an earbud effectively, read through the manufacturer manual and learn the proper steps on single-bud listening.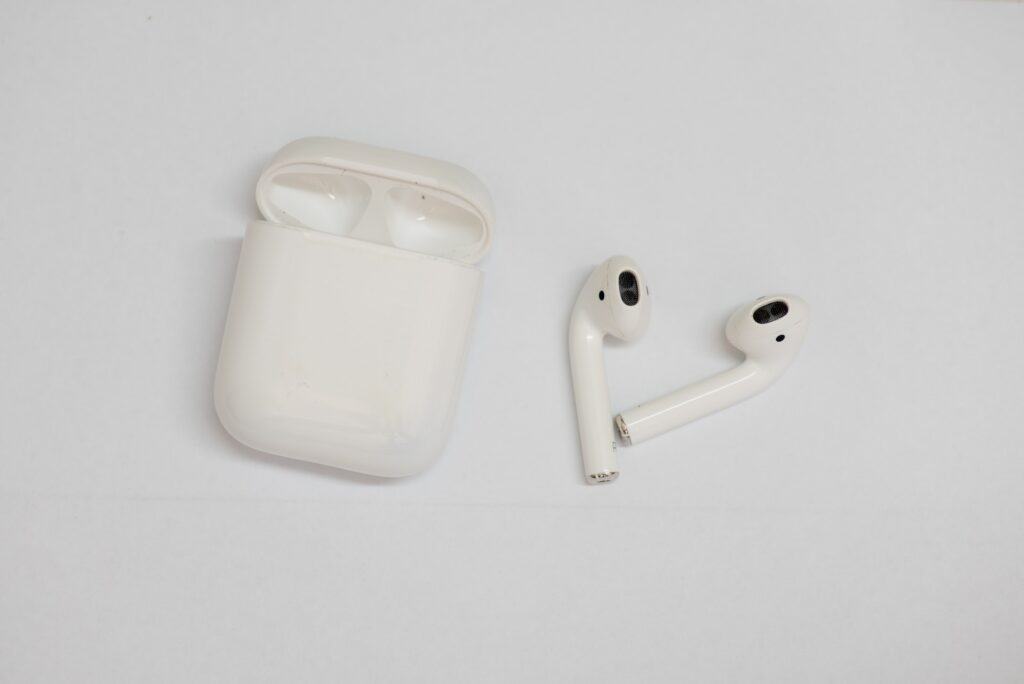 Multiple Bluetooth Devices Connected
If you have multiple Bluetooth devices connected at the same time, stuttering may be experienced. To counter this issue, disconnect other devices that are not in use. For instance, if you have connected your headphones to your Mac, which is also connected to a smart watch, audio distortion may occur.
Outdated Software
If your headphones has a companion app with an outdated software, the sound quality will definitely be affected. In this case, you need to update the firmware of the app to correct the hitch in the sound quality. A software update may sound like a very simplistic solution, but it may as well work.
Running Companion Apps
If you have the app that accompanies your headphone on your phone, you should try to turn off the extra features that come with it. Features such as equalizers and noise canceling may cause audio distortions. While troubleshooting, ensure to eliminate the extra features that may be the cause of the audio distortion.
Bluetooth Audio Codec
On your device, go to Bluetooth settings and tap on the "i" or the settings icon next to the headphones. After tapping on this option, check out for the options available to you. Headphones offer HD Audio or other codecs similar to this one. Luckily, you can switch on and off to check whether the audio output has improved.
FAQs
Which Bluetooth Headphones Are the Best
Some of the best Bluetooth Headphones include Boat Airdopes 441, Bose SoundSport Free, JBL C105TWS, OnePlus Buds Z, Realme Buds Wireless, Blaupunkt BTW01, and Sennheiser CZ 120BT.
How Far Can Wireless Headphone Reach?
With Bluetooth technology ever improving, the Bluetooth range for headphones is ever increasing. Most wireless headphones have a standard operating range of about 33 feet. Some of the best Headphones with impressive range include NuForce BE6i (30 meters), BlueAnt Pump Lite HD Wireles (30 meters), Jabra Evolve 65 (30 meters), Plantronics Backbeat Pro (100 meters), and Master and Dynamic MW60 (over 30 meters).
How Many Hours Do Bluetooth Headphones Last?
Bluetooth earbuds may last for up to four to six hours while headsets may last about six to 12 hours on a single charge. Some premium brands can last an average of 20 to 30 hours when features such as the active noise cancellation (ANC).
Can You Overcharge a Bluetooth Headphone?
It is safe to overcharge and over-discharge because when a Bluetooth headset is overcharged, it can't be charged. In light of that, you can use the Bluetooth headphones as you see fit without worrying about overcharging.
Can You Connect Bluetooth Headphones to Mac?
Yes, you can connect Bluetooth Headphones to Mac. On the Apple menu, select "System Preferences," and on the Bluetooth menu, turn Bluetooth on. Your headphones will now appear in the list of devices to be paired.
Does MacBook Pro Have Bluetooth?
All Mac computers released since 2011 feature a built-in support for Bluetooth. You will not be required to install any special feature to access Bluetooth. MacBook Air, MacBook Pro, and iMac all have Bluetooth.
How Do I Access Bluetooth on My Mac?
To check if your Mac has Bluetooth, click on the Apple logo, select "About this Mac", proceed to "System Report," and you will find "Bluetooth". If you fail to find "Bluetooth", it simply means that your Mac does not have it.
Can You Connect Two Bluetooth Headphones to MacBook?
Yes, it is possible to connect two Bluetooth headphones to your MacBook at the same time. To make this possible, you will have use the Audio MIDI app, which is located in Applications under Utilities folder.
Conclusion
Bluetooth headphones should connect seamlessly with your Mac. However, poor connection is inevitable due to multiple factors, including difference in Bluetooth versions. While these causes are annoying, they can be sorted out in just a few steps. However, you will require time and determination to troubleshoot each and every probable cause and narrow down to what may be causing the connectivity issue. We hope this article has shed some light on this issue and inspire you to fix this problem yourself.