5 Best Bluetooth Speakers Under $50 Bucks (Updated 2023)
This post may contain affiliate links. As an Amazon affiliate, I earn from qualifying purchases.
Want a decent Bluetooth speaker without spending a bunch of cash? You can definitely find a cheap speaker as there are plenty of Bluetooth audio devices under $50 on the market. But can you spot a decent one?
You can spend hours scrolling through millions of search results, or you can just continue reading this article. We'll help you find the best Bluetooth speakers for under 50 bucks.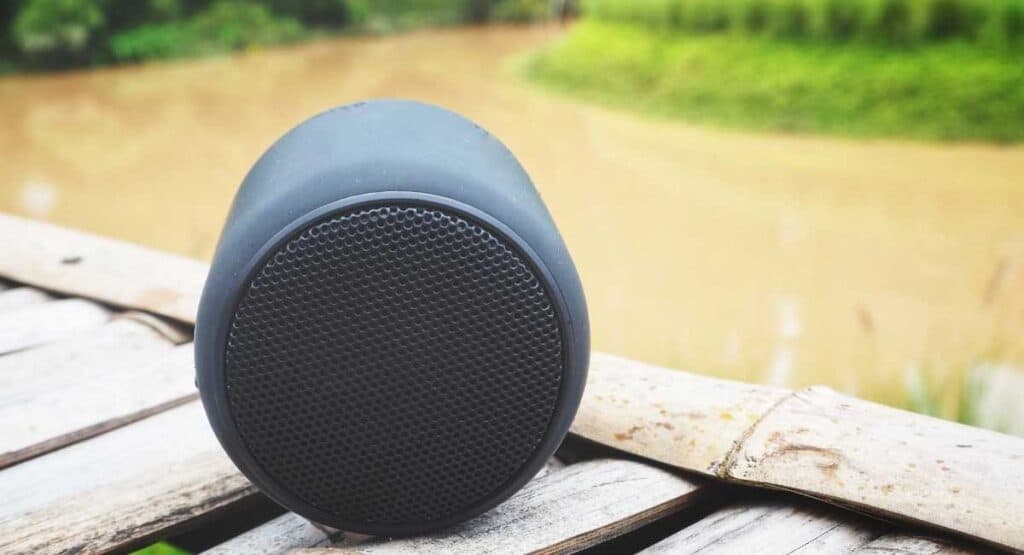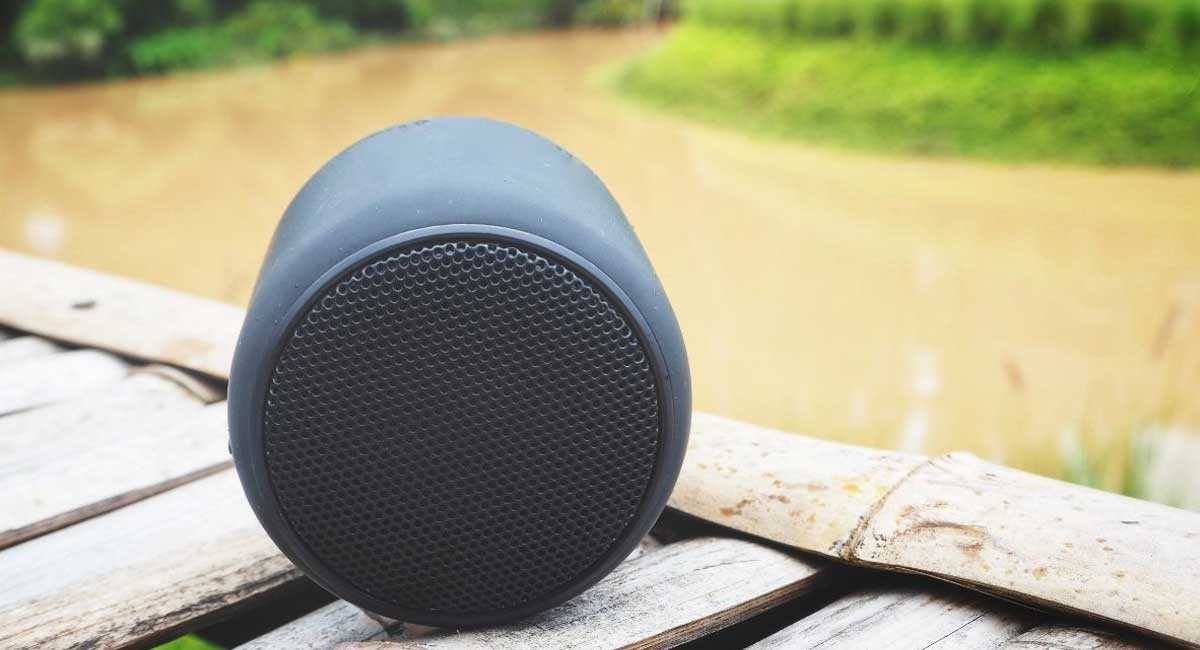 What Makes a Good Bluetooth Speaker?
A good Bluetooth speaker should meet some essential criteria. The sound has to be good, the device should be made to last, and the battery life should be long enough for your needs. But this review goes beyond the basics.
Some of the speakers we reviewed have additional features such as a built-in microphone. Most are tiny enough to be carried around the home, so you can enjoy your favorite tunes while you're doing just about anything.
Some manufacturers claim their devices are waterproof, which is a terrific feature that allows you to take your music with you to the beach or even just to the shower. We took a close look at the five best Bluetooth speakers under $50, and here's what we found.
Verdict: Best value
OontZ Angle 3 Bluetooth Portable Speaker by Cambridge Soundworks is one of the top sellers in the category. Its most prominent features include clear and loud stereo sound, a built-in microphone, and water resistance.
The dimensions of the speaker are 5.3 x 2.8 x 2.6 inches, and you can choose between seven different colors: black, white, blue, purple, orange, red, and coke-red (a completely red speaker with the Coca-Cola logo on it).
We picked the black one. The design is nice, and you can immediately spot the difference between OontZ Angle 3 and some lower-quality devices by the way it looks and feels. Despite the size, it is surprisingly heavy.
The sound is loud enough to be heard on a busy street or during all types of outdoor activities. At the same time, it is clear enough to be enjoyed in a quiet room. The bass, highs, and mids are all accurate. The speaker power is over 10 Watts but even at maximum volume, there's no distortion whatsoever.
One of the best features of this device is connectivity. It can easily connect with a variety of Bluetooth-enabled devices as long as they're placed within the 100-foot range. Basically, any smartphone, laptop, or computer can easily be transformed into an audio player once it's been paired with the Bluetooth speaker.
However, some Bluetooth devices are not fully compatible with it, so you may need to take the extra step to update the Bluetooth drivers. Non-Bluetooth devices with an AUX IN jack, such as TVs, can also be connected using a 3.5 mm cable (included in the package).
The IPX5 code means the device is water-resistant, so you don't have to worry if it rains while your Bluetooth speaker is still outside. The device can resist a mild water spray, but it should never be submerged in water, not even partially. Water-resistant doesn't mean waterproof.
Battery life is more than sufficient for everyday use. The OontZ Angle 3 Bluetooth Portable Speaker has a 2500 mAh rechargeable battery, which provides up to 14 hours of playtime. As long as the volume is set to 2/3 of its capacity, you can listen to music all day (or all night) without interruption.
A micro-USB charging cable is included in the package.
Specifications:
Brand: Cambridge Soundworks
Speaker Type: Outdoor
Special Feature: Portable Speaker, Bluetooth Speaker
Connectivity Technology: Wireless
Color: Black
Item Dimensions: 5.3 x 2.8 x 2.6 inches
Item Weight: 0.6 pounds
Power Source: Battery
Stereo sound
10 W power
IPX5 water-resistant
Up to 14 hours battery life
Pros:
Decent battery life
Micro-USB and auxiliary cables included
Incredible 100-foot Bluetooth range
Compact design
Great value for the money
Cons:
Verdict: Most budget-friendly
The BRV-mini can be an excellent choice for those who need extra-small portable speakers that do the work of a larger device. Its durability and battery life are undoubtedly excellent traits that will allow you to take this miniature speaker with you on any kind of outdoor adventure.
If you're looking for a Bluetooth speaker to use at home, the size of this device is not exactly an advantage. For home use, you'd probably be better off choosing a larger, higher-quality device.
This tiny yet robust Bluetooth speaker offers up to 12 hours of listening time. Small (4.2 x 4.2 x 4.0 inches) and shaped like a soda can, this device comes in four colors: black, blue, gray, and red. It also includes a lanyard that lets you hang it anywhere.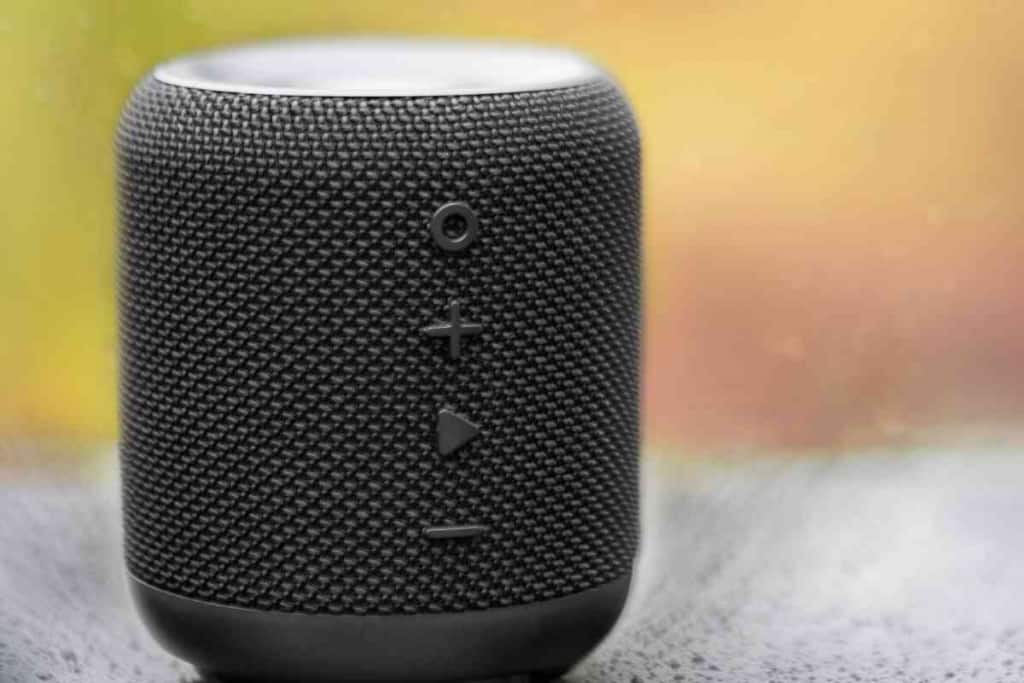 You can connect a second speaker as the device supports stereo mode.
It's also fully waterproof. The IPX7 code means you can take it with you when you go swimming. If you purposely or accidentally drop it into the water, you don't need to worry. It will float!
Thanks to the 5 W output and a passive radiator that amplifies bass, the sound is surprisingly intensive for such a small device, especially when connecting two of them.
The speaker also has a built-in microphone, which makes it convenient for hands-free calls.
Specifications:
Brand: Braven
Connectivity Technology: USB
Color: Black
Item Dimensions: 4.2 x 4.2 x 4.0 inches
Item Weight: 0.7 pounds
Audio Output Mode: Stereo
IPX7 Waterproof
Wireless pairing
5 W output
Speakerphone
Lanyard
Pros:
Cheapest on our list
Super tiny and portable
Decent quality for the price
Good battery life
Fully water-proof
Cons:
Average sound quality and volume
Verdict: Best for music on the go
JBL GO2 is another ultra-portable waterproof speaker with an integrated microphone. Overall, you get an affordable, decent-quality device with great – albeit not very loud – sound. This compact device is designed for you to "grab and go."
This device is available in 12 different colors, from classic black and blue to the subtle colors of champagne, cinnamon, and mint.
This Bluetooth speaker has the IPX7 quality code, so you don't have to worry about the device getting wet. As we've seen in the previous section, IPX7 means you can take your device to the pool with you and even throw it into the water without any consequences.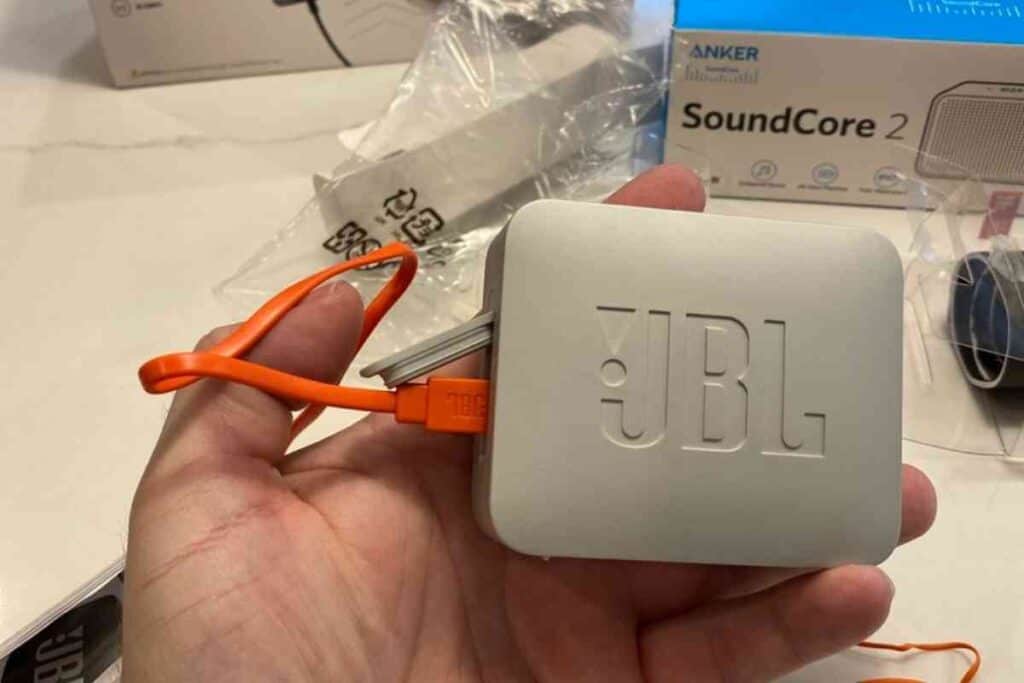 This model's Li-ion battery supports about 5 hours of use before needing to be charged. While that doesn't sound very impressive (other devices we've reviewed can last twice as long), five hours should be enough for an average user.
The speaker has a built-in speakerphone that reduces the background noise. Thanks to this feature, you can use JBL GO2 for conference calls.
In addition to the wireless Bluetooth connection, you can also use a good old audio cable to connect to different devices to play music and other content.
However, if you're looking to pair the GO2 with another speaker to create stereo sound, you'll be disappointed. That won't be possible with this model.
Specifications:
Brand: JBL
Speaker Type: Portable Bluetooth Speakers
Special Feature: Waterproof, Ultra-Portable, Built-In Microphone
Connectivity Technology: Bluetooth
Color: Red
Wireless Bluetooth Streaming
5 hours battery life
IPX7 waterproof
Speakerphone
Audio Cable Input
Item Dimensions: 3.8 x 1.5 x 4.2 inches
Item weight: 0.4 pounds
Power Source: Battery
Pros:
Sound is good for the price and dimensions
Compact design
Fully waterproof
Speakerphone reduces background noise
Cons:
Less than average playtime
Can't be paired with another speaker for stereo sound
Verdict: Best overall
Next, we have the fantastic Anker Soundcore 2. It outperforms the devices we've reviewed previously, but the cost is a bit higher to match. Anyway, our goal is to detect and show the best Bluetooth speakers for under 50 bucks, so we're happy to introduce this terrific gadget.
With 12 W power, this speaker delivers near-perfect sound. Its dual neodymium drivers are designed to intensify low-end frequencies to make the bass more impressive. The sound is clear and free of distortion, regardless of the volume.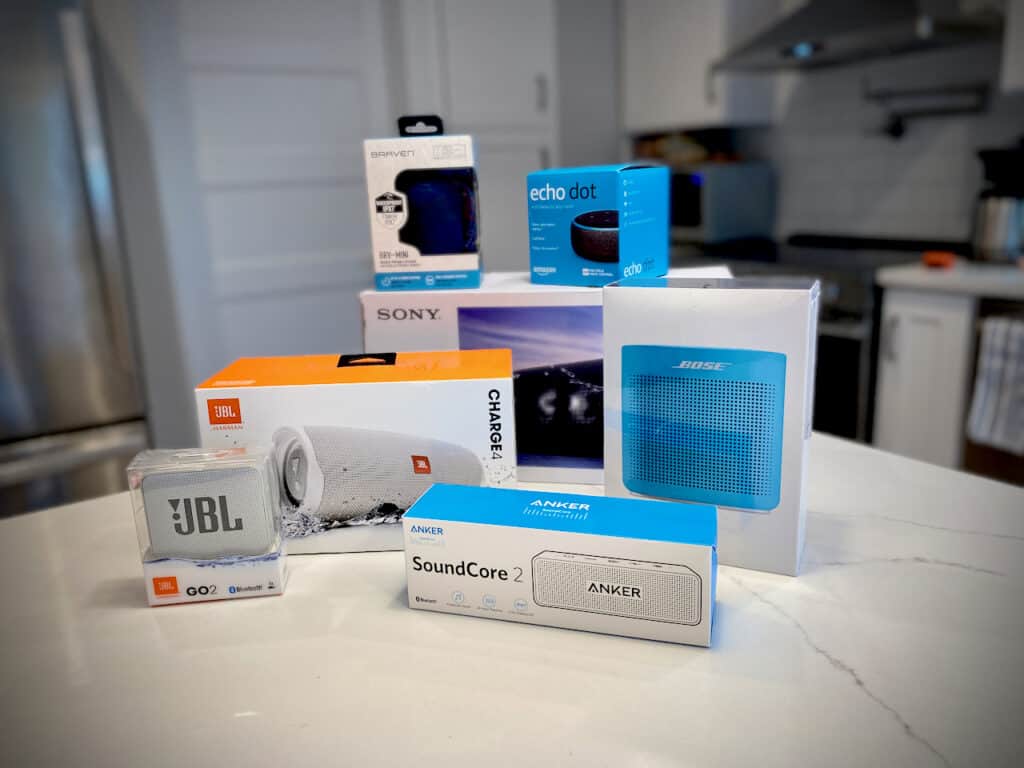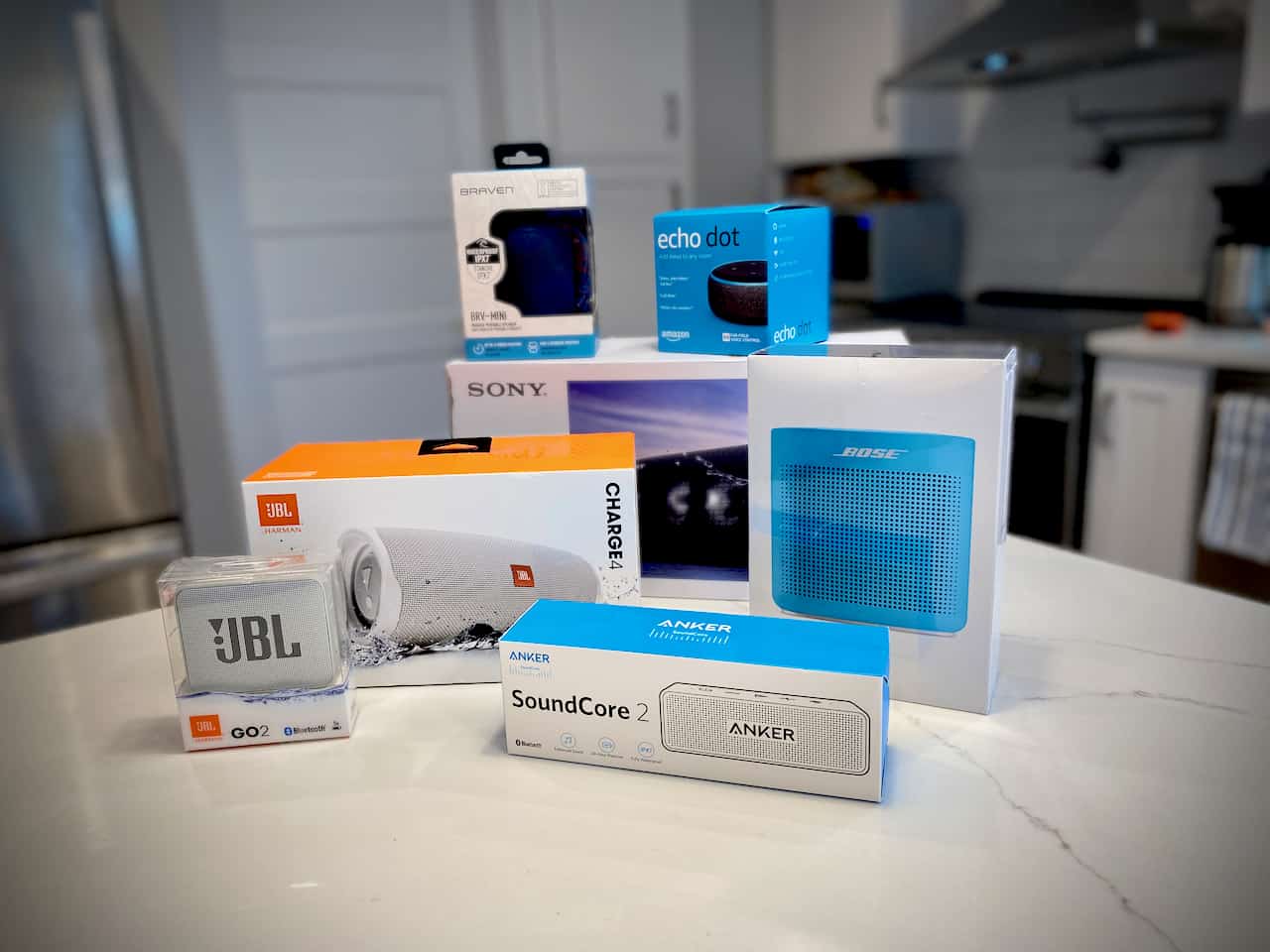 Suppose you've been thinking about pairing to get stereo sound. In that case, the great news is that with Anker Soundcore 2, you can enjoy full stereo sound from a single device. Still want more? Ok, the newest version of Soundcore 2 allows you to pair two speakers to double the sound intensity.
Soundcore 2 is equipped with Bluetooth 5.0 (the latest iteration) with extended range, so your connection will never get interrupted while you're listening to your favorite music or podcast. However, if you have an older Android phone, you may experience a pairing issue that prompts you to pair the same device multiple times.
As for durability, this model has the IPX7 code, and the manufacturer claims that it's completely outdoor-proof. It can be carried outside during rain or dropped in mud or snow, and it'll still be operational.
One of the most striking characteristics of the Anker Soundcore 2 is its 5,200 mAh Li-ion battery with advanced power management technology. The result is an incredible 24-hour playtime when running on battery power.
Anker Soundcore 2 has a classic look and feel, a fine rectangular shape, and you can choose from three color options.
If you receive a phone call while your mobile device is connected to the speaker, you can easily use voice commands to accept or reject it, put it on hold, take another incoming call, or switch a call between devices.
Great sound, long battery life, and enhanced answering features make this speaker the best Bluetooth speaker 2020 under 50 bucks. Still, we must admit the competition has some advantages as well, particularly a lower price.
The Soundcore 2 has some unique functions. Unlike most moderately-priced speakers, it allows you to use Siri or other voice control software.
However, some of the basic features included with other devices are missing from this unit. While you can accept a phone call on this speaker, it won't remember the last number dialed, but this is a minor issue since we're talking about a speaker, not a phone.
Specifications:
Brand: Anker
Speaker Type: Outdoor
Special Feature: Waterproof, Smartphone Charging, Ultra-Portable
Connectivity Technology: Wireless, Bluetooth
Color: Black
12 W audio power with intense bass
IPX7 waterproof
24-hour battery life
USB charge in: Micro USB
Item dimensions: 6.5 x 2.2 x 1.8 inches
Item weight: 0.9 pounds
Pros:
Durable and resilient
Great, classic design
24 hours of playtime
Great sound quality and volume
Impressive Bluetooth range
Advanced speakerphone options
Can be used with Siri
Has stereo sound and can be paired with another speaker
Cons:
Most expensive speaker on the list
Older devices require frequent pairings
Verdict: Best for outdoor use
Here's another candidate for the title of the best Bluetooth speaker under 50 bucks. This COMISO speaker is portable and waterproof, and you can play audio for about 20 hours on the battery.
The device is about the size and shape of a Coke can and is available in many colors. It has no square edges, so it's easy to carry and fits into any backpack. The cylindrical shape is not just for aesthetics as it helps radiate sound in all directions.
The COMISO speaker is equipped with two distinct acoustic drivers for clear stereo sound. Bass is enhanced thanks to the incorporated passive bass radiator.
The device is made to deliver loud yet clear sound that fills a room of any size, but it's not limited to indoor use. This waterproof device can easily be taken anywhere and doesn't require extra protection.
The speaker can be paired with any Bluetooth device as well as with other COMISO speakers, which enables you to achieve powerful stereo sound.
Battery life is above average. The 4400 mAh battery allows up to 24 hours of continuous use (20 hours on maximum volume) on a single charge.
When someone gives you a call, you can use the speaker's incorporated microphone to answer.
Specifications:
Output Power: 2x 6 W precision acoustic drivers for stereo sound
Voltage input : DC-5 V / 2 A
Frequency Effects: 75 Hz-20000 Hz
Battery Capacity: 4400 mAh
Rated Voltage: 3.7 V
IPX7 water-proof
Item Dimensions: 3.2 x 3.2 x 10.5 inches
Item weight: 0.9 pounds
Power Source: Battery
Pros:
Good sound and volume
Above-average battery life
Can be paired with any COMISO speaker
Purposefully designed
Fully waterproof
Microphone
Great value for the money
Cons:
Buyer's Guide: Best Bluetooth Speaker Under $50 Dollars
With so many models of portable speakers available, it's not easy to choose the right one as the best is not the same for everyone. For instance, if you need a powerful speaker for indoor use, you'll want it to have superb sound, and the battery life may not be so important to you.
On the contrary, if you're always on the go, you'll need a powerful battery more than refined sound. Some people will use the built-in microphone and some will not.
Some will take the speaker to the beach but most will just use it in the living room. In that case, waterproofing may not be essential.
So, here is our final verdict:
Best overall: The Anker Soundcore 2 has the best sound, best battery life, and amazing Bluetooth range, which makes this speaker our winner. Its price is just below the $50 limit, but this speaker delivers a similar experience to what you get from more expensive devices.
Best for music on the go: The JBL GO2 ultra-portable Bluetooth speaker is compact, easy to carry around, fully waterproof, and has a built-in microphone with a noise reduction feature.
Best budget-friendly: The Braven BRV-Mini is a tiny, handy, cylindrical speaker you can put in your pocket, and it's 2.5 times cheaper than our winner.
Best value: The OontZ Angle 3 is Amazon's No. 1 bestseller in the category, and it's deserved. You get an excellent product for half the price of devices with similar specifications.
Best for outdoors: The COMISO waterproof Bluetooth speakers are pretty awesome and are nearly as good as the Anker device. So good, in fact, that we couldn't even find anything to put into the "cons" section!
Conclusion
Now you should have a solid understanding of what kind of portable Bluetooth speakers are available on the market. As you try to find the best Bluetooth speaker for under 50 bucks, you should have a good idea where to start.
We hope you found this article helpful. If you're interested in more information about Bluetooth devices and other gadgets, please check out the other articles and buying guides on our site.