Can A Tenant Install a Security Camera Outside?
This post may contain affiliate links. As an Amazon affiliate, I earn from qualifying purchases.
Security cameras have a lot of benefits including, increasing your sense of security.
This makes it common for tenants to install security cameras in their apartments whether it's outside or inside.
But is it legal?
Are there any regulations on installing security cameras outside?
Can A Tenant Install a Security Camera Outside?
Generally, tenants are legally allowed to install security cameras on the outside of their houses or apartments in almost all states. However, there are rules and regulations that may vary from state to state that govern the installation of exterior cameras.
For example, your exterior camera should be positioned properly so that it does not record another person's home.
The cameras are restricted from facing other tenants' entrances, windows, yards, or parking.
Your security camera should only cover your rented area alone.
This violates the privacy of other tenants as they can take legal action against being recorded without their consent.
Alternatively, you can install security cameras with a privacy mask feature that enables you to only record the necessary areas.
Landlords can also issue limitations on the installation of security cameras on the lease.
It's crucial that you ask or research any restrictions on your rented apartment or space and find ways to bypass them.
Can You Put a Security Camera Outside Your Apartment Door?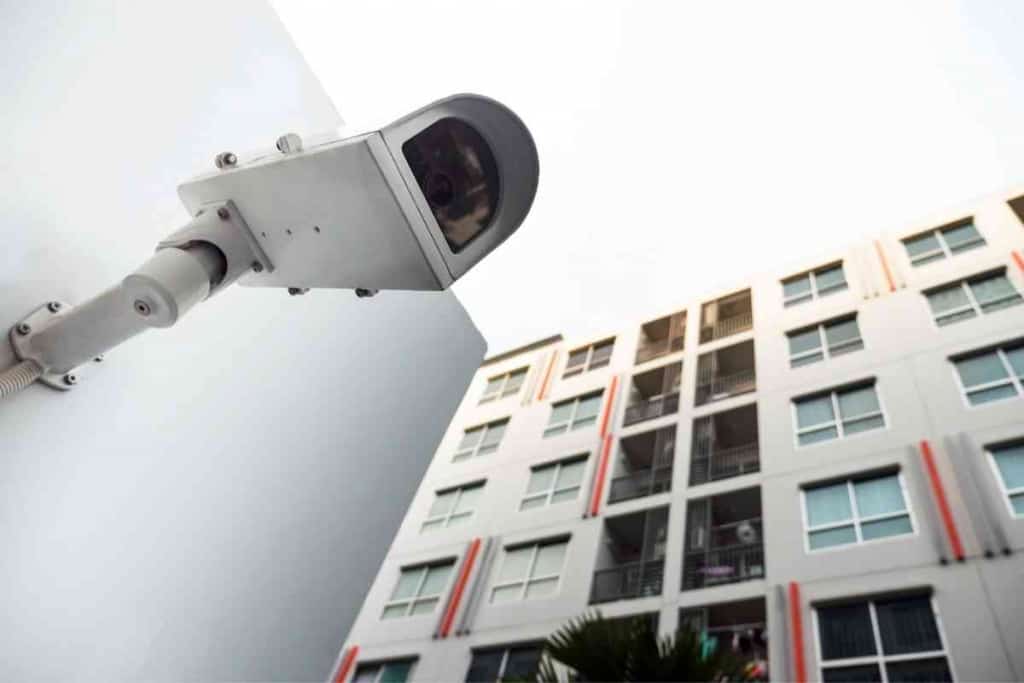 Whether or not you need a security camera on your rented property is a personal choice and it depends on your various needs.
In addition, to boosting your sense of security in your home, security cameras deter crime.
Whereas they will not prevent all the crimes, they help reduce the number of crime-related incidences in your home.
Security cameras also give you an insight into what is going on outside your home and the level of threat you are facing.
You can determine whether it is a real security threat and call the authorities or it's just a mere nuisance like raccoons.
Camera footage of a crime can also help you in court as lawyers can use them to strengthen your case.
Where Should You Install a Security Camera?
The first rule of installing a security camera is the location.
You must find the ideal location to place the camera for maximum effectiveness.
When installing security cameras outside, there are key areas you should cover.
Even with all the limitations of installing security cameras on a rental property, you can circumvent them and enjoy the benefits.
The main entrance is one of the key areas where you should install a security camera.
This is because a huge percentage of break-ins happen through the front door.
Back and side doors are also crucial areas to install a security camera to gain full visibility into anyone that enters and leaves your house.
Other areas include the yard, driveway, detached buildings, and garages.
Installing cameras in these areas will help safeguard your expensive items and enhance your safety.
Can A Tenant Put Cameras Outside the House Ontario?
In Ontario, you can install a security camera outside the house but there are a few restrictions.
Placing your security camera facing your neighbor's property is considered a nuisance and intrusion upon seclusion.
Any security camera that you install must only cover your home.
Can Tenants Install Security Cameras in Florida?
Generally, there are no restrictions on installing security cameras in Florida as long as you give notice of their presence and avoid sensitive areas.
If you install your security camera outside, it should be in a place where it is clearly visible.
You can also put up a sign that says the area is under video surveillance.
How Do You Install a Security Camera Outside?
If you are looking to install an exterior security camera there are a few things you should put into consideration.
First, you need to choose a suitable location to place the camera and the right camera to install.
You can start by identifying all the priority areas you want to install the cameras.
The location should have a clear line of sight to your house and have a reliable power source.
You can shield it from the elements as exposing it too much might reduce its service lifespan.
Once you find the locations, you can prepare the camera mounts and ensure they are screwed in tightly.
You will install the camera onto the mount and set it to the preferred angle.
It is crucial to install any connecting cables or batteries before mounting the camera.
If you are installing a smart camera, you may need to download the affiliated app to gain remote control of the camera.
You can also connect your camera to your Wi-Fi network.
Finally, you have to test the camera to ensure that everything is working properly.
Professional Installation vs. DIY
Most cameras come with instruction manuals that make it easy for DIY installation.
If you have the necessary tools, you can easily install the security camera in just a short time.
Some of the tools you will need include a hammer or drill, a ladder, and some screws.
However, you may opt for professional installation which will cost you money.
Some security cameras require professional installation due to their complexity.
The package might include the installation fee plus a monthly monitoring fee.
Factors to Consider When Installing a Security Camera
There are various types of security cameras to choose from depending on your preference and functionality.
First, you need to consider how you are going to power the security camera.
You will require a powerful and reliable source of power.
Wireless cameras do not require you to drill a hole through the wall for installation.
You can choose to install an analog camera that does not connect to the internet or one that connects through Wi-Fi.
There are security cameras that record continuously while others only record when they detect motion or an object or person is in the field of vision.
You can also consider the resolution of the camera whether it's 4K or 1080p HD.
The camera resolution affects the quality and clarity of the video.
You can opt for security cameras with smart home integrations such as Google Assistant or Alexa to control them with voice commands.
Your exterior security camera should also be durable to withstand the elements.
Other items to consider include night vision, the field of view, privacy, and recording cost.
As a tenant, you are entailed to feel safe and take measures to improve your level of security.
However, it is crucial you contact your property owners when implementing any security measures like installing security cameras to avoid misunderstanding.