Can Roku Connect To 5G? [Answers AND Solutions!]
Roku is a device that can turn any television set into a smart TV. It connects to the television set via USB, and it brings online functionality to regular televisions. You can use a variety of different apps with a Roku device including all of the major streaming providers.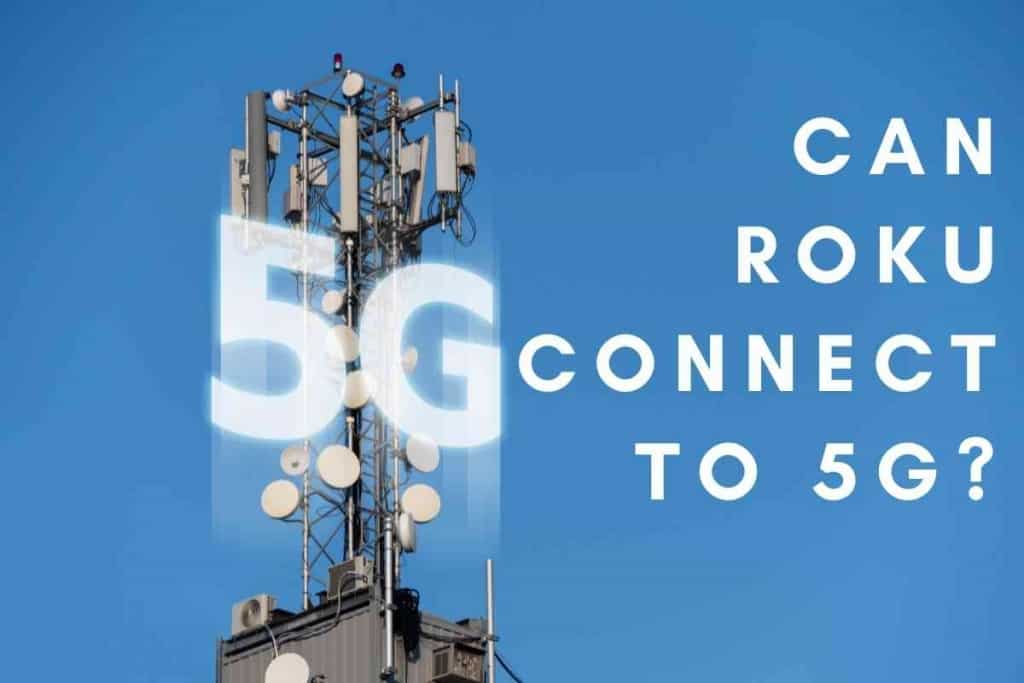 Table of Contents
Can Roku Connect To 5G?
Roku requires an internet connection to access content. It doesn't work with cellular 5g though. You will require a home internet connection with an appropriate speed to stream the content. Alternatively, you can use your phone's hotspot to provide Roku with an internet source, but this will eat through monthly data allowances.
Roku isn't compatible with 5G cellular internet; it's only able to use home Wi-Fi.
This is true of most devices that you'd normally use around your house. For example, your old PS4 cannot connect to 5G either.
In order for a device to use 5G, it would require a cellular data plan and an extra monthly subscription.
Roku isn't partnered with any cellular data providers either, meaning we'll likely never get a Roku device that is 5G compatible.
However, if cellular data is your only option, you can connect your Roku to your mobile hotspot and use the internet that way.
To do this, simply navigate to your network settings on your 5G phone and find your mobile hotspot tab.
Select it and toggle the hotspot slider to on. Next, navigate to your network settings on your Roku and set it up the same way you would a regular internet connection.
Cellular hotspots typically come with data restrictions, limiting the amount of television you can watch per month though.
However, you should still be able to enjoy a few hours of television per week just from your cell phone's hotspot.
Many cellular data providers also offer standalone mobile hotspot units that come with bigger data limits than a standard cellphone. This is a great alternative for those who have devices like Smart TVs that need WiFi to fully function.
Roku Doesn't Detect My Internet?
There are many different types of Roku devices, and each of them works a little differently, but the idea is generally the same.
They plug into the television set and provide the user with the ability to stream content from the internet without the need for expensive gaming consoles or costly smart televisions.
If your other devices have no problem picking up signal but your Roku isn't, there's one likely solution.
Just try toggling your router from 5Ghz to 2.4Ghz. Early models of the Roku only support 2.4Ghz, and it simply doesn't have the hardware to pick up the 5Ghz band.
Aside from this, your Roku might be too far away from your router or modem. Try moving the router closer to your television to create a strong signal. This is especially true if you have a 5Ghz compatible Roku device.
If you're still having connection issues, there are a few things you can try. First, try resetting your Roku's network connection. It works like this. Press the home button and navigate to the settings menu.
Select Advanced System Settings and pick Network Connection Reset. Press Reset Connection to clear your saved networks. After your Roku reboots, you'll have to enter your WiFi SSID and password again.
Some Rokus Do Support 5Ghz Band
Many of the newer models of the Roku device support the faster 5Ghz band, and it's just as easy to set up as other models.
The only downside is the 5Ghz band doesn't reach as far as the 2.4Ghz band, meaning you'll have to keep your router even closer to your Roku to ensure it works properly.
Any Roku device that is labeled ABGN dual band can make use of 5Ghz connections. A few of the Rokus that support this faster type of Wi-Fi include:
Roku 3500 Stream Stick Plus
Roku 2 2720
Roku 2 4210
All Roku 3 models
All models that support 5Ghz are also backward compatible with 2.4Ghz.
2.4Ghz Versus 5Ghz
5Ghz band is typically seen as the superior type, but this doesn't mean it's right for you. Many routers allow both a 2.4Ghz and 5Ghz band to be broadcast at the same time, meaning you can set up each device to use the band that works best.
5Ghz will offer faster download speeds, meaning you will be able to view television on a faster, more stable connection. This only applies if your router is close enough to your Roku system though.
2.4Ghz is preferred for people who don't want to move their router closer to their television.
Perhaps the router is upstairs, and the television is downstairs. In this case, using 2.4Ghz might be the only way to make the signal strong enough to support flawless playback on your TV.
It's best to have your router set to dual-band mode. This way the devices close to the router can make use of the 5Ghz band, and devices that are further away can still use the 2.4Ghz band to maintain a stable internet connection.
There are advantages to both models, and choosing one over the other means making sacrifices that you might not want to make.
It's a good idea to try your Roku on both bands and see which works best for your household.
About Other Roku Models
Roku has a wide range of products available. Some of them have more features than others.
For example, Roku Premiere Plus, Roku Streaming Stick, and Streaming Stick Plus all have voice control. The Roku Ultra even has gaming controls.
The price tag of these devices also varies. A normal Roku device can be had for next to nothing, while more expensive models can reach prices as high as $200. Below is the current lineup of Roku devices:
Roku Express
Roku Express 4k
Roku Express 4k Plus
Roku Streaming Stick 4k
Roku Streaming Stick 4k Plus
Roku Ultra LT
Roku Ultra
Roku Streambar
Roku Streambar Pro
In addition to the current lineup of Roku products, it's still possible to purchase older versions as well.