Can The Sonos Roam Get Wet? Just How Wet Can It Get?
Sonos has been around for a while and is known for its quality speakers. With the release of the Sonos roam, they have created a waterproof speaker that can be used practically anywhere. Whether you are by the pool, at the beach, or just taking a shower, this speaker will allow you to take your music with you. But how good is it compared to other waterproof speakers on the market? And where is its best place to be used? We'll answer all those questions and more in this article.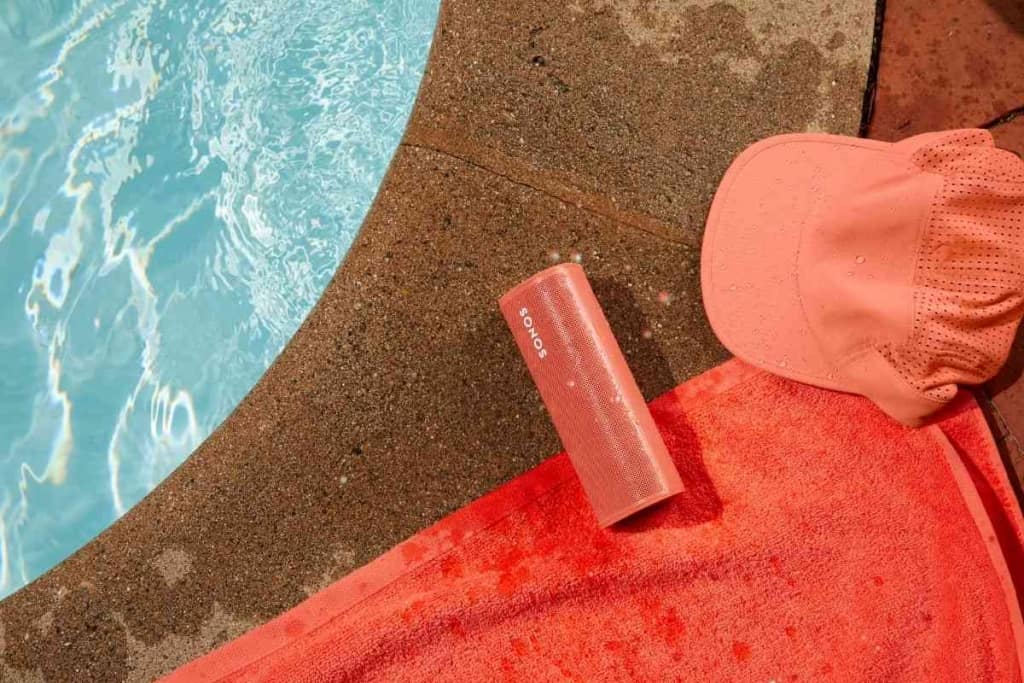 Table of Contents
Is the Sonos Roam waterproof?
The Sonos Roam is a waterproof speaker that can be submerged in up to 3 feet of water, making it perfect for the shower, the pool, or even in the rain. The speaker is also designed to float, so you don't have to worry about it sinking to the bottom of the pool.
The Roam's waterproof design means that you can take it anywhere without worrying about it getting wet. Whether you're by the pool or caught in a storm, your Sonos Roam will keep playing.
The Sonos Roam is a portable Bluetooth speaker that can be taken anywhere, from listening to music poolside to watching TV with your Sonos Roam. It's lightweight and easy to carry, making it the perfect speaker for hikes, picnics, and days at the beach.
And unlike other portable speakers, the Sonos Roam is also waterproof.
It can be submerged in up to three feet of water for 30 minutes before the Sonos Roam will disconnect, making it ideal for use in poolside or wet environments. Whether you're listening to music by the pool or streaming your favorite podcast in the shower, the Sonos Roam can handle it. So go ahead and take your speaker anywhere – with the Sonos Roam, you don't have to worry about getting wet.
Can The Sonos Roam be Used in the Shower
Yes, it can be used in the shower. The Roam is designed to withstand splashing and humidity, so it won't be damaged by exposure to water. Additionally, the Roam's microphone can be turned off to prevent it from picking up unwanted sound when it's not in use.
So if you're looking for a speaker that can go anywhere, including the shower, the Sonos Roam is a great option.
How water-resistant is the Sonos Roam?
The speaker is dustproof and waterproof, making it the perfect choice for using outdoors or in environments where there is a risk of exposure to water or dust. The speaker has an IPX7 rating, meaning it can be submerged in 1 m/3 ft of water for up to 30 minutes.
This makes it ideal for use at the beach, pool, or even in the shower.
In addition, the speaker protects against sweat and fingerprints, making it easy to keep clean. The speaker also features a built-in microphone, so you can take calls hands-free. With so many features, the speaker is sure to be a hit with anyone who wants to enjoy music while spending time outdoors.
Can The Sonos Roam Stay Outside?
The Sonos Roam is a portable Bluetooth speaker that can be used indoors or outdoors. It features a weather-resistant design and a built-in battery that provides up to 10 hours of playback time.
When used outdoors, the Roam can be placed on a table, hung from a tree, or even mounted to a wall using the included mounts. The speaker also has an IP67 rating, which means it can withstand dust, sand, and even water immersion up to 1 meter for 30 minutes.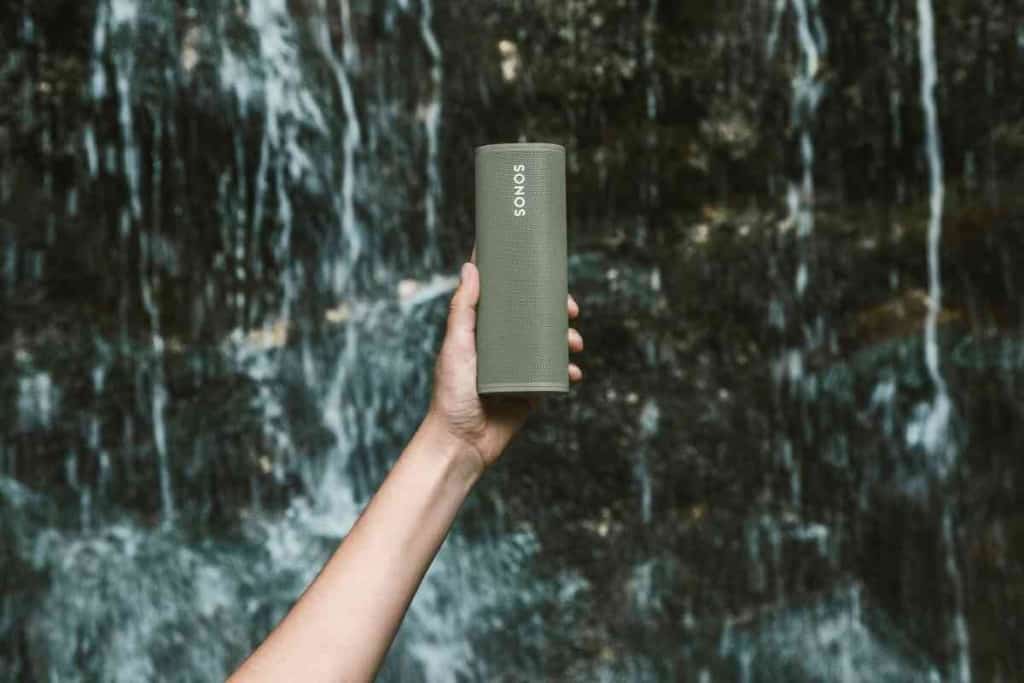 Can The Sonos Move Get Rained On?
Sonos Move has an IP rating of IP56, meaning it is resistant to water such as splashes, rain, and snow. However, it is not waterproof and cannot be submerged or exposed to pressurized water.
For example, if you accidentally drop Move in a puddle or it gets caught in a rain shower, it will be fine. But if you try to use it in the shower or expose it to jet sprays of water, it could be damaged. If you're not sure whether your Sonos product is resistant to water, check the IP rating before using it near water.
Alternative Waterproof Speakers
There are many reasons to choose a waterproof speaker over a traditional one. Waterproof speakers are designed to repel water, so they can be used near bodies of water without worry. They're also great for weather-prone areas, as they won't be damaged by rain or snow.
And if you're looking for a speaker to take on your next camping trip, a waterproof model will stand up to the elements. Some of the most popular waterproof speakers on the market include the UE Wonderboom and the JBL Charge 4.
Both offer superior sound quality and several hours of battery life, making them ideal for outdoor use.
Why Choose A Waterproof Speaker
Waterproof speakers are becoming increasingly popular, and it's easy to see why. Whether you're spending a day at the beach or lounging by the pool, a waterproof speaker can provide the perfect soundtrack for your day.
But there are more than just recreational uses for waterproof speakers. They can also be a valuable tool for anyone who works outdoors or in other wet environments. Construction workers, for example, can use them to listen to music or podcasts while they work, and they can also be used in emergency situations to broadcast alerts or instructions.
In short, waterproof speakers are a versatile and convenient way to enjoy music in any environment.
Connecting A Phone To A Sonos Roam
Connecting your phone to the Sonos Roam speaker is a quick and easy process. First, make sure that your speaker is powered on and in range of your phone. Then, open the Sonos app and tap the "Add a Speaker" button.
Next, select the "Roam" option from the list of available speakers.
Finally, follow the prompts on your screen to complete the connection process
Once your phone is connected to the speaker, you can control the volume, playback, and other functions using the app.
For best results, keep your speaker updated with the latest firmware by tapping the "Settings" button in the app and selecting "Update Roam." Doing so will ensure that you have access to all of the latest features and bug fixes.
Turning The Sonos Roam Speaker On and Off
Before you can use your Sonos Roam speaker, you need to turn it on. To do this, press and hold the Power button for 3 seconds.
Once the LED indicator light turns on, your speaker is ready to use. Suppose you need to turn off your Sonos Roam speaker, press and hold the Power button for 3 seconds. The LED indicator light will flash three times before turning off, indicating that the speaker is powering down.
You can also put your Sonos Roam speaker into standby mode by pressing the Power button once. The LED indicator light will turn orange, indicating that the speaker is in standby mode.
To turn the speaker back on, simply press the Power button again.