Can You Upgrade Oculus Quest 2 Storage with An External Drive?
Users of the Oculus Quest 2 love to play many games and therefore need a lot of storage. So, can you upgrade Oculus Quest 2 storage with an external drive? When you are shopping and looking at the different Oculus Quest 2 virtual reality headsets that are available on the market you may notice that there are two distinct options. There is the Oculus Quest 2 with 128GB of storage and the Oculus Quest 2 with 256GB of storage. The 128GB Oculus Quest 2 retails for somewhere around $300 whereas the 256GB version retails for around $400. If you are considering purchasing the cheaper 128GB and then using an external hard drive to increase its storage capacity, think again.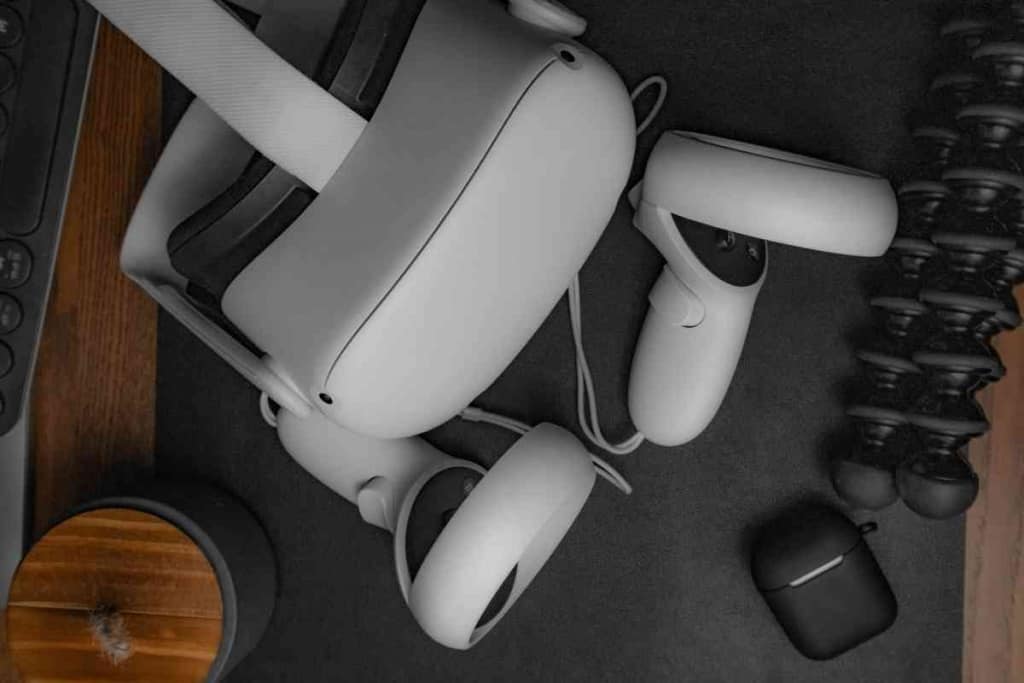 Table of Contents
Can you use an external hard drive for extra storage on an Oculus Quest 2?
The Oculus Quest 2 is not made to support any form of external storage including external hard drives and microSD slots. Therefore, if you think you are going to need as much storage space as possible, then it is highly recommended that you simply purchase the 256GB Oculus Quest 2.
According to many Oculus Quest 2 owners, 256GB should be enough storage space for anywhere from 20 to 50 games depending on the types of games you play and their file sizes. When it comes to movies, each MP4 movie file can be anywhere from 9GB to 15GB in size.
That being said, it is still good practice to delete games and movies that you no longer need to maintain a good amount of open storage space. By continuously deleting unused games and movies, the 256GB Oculus Quest 2 may provide more than enough space for your needs and the 128GB version may also be sufficient at a smaller price point.
If you are trying to decide whether you should purchase the 128GB or the 256GB Oculus Quest 2, you are not alone. The idea of never being able to upgrade the device's storage capacity is worrisome for many potential users.
Let us look at the key differences between the 128GB and the 256GB model as well as what some of the file sizes may look like for some of the most popular games and apps available to the Oculus Quest 2. Also, let us discuss some of the ways that an Oculus Quest 2 owner may be able to maximize their storage capacity whether they purchase the 128GB or 256GB Oculus Quest 2.
Differences between the 128GB and the 256GB Oculus Quest 2
The main difference between the 128GB Oculus Quest 2 and the 256GB Oculus Quest 2 is the storage capacity. Other than that, the two different virtual reality headsets are pretty much the same. Both of these models of the Oculus Quest 2 do not have the option to increase storage capacity through an external device like an external hard drive or a microSD card.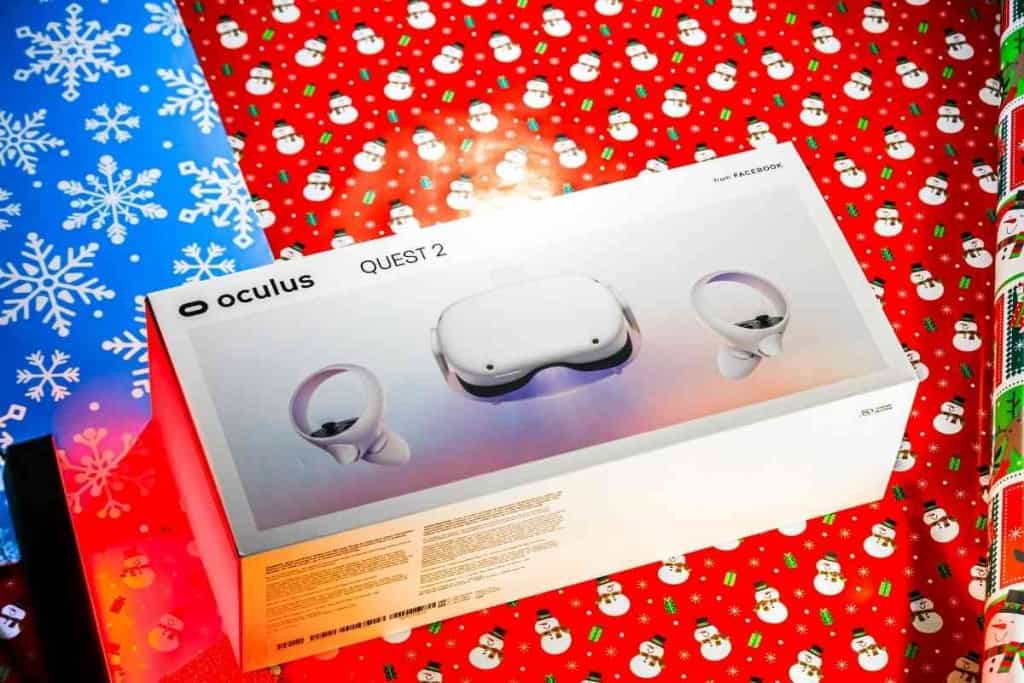 128GB Oculus Quest 2
Before the 128GB Oculus Quest was released, the 64GB Oculus Quest 2 was the base model until it was discontinued and replaced with the 128GB headset.
However, although you can still store a good number of games and movies with 64GB, Oculus decided to simply create a 128GB and sell it at the same price as the 64GB model. The 64GB and the 128GB Oculus Quest 2 are identical aside from the difference in storage capacity.
Since the Oculus Quest 2 64GB has no way to upgrade the storage capacity, some users were frustrated that would have to spend another $300 to $400 to purchase a whole new headset simply to increase their storage capacity.
The 128GB Oculus supports all the same features, games, and apps as the 64GB and the 256GB Oculus Quest 2. The 128GB model is also about $100 cheaper than the 256GB model.
256GB Oculus Quest 2
For gamers and movie buffs who are planning to use their Oculus Quest 2 frequently with dozens of games and apps and several full-length movies downloaded at a time, then the 256GB is a must-have for only an additional $100. The extra $100 in cost upfront is worth not having to worry about storage capacity.
That being said, the 256GB still only holds 20 to 50 Oculus games, so depending on which games you download and how big their files are, you still may not be able to have all of your favorite games downloaded and installed at the same time. However, if you happen to smoke through 256GB of storage, that is quite an impressive feat.
You will then need to simply delete games and movies that are not in use in order to make room for the new game, app, or movie that you are looking to download and install.
The 256GB Oculus Quest 2 retails at around $399 whereas the 128GB virtual reality headset is closer to $299.
How to maximize storage capacity for the Oculus Quest 2
The first way that many users of the Oculus Quest 2 maximize their storage space on their devices is they manage their hard drives proactively
This means always checking for apps and games that you are either done with or that you hardly use. Once you complete a game from start to finish, consider deleting it to make room for new games and apps.
The same concept goes for movies. Each MP4 movie file can take up as much as 9GB to 15GB each. Once you are done with a movie, delete it to make room on your hard drive.
Second, many owners utilize the Oculus Link Cable to increase storage capacity as well as to greatly enhance the overall Oculus Quest 2 experience. The Oculus Link Cable is just one of several accessories that are available for purchase for the Oculus Quest 2.
The Oculus Link cable allows users to connect the Oculus Quest 2 to their PCs to access games available for the Oculus Quest 2 on PC through software like Steam.
Additionally, the linking of the headset to the PC allows the user to utilize the storage capacity on the computer in addition to the storage capacity of their headsets.
File sizes of the most popular Oculus Quest 2 games
If you are not an experienced Oculus Quest user, then you may want to do some research about what games have proven to be the most popular over time and how much space these games can take up. There are many games that would be considered the "classic" Oculus Quest 2 games.
These games have titles like Beat Saber and Pistol Whip. These classic-style Oculus Quest 2 games typically have a file size of around 643GB.
Other popular games like Echo VR and Rec Room may have file sizes closer to 1GB or 1.6GB, respectively. The largest game file size available for the Oculus Quest 2 goes to the game Walking Dead Saints and Sinners.
This Walking Dead game is extremely popular, however, it takes up over 8GB of storage space alone.
So, keep in mind if you are looking to download some of the most advanced games with the best graphics, long story modes, and large interactive gameplay worlds, then you may not be able to download as many games as you would suspect, especially if you choose the 128GB model.
That being said, if you have a good mix of smaller classic games like Pistol Whip with larger games like the Walking Dead, you should still be able to download and install a good number of games to keep you entertained for days.
Just remember, it is best practice to delete any games, apps, or movies that you do not need anymore.