Can You Use Airpods With An Apple Watch Without An iPhone?
You're ready for your morning run but forget to bring your iPhone. Being an Apple enthusiast, you still have your Apple Watch strapped and ready, but will you still be able to listen to your morning workout music with just your Apple Watch and your Airpods?
Do you need your iPhone to use your Apple Watch with your Airpods?
Can You Use Airpods With An Apple Watch Without An iPhone?
You can use your Airpods with your Apple Watch without your iPhone nearby. However, if you want to stream music, you're going to need an available Wi-Fi connection. While you might be able to get away with this at a gym with free Wi-Fi, you likely won't be able to stream any music while on a run outdoors.
Your Apple Watch can do a lot of things when it is connected to Wi-Fi.
From sending and receiving messages to streaming music, the Apple Watch is multi-functional.
And the best part is, you can do those things even when you do not have your iPhone with you.
The catch is that you need a wireless or cellular connection to be able to do those things.
At least pairing the Apple Watch with your Airpods or Airpods Pro is easy.
You just need to make sure that your Airpods have previously been paired with an iPhone or the iPad that you have linked to your iCloud account.
If this sounds intimidating, it really isn't – at least, not once you get used to using these Apple devices together.
Apple has made these products to be used together without too much pairing effort involved on your part.
As long as your device has the W1 or H1 chip, then you should be good to go.
Just how do you pair your Airpods to your Apple Watch anyway?
Is there a way to manually pair them if they have problems pairing automatically?
What happens if you get too far away from your iPhone while using your Airpods with your Apple Watch?
Can you download songs onto the watch itself?
Read on to get your questions answered.
Pairing Airpods to an Apple Watch Via an iPhone or iPad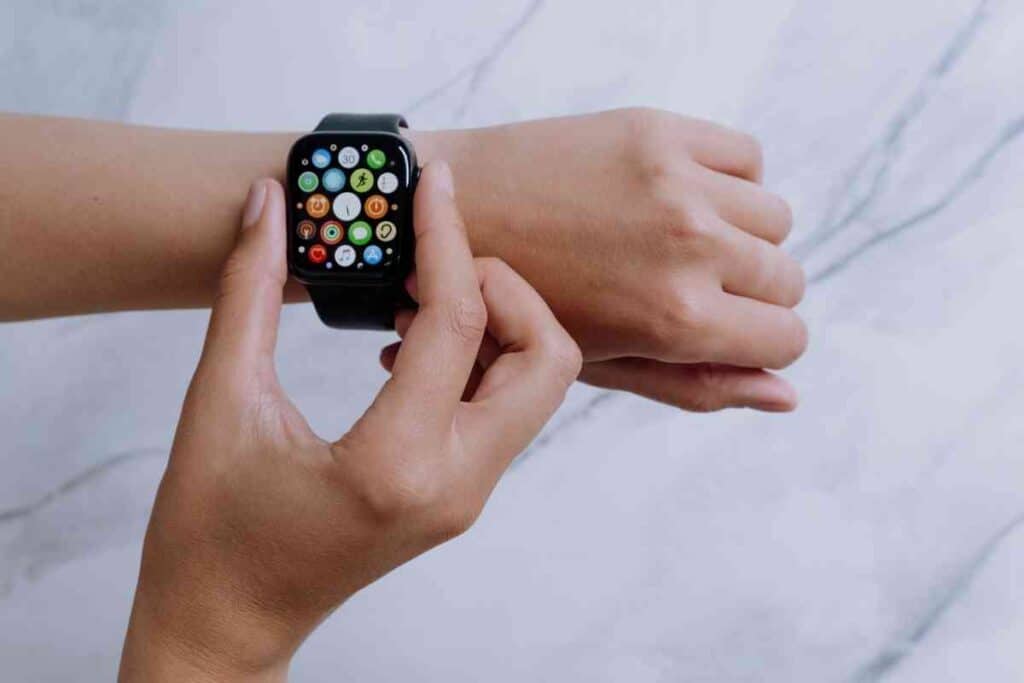 Airpods are usually able to easily pair with an iPhone or iPad when they are placed next to each other.
You will have to place them next to each other when you pair them for the first time.
You will also have to follow a series of steps in order to pair your Airpods to your Apple Watch.
First, using the instructions that come with your Apple Watch, put it into pairing mode.
On your Apple Watch, tap Settings, then go to Bluetooth.
This prompts your Apple Watch to search for any nearby Bluetooth accessories.
Locate your Airpods and select them.
If it asks you to do so, enter your PIN or passkey.
Manually Pairing Your Airpods to the Apple Watch
Are you having trouble pairing your Airpods with your Apple Watch? They don't always automatically pair, so you might have to manually attempt it.
To do this, start by looking for the airplane icon on your watch's face.
If you see it, this means Airplane Mode is on.
You'll want to turn it off by tapping Settings, then Airplane Mode.
If your device is fully charged and powered on, and you are also able to see your Airpods in the Bluetooth area of your Settings but have no connection, unpair the accessory.
To unpair them, tap Settings, then Bluetooth.
Then click the Information (blue I inside of a circle) button next to your accessory.
Hit Forget Device.
Now, try re-pairing your Airpods again.
Why You Need a Wi-Fi Connection
You will need a Wi-Fi connection to do any music streaming if you decide to leave your iPhone in the car at the gym.
Without it, you cannot access those streaming services.
If you are out of range of your iPhone, then you won't be able to use its cellular connection to access audio streaming.
Downloading Songs Onto the Apple Watch
Your Apple Watch will have a set amount of GB available for music storage, so it is possible to download music onto your watch.
You simply just select the Apple Watch app (and, yes, you are not required to use iTunes) to pick which playlist or podcast you want locally synced onto your Apple Watch.
The amount of GB storage you have will depend on which Apple Watch you own.
Here's a breakdown of how much internal storage comes with each Apple Watch:
Apple Watch original series – 8 GB
Apple Watch Series 1 – 8 GB
Apple Watch Series 2 – 8 GB
Apple Watch Series 3 – 8 or 16 GB (GPS + cellular)
Apple Watch Series 4 – 16 GB
Apple Watch Series 5 – 32 GB
Apple Watch Series 6 – 32 GB
Apple Watch SE – 32 GB
As is probably fairly obvious, the newer Apple Watch models carry much more internal storage, allowing you to locally sync more songs and podcasts.
Closing Thoughts
Using Airpods with your Apple Watch without an iPhone or iPad nearby is possible, but you either have to have a strong Wi-Fi connection available or already have your audio synced onto the watch.
If you have one of the newer Apple Watch models, you can fit a decent amount of songs and podcasts onto your Apple Watch.
So sync up that favorite playlist and enjoy that jog down the trail or hike in the woods without your iPhone weighing you down.