Are Airpods Good For Phone Calls?
When you're on the go, Bluetooth quality matters.
Your ability to have clear phone conversations with clients, business associates, bosses, friends, and family can be either helped or hindered by Bluetooth technology.
Using Airpods can help you communicate more clearly with whoever is on the other end of the line. But are AirPods good for phone calls and worth all the hype?
Are Airpods Good For Phone Calls?
Airpods are good at producing clear sound quality, making them ideal for taking phone calls while on the go. They are often clearer than Bluetooth in cars, and they don't drop out too much. While battery life might be impacted, there are a lot of advantages to using Airpods for phone calls.
AirPods are durable are made to work well with your iPhone and have good sound quality overall.
The thing you need to be aware of is how their battery life is impacted by phone calls.
A phone call could cut the battery life almost in half, prompting you to need to charge the Airpods again – hard to do when you're on the go.
But the good news is that Airpods have a rapid charge to them.
So, when you do have to use them for phone calls, you can charge them right back up in the case afterward.
That's a considerable advantage over other wireless Bluetooth earbuds that need more time to charge.
Of course, you're probably looking for noise-canceling capabilities if you're going to use the Airpods for phone calls.
Let's take a look at how you can maximize your Airpods' capabilities to handle phone calls without a lot of outside noise interference and go over why they are actually quite excellent for handling phone calls.
What makes Airpods' sound quality so special? And how do you use them for phone or Zoom calls?
Are Airpods Max better at handling calls than the standard Airpods or Pro?
And how do you troubleshoot when Airpods aren't working with phone calls? Read on to find out.
Do AirPods Have Good Sound Quality?
Sound quality is going to vary based on which Airpods you own.
If you own the first generation, it might not sound as clear.
Also, it wasn't until the Pro version came out that Apple equipped the Airpods with active noise cancellation – something beneficial to have when you are on the phone.
Take note that standard Airpods do not seal into the ear, which detracts from the sound quality.
You won't hear the same amount of detail or clarity because background noise seeps in and distracts the brain.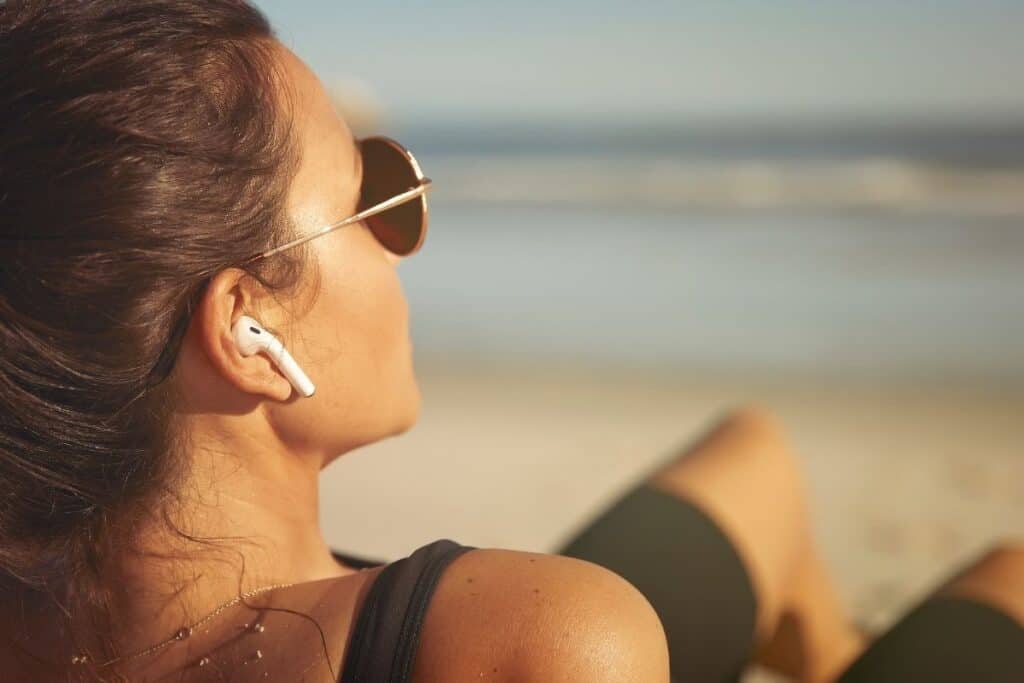 How Do You Make Calls Using AirPods?
Making a call using the Airpods is relatively simple.
If you have the first generation, you can make a call by double-tapping either of your AirPods (which will activate Siri), wait until you hear a chime, then make your call.
On the second generation, just say "Hey, Siri" and tell Siri who you want to call.
You can double-tap either of your Airpods to accept or end a call.
Can You Use AirPods For Zoom Calls?
Airpods can be used on Zoom calls, and Airpods Pro or Max are especially helpful since they have active noise canceling.
You'll want to ensure that they are connected to the device you'll be using and disconnected from any others in order to avoid interference.
Are Airpods Max better at handling phone calls?
AirPods Max don't produce much in the way of audio distortion.
They also come with transparency mode and active noise cancellation, which is a major bonus.
And, with Bluetooth 5.0, they have quite the connection strength.
But they are, of course, a lot pricier than the standard Airpods and will cover the entirety of your ears.
What if my Airpods aren't working with phone calls?
If your Airpods aren't working with your phone calls, you're going to need to try a few troubleshooting methods.
The first is to modify the call audio output. This involves going to the phone screen > audio then selecting your Airpods from the devices list.
If you don't see your Airpods listed, it is because they aren't paired with the phone.
You'll need to long-press the Bluetooth icon in the Control Center to check for a connection.
You'll also want to check the volume on your Airpods, re-enable Bluetooth on your iPhone, or even reset the Airpods.
You might even need to wipe the wireless networks clean and reset them.
In some cases, users have had to disable Bluetooth access for a particular app – the Tile app in particular – in order to get the Airpods working for phone calls again.
Closing Thoughts
Airpods, Airpods Pro, and Airpods Max are all good choices for use with phone calls on your iPhone.
Active noise cancelation is a big-time bonus on certain models, but they all have decent enough sound quality for use during phone calls.
Just remember to keep them charged up since phone calls are known for depleting Airpods batteries.