Can You Use AirPods Without Your iPhone?
This post may contain affiliate links. As an Amazon affiliate, I earn from qualifying purchases.
AirPods are a bit expensive. They aren't the most expensive earbuds on the market, but at $150 they are well above the price range that demands extra device compatibility. After all, they can't be among the top Bluetooth earbuds in the market if they do not work with devices other than Apple's products, right?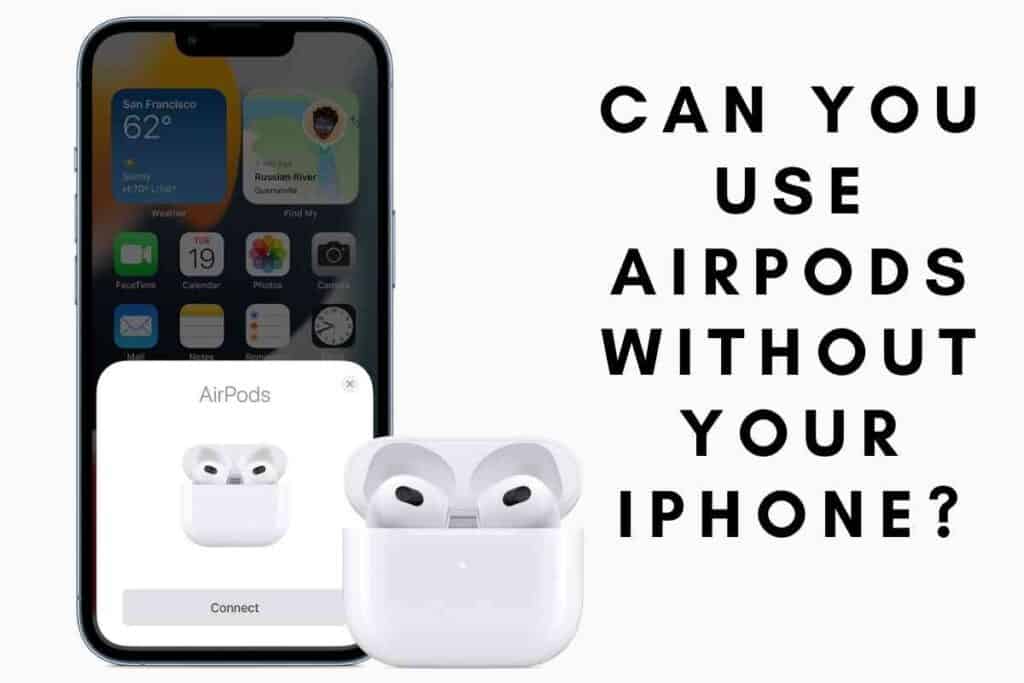 If this article has piqued your curiosity, you'll definitely want to check out "Can You Use Airpods With An Apple Watch Without An iPhone?" and "Do AirPods Need the Case to Work?" They're real eye-openers, I promise!
Can I Use AIrPods without My iPhone?
AirPods are one of Apple's most cross-compatible devices yet. Not only can AirPods be paired with other Apple products besides your iPhone 8 (or later), like your Apple Watch and your iPad but they can also be paired with Android devices, Windows devices, and with a bit of tinkering, Linux devices.
AirPods are arguably the most cross-compatible device Apple has ever made.
They were made to take advantage of Apple-specific functions and features, but they are also among the best-quality Bluetooth earbuds on the market. 
However, the specific details are determined by how you want to take advantage of your AirPods.
This question is commonly asked about listening to music, podcasts, and videos on the go or during a workout without carrying a tethered device.
Unfortunately, you will need something to pair your AirPods too. 
It doesn't have to be an iPhone, though.
Fitness-minded individuals may find it interesting that AirPods can be paired directly to an Apple Watch without the need for iPhone to manage the connection.
This allows AirPod users to have a more exercise-friendly setup.
The only downside is that the Apple Watch has a very limited amount of storage.
This combination works best with an LTE-enabled Apple Watch.
For those wondering if they can use AirPods with their Samsung Galaxy, Surface Duo, or another Android device, the answer is yes.
These smart devices can be paired with AirPods, but you will no longer have Apple-specific functions or accurate battery tracking if any.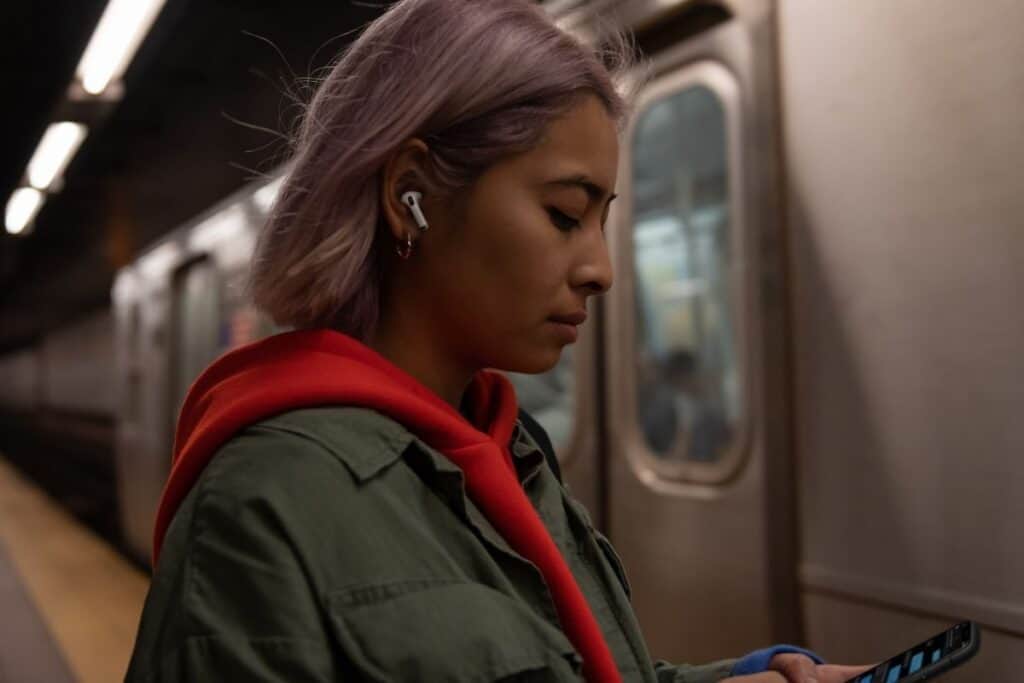 AirPod Compatible Devices
As stated above, AirPods are Apple's most cross-compatible product ever. They can be paired to every Apple product as well as Linux, Android, Windows, and Chrome OS devices.
Apple Products
iPad Air, iPad Pro, Apple Watch, iPod, MacBooks, and iMac desktops can use AirPods through Bluetooth. 
These devices can take advantage of the audio drivers in the AirPods without losing functionality like checking on your AirPod's battery life.
These devices also manage and recognize the difference between the right earbud and left earbud better than non-Apple devices.
Pair With Apple Devices
Pairing with Apple Devices is straightforward.
After pairing to your iPhone, your Apple devices can share connections.
However, you can also enable manual connections through Bluetooth settings on the device you wish to connect to. iPad Airs, iPad Pros, and iPod Touches connect to AirPods using the same method used to connect to an iPhone. 
On an iMac or MacBook, select the AirPods from the available audio devices by clicking on the sound icon in the menu bar. 
If they do not appear on the devices list, go to Bluetooth in System Preferences to add them to your Mac OS device.
Chrome OS, Android and Windows
Apple has long owned the reputation of being unfriendly to devices outside of the Apple ecosystem.
There are very few exceptions to this rule such as iTunes and now AirPods.
AirPods work through a Bluetooth connection, meaning that any device with Bluetooth capability and the ability to output audio can use AirPods. 
This is an excellent feature for earbud fans with Android devices.
It also allows for Apple's earbuds to be used with Windows PCs and Chrome OS.
To pair to any of these devices, you'll follow a familiar Bluetooth connection method for every Bluetooth device. 
First, navigate to your device's Bluetooth settings menu.
This can be achieved quickly for Android by holding the Bluetooth icon in the notification menu. 
For Windows, you can click the Bluetooth icon in the menu bar.
Make sure your AirPods are in pairing mode.
Open the AirPods case with the earbuds still placed inside it.
Then press and hold the button on the back of the case.
The white light on the charging case will begin flashing when it is in pairing mode.
Now, on the Android, ChromeOS, or Windows device you want to pair to, click the "add Bluetooth device" option.
Your AirPods should appear on the list of available connections. Click "pair".
That's all there is to it.
Feature Loss
When using AirPods with non-Apple products, you will not be able to receive an accurate battery measurement or use Siri.
However, the tap, double-tap, and long-press gestures still work to control audio playback.
Conclusion
AirPods can be used with just about any modern smart device with an audio output. It's just as straightforward as connecting any other Bluetooth device. After a short time going the pairing mode tango, you'll be working in no time. You'll likely find yourself no longer needing to pair and unpair at all. 
FAQ
Can I use my AirPods with phones other than iPhone?
Yes, you can. AirPods are compatible with most modern devices and operating systems including Chrome OS, Windows, and Android.
Why can't I see how much battery my AirPods have left?
When you pair Airpods to devices other than Apple products, you won't be able to see the remaining battery life of the earbuds or the charging case.
This is because Apple uses proprietary battery management software that no other company is given access to.
Can I listen to music on my AirPods without carrying anything else?
Unfortunately, you will need some sort of device to tether your AirPods for them to work. If you want to minimize how much you are carrying on your person, you should consider purchasing an LTE-enabled Apple Watch.