How Do You Get U2 Off Your iPhone Permanently?
This post may contain affiliate links. As an Amazon affiliate, I earn from qualifying purchases.
A couple of years back, Apple came up with an impressive idea to give U2's album, "Songs of Innocence," to all iPhone users for free. The music suddenly ended up on 500 million iTunes accounts, triggering a backlash. If you've recently discovered the U2 album on your iPhone, you might want to get rid of it. So how do you get U2 off your iPhone permanently?
To rid yourself of U2, open iTunes and sign in with your Apple ID. Tap the Home icon, then select "Purchased" from the Quick Links menu. Tap Music, find the album, and delete it. Alternatively, open the Music app, locate U2's "Songs of Innocence" from the song list, and delete it from your library.
You can easily remove the U2 album from your iPhone's storage or your iTunes library. Let's take a look at each method so you can figure out which one works best for you.
How Do I Remove "Songs of Innocence" From My iPhone?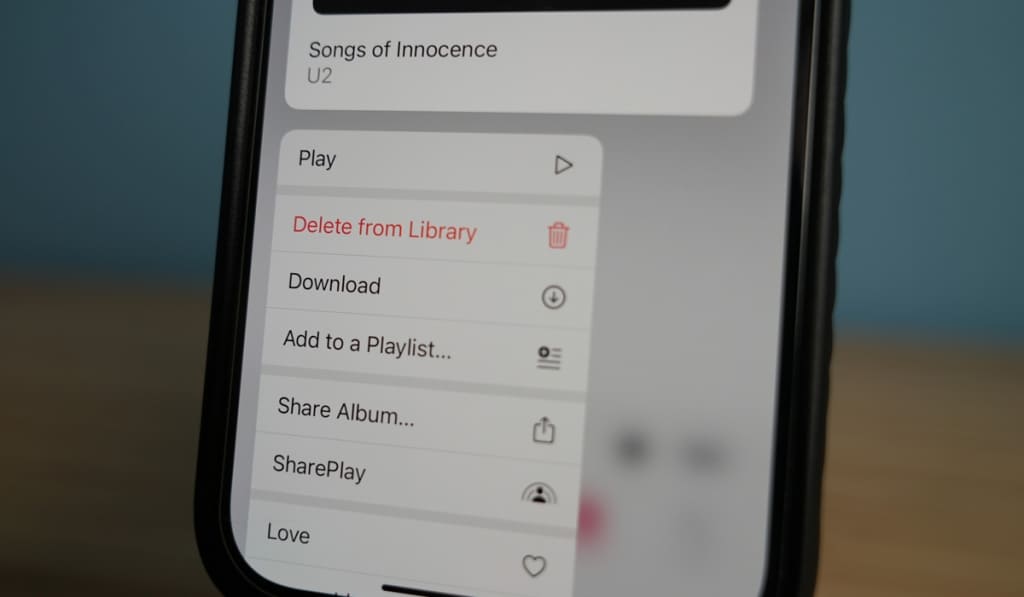 Curiously, you may find the U2 album still sitting on your iPhone despite Apple lifting it years ago. And for some wild reason, it may take a bit of a process to remove it from your iTunes library.
Please note that you won't get the album back for free once you remove it, as it's not part of your purchased items. The only way you'll stream it wherever you want is if you have Apple Music.
Here's how to remove U2 from your iPhone completely:
Open iTunes on your iPhone and sign in with your Apple ID. You can also install iTunes on your PC and follow the next steps.
Once you're in iTunes, tap the "Home" icon, then tap "Purchased" from the Quick Links section you see in the sidebar.
Tap on "Music," find U2's "Songs of Innocence" from the list, and delete it. The album should vanish completely within a second or two.
While you'll get confirmation that you've removed U2 from your library, you may find it's still there after following these steps.
In that case, follow these steps:
Open your Settings app, select "Music," and toggle off the "Show Apple Music" button.

Toggle it back on and restart your iPhone.

Alternatively, you can do the trick by signing out of your iTunes account and signing back in.
You can also delete the album from the Music app as follows:
Open Music and locate U2's "Songs of Innocence."

Tap the "More Options" icon. That's the circle with three dots.

Select "Delete from Library" to remove the album completely.
How Did a U2 Album Get On My iPhone?
In 2014, Apple announced that it would give 500 million iTunes users U2's latest album by downloading it automatically to their iTunes libraries. While this sort of generosity didn't thrill everyone, U2's "Songs of Innocence" soon began appearing unannounced on people's iPhones.
It all began with Apple hosting an event to debut the 8th generation of iPhone, the iPhone 6, set to launch later that month. To spice up this particular event, Tim Cook, Apple's CEO, invited U2 to perform "Songs of Innocence" on stage.
Apple's annual iPhone events had grown to become major cultural gatherings, and it was Cook's idea to have the band perform a song from their not-yet-released 13th album.
Following the performance, Bono, U2's frontman, asked Cook how they'd get the song to as many people as possible, to which Cook wittily answered, "Well, you know, we do have iTunes."
As it turns out, Cook later explained that each of the then half a billion iTunes accounts users would instantly get the U2 album on their accounts — no action required on their part, and certainly no consent.
According to Apple, 33 million iTunes users accessed the album within the first week of its release, either by streaming it, downloading it from iCloud, or listening to it from iTunes.
Following the surprise release, Eddy Cue, Apple's senior Vice President of services, told Billboard that "Songs of Innocence" had earned 26 million complete downloads. He added that 81 million Apple customers had listened to the album in some capacity.
While many U2 fans welcomed this disruptive move with much relish, most iTunes users were baffled, upset, or concerned that an album they didn't purchase automatically ended up on their personal devices.
How Much Money Did U2 Make Through Apple?
Apple reportedly spent $100 million in a promotional campaign for U2 after the band agreed to have "Songs of Innocence" auto-downloaded to iTunes accounts for free.
Aside from the handsome fee, many people would argue that U2 got a wider exposure than the band's albums would typically get. But in all honesty, the fruits of Apple's disruptive move to help the band grow a wider audience are yet to be seen.