Is Harman Kardon Better Than Bose?
Bose and Harman Kardon are some of the biggest names in the audio industry. They are both popular for their noise-canceling headphones and their auto audio systems. You will never go wrong with any of these two brands, but are they all the same?
Is Harman Kardon Better Than Bose?
Harman Kardon is better than Bose in portability, affordability, range of colors available, bass production, and requirement for space. On the other hand, Bose is better than Harman Kardon in connectivity options, durability, additional features, and applications.
There are so many features and factors that make these two speakers the same. For instance, the audio quality offered by both speakers is almost the same.
Below, I created a head-to-head comparison of these two speakers to help you pick the best among them.
How Does Harman Kardon Differ from Bose in Design?
Harman Kardon has some speakers that are heavier and bigger than Bose speakers, but they are more portable than Bose speakers. They come with an aluminum handle that make them easy to carry anywhere you go. On the other hand, the Bose speakers are in the form of slim cylinders that you can grasp with ease.
Both speakers look great on your table or wherever you place them. The Harman Kardon speakers, however, is available in several color options and more deigns than the Bose. If you consider looks after the sound quality, you might go with the Harman Kardon.
Setup and Controls
Bose is more advanced when it comes to controls and setup. Both speakers have a set of controls, but Bose has extra multifunction buttons to give you more control of your speaker. If you press the multifunction button, it allows you to access Google Assistant or Siri or even answer phone calls.
There is a mic right next to the multifunction battery that you can use when you need to make a call. Some of the Bose speakers such as the Soundlink Revolve are not smart speakers, but they have interesting features to give you a good audio experience.
Harman Kardon has a set of controls on its top part. There is a light that shows when the device is powered on and that is all you get. However, the buttons are raised up nicely, making them easy to use. The design is very minimalist and the speaker may even look like a fancy ornament.
Bose also comes with an app, the Bose Music App. The app allows you to switch between Bluetooth speakers, and you can also choose between the Party and Stereo Mode. You can pair several speakers to your smartphone through the app.
Does Harman Kardon Offer Better Audio Quality Than Bose?
If you need a bass-heavy speaker, the Harman Kardon will serve you better. The Harman Kardon speaker produces a huge bass at low volume, but when you turn it up, the bass reduces slightly. For some music genres, the bass might be overbearing, but if you love modern music such as pop and hiphop, you will love the booming sound that Harman Kardon offers.
For those who love music with more instrumentation, the Harman Kardon's bass may be overbearing. The powerful bass production is in the tweeter and woofer combination. Bose only has a full-range transducer, which may not be as powerful as what Harman Kardon offers, but it offers depth and clarity.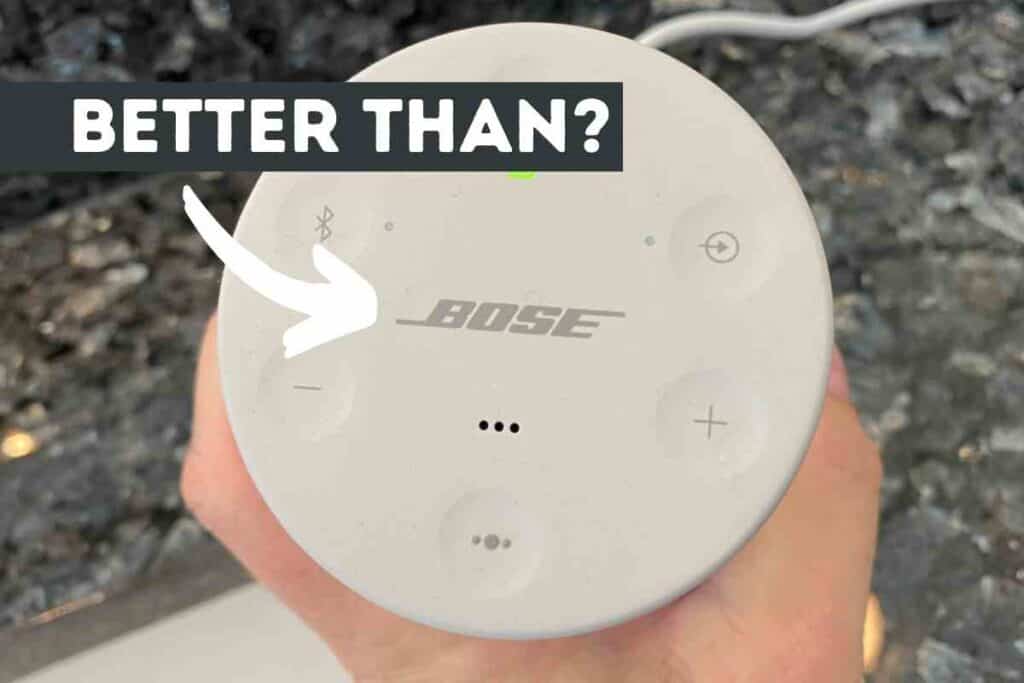 With a Bose Bluetooth speaker, you can clearly make out the voices and the instruments even at high volumes. At low volumes, the Bose speaker is also clear too, and, especially considering its small size.
You can pick any of the speakers depending on what you need. If bass is what you need, go for Harman Kardon, and if clarity and crispness is your thing, go for a Bose speaker.
Battery Life
The Harman Kardon speakers are a bit large and you'd be disappointed that the batteries only last about eight hours when the volume is about 50 percent. If you turn up the volume to 100 percent, the battery lasts a meager four hours. On the other hand, the Bose speakers can last up to 12 hours with the volume halfway up and a few hours less long with the volume all the way up.
Better still, Bose speakers charge faster at about four hours while the Harman Kardon speakers charge in five hours. If you use the speakers indoors, the battery charging time and runtime will not matter much as they both offer impressive hours. However, if you take your speaker on a trip, you will consider even the minor differences between them.
Key Features
Bose
Bose has more features than Harman Kardon and this makes it more convenient for most people. The manufacturer uses advanced noise cancellation technology in its headphones and its speakers give clear and crisp audio. Their use of psychoacoustic principles means that the speakers sound better when you are listening to it.
The Bose sound systems balance bass with the sound and treble. When creating the speakers, the manufacturer focuses on "listener's perception," which means they will create the best audio quality that the users want to hear. They use transducer and frequency response, among other features to create a speaker that people want to listen to.
You will enjoy better connection with Bose speakers, thanks to the 'guide and constrict' of waves that the speakers use. This is a waveguide speaker technology that allows you to enjoy better connections. You can also use the speaker in multiple rooms, and you can also pair it with different versions of Bluetooth.
Harman Kardon
Produced by Harman International Industries, a branch of Samsung Electronics, Harman Kardon aims are offering the best audio quality and the best design without adding any costly features. A few speakers from Harman Kardon may cost more than Bose, but generally, Bose speakers are more costly.
Instead of several features and apps, Harman Kardon focuses on audio quality and design and this allows them to produce speakers that meet a variety of budget ranges. There are several audio devices under their name, including Bluetooth headphones and speakers.
The designs are diverse and available in several colors to match the décor of any home. Like Bose speakers, Harman Kardon also offers balanced bass and treble, but the bass is more if you need to play modern hip hop music.
Harman Kardon is the producer of Dolby Digital receivers, which offer 5.1 channels. They also have the noise-canceling technology that give you a great audio quality at all times. One thing that makes Harman Kardon popular is that major auto brands trust their audio systems.
They make equipment for automakers such as BMW, Audi, and Land Rover. Harman Kardon has also partnered with Microsoft and Apple to create the Cortana and iSub 2000 respectively.
Connectivity and Streaming
Both Bose and Harman Kardon speakers can connect to Bluetooth devices. Some of their models can connect to other devices through WiFi, but some models are only Bluetooth enabled. Bose uses Bose Connect+ to connect its speakers to other devices over WiFi.
Harman Kardon, on the other hand, has Bluetooth and WiFi connectivity features with some models only allowing Bluetooth connectivity.
Bose supports a host of streaming services, including Spotify, Pandora, SiriusXM, play, Deezer, RadioPlayer, iHeartRadio, TuneIn and Amazon Music. Harman Kardon is compatible with streaming services such as Spotify, Deezer, ShoutCast, Google Play Music, iHeartRasio, Pandora, and TuneIn.
You can also connect the two speakers with audio jackets and USB cables when wireless connectivity is not available. This is a plus for you.
Durability and Longevity
Bose speaker have a metal grille covered with a cloth material. The metal grill makes the speaker resistant to impact in case the speaker falls, making the speakers highly durable. Bose doesn't change their materials very often and so most of their speaker models have the same material quality.
Harman Kardon speakers have different materials, including high quality plastic and some even have aluminum construction. The handle in most of the speaker is made of aluminum to make the speakers easier to carry and enhance their durability.
The consistency of Bose means that you can trust its speakers more than you can Harman Kardon.
Closing Thoughts
Which speaker should you go for between Harman Kardon and Bose? These two brands have several Bluetooth speaker and headphone brands. You can choose based on your needs and your preference.
If you need bass, Harman Kardon clearly wins, but if you need clarity of sound, Bose clearly wins. You can compare their models one by one and see which one meets your needs and your budget.
If you are shopping for a speaker on a budget, Harman Kardon speakers are more affordable for you – but not all Harman speakers are affordable. If you are looking for a small speaker that you can carry in a small case, most Bose speakers will meet that need with ease. For someone looking for a speaker to match any interior décor, the Harman Kardon is your go-to speaker.
You might also want to check out the accessories available for each of the speakers, including cases, replacement batteries, and many others.