How Do I Share My AirPods With My Phone?
This post may contain affiliate links. As an Amazon affiliate, I earn from qualifying purchases.
The comfort of watching videos on TikTok, Instagram, or YouTube with AirPods is unparalleled.
Until a video makes you let out a gut-busting laugh and you just have to share with someone around you.
Now, you have to turn your headphones off or disconnect to share the video.
What if I told you, you can just have your friends connect to your iPhone with their AirPods? You can both listen at the same time without competing with the noise of the environment around you.
How Do I Share My Phone's Audio To Someone's Else's Airpods?
To share audio with a second set of Airpods, open the quick Control Center and tap Now Playing then the AirPlay icon. Tap Share Audio and, if the second device is nearby, compatible, and discoverable, its name should be listed on your screen. Tap Share Audio again and you should now both be connected. 
When iOS 13 launched, Apple introduced a new feature called Audio Sharing.
You can use the AirPlay controls to let other people connect their AirPods to your iPhone for shared experiences.
You'll need to have an Apple device with iOS 13 or later that supports at least Bluetooth 5.0 to use it.
To make it simple, here's a list of devices that can Audio Share:
iPhone 8 or later
iPad Pro 12.9-inch(2nd generation) or later
iPad Pro 11-inch
iPad Pro (10.5-inch)
iPad Air (3rd generation)
iPad Mini (5th generation)
iPad (5th generation) or later
iPod touch (7th generation)
Of course, you'll also want to have an audio device that will work with Audio Sharing.
AirPods Max, AirPods Pro, and AirPods (1st generation) or later are all compatible with this feature.
What you might not be aware of is that so are these Apple Bluetooth headphones:
Powerbeats
Solo Pro
Powerbeats Pro
Powerbeats3 Wireless
Beats Solo3 Wireless
Beats Studio3 Wireless
BeatsX
Beats Flex
It's not quite every pair of headphones your friends may own.
Apple chose only to add support for this feature to products within the Apple ecosystem.
With Beats additions, that's not an insignificant amount of devices, but it is a targeted market.
If you're using Samsung Galaxy Buds, JBL, J-labs, or any other Bluetooth headphone brand, you'll have to buy a new pair from Apple to participate.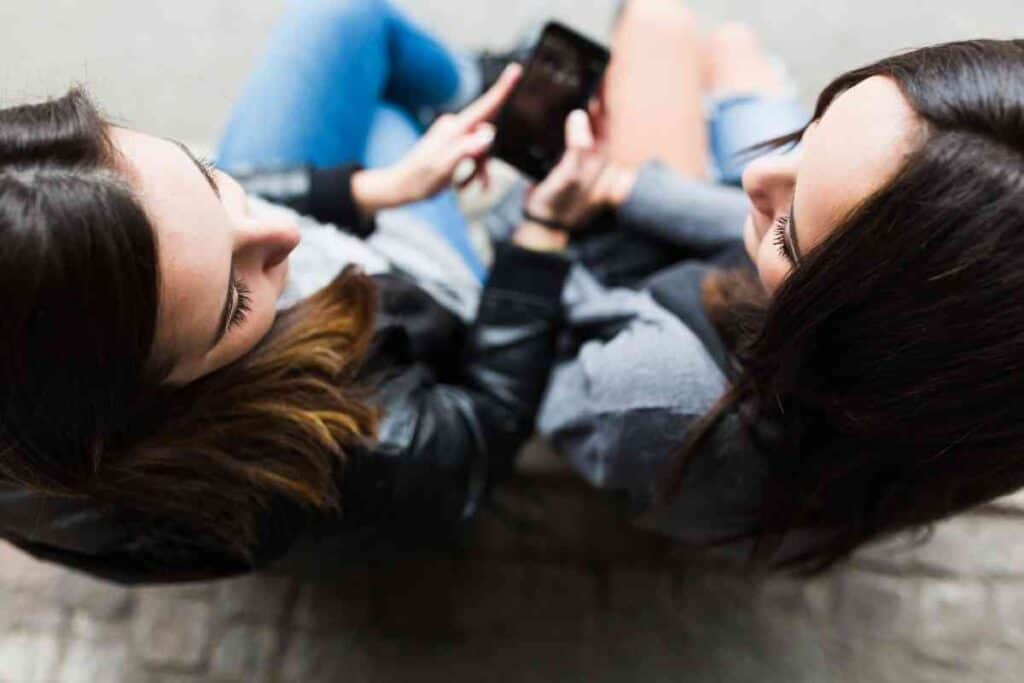 Sharing Audio Between Two Pairs of AirPods
If you are in the right situation to take advantage of Audio Sharing (You have compatible headphones, an iPhone, and a friend with compatible Bluetooth headphones or an iPhone as well), then you're ready to start using one of two Audio Sharing methods.
Both methods are going to use the AirPlay feature to sync your devices.
AirPlay is more commonly known for allowing your iOS device to connect to wireless displays or mirror the screen on your Mac.
It also allows you to stream video and audio from Apple devices to one another.
This is a beautiful feature for audio sharing, especially if you are carrying around AirPods.
Bluetooth earbuds are not the most hygienic device to share with others.
Being able to connect personal devices to audio sources without exchanging earwax is a small but uplifting advance in the quality of life.
Here are some devices that make use of AirPlay you may already have:
AppleTV
iPhone
iPad
iMac
MacBook
iPod Touch
HomePod
AirPlay-enabled smart TVs and Projectors
The first method will describe how to connect your friend's Bluetooth headphones as a second audio output for your iPhone or iPad.
It's great for listening to music together or watching a trailer in a noisy location.
The second method opens up access to different Bluetooth headphones as long as your friend or family member is sharing with iPhone or iPad.
AirPlay will let you sync two iOS 13 devices together to share audio.
This allows your friends to use their screen and whatever headphones they have to share an experience with you.
This method is more comfortable if both participants are attempting to share a smaller iPhone screen.
It's also great for connecting a friend's iPhone to your iPad for them to share to your larger screen.
How to Connect a Second Pair of AirPods
To connect a friend or family member's AirPods or other compatible Bluetooth headphones to your iOS 13 device as a second audio output, you can follow the instructions below:
Ensure that your AirPods or Beats headphones are connected to your iOS device.
Open the quick Control Center by swiping down from the top-right corner.
Tap on the Now Playing widget.
Tap the AirPlay icon. It looks like three circles with a triangle on the bottom. It can also be found on the Lock Screen and may even be accessed through the application you use to play media.
Tap Share Audio.
Your friend will need to hold their compatible headphones close to your device. For AirPods, make sure the charging case is open. Compatible Beats headphones need to be in pairing mode before being placed in close proximity.
Your friend's headphones should be named on your screen.
Tap Share Audio one more time.
You should now both be connected.
Test it out with a song or video.
If it's in working order, you're all set to enjoy your movies and music.
Adjusting the Settings with Two AirPods connected
Now that you have two sets of audio output connected, you may be wondering how you control audio volumes for each one.
Fret not, the touch gestures and button controls of your headphones will still individually control the volume settings for each Bluetooth device.
You'll also be able to control the settings for each pair of headphones from your Lock Screen or the Control Center.
The audio level control sliders will have additional items for your friend's headphones.
To lower the volume of both pairs, use the Master volume slider on the bottom of the controls.
Sharing Audio Between Two iPhones
The downside to AirPlay sharing Bluetooth headphones is having to reconnect them to the devices they are usually connected to.
Fortunately, Apple thought of this problem too.
You skip unpairing and repairing your Bluetooth accessories by using AirPlay to connect your iPhone directly to your friend's iOS device.
This means they can use whatever headphones they want without worrying about AirPlay connectivity.
This method is a lot more versatile and allows both you and your friend to have a shared experience with the same comfort you typically enjoy consuming music and videos through your smart device.
There are a few other benefits you can get from AirPlay connections like file sharing and screen sharing.
To get your devices connected through AirPlay, follow these steps:
Either open the Control Center or navigate to AirPlay through the Now Playing widget.
Tap the Share Audio button.
Place your friend's iOS 13 device in close proximity to yours.
A dialogue window should appear on your iPhone. Tap Share Audio once again.
On your friend's iOS 13 device, a notification window should pop up. Tap Join.
Much like pairing a second pair of AirPods, your AirPlay menu will now show volume controls for both devices.
You can adjust individual volume settings with these sliders.
Each participant will also still be able to control their audio devices with touch controls and in-line controls.
Once you are both paired together, you can spend the rest of your time sharing your media.
You won't need to share screens or earbuds to watch videos or listen to music together.
How to Stop Sharing
When you're done enjoying your time with your friends or family, you'll want to kick them off your device to get back your privacy.
Turning off sharing is even easier than turning it on.
You can do the process from your phone, so you won't need to grab their device again.
To stop sharing, follow these simple steps:
Go back to the Control Center or open the Now Playing widget from the quick menus to open AirPlay.
Tap the AirPlay icon.
Next to the device you are booting from your connections, tap the checkmark.
That's all there is to it.
You should be free of extra connections.
You can safely enjoy crazy TikTok videos without worrying about others listening in.
Conclusion
AirPlay is an awesome feature for shared media experiences on iOS 13 devices.
There aren't many alternatives for sharing audio or video between devices.
On other services, it comes down to watching them separately and communicating.
You can also just wind up placing it on a larger screen with full speakers.
However, you may not always be in a situation where you have access to a screen large enough for you and your friend to comfortably enjoy videos together like at the airport.
With AirPlay, you can be more versatile with where you can share media.
Smartphones can often make people feel absorbed in their activities and sealed away from others.
Use AirPlay to bring a sense of community to the situations where people lose themselves in their phones.
You and your friends or family can browse through fun online content together.
Technology doesn't have to promote seclusion. Use it to bring your friends and family together.