How To Choose The Best PA Speakers (6 Dynamite systems to consider)
This post may contain affiliate links. As an Amazon affiliate, I earn from qualifying purchases.
When I was planning a football tailgate party with friends, I realized I didn't know as much as I thought about wireless PA speakers. In fact, I didn't realize PA stands for Public Address. That sounds like the type of speakers they use for a high school principal's morning announcements, but, in truth, PA speakers are exactly what DJs use to pump up the dance floor.
I dove into an in-depth search, first educating myself about the key considerations for choosing the right speaker for my party. Making the right choice depends a ton on where you plan to play the speakers, the type of event, and what you use them for (music, concert, festival announcements, etc.) By researching the following features of PA speakers, you can find which ones match your needs:
Before I expand on using these search criteria to choose your speakers, I will present six diverse PA speaker choices. You may find exactly what you want in this group or inspiration to continue your search. (Side note: One of these technically isn't a PA Speaker, but it sounds so good it works perfectly for tailgate parties!)
6 Dynamite Systems to Consider
PA speakers come with various features. Some sound better in smaller venues; others are built for huge stadiums. There are Bluetooth-enabled units and those requiring old-fashioned cords. The following six systems are awesome speakers by solid brands. Chances are you'll find a good one for your event amongst them.
Here are six wireless PA speakers that rock:
Specs
Brand
JBL
Speaker Type
Portable Bluetooth Speakers
Special Feature
Waterproof, Smartphone-Charging, Stereo-Pairing
Connectivity Technology
Bluetooth
Color
JBL Boombox 2 – Black
Though not an actual wireless PA speaker, the JBL Boombox 2 has a powerful sound and strong bass. In fact, the JBL Boombox 2 ranks as the loudest, biggest JBL Original Pro speaker. It is the most powerful portable JBL Boombox 2 speaker system, so it works great for tailgating and any other large outdoor event requiring some real power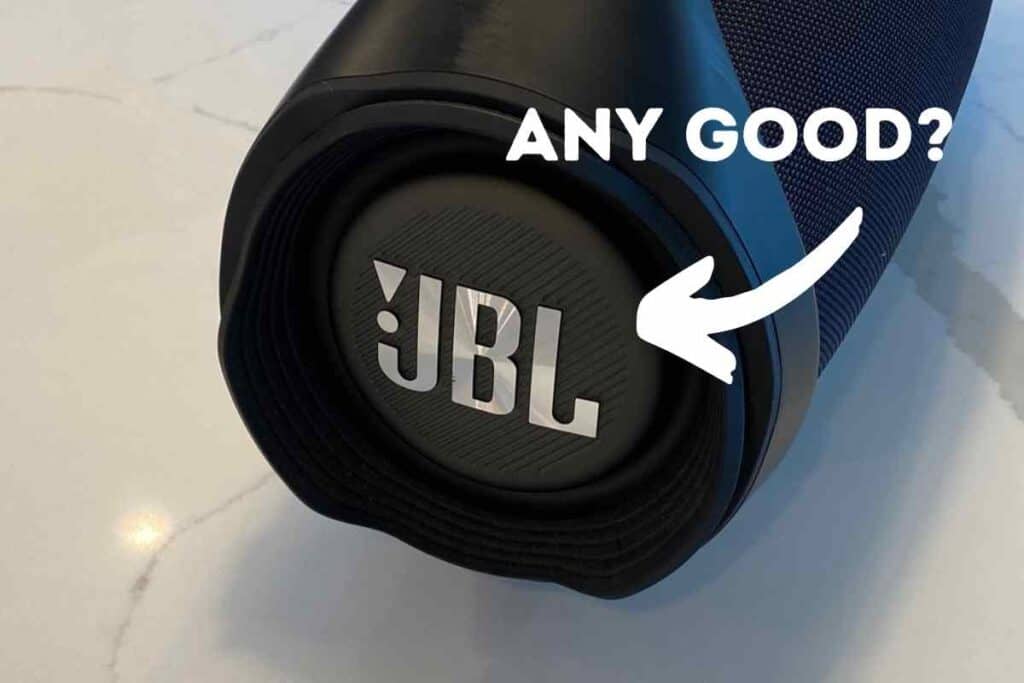 In terms of sound, I would say it emits a similarly powerful, deep bass comparable to dance clubs, which is pretty good for a smaller boombox. That's why I like JBL. Even smaller, portable speakers have deep sound.
Here are some of the key features:
Portable Design
It has a solid grip, so transporting it is no problem. Though there are two portable speakers, they are light and easy to carry.
24 Hours of Playtime
I like that the batteries last 24 hours, so it is fantastic for all-night/all-day parties.
Wireless Bluetooth Streaming
It may be a boombox, but there's nothing '80s about these speakers. They have wireless capabilities for blue tooth streaming. I was able to connect with my tablet, but you can also use your phone or whatever device is Bluetooth enabled.
IPX7 Waterproof
For me, this is an essential. Even at a tailgate party, there's rain, people spilling drinks, all kinds of stuff that can get your speakers wet. Also, I like to have pool parties sometimes or take them to the beach. There's nothing better than pumping out the tunes by the water.
Pros
Easy to transport
Long battery life
Connect with any Bluetooth enabled device
Waterproof
Cons
Not an actual PA speaker
Most costly than the one series
Some people think it is bulky
Specs
Brand
Alto Professional
Item Dimensions LxWxH
17.1 x 9.6 x 10.1 inches
Power Source
Corded Electric
Mounting Type
Floor Standing
Item Weight
9200 Grams
Woofers
8", 10", 12" 15"
The Alto Professional TS308 has better than average PA Sound, with a 2000W (1300 LF + 700 HF) active PA speaker. It also has precision crossover and high-efficiency class D amplifiers. The bass is powerful. Pristine Highs are an 8-inch (305 mm) LF driver, 2.5-inch (76 mm) with a high-temperature voice coil, 1.4-inch (35 mm) neodymium magnet HF driver, and precision waveguide.
This PA speaker has the power you need, whether you are hosting a party, tailgating, or just want to enjoy good music. Check out some of the features:
Easy Setup
The Alto Professional TS308 is light, so transport is no problem. I like the PA cabinet design, which keeps it protected and everything organized. The speakers are pole-mountable. Inside the kit, you'll find a wedge monitor, bracket installation or flown application, and M6 suspension points.
Versatile in the Extreme
This PA system offers an integrated 2-channel mixer and dual XLR 1/4-inch combo mic/line inputs. There are independent level controls. You also have an XLR Link output, a Contour EQ switch, and a ground-lift switch.
Precision Engineered
If you want high-quality parts and design, you can't go wrong with this PA system. It was designed and made in the U.S. with the best quality in the price range.
Pros
Setup quickly
Lots of mode options
Great engineering
Compact size
Cons
Some complaints about reliability
Customer service not always prompt
Specs
Brand
QSC
Item Dimensions LxWxH
2362.2 x 2362.2 x 3149.6 inches
Speaker Maximum Output Power
500 Watts
Item Weight
35 Rams
This E-series is a trapezoidal speaker with a 15-inch, 500W, die-cast aluminum frame woofer. There is a 3.5-inch voice coil. This speaker is intended for use when high power is needed. It also works well with authoritative low-end, giving it a full range. The 2.8" compression driver is affixed to the 75° DMTTM waveguide. This provides enough power for even distant listeners to hear exceptionally well.
For a smaller speaker, this QSC passive loudspeaker offers high output and high-quality sound. It also provides E115 – 500 W continuous power. It's a QSC E Series Entertainment System and includes advanced digital signal processing tunings and options. The speaker is compatible with QSC GX and PLD amplifiers, as well as TouchMix digital mixers.
You get high fidelity with the titanium diaphragm, plus the strength of the packaging guarantees long life.
As far as aesthetics, it comes with tour-grade paint in a rugged texture. The foam-lined perforated steel grill offers excellent protection and a wicked look.
If you want a permanent installation, there is an available U-Style Yoke and M8 rigging kit.
QSC E-Series Passive Loudspeakers Advantages
QSC's E Series offers a range of passive loudspeakers. The series is known for strong construction and reliable performance. QSC built the E Series for entertainment venues, such as live performances, DJs, karaoke, and all types of large events.
Pros
Powerful sound
Easy on the budget
Compatible with multiple amplifiers
Cons
Some reliability complaints
Power recharging necessary
Now, we will look at another QSC option, the 18" 800-Watt Passive Subwoofer.
The E118sw direct radiation subwoofer certainly provides power and gets noticed! It's an 800W, 18-inch, aluminum-framed woofer. The design is solid, delivering crushing low-ends for live performances. There is a kick-drum and bass in the PA for high level, so get out the dance music.
For setup, I like the threaded M20 pole socket and speaker pole. ESG supplies them for sub/satellite use with its E Series two-way models. If you are looking for portability, there are application points for four optional casters.
Features include intense power, event quality sound, and 800 W continuous power. As a QSC E Series system, the system includes advanced digital signal processing tunings and options, including QSC GXD and PLD amplifiers.
Alternatively, TouchMix digital mixers are also available. The QSC E118 is built to travel with tour-grade textured paint. A foam-lined perforated steel grille protects the subwoofer. A speaker pole is included for your convenience.
QSC's E Series offers a range of passive loudspeakers. The series is known for strong construction and reliable performance. QSC built the E Series for Intended for entertainment venues, such as live performances, DJs, karaoke, and all types of large events.
Pros
ESG E Series Quality Sound
Durability
Continuous Power
Cons
Overheating can occur
Reliability issues can surface
Brand
Electro-Voice
Speaker Type
Woofer
Color
Black
Item Dimensions LxWxH
29 x 19 x 19.2 inches
This Elecro Voice Woofer treats listeners to crisp highs and clean, tight, deep lows, making it ideal for larger spaces. It's an excellent choice by itself or with other subwoofers.
A great design feature is the amplifier headroom, which gives you loud and clear sound.
I also love the LCD display and 1-knob DSP control. Elctro Voice has a patented split-baffle design that is employed in this model.
The setup is speedy. I like the ingenuity behind the high/low grip design, making pole mounting a lot easier!
Pros
Loud!
Perfect for football games and outdoor events
Crisp sound
Easy setup
Cons
Mediocre amplifiers
Prone to overheating
May function more like a 250 Watt Versus 1000 Watt
Specs
Brand
Rockville
Speaker Type
Surround Sound
Connectivity Technology
Bluetooth
Color
Black
Audio Output Mode
Stereo
This Rockville TITAN 15" is an Active Powered 2,000 Watt DJ/PA Speaker. The system includes 500-Watt True RMS and 1,000 Watts Program Power. It also contains 2000 Watts peak at high power, as well as long-throw 15" woofer with 3" OFC copper voice coil. The 80 Oz magnet is top quality.
There is a composite-diaphragm compression driver that gives you crisp high-frequency sound.
Also, the green amplifier technology converts over 90% of the electricity into usable sound! This speaker is a great way to entertain and help the environment.
I like the compact and lightweight system and the generally undistorted sound. At max volume, the amplifier works great. One essential feature is the built-in limiter which is highly effective in preventing distortion.
The Pro Bluetooth is effective at up to a 100-foot range, and the TWS technology fosters linkage of two speakers wirelessly in stereo. Brackets are included in the package, so you can mount them on its side if you need a floor monitor.
I also like the two-channel mixer and low noise Mic / Line inputs. They make it easy to control balanced line output and link additional speakers. In addition, the LED indicator makes it easy to set power levels.
The set includes stand mounting with a 35-mm pole socket. Transport and setup are made easy by the ergonomic grip. The front cabinet uses a full grill to guard against road damage. I really like that the cabinet has a built-in handle and wheels.
How to Choose Wireless PA Speakers
As any DJ or event planner can attest, achieving high-quality live sound always takes the right set of speakers. The success of your next event relies in part on your choice of PA speakers. When making your choice, you need to decide between three categories of PA systems:
Personal PAs
Medium-sized PAs
Full-scale PAs
The Difference Between the Three
Personal PAs can be defined as single speakers or mini speaker systems. Medium-sized PAs consist of two stand-mounted speakers, which are mounted on opposite ends of a stage. Full-scale PA systems are built with multi-speaker line arrays. They also include complex monitoring systems.
Once you decide on what type of PA system you need, consider the following factors:
How Much Power Do I Need?
Powered (Active) vs. Unpowered (Passive)
Speaker Driver Configuration
Understanding Crossovers
Bi-amplification Explained
An All-in-one PA Solution
Intelligent Speaker Systems
Do I Need a Subwoofer?
Speaker Connectors Explained
How Much Power Do I Need?
How much power you need depends on how LOUD you plan to play your music. When choosing a wireless PA speaker, many buyers fall into the trap of thinking it's all about the wattage. While wattage shows volume capability, the sound pressure level (SPL) provides a more accurate assessment.
Coverage angle also matters. Even a powerful speaker reaches fewer people when limited by a narrow range. Also, consider speaker sensitivity. Higher sensitivity means that the speaker converts sound more efficiently. A highly efficient 500-watt speaker often creates a superior sound to an inefficient 1,000-watt competitor.
Powered (Active) vs. Unpowered (Passive)
With passive PA speakers, separate power amplifiers are needed. For most bands or smaller venues, passive speaker systems may not be the best option.
When it comes to larger, more complex systems, separate amplifiers become a huge benefit. Because of the vast power demanded by large systems, utilizing separate amplifiers stops them from overheating your speakers. System maintenance may also be less complicated because you can adjust amplifier settings directly.
Speaker Driver Configuration
Driver configuration is also essential. Speakers with single drivers rely on just one for the entire frequency range. This can be a problem because small speakers that work well at certain frequencies often work poorly at other ends of the spectrum. Speakers with multiple drivers handle the whole spectrum.
Understanding Crossovers
Crossover devices divide audio signals into separate frequency ranges. For instance, a 2-way crossover may have a lowpass filter for low frequencies sent to a woofer and a highpass filter that sends frequencies to the tweeter. Knowing where the crossover points reside in the sonic spectrum helps you create a better mix.
Bi-Amplification Explained
Bi-amplification divides your audio signals into two frequency ranges, then sends them to two separate amplifiers. The crossover network sends low frequencies to the woofer and high frequencies to the tweeter.
All-In-One PA Solutions
Solo performers need all-in-one systems unless they plan to spend a fortune on their PA speakers. For a fraction of the cost of a multi-array system, all-in-one solutions integrate a mixer, active speakers, and signal processing into a bundle you can carry.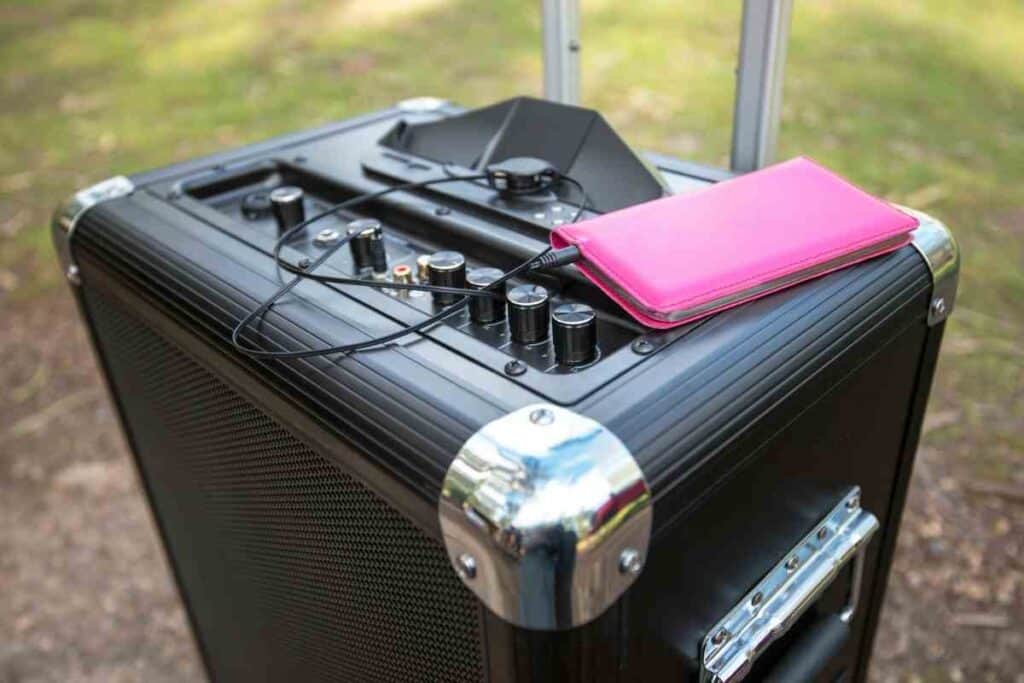 Intelligent Speaker Systems
Automation is sweeping the stereo industry too. Intelligent speaker systems can recognize what you have plugged into the system and optimize the sound. Other intelligent speaker capabilities include automatic feedback suppression, networking capability, and remote controls.
Do I Need a Subwoofer?
For my tailgate parties, my answer is I always need a subwoofer.
Subwoofers reproduce only low bass frequencies. But they are not just about increasing volume. A good subwoofer generates full-range pitch and impact even at lower volumes.
Speaker Connectors Explained
Many audio systems take one type of connection. If you pick one of those, you won't need the info in this section. But some take multiple connectors, so here is a guide to the choices:
Speakon connectors are a type of multi-pin connector that's geared for high wattage speakers.
TRS stands for "Tip-Ring-Sleeve." These are 1/4″ (or 1/8″) balanced connectors (like headphone plugs). They are used when you need two conductors plus a ground shield in one plug.
XLRs are circular 3-pin connectors. They have positive-, negative-, and ground pins. They transmit balanced mic-level signals to mixers and line-level signals to powered PA speakers.
TS means "Tip-Sleeve." This refers to a specific type of 1/4″ connector created for 2-conductor, unbalanced operation.
Banana plugs join speaker wires to binding posts on the back of power amplifiers.
The size of the space and the shape of the room affect the size speaker you need. In addition, the number of people present is also important.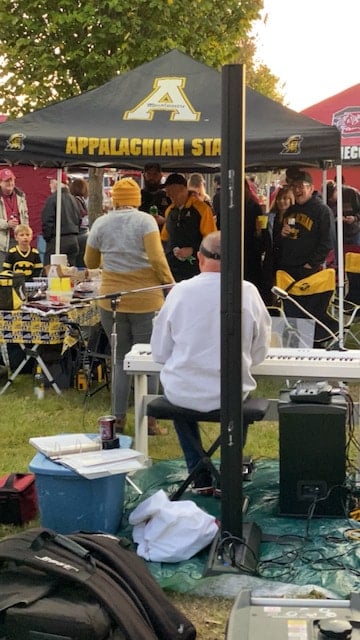 Choose Wisely
Choosing the right wireless PA speakers is a critical choice. No matter what type of event you are preparing for, you'll need to select large enough equipment to serve your needs without breaking your budget.
There are many excellent speaker options available. The six dynamite PA speakers we reviewed all have strong performance characteristics and great functionality. Your ultimate choice comes down to the type of venue you are playing in, the number of attendees, and the kind of event you are planning.
Choosing the best performing wireless PA speaker will make your next event memorable. By educating yourself on the PA speaker choices, you become prepared to select the ideal option that will make your next event a memorable one.