How To Reset A Vizio TV (Solved – Quick and Easy!)
This post may contain affiliate links. As an Amazon affiliate, I earn from qualifying purchases.
Your TV is your connection to entertainment and current events.
You expect quality service – and many years of it – from your TV.
And your Vizio should be providing you with years and years of quality entertainment.
Since they hit the market with their TV line-up in 2002, Vizio has become an affordably priced option for the average consumer.
If you are not looking to spend a small fortune but expect a lot of bang for your buck, Vizio is a good way to go.
Not too long ago, I decided to get a 32-inch Vizio TV for my kids' playroom.
That way, we could play and do crafts while watching their favorite TV shows and movies.
Things were all well and good for a while there, but then the SmartCast apps would start crashing or just not even load.
And it was nothing short of a frustrating experience.
Being the tech nerd that I am, I wanted to see if I could resolve this issue before calling Vizio's customer service for help.
I did some digging around online and discovered that this issue is a lot more common than one might expect – and that the solution to my problem was a rather simple one.
I needed to reset my TV.
Allow me to share with you exactly what I learned from my search.
How To Reset Vizio TV (Solved – Quick and Easy!)
To perform a soft reset of your Vizio TV, unplug it, then hold down the power button for about 5 seconds. To do a hard reset, you must go to Menu->System->Reset and Admin->Reset TV to Factory Defaults. Just remember, a hard reset is going to completely wipe out your Vizio TV's memory.
You might not need to reset your Vizio TV, but if you do, know that there is a difference between a hard and soft reset.
And there are two ways to do a hard reset, but both will wipe the TV's memory clean.
Read on to learn more about resetting your Vizio TV – and how you can do it without a remote!
Do I actually need to reset my Vizio TV?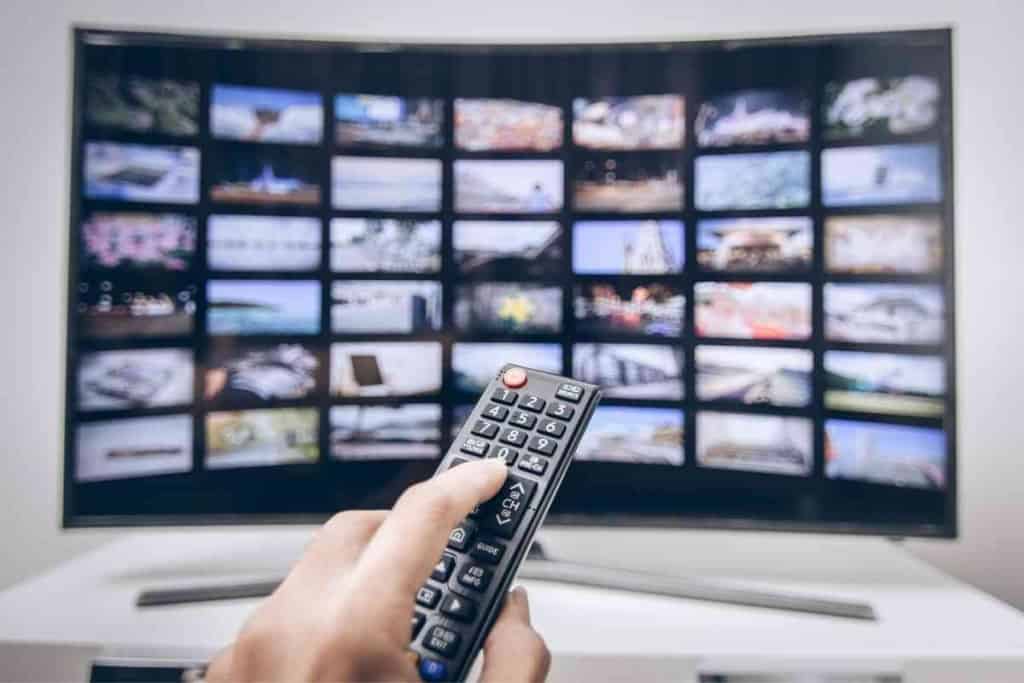 A reset is not worth doing unless absolutely necessary.
You don't want to end up losing all your preferences and settings, do you? Sometimes just a simple restart of your TV can clear up minor issues effecting its performance.
Some problems do demand a reset.
I recommend a reset if you're experiencing any of the following issues:
You do not have access to your home screen because you lost your password.
Your TV is running slow, lags, or freezes up.
Different colors are not being displayed on the screen.
Video or audio is experiencing issues.
The TV won't turn on at all.
Your TV isn't connecting to your WIFI despite your WIFI connection being strong and functional.
The TV menu has stopped coming up.
You want to remove the preferences of a previous owner from whom you purchased the TV.
SmartCast apps (like Hulu and Netflix) crash a lot or don't even load.
When opening various apps, the screen goes blank/black.
You wish to sell your TV and want to remove all of your preferences.
You simply want your TV back in its default state.
What I recommend for most of these situations is starting with a soft reset.
You might even want to try doing a power cycle before the soft reset to see if that helps.
How do I perform a soft reset on my Vizio TV?
Doing a soft reset is the easiest method for dealing with your Vizio TV.
To do this, you will need to:
Unplug your Vizio TV from the wall outlet.
Remove the power cord from the back of the TV.
Press and hold the power button on the remote or on the TV itself for 5 seconds.
Plug the cord back in.
Turn on your TV.
That's it. Granted, if you are using an older Vizio TV model, you might need to go into the Menu using the button on the remote.
Then you'll need to select System > Reset > Admin > Soft Power Cycle.
Two Types of Hard Resets For the Vizio TV
Before I tell you how to do a hard reset, know that there are actually two ways to do it – an easier way and a harder one.
The Simple Way To Do a Hard Reset
Let's first talk about the easier way to do a hard reset.
It has multiple steps, so you will need to carefully proceed through them.
Here's how this method works:
Using your remote, press the menu button.
Use the arrow buttons to navigate, then press OK to choose System.
Move to Reset and Admin, then press OK.
Select Reset TV to Factory Defaults. Press OK once more.
You can type 0000 when the device prompts for a password if you have not changed the parental code..
Go to to Reset. Click OK.
Allow the TV to power down. Turn it back on and follow the prompts.
The Hard Way To Do a Hard Reset
Okay, here is the harder way to perform a hard reset on your Vizio TV. I only recommend doing it if the other methods I have described did not work.
This should be your last resort before calling Vizio for help.
To perform the harder version of the hard reset, you will need to:
Power down the TV but do not unplug it.
Press and hold down on the CH+ and CH- buttons on the remote at the same time.
Press the Power button but do not hold it down.
Release both the CH+ and CH- buttons.
Press the menu button so that a menu will show up on your screen.
Look for the F in the bottom right-hand corner of the screen. If you see it, it means you have entered the factory reset screen.
Press on the menu button until the Service Menu comes up on the screen.
Now, you can use the factory reset options on your Vizio TV.
Can I do a reset without my Vizio remote?
If your Vizio supports SmartCast, you can run a reset without the remote.
It is actually pretty easy to accomplish.
To do this, press and hold down on the V- and Input buttons at the same time until you see a message pop up on your display.
After that, the system will tell you to release just the V- button.
It will take approximately 10 seconds for the TV to reset itself.
Closing Thoughts
If you don't need to perform a reset on your Vizio TV, avoid doing so. It will wipe all of your settings and programs off of the TV, and it will require you to go about redoing everything after you reset the TV. But, if you truly need to do it, a Vizio is not all that difficult to reset.