Do I Need A 4K TV For Xbox Series X? [Answered!]
All the advertisements for the Xbox Series X make a huge deal about playing games in 4K.
As they should, 4K is an impressive feat and a fantastic experience.
The higher resolution delivers in every way as details about games appear clearer on the screen than they've ever been.
It's no wonder why gamers want to play in 4K.
Do I Need A 4K TV For Xbox Series X?
You don't have to go out and purchase a 4K TV to play your Xbox Series X. Just like any other Xbox, you are given the choice to pick what you want to connect to your Xbox Series X. The only requirement is that whatever display output device you choose must have a way to use HDMI.
In the modern world, that gives you just about limitless options.
Monitors, portable screens, tablets, phones, thousands of television models, and projectors are among the massive list to pick from.
You'll have to do some research to get a few options working.
For instance, if you want to use a projector, you'll need to get a set of speakers to connect to it.
Some devices come with installed audio and some don't.
One of the most popular examples is computer monitors.
Monitors, typically, do not come with speakers installed.
Most desktop computers use a separate speaker system or audio output from the monitor.
The Xbox Series X is primarily designed to work on televisions.
If you take note of the high framerate support, then you'll likely realize it supports gaming monitors as well.
Xbox consoles can even use a mouse and keyboard combination.
The downside is that you'll have to get a set of speakers or you'll be relying on your headset.
What Displays Can I Use With Xbox Series X?
As previously stated, you can use one of a nearly limitless count of devices to display your Xbox.
It's a different world from the days of keeping consoles to the TV.
Even with so many options, there's still an easy way to break down the types you can use.
Televisions
Televisions are the traditional display output for home consoles.
Just as your TV is a part of your Home Theater, so is your home console.
Here's a quick list of the kinds of televisions you can use with your Xbox:
LCD (Liquid Crystal Display)
LED (Light Emitting Diode)
DLP (Digital Light Processing)
OLED (Organic Light-Emitting Diode)
QLED (Quantum Light-Emitting Diode)
Plasma Screen
I'll help you narrow it down even further. If you are looking for the best in class, it's going to be either an OLED or QLED television.
Even more specific, I would recommend taking a look at LG's 4K ThinQ B9 Series with a 120 Hz refresh rate. TVs with a high refresh rate are the ticket.
OLED and QLED are the best-looking screen types available.
If you can get a hold of a TV with both features for a good price, you've got the perfect gaming TV.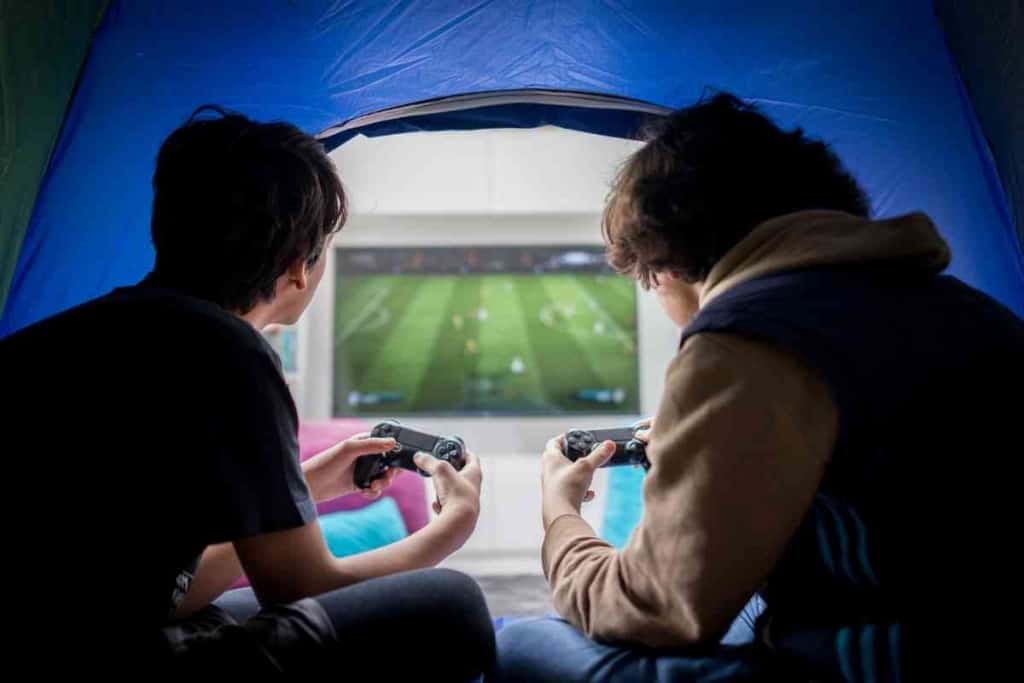 Monitors
As a second best option, you can get a PC monitor.
Some say it is better to get a gaming monitor than to get a big high-resolution television.
The main reason that is cited is that the Xbox Series X can run up to 144 Hz at 1440p.
However, Microsoft only claims that the Xbox Series X can play games up to 120 Hz.
The downside to monitors is the lack of speakers.
You'll be needing a headset or a separate sound system to play with a monitor.
Just like TVs, monitors are divided into types by the kind of back panel that's installed.
Here's a quick list:
LCD (Liquid Crystal Display)
LED (Light-Emitting Diode)
OLED (Organic Light-Emitting Diode)
Plasma
CRT
Just like TVs, the best visuals are going to be found with an OLED monitor. The brand and size are preferential.
My choice of the gaming monitor for an Xbox Series X would be the LG 27GN950-B.
It's a bigger monitor at 27", but it supports 4K resolution and a 144Hz refresh rate.
That's a lot of quality in one display.
On top of that, it has gamers' favorite features like RGB backlighting, HDR600, and FreeSync with G-Sync compatibility.
The only downside is its high price of $839.
Projectors
An interesting option is a projector. It takes the term "Home Theater" to the next level.
Why not bring your Xbox with it? What's even better is that projector manufacturers have started catering to this purpose.
The first thing to take note of is that you will need a screen to project onto.
You'll also need to figure out where you would mount your projector and how.
If you're ready to take on the extra assembly, then it's time to pick the best quality projectors to make your dream.
There is plenty of high resolution (4K) projectors with support for refresh up to 240 Hz and low input lag.
Here's a quick list to pique your interest:
Optoma UHD50X – $1,599
BenQ TH685i – $849
Samsung 120" LSP4T – $3,500
Optoma HD146X – $549
BenQ X1300i – $1,300
ViewSonic PX701-4K – $900
BenQ TK700STi – $1,649
Great projectors are pricey options, but the experience is unmatched.
It sets a completely different vibe for your gaming and movie sessions.
It takes up less space too.
Remote Play
With the Xbox app and GamePass, you can stream your Xbox Series X directly to your smartphone, tablet, or any other Android device.
This allows you to take the power of your Series X around the house in the palm of your hand.
To pull this off, you will need to have a decent-quality router. Game streaming relies on the wireless connection.
Dual or tri-band routers with a higher bandwidth should do the trick.
I've grown a fondness for Asus routers over the years.
My current model is out of date, but the newest iteration is the Asus RT-AC68U.
It only costs $129.99 and it's quite a powerhouse.
It's the same router I use to stream VR games using Air Link from my PC to my Quest 2.
In fact, I have installed the GamePass app to my Meta Quest 2 to also play on a flat-screen in VR.
It's truly a different kind of gaming experience. Playing Xbox games with an Xbox controller on a screen inside a VR environment is a bit like gameception.
You may also wish to purchase a controller mount to hold your phone or tablet above your controller.
This isn't a required purchase. It just helps with comfort while playing on your mobile screen.
Before you stream your Xbox, you'll want to make sure your Xbox controller is paired to the device you're going to stream on.
To stream your Xbox to your Android device:
Open the Xbox App
Locate the Xbox Streaming icon next to the notification bell on the top right
Tap it
Tap "Get Started"
Tap "Set up a new console"
Tap on your Xbox Series X
Wait for it to connect to your Xbox
Once it connects, you'll be able to play your Xbox just like normal.
Streaming does turn off access to the Microsoft Store and settings that Microsoft deems to be private information.