Does The Xbox Series X Have USB-C Ports?
Type-C USB cables and ports have taken the technology world by storm. Smartphones, tablets, wireless chargers, console controllers, PC accessories, and almost everything that needs a data port and charging has a Type-C installed. Surely the latest and greatest Xbox models have USB-C ports too, right?
Does Xbox Series X Have A USB-C Port?
The Xbox Series X, Microsoft's most powerful Xbox model available, doesn't have a Type-C USB Port at all. Microsoft has often been the last to adopt the most modern I/O technology in favor of backward compatibility support, which is why they still do not have these very common ports.
What truly makes this decision so strange is that Microsoft has already adopted the Type-C ports for other devices like the Surface Pro series, Surface Duo, and even the current Xbox controllers.
It only makes sense that they complete the circle and add a Type-C port to the Xbox Series S and X as well. However, they did not.
The reliance on wireless technology has pushed Microsoft's decision to keep the Xbox Series X port selection small and limited.
The controllers rely on a dedicated RF connection and the network features are supported by a Wi-Fi module. The need for excessive connection ports to be available on a gaming console has diminished.
What Ports Does the Xbox Series X Have?
Since you now know the Xbox Series X doesn't have a USB-C port on it, you might be asking what does it have? Well, the list is short.
In previous iterations of Xbox, USB ports were loaded up to support accessory connection and external storage.
The Series X has decided to instead include a new SSD expansion slot to promote high-speed storage additions rather than USB-powered devices.
The ports available on the Xbox Series X are:
3 USB 3.0 Type-A Ports: One is located on the front face of the console. The other two are located on the I/O panel on the back. These ports are intended to be used for accessories, device charging, and external storage.
HDMI 2.1 -out: This is the primary video output connection port for the Xbox Series X. It supports up to 8K output.
Ethernet: Wired network connections still consistently out-perform wireless connections.
Power: This is a port you are likely to recognize right off the bat.
SSD Expansion Slot: This is the newest type of slot to be introduced into a console yet. It's not the first time Microsoft has experimented with alternatives to storage expansion like they did with the Xbox 360's interchangeable hard drives. This slot allows gamers to upgrade their storage without any performance loss albeit at a slightly higher cost.
Kensington Lock: This is a small lock hole meant for Kensington-styled locks to be attached to. As the Xbox Series X is a rather pricey piece of equipment, you may wish to keep it attached to the wall when it's unattended.
It's a lot less than was previously available with the Xbox One X, but it's still enough to get the job done. The biggest change is that the Series X no longer supports HDMI pass-through for other consoles or cable connections.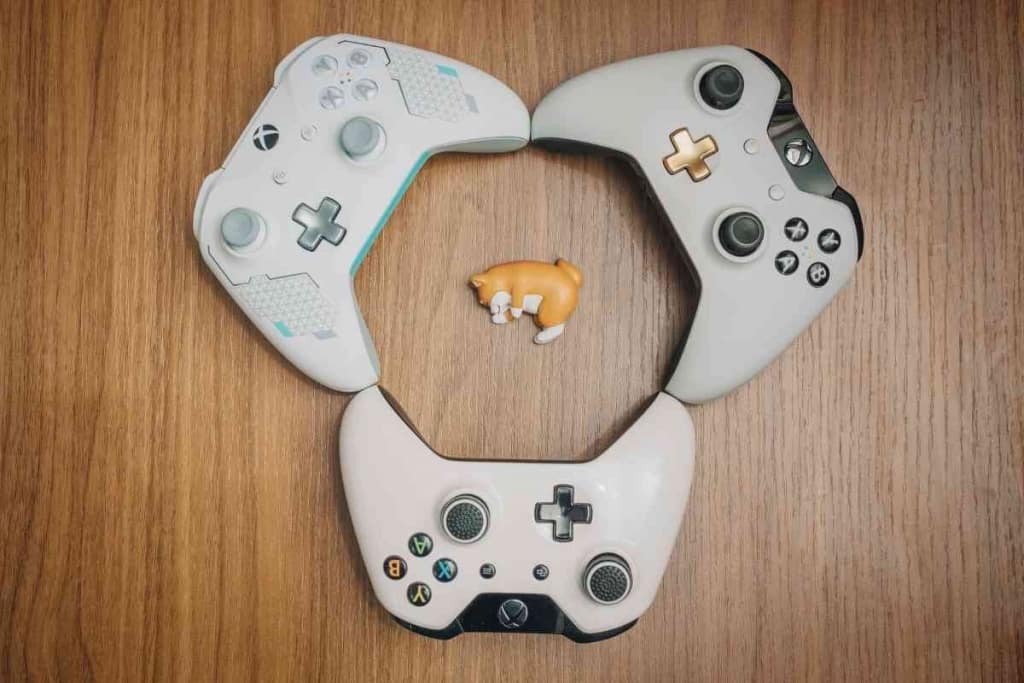 Can I Add Ports to My Xbox Series X?
If you're not quite satisfied with the list of ports available on the Series X, you'll be glad to know that you can spend some extra money on expanding it.
The USB 3.0 ports are available on the Series X function exactly like USB 3.0 ports on nearly any other device. That means you can plug in USB hubs and other adapters to help expand your available Series X ports.
The bad news is that you will not be able to add a Type C port to your Series X. At least, not functionally.
If you are able to acquire a USB hub that attaches to USB 3.0 Type-A ports and provides USB Type-C ports, it will not function as a true USB Type-C connection.
The Type-A ports will act as a bottleneck for the data bandwidth and speed. While you won't be able to gain extra video outputs or incredible charging speeds that are associated with Type-C USB, you can expand the available number of Type-A ports for older accessories and external storage devices.
There's no limit to the number of external drives that your Xbox Series X can read other than the number of available ports to connect to and the size of the storage device.
There are technical aspects that would make having a Type-C connection better for external storage devices, but the addition of USB 3.1 or Thunderbolt technology would increase the overall price of the already expensive Xbox Series X console.
Most Xbox Series X owners will not require any extra ports to be available on the console.
Three USB ports, Ethernet, and an HDMI are all any gamer needs to hook up to a TV or monitor and start playing. Hell, some can even get away with skipping a direct wired connection to the internet as well.
Why Doesn't the Xbox Series X Have a Type C Port?
Officially, no one has answered this question. Microsoft has a long tradition of being among the last to add new ports to their devices.
Type-C was on three generations of laptops before Microsoft added the port to its Surface Pro series.
The sad truth is likely that the developers of the Xbox Series X hardware did not find a reason to add the Type-C port.
This could all be due to a lack of sight into the potential a fully-powered Type-C port could bring to home consoles. I don't find the port to be a necessary addition to a console quite yet.
I typically only find myself using a Type-C port to charge my VR headset and smartphone. The port on my console would not find much use.
This question is typically asked as a way to compare the PS5 and the Xbox Series X as the PS5 has a front-facing USB-C port for quick charging the PS5 controller.
While a faster charging method for the Xbox controller would be welcomed if the Xbox controllers were shipped with a built-in rechargeable battery. Microsoft still chooses to keep the console controllers designed to run on AA batteries.
For some, this is an inconvenient design flaw. I see it as Microsoft looking toward the future.
Internal batteries can only be recharged a specific number of times before the battery will no longer hold a charge.
With Xbox controllers being powered by replaceable batteries, you won't lose a controller to time alone. Plus, you can still install rechargeable batteries into your Xbox Series X controller to get the best of both worlds.
None of this truly answers why the port was not included on the Xbox Series X console. I stick to it being a design choice that caters specifically to how the designers imagined the console being used.
Does the Xbox Series X Controller Have A USB-C?
The Xbox Series X controller, designed for wireless gaming, is equipped with a USB-C port. This port not only facilitates a wired gaming experience but also doubles as a charging point. Users have the flexibility to power their controllers using AA batteries or opt for rechargeable ones.
Diving Deeper into the Xbox Series X Controller Cable
This cable, an authentic Microsoft product, is tailored for Xbox games and accessories. Its features include:
Rapid Charging: The cable is adept at charging both Xbox Series X and Series S controllers. Leveraging the latest charging technology, it allows users to charge, sync, and play simultaneously.
Broad Compatibility: The cable isn't just limited to Xbox controllers. It's compatible with a range of devices, including the Xbox Series X, Series S, the latest MacBook, PS5, Windows 10 PCs, tablets, and Android devices.
LED Indicator: The Microsoft 9 USB-C cable illuminates in green during charging and offers five LED settings for user convenience.
A Closer Look at the Xbox Wireless Controller
The Xbox wireless controller, which accompanies the Xbox Series X and Series S, is designed for wireless gameplay. Its modern design means that older Xbox accessories might not be compatible. Key features include a textured grip, an Xbox expansion connector for supported headsets, and a USB-C port for wired gaming and charging. The controller also supports both AA and rechargeable batteries.
Its design emphasizes comfort, with a textured grip, hybrid d-pad, and ergonomically placed buttons. The controller also pairs with an accessories app, allowing users to customize their gaming experience.
The Xbox Accessories App
This app enhances the wireless controller experience. It offers customization options, from reconfiguring buttons to adjusting controller vibrations. The app is compatible with Windows 10 and 11, but there are certain limitations based on the connection type and device compatibility.
Top USB-C Cables for Controllers
Ienza USB-C Type C Charge Cable: This cable is compatible with specific Xbox and PlayStation controllers. If mistakenly purchased for an incompatible device, the manufacturer offers an exchange option.
FYOUNG Charging Cable: A versatile cable, the FYOUNG USB-C is suitable for PlayStation, Xbox controllers, and most USB-C devices. Its length and build quality make it a top choice.
Microsoft Official USB Charging Cable: This original 9ft cable, akin to the one in the Microsoft Xbox play and charge kit, supports simultaneous play and charge. It's also compatible with a range of devices, including PS5 controllers and other USB-C gadgets.
In summary, the new Xbox wireless controller and its accessories mark a significant upgrade in the gaming world. With enhanced features, compatibility, and user-friendly design, it promises an unparalleled gaming experience.
Wrapping Up: The Evolution of Xbox and the USB-C Conundrum
As technology continues to evolve, the adoption of USB-C has become almost ubiquitous across various devices. Its versatility, speed, and efficiency make it a sought-after feature for tech enthusiasts. Microsoft's decision to exclude a USB-C port on the Xbox Series X, while including it in their controllers, has raised eyebrows and sparked discussions among the gaming community.
However, it's essential to understand that Microsoft's design choices often prioritize backward compatibility and user experience. While the absence of a USB-C port might seem like a step back, the Xbox Series X offers a plethora of other features that enhance the gaming experience. From its powerful performance to its unique SSD expansion slot, the Xbox Series X is designed to cater to both casual and hardcore gamers.
Moreover, the inclusion of a USB-C port in the Xbox Series X controller signifies Microsoft's acknowledgment of the port's growing importance. It's a nod to the future, hinting at the possibility of broader USB-C integration in subsequent Xbox iterations.
The Xbox Series X lacks a USB-C port, but its controller embraces it.
Microsoft's design choices often prioritize user experience and backward compatibility.
USB-C's universal adoption across devices underscores its significance in the tech world.
The Xbox Series X offers a unique blend of features, ensuring an immersive gaming experience.
In conclusion, while the Xbox Series X might not have jumped entirely onto the USB-C bandwagon, it's evident that Microsoft is gradually integrating this technology where it matters most. As we anticipate future Xbox models, it'll be interesting to see how Microsoft further embraces USB-C and other emerging technologies.