Is Apple Music Free With Verizon?
Taking advantage of all of the free offers that are provided through your monthly service is a great way to save money while getting new, fun toys to play with.
Many cell phone service providers offer other monthly subscriptions for free with their packages.
If you have Verizon, you may already qualify for free monthly subscriptions to other services you already use or at least would try out since it's free, like Apple Music.
Is Apple Music Free With Verizon?
Verizon and Apple came together in 2019 to offer Apple Music subscriptions on their Beyond and Above unlimited plans. With these plans, you do not have to pay extra for the app. However, if you have the Go unlimited plan, you get a six-month trial, followed by a $9.99 per month subscription fee.
Verizon users have the option of getting Apple Music for free, but you cannot get it with just any Verizon plan.
In 2019, Apple and Verizon came together to offer Apple Music subscriptions for Verizon's "Beyond Unlimited" and "Above Unlimited" plans.
Before that, Verizon would let you opt for a six-month subscription to Apple Music on its unlimited plans, and it continued to do this on its Go Unlimited plans.
You don't get one Apple Music subscription per account though.
Instead, you get one for each line that is on either the "Beyond" or "Above" unlimited plan.
Say you have a family plan with four lines – two Above, one Beyond, and one Go – the three Above or Beyond lines would be able to sign up for their own Apple Music subscriptions while the Go line would get a free six-month trial then have to pay $9.99 per month for the app.
You will be able to set your subscription up through the My Verizon app or website, which helps make things simple.
If you have to re-sign up, you shouldn't lose your current playlists – a nice incentive for you to sign up indeed.
Just make sure you still have an Apple ID so you can sign in.
Still confused about whether Apple Music is actually free on Verizon? No worries; I've got you covered.
Let's talk about how you get this app with a Verizon plan and what that plan will entail.
What if I already have Apple Music?
Do you already have an existing Apple Music subscription? If so, you need to cancel your subscription before opting into a Verizon plan that includes Apple Music.
Then you can select your plan that includes Apple Music.
How do I get free Apple Music on Verizon?
You will need to subscribe to Apple Music through your Verizon plan, and you can do so on the My Verizon website.
If you have an Android device, Apple Music is available on devices running 4.0 or higher.
It is available for Apple devices running iOS 10.0 or higher.
Take note that Android users must download Apple Music from the Google Play Store first.
You will also need an Apple ID to sign in.
To sign up through Verizon, here are the steps you need to take:
Open your web browser and sign into My Verizon.
Go to the My Verizon Home page, the go to Account Add-ons & Apps. (Note that only the account manager or owner can sign up.)
Click All Add-ons & Apps located at the bottom of the screen.
At the upper right corner, find and click the 'Filter by' drop-down menu, then click Entertainment.
Scroll down to Apple Music and click Get It Now.
Select Apple Music or None, then click Continue.
Next, check the box for the 'I accept the Terms & Conditions' and hit Confirm.
Click on Terms & Conditions.
You might be asked to select the the appropriate line(s), then click Send. You will know that you have selected the line when you see a checkmark to the left. After that, a download link will be sent directly to the device you're trying to add Apple Music onto. Follow that link for setup.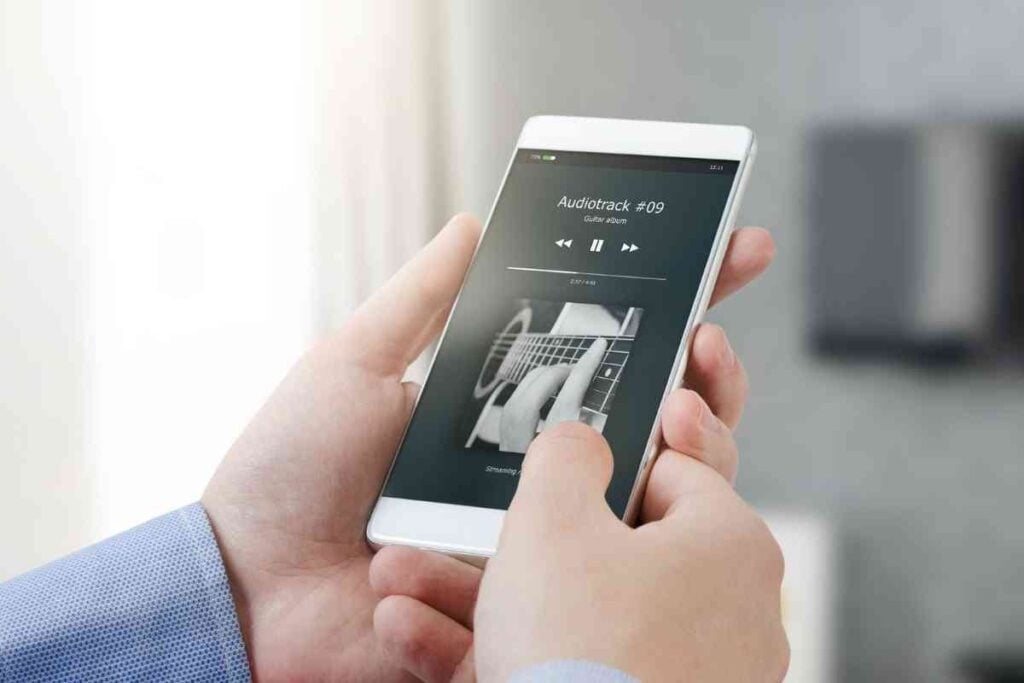 Is Apple Music completely free?
Apple Music is actually free with Verizon's Above or Beyond unlimited plans.
All you have to do is sign up for the app through Verizon's app or website.
The only way you will have to pay for it is if you are on the Go Unlimited plan.
How does Apple Music through Verizon work?
If you opt into the Above or Beyond Unlimited plans through Verizon, you get the Apple Music app subscription for free.
Just sign up for it through the Verizon website or app – whichever is easier for you.
There will be no monthly fee for it on these plans.
What does Apple Music come free with?
Verizon's Go plan starts off at $75 per month for a single line while a single line on Beyond is just $10 more.
Above costs $95 per month for one line.
If you decide to get a Go plan for a family of four, you get it at $40, with the same family plan being $50 on Beyond and $60 for Above.
These plans come with unlimited talk, text, and data.
The differences between them are mostly based on their high-speed mobile WIFI hotspot data and the quality of video streaming through Verizon's 4G LTE network.
If you go for the Above plan, you get 500GB of Cloud storage and five "travel passes" each month that let you use your phone in over 130 overseas countries.
Unfortunately, Verizon has not subsided a subscription to Apple's $14.99 per month Apple Music family plan for Apple Music.
Quite obviously, this would come in handy for families who have kids on the Go plan but adults on the Beyond or Above.
This would condense the cost a bit better.
What if I don't want Apple Music with my Verizon plan?
If you don't want to use the Apple Music app with your Verizon plan, you are not obligated to sign up for it.
You can simply skip over it.
Apple Music will still be free to you on the Above or Beyond unlimited plans if you ever do decide to sign up for it.
But it is totally up to you if you want to utilize this perk or not.
Closing Thoughts
Getting Apple Music for free with an unlimited Verizon plan is a nice perk for Verizon customers.
Whether you are on an iPhone or Android device, you can get the app added onto your phone and sign up without any extra cost – at least, if you are on the Above or Beyond plans.
Unfortunately, those on the cheaper Go plan will incur a monthly fee after their six-month trial subscription is over.