How Much is Apple Music for Students?
This post may contain affiliate links. As an Amazon affiliate, I earn from qualifying purchases.
As a student who just got done with my undergraduate degree, student discounts are something that I took advantage of when I could.
When you start college, you will find that there are a ton of discounts geared towards students because people know that it is hard for college kids to afford things.
One of the big discounts that I took advantage of was Apple Music.
How Much is Apple Music for Students?
Apple Music offers students a 50% discount. This takes the price from the original price of $9.99 to $4.99, which adds up over months of listening to music. The offer lasts 48 months in total. So, if you are in school still after that length of time, then you will have to pay the original $9.99.
Apple Music offers a student discount that saved me a ton of money throughout college.
The offer does not last forever though.
If you are a high school student and you are thinking about getting it, then you may want to consider if you want to save it for when you go to college.
The $5 that you can save a month adds up over the course of the 48-month span that you can use the student discount.
If you use it for all 48 months you would end up saving $240.
While I looked into the Apple Music discount, I also looked into other music service discounts.
The rest of the article will break down the differences between Apple Music and other music services.
Is Spotify or Apple Music Cheaper for Students?
The straightforward answer is that both Spotify and Apple Music have the same price for students monthly.
Both services offer students a price of $4.99 per month. However, there are some additional features that may sway your decision.
Apple Music offers a three-month free trial for everyone, so you do not have to be a student to take advantage of it.
Also, an Apple Music membership gives you access to Apple TV+.
Apple TV+ is valued at $4.99 per month, so you can get an additional $4.99 per month with the student membership.
Spotify only offers a one-month free trial for everyone, so you do not get the extra two months that Apple Music offers you.
However, a Spotify membership gives you access to Hulu and SHOWTIME.
These two streaming services are valued at $6.99 and $10.99.
So, if you are interested in free streaming platforms, then you may want to go with Spotify instead of Apple Music.
How do I Subscribe to Apple Music as a Student?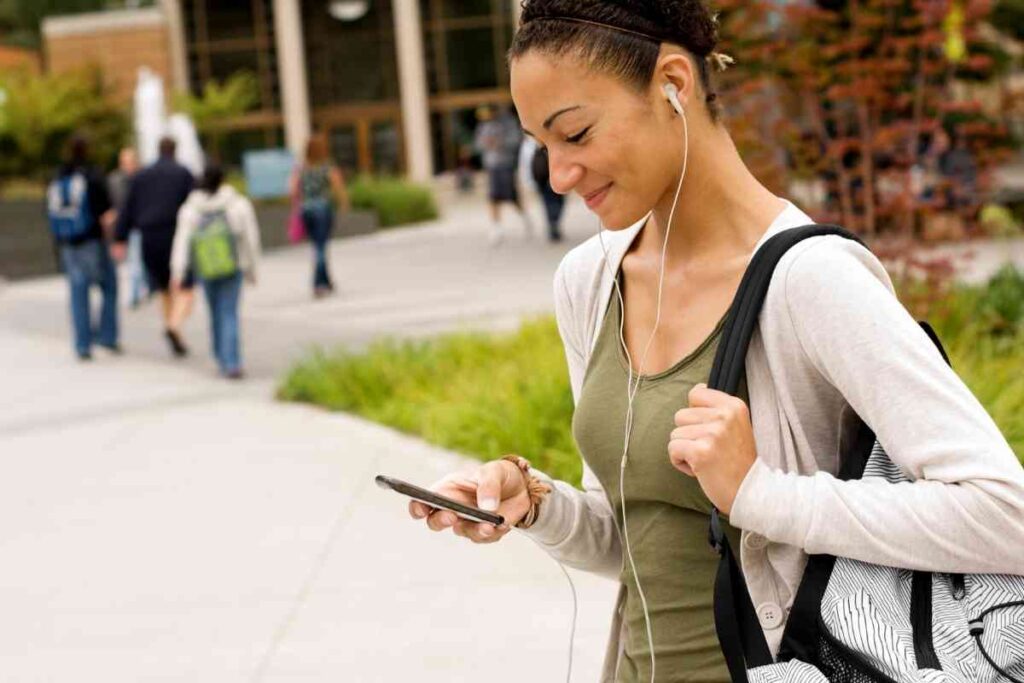 To sign up for an Apple Music subscription as a student, you would sign up as you normally would.
So, you would open the app and click on the trial offer that is advertised.
Once you are taken to the sign-up page for that offer you will then click that you are a student.
Apple Music will then ask you to verify that you are a student through UNiDAYS.
You will need to input your school email to allow for verification.
Then, once you are verified, you will sign in with your Apple ID and make sure your billing information is correct.
After all your information is correct, then Apple Music will bill you the $4.99 monthly.
How can I get Apple Music Cheaper?
Aside from the student discount, there are some ways to get Apple Music cheaper than the $9.99 monthly price.
The first way would be to utilize the free trial.
If you have not used the Apple Music free trial, then you can get up to three months of Apple Music for free.
The other way that I would recommend getting Apple Music cheaper is to use the family plan.
The family plan allows you to have up to six people on the same plan.
If your family uses Apple Music, then your parents may be willing to pay for it.
If they are not, then you can divide the bill up amongst your family members.
You can also use this plan with your friends.
If you divide the $14.99 monthly bill among six people, then you would only be paying around $2.50 per month.
How Much is a 1 Year Subscription to Apple Music?
The only plan that offers a discounted yearly subscription is the standard plan.
The standard plan is $9.99 per month, which would result in you paying just under $120 each year.
However, the yearly subscription for this plan would save you around $20 because it only costs $99.99 per year with the standard yearly plan.
How do I get My Free 6 Month Apple Music Trial as a Student?
The free 6-month Apple Music trial is easy to begin if you are a student.
Fortunately, Apple has doubled the free trial from 3 months to 6 months for students, which can help you save an extra $15.
To start your free trial, you will have to open the Apple Music app and go to the "Listen Now" tab or "For You" tab.
A trial offer will be available for you to click on and once you have accessed it you will want to click the student option.
UNiDAYS will then verify that you are a student, and it will give you an option to start your 6-month free trial.
Does Apple Give a Discount on General Products to Educators?
Yes, Apple does give a discount to K-12 educators.
Apple also gives a discount to new and existing college students.
Apple acknowledges the fact that students need updated technology to do a lot of the required tasks for their classes, so they extend this discount to them as well.