Do You Need WIFI For Apple Music?
Apple Music is made to be listened to at home or on the go.
Wherever you go, you can carry this app with you on your iPhone, iPad, or Apple Watch.
Heck, you can even add it to your Android device.
But, to get the best connection, do you need to be connected to WIFI to listen to tunes on Apple Music?
Do You Need WIFI For Apple Music?
You do not need to be connected to WIFI to use Apple Music. You can connect to Apple Music using data or just downloading the music you want onto your phone's storage when you do have an Internet connection and listening to your downloaded songs on the go.
Nut it isn't really ideal, is it?
If you know you are going to be out of WIFI range, you can use your phone's data to play songs on Apple Music.
But let's say you're going out camping where you know you will not get any kind of signal.
What should you do? Well, you can manage your iPhone's storage space and download songs from Apple Music to your phone while you are still at home on your WIFI network.
That way, you will always have some tunes there to rock out to when you're out of WIFI or cellular range.
WIFI is something that we have all come to depend on for meeting our infotainment needs. But it isn't always available.
So, when it isn't, we improvise – and you can do that with your songs on Apple Music.
Let's go over how you can get those songs onto your phone's storage for those times when WIFI and cellular signals aren't available.
While you will need WIFI or cellular data to use the streaming services on Apple Music, you have the option of downloading music from the app onto your phone.
Free up enough storage on your phone, then download.
You will need to be on WIFI or a cellular connection to do this though.
So, how does WIFI work with Apple Music? Do you need to use WIFI to stream, or will a cellular connection also work?
How can you listen to music while on the go?
Let's go through how you can download music from the Apple Music app onto your iPhone for connection-free listening.
Does Apple Music use WIFI or data?
Apple Music does use WIFI as a default setting, but if there is no WIFI connection available, it will use a cellular connection.
You will need to use one of these connections if you want to stream music on the app.
If you want to play music when there is no connection available at all, you have to download it onto your iPhone first.
Also, take note that you will not be able to add or download music in the Apple Music Voice Plan.
How do I play music on my iPhone without WIFI?
If you want to play music on your iPhone without WIFI, you will need a cellular connection in order to stream anything.
For example, when you're out driving in your car and have your Bluetooth connected, you will have to use your cellular service to get music streaming as you drive.
Of course, if you hit a "dead zone", the connection drops the music, which will prompt you to hit "Play" again on your phone once a connection is re-established.
You also won't get the same speedy connection that you get on WIFI.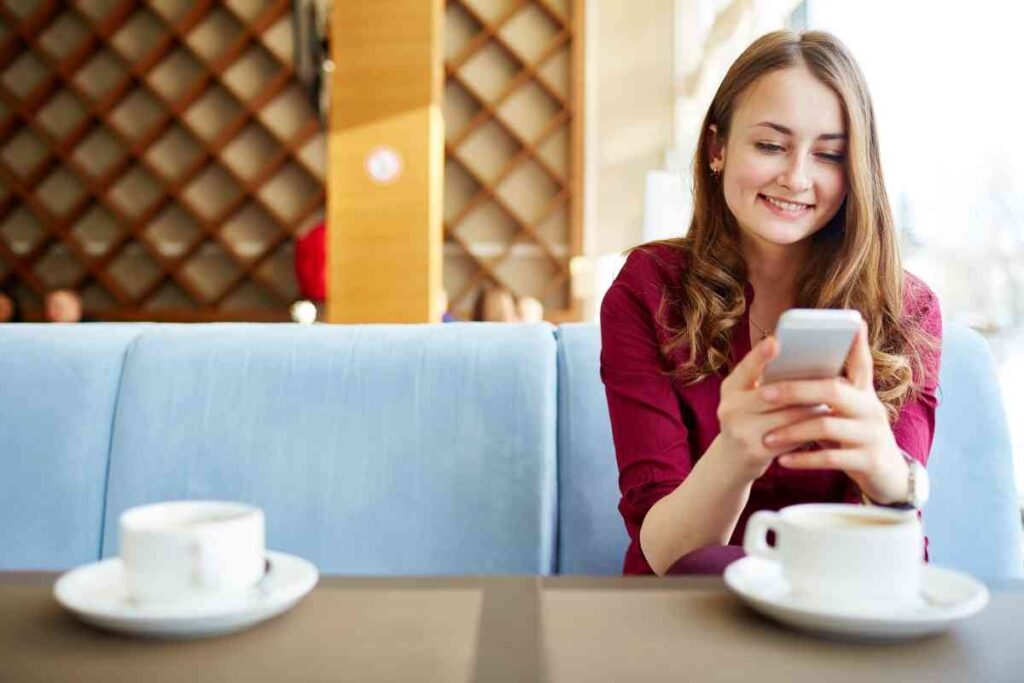 Why does my Apple Music not play without WIFI?
Apple Music should play without WIFI if you have a cellular connection.
If you don't have a cellular plan or are in an area where there is no service, you won't be able to stream on Apple Music.
You'll have to wait until there is a connection.
Otherwise, your music should be able to play, given that there is a strong enough connection.
How do you add music to your iPhone and listen offline?
While you are still on a WIFI or cellular connection, you can download music and add it onto your iPhone's internal storage.
That way, you can listen to your music wherever you go.
Just make sure you have enough storage space open on your phone before you download anything.
You might end up needing to offload other stuff that is taking up space on your phone first.
Let's look at two ways that you can download music to take with you when you don't have any sort of connection available for streaming.
Adding Songs From Apple Music to Your Library
The easiest way to get songs onto your phone is to add them from Apple Music into your library.
Here are a few ways you can do this:
Touch and hold down on a playlist, song, album, or video. You can then tap Add to Library.
View the contents of a playlist or album. While there, tap on the Add button close to the top of the screen. This allows you to add the album or playlist. Otherwise, you can tap on the More button, then tap Add to Library if you want to add individual songs.
Go into the Now Playing screen. From there, tap the More button, then on Add to Library.
If you need to delete music from your library, simply touch and hold down on what you wish to delete and tap Delete From Library.
Also, take note that any music you add to your iPhone is put onto other devices if you are signed into the iTunes Store and App Store using the same Apple ID and have Sync Library turned on.
Downloading Music From Apple Music Onto Your iPhone
Another way you can get music onto your phone is to download straight from the Apple Music app onto your iPhone.
This is how you make it happen:
To download a song, album, or playlist, tap and hold down on the music you have added to your library. Next, tap Download.
Once you have added an album or playlist, you will be able to tap the Download button located at the top of your screen. (Pay attention, though! You need to turn on Sync Library in order to download music from Apple Music to your library.)
You can turn on Always Download Music by going to Settings > Music, then turning Automatic Downloads on. This makes it so that the songs you add on Apple Music are automatically downloaded onto your iPhone. You can view your download progress by going to the Library screen, tapping on Downloaded Music, then on Downloading.
Just bear in mind that, if the music you are downloading is available in Dolby Atmos, you'll see the Dolby button next to it.
You have the option to download it in Dolby Atmos or in regular stereo.
If you wish to download this music in Dolby Atmos, simply go to Settings > Music.
From there, just turn on Download in Dolby Atmos.
Closing Thoughts
You do not always need to be on WIFI to listen to Apple Music.
Of course, WIFI makes the connection much more stable and fluid.
But, as we all know, you can't be on WIFI all the time.
You will get switched over to cellular as soon as you are out of WIFI range, and when that signal drops, well, you'll just have to play whatever music you have downloaded onto your phone.